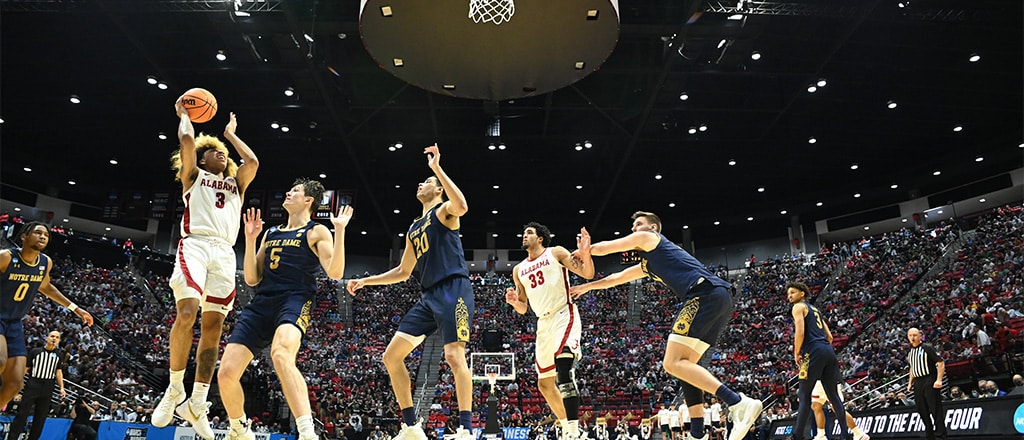 March Madness is back for another year of excitement and sports bettors everywhere are looking forward to one of the top gambling events of the year. There will be a myriad of games played over the next month and the first two rounds of the tournament feature non-stop action throughout the afternoon and evening hours. Best of all, there will be a lot of money flooding into all of those games as players from around the country all take their best shot at trying to predict the winners at retail and online sportsbooks.
There are a few things to know before you decide to move forward and place your wagers if you decide to do so. Let's take some time to review the things that you need to know about March Madness and what you need to be on the lookout for to spot some great betting opportunities leading up to Selection Sunday.
How much does seeding matter when betting on March Madness?
Every March, people will see the famous basketball brackets floating around both online and in paper form. Even those who aren't sports fans will come across some of these brackets and try their hand at filling one out. The first thing that you notice when looking at the bracket and the most important determinant of a team's skill for many people is their seed.
It becomes pretty obvious at first glance that there are certain teams that are far more talented than others. For example, the No. 1 seed in any given bracket is going to be a far more talented basketball school than the team that they face in the first game of the tournament (the No. 16 seed). The most talented teams with the best records are given the easiest opponents in the first rounds. This doesn't mean that they always win those games against supposedly weaker teams, but it does mean that they are theoretically matched up against a far weaker opponent.
It's important to start by looking at the seedings for each team to begin to get some idea about what kind of matchups you will witness in the first games of the tournament. To best understand this, take a look at the historic winning percentages of each seed in their first game in the tournament:
1 seed: 99.3% winners
2 seed: 93.8% winners
3 seed: 84.7% winners
4 seed: 78.5% winners
5 seed: 64.6% winners
6 seed: 62.5% winners
7 seed: 60.4% winners
8 seed: 49.3% winners
9 seed: 50.7% winners
10 seed: 39.6% winners
11 seed: 37.5% winners
12 seed: 35.4% winners
13 seed: 21.5% winners
14 seed: 15.3% winners
15 seed: 6.3% winners
16 seed: 0.7% winners
As you can see, the highest-ranked seeds are most likely to defeat their opponents. The one small exception is that No. 8 seeds win slightly less often than No. 9 seeds (No. 8 seeds always match up against No. 9 seeds in the opening round). However, generally speaking, the higher-ranking seed will win more often. That said, a moneyline bet on a favourite isn't likely to produce much of a return for you. That is why you need to try to spot underdog or Cinderella teams to try to score a profitable bet.
A favourite upset pick for many is always the No.12 seed to beat the No. 5 seed. This is because the No. 12 seed can often be stronger teams from smaller conferences while the No. 5 seed will be a bigger name school that has underperformed. As you can see, No. 12 seeds win about 35.4% of those games, not a bad percentage if you're getting +200 odds or above on the moneyline.
How to spot a Cinderella team
The term "Cinderella team" refers to a lower seed team that manages to pull off a few upsets and goes deeper into the tournament than anyone originally expected. Every year, there is seemingly always at least one team that emerges as a "Cinderella team" in the tournament. The tricky part is determining which team that'll be before the tournament starts.
There are a few things that you can do to try to make it easier to identify the Cinderella team in this tournament. First, you should take a look at historical trends to try to identify a team that might break the mold. For example, there is a trend in the tournament that at least one 12-seeded team defeats a 5-seeded team in the first game. In some tournaments, there are multiple 12-over-5 upsets. The quality differences between a team listed as a No. 5 seed and a team listed as a No. 12 seed is often a much smaller gap than one might expect. Therefore, you might look for some undervalued 12-seeded teams to pull off the upset in the opening round and then have some momentum for the next round.
Another thing to look out for is exactly where the games are to be played. The different parts of the bracket will be played in different cities, and you should pay attention to this as you look at the matchups. Perhaps an underdog is playing closer to where the school is located and can therefore be seen as the "home team" in the game. On top of that, fans tend to root for the underdog teams to win their games. Thus, a team may catch that wave of momentum as an underdog and then become the team to bet on.
Another factor to look at is teams that shoot well from three-point range. All it takes is for a school to get hot from beyond the arc for a few minutes and they can build a quick lead. Smaller schools that shoot well from three-point range and have the ability to get hot are always good candidates to pull off an upset or two.
How is betting on March Madness different than normal college basketball?
There are some things worth discussing regarding the difference between March Madness single-elimination basketball games and regular college basketball games. Identifying those factors can help you make better decisions as you work out what you need to do to make the most of each game that you place a wager on.
One of the biggest differences is that the matchups are going to be between teams that are not likely to match up during the regular season. After all, the tournament hands out 32 automatic bids to the conference winners from every tournament. Therefore, it is possible for a team like Duke (from the ACC) to be matched up against a team like Harvard (from the Ivy League). These are not the kinds of teams that would typically play each other in the regular season at all.
Aside from the fact that there may be some unusual matchups between teams in the tournament, it is also true that every team knows that they are playing a "win or go home" game. This changes the psychology that each team plays with, and it can potentially lead to a greater chance of upsets as teams shrink in the spotlight.
Finally, the tournament is different than a regular game because neither team plays at home. They play on a neutral court in a predetermined city based on whichever bracket they were placed in. Therefore, at least some of the home-court advantage that teams typically enjoy is negated by the fact that the games are played on a neutral court.
How much weight should be put on a team's recent performance compared to season-long performance?
Fans are often attracted to the idea that a team that comes in on a "hot streak" will do better than expected. However, that has more to do with the marketing and selling of the tournament. Yes, a team or two might catch a wave of success and ride it to some unexpected wins in the tournament, but that doesn't mean that anyone should rely on those types of statistics when it comes to determining how to pick winners in the tournament.
Instead, the season-long statistics are better to examine when making wagering decisions. After all, the season-long statistics provide a larger sample size to base your assumptions. While there will be lots of hype around any team that just pulled off an upset or dominating win during their conference championship, a sample size of just a few games is not enough to pull real conclusions from.
The NCAA bracket will be unveiled on Sunday night and then oddsmakers will be busy crafting their game lines and props surrounding the tournament. March Madness starts with the First Four games on March 14 and 15, and then the opening round of the tournament will get underway on March 16.