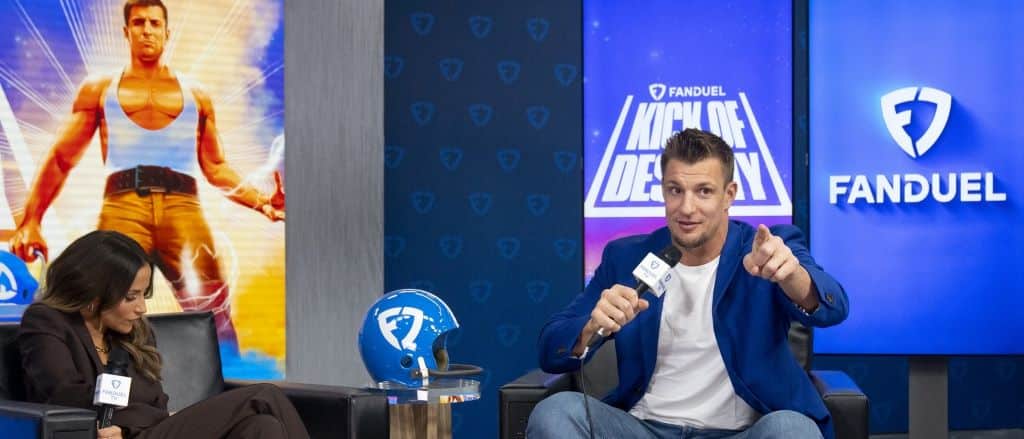 Did he make the kick!? Was it wide?! What the hell is happening?
Those are just some of the questions sports bettors were asking after Rob Gronkowski's Kick of Destiny, sponsored by FanDuel, during the third quarter of Sunday's Super Bowl.
FanDuel launched the promotional campaign in early January, and stated that if Gronk made a 25-yard field goal, the operator would give its bettors that wagered $5 or more on the Super Bowl a share of $10 million in free bets.
The kick was aired live from a practice field out in the Arizona desert, not live at State Farm Stadium where the Super Bowl was being held, and Gronk's attempt literally left bettors wondering if they had qualified for the free bets as it flirted with the upright. He appeared to hit the field goal, but, in fact, the kick sailed wide left. There was no slow-motion replay to confirm the status of the kick, leaving bettors in limbo.
Despite the failed kick attempt, FanDuel elected to pay out the $10 million in free bets to its qualifying customers anyway. In fact, FanDuel upped its pledge of bonus bets for those who wagered $5 or more on Super Bowl LVII, issuing more than $17 million dollars (USD) worth of Kick of Destiny bonus bets on Monday morning.
Several advertisements were run by FanDuel leading up to the Kick of Destiny to highlight Gronk's training regimen alongside legendary kicker Adam Vinatieri, the NFL's all-time leading scorer at 2,673 points. Gronkowski also appeared on several media platforms to promote the event, which added a tremendous amount of anticipation for the operator's users.
"Whether it's kick-off, a touchdown or an important play that will decide a season, FanDuel knows moments matter. Our first-ever Super Bowl commercial will be more than just a television spot – it will create a moment that will bring fans together, and give them something to collectively cheer for," said FanDuel Executive Vice President of Marketing, Andrew Sneyd, in a press release leading up to the event. "It's an unprecedented field goal attempt on live TV… so anything can happen."
Gronkowski, a four-time Super Bowl champion, joined the FanDuel team as an exclusive brand partner in December. He'll also be appearing on FanDuel TV and will assist with building awareness on responsible gambling in the future.
"I spent my career catching the ball, but I always knew I could kick it and now I'll do it live in front of football fans everywhere during the Super Bowl," said Gronkowski prior to the Kick of Destiny. "With $10 million in free FanDuel bets on the line, I'm training every day to give fans something to root for and to watch the Kick of Destiny live on national television."
Reaction to the kick
Twitter exploded with angry and confused FanDuel bettors immediately after the kick. Many questions surrounding the legitimacy of the kick, whether it was actually live or not, and discrepancies in free bet payouts were raised. Some Twitter users are reporting receiving a $5 free bet, while others are saying they received up to $20 in free bets in their accounts. Some users also reported getting an alert regarding the free bet before the kick even happened live.
In the end, FanDuel users were "destined" to receive a small free bet regardless of whether or not Gronkowski made the field goal. Many other sportsbooks also dished out small free bets to their Ontario users for the Super Bowl without a month-long campaign hyping it up.
FanDuel was one of the first operators to launch in Ontario last April and the operator is the one of the most popular with bettors in the United States.