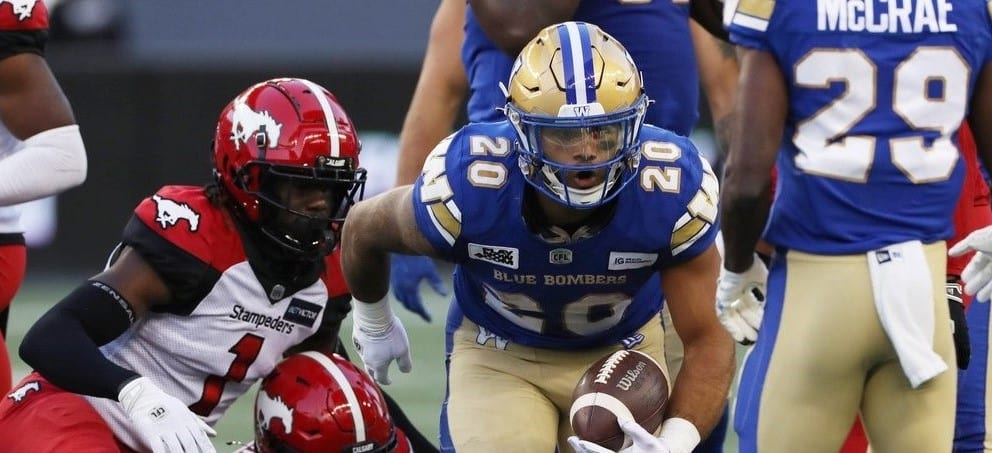 And then there were four.
The BC Lions and Montreal Alouettes won their CFL divisional semifinal matchups last weekend to earn the right to play for the divisional championships on Sunday.
BC will travel to Winnipeg to play the Blue Bombers for the Western Final, while Montreal will make the short trip to Toronto to battle the Argonauts in the Eastern Final.
The two victors will square off in the 109th Grey Cup at Mosaic Stadium in Regina, Saskatchewan on Nov. 20.
Here's a look at the latest Grey Cup outright odds courtesy of BetRivers:
Winnipeg Blue Bombers -106
BC Lions +300
Toronto Argonauts +400
Montreal Alouettes +600
All odds in this article are courtesy of BetRivers.
Montreal Alouettes @ Toronto Argonauts (-4.5, 48.5 over/under)
Previous matchups:
Week 2: Toronto 20, Montreal 19 (Alouettes covered as 3-point underdogs)
Week 20: Toronto 24, Montreal 23 (Alouettes covered as 1.5-point underdogs)
Week 21: Montreal 38, Toronto 33 (Alouettes covered as 3-point underdogs)
Weather: Forecasts are calling for a 40% chance of flurries with a high of 4 C. Winds are expected out of the west at around 20 km/h.
About the Alouettes (9-9 straight up, 10-7-1 ATS, 10-8 o/u): The Alouettes jumped out to an early 14-3 lead over the Hamilton Tiger-Cats last weekend and never looked back en route to a solid 28-17 victory to secure a date in the Eastern Final for the first time since 2014.
Quarterback Trevor Harris managed the game well, completing 27 of his 34 pass attempts for 243 yards and a touchdown. He led a balanced offensive attack that also put up 145 yards rushing and added two touchdowns on the ground.
Getting an early lead and handing the ball off to Walter Fletcher and William Stanback to control the clock, while keeping the team's defence fresh, will be the ideal game plan to replicate this Sunday. Toronto coughed up an average of 102.4 yards per game on the ground to opponents during the regular season, which ranked sixth out of nine teams in the league.
These two teams have played three close games already this year, so the four-plus points oddsmakers are giving the Alouettes is generous.
About the Argonauts (11-7 SU, 9-7-2 ATS, 9-9 o/u): The Argonauts will be fresh after earning a playoff bye last week as the East Division's top team in the regular season.
Veteran running back Andrew Harris is back practicing with the team after missing the last 10 games due to an upper-body injury. Harris, the league's all-time Canadian leading rusher, suffered the injury during an Aug. 12 game vs. Hamilton and missed the rest of the regular season. In his first season with the Argos, the six-time All-Star ran the ball 114 times for 490 yards, while hauling in 23 catches for 180 yards.
Toronto struggled to run the ball all season with Harris on the sidelines, but the running game showed flashes of brilliance late in the regular season as AJ Ouellette felt more comfortable as the lead back. He amassed 183 yards and a touchdown on the ground over his last two regular season games and will certainly factor into the equation of offence, even with Harris back in the fold.
As a result of the shortfalls of the running game, quarterback McLeod Bethel-Thompson threw for a league-leading 4,731 passing yards during the regular season. He's been spreading the ball out to multiple receivers all season long, and has gamebreakers like Brandon Banks and Kurleigh Gittens Jr. at his disposal.
Betting trends:
The Alouettes are 3-0-1 ATS in the past four meetings.
The under is 21-7-1 in the past 28 meetings.
Montreal is 24-10 in its past 34 road games.
BC Lions @ Winnipeg Blue Bombers (-4.5, 49.5 o/u)
Previous matchups:
Week 5: Winnipeg 43, BC 22 (Blue Bombers covered as 2-point underdogs)
Week 19: BC 40, Winnipeg 32 (Lions covered as 5-point favorites)
Week 21: Winnipeg 24, BC 9 (Blue Bombers covered as 3.5-point favorites)
Weather: Forecasts are calling for a mix of sun and cloud with temperatures around -5 C. Winds are expected out of the south at around 10 km/h.
About the Lions (12-6 SU, 11-7 ATS, 8-9-1 o/u): Nathan Rourke's health was the big question mark heading into the playoffs, and he proved last week that he's healthy enough to be effective and lead his team to victory.
The quarterback threw for 321 yards and two touchdowns in the team's 30-16 win over the Calgary Stampeders, but it's going to take a Herculean effort from the rookie to take down the Blue Bombers in hostile Winnipeg.
Rourke's ailing right foot was visibly bothering him throughout the contest and his head coach admitted that the youngster was hurt after the game. It's clear that his surgically repaired foot isn't completely healed, but he's determined to play through the pain for a shot at the Grey Cup.
Keon Hatcher was Rourke's preferred target last week, leading all receivers with 162 yards on eight catches. Running back James Butler also contributed 90 yards on 20 carries to balance out the offensive attack.
Hatcher led all receivers with 162 yards on eight catches while James Butler rushed for 95 yards on 20 carries.
About the Blue Bombers (15-3 SU, 11-7 ATS, 9-9 o/u): Winnipeg is two wins away from a rare Grey Cup three-peat and has a chance to be the first team to win three titles in a row since Warren Moon led Edmonton to five consecutive titles from 1978-82.
The Blue Bombers have been nearly unbeatable at home over the past two seasons, recording an incredible 16-1 record at IG Field including last year's Western Final victory over the Saskatchewan Roughriders.
Winnipeg took two of its three regular season meetings with BC, but the last two meetings may not be a good gauge as both teams were hampered with injury and scheduling concerns. However, in Week 5, at the height of Rourke's breakout, the Bombers humbled the Lions with a lopsided 43-22 win.
Both teams feature exceptional defences. The Bombers allowed a league-low 19.2 points this year, while BC held opponents to an average of just 20.7 points. However, BC may have a slight advantage in terms of putting pressure on opposing quarterbacks. The Lions recorded 45 sacks this year (third in the CFL) while the Bombers only managed 36 (eighth).
Betting trends:
The over is 11-5 in the past 16 meetings.
BC is 11-5 ATS in its past 16 road games.
The Blue Bombers are 4-1 ATS in their past five playoff games.
BC Lions @ Winnipeg Blue Bombers
Over/Under
OVER 49.5
Bet Now!
---
---