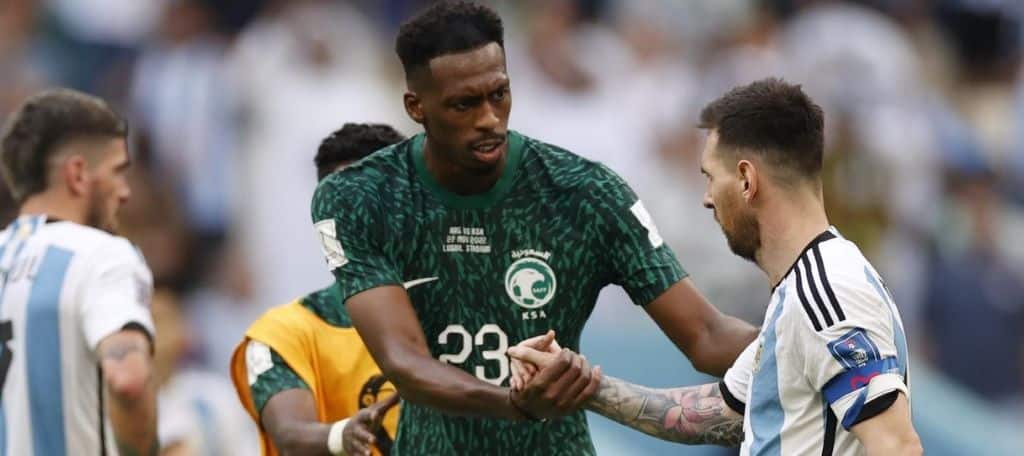 The second day of action for Groups C and D in the World Cup will be an important one. The opening matchups in these groups took place on Nov. 22, and the teams that lost — particularly Argentina which was stunned by Saudi Arabia — will be eager to bounce back, while the teams that won will be keen to secure their knockout place as soon as possible. Poland, Mexico, Tunisia, and Denmark all drew their first games, so there's still everything to play for.
The Nov. 26 matchups, therefore, will start to make it clearer who will progress, and who will crash out. The most interesting matchup? Likely Argentina vs. Mexico, or France vs. Denmark. Keep reading for full previews and analysis of all four games featuring bet365's odds.
| | Match Odds |
| --- | --- |
| Tunisia vs. Australia | Tunisia (+110), Draw (+210), Australia (+280) |
| Poland vs. Saudi Arabia | Poland (-143), Draw (+250), Saudi Arabia (+375) |
| France vs. Denmark | France (-125), Draw (+260), Denmark (+350) |
| Argentina vs. Mexico | Argentina (-182), Draw (+275), Mexico (+500) |
Tunisia vs. Australia betting preview
| | Match Odds |
| --- | --- |
| Tunisia vs. Australia | Tunisia (+110), Draw (+210), Australia (+280) |
| Total Goals | Over 2.5 (+130), Under 2.5 (-163) |
| To Score In First Half | Tunisia (+125) |
One of the day's toughest matches to call is Tunisia vs. Australia. The odds are relatively tight, with Tunisia at +110 and Australia at +280, and the game is expected to be a low-scoring affair (the over/under of 2.5 has the under at -163. In their first games, Tunisia played to a nil-nil draw with Denmark, while Australia was routed 4-1 by France.
With few goals expected in this one, and both teams vying for second place in the group behind France, this game is a virtual must-win for both sides.
Tunisia wins if: It can break through the Aussie midfield. Tunisia was solid at the back, but struggled offensively against Denmark. To better its first result, the team will need to find ways to get the ball into the box for striker Issam Jebali.
Australia wins if: It tightens up at the back and keeps control of the game. Australia struck first in its opening game against France, but was eventually outgunned 4-1. Australia's defence will need to be better against Tunisia, and the more possession it can keep, the better.
Mismatch to watch: Tunisia's five-at-the-back defence. Tunisia will be seeking to keep a tight lid on the Australian offence, and it could easily succeed in suffocating the Socceroos. Perhaps the greatest risk in this game? Another nil-nil draw.
Prop to watch: While props usually focus on individual performances, the one to watch here is the first half prop. Tunisia at +125 to Score in the First Half is a solid bet, especially in what is likely to be a tight game from start to finish. Tunisia will be pushing to break through the Australian line and you will earn a higher return by picking the first half goal.
Poland vs. Saudi Arabia betting preview
| | Match Odds |
| --- | --- |
| Poland vs. Saudi Arabia | Poland (-143), Draw (+250), Saudi Arabia (+375) |
| Total Goals | Over 2.5 (+100), Under 2.5 (-125) |
| To Score Anytime | Robert Lewandowski (+120) |
This will be one of the most interesting matchups of the day as everyone is questioning how Saudi Arabia will perform. The Poles are -143 to win outright while Saudi Arabia is +375 to walk away with the victory. The safe money on the day would be on Poland or a tie, though at -550 there's not much to be made.
Saudi Arabia managed to pull off a huge upset over Argentina in its first game. This will result in a ton of confidence for the underdog side, yet sports bettors will likely want to see one more strong performance before putting their trust in them.
The Poles are hoping to make this an impactful World Cup appearance as they have won just a single game in their last three appearances. As a matter of fact, they haven't made the Round of 16 since 1986. The two teams have met just once before when Poland walked away with a 2-1 victory in 2006.
Poland wins if: It plays up to standards. Poland has faced tougher competition to date, with most of Saudi Arabia's matchups being friendlies. Because of the tougher competition, Poland, utilizing talented players like Arkadiusz Milik and Robert Lewandowski, will have what it takes to break through and tally one or two.
Saudi Arabia wins if: It repeats its amazing defensive performance against Argentina. Saudi Arabia will need to up its game if it's going to walk away with a tie, let alone a victory. The Saudis play good team defence and will need to work to stifle the talented Polish scorers if they hope to come out on top. If they can recreate the defence they had against Argentina, Saudi Arabia will have another good result in this match.
Mismatch to watch: Lewandowski and Milik versus everyone. Lewandowski is one of the heavy favourites to come in as the top goal scorer for the tournament, so you can bet that the Saudis will be hard-pressed to keep them under wraps. However, Saudi Arabia managed to keep Leo Messi and Argentina in check, providing hope it can do the same against Poland.
Prop to watch: It's hard not to look to Lewandowski to score for Poland. He's one of the standout scorers of the tournament and, at +120 To Score Anytime, it would be a sound value bet to predict him getting on the board. Poland will have watched the film from the Saudi Arabia game against Argentina and will be better prepared.
France vs. Denmark betting preview
| | Match Odds |
| --- | --- |
| France vs. Denmark | France (-125), Draw (+260), Denmark (+350) |
| Total Goals | Over 2.5 (+110), Under 2.5 (-138) |
| Alternate Goal Total 3.5 | Over (+300) |
France is the reigning and defending champions, making its seventh appearance in a row in World Cup play. Led by superstar Kylian Mbappe, it is one of the decided favourites to win it all again in 2022.
But the Danes should not be slept on in the least. The money may be on a draw here at +260 as France is -125 to win outright while Denmark is +350. It may also be a preview of the two teams to advance out of Group D.
France wins if: It doesn't suffer a catastrophic event. If France plays even a fraction of its typical game, it's going to be extremely difficult to beat. Though the team is missing Karim Benzema, France is stacked even beyond Mbappe. That makes France difficult to beat no matter the matchup. The French side scored four goals against Australia and showed that it has some of the best offensive talent in the tournament.
Denmark wins if: It rallies behind its defence and limits the French stars. After a draw against Tunisia, Denmark needs every point it can muster.
Mismatch to watch: It's hard not to point to Mbappe. He's +700 to lead the tournament in scoring. When France won the World Cup in 2018 he was a focal point, becoming a superstar in the process. He already scored once against Australia and provided another goal contribution. His speed makes him next to impossible to defend.
Prop to watch: There are more than a few individual scorers of note here, but the real money may be on the over. With the over/under set at 2.5, taking the +110 odds looks like a solid wager. France could score three goals in a single half alone, so why not grab an alternate goal total of 3.5 (+300) or even 4.5 (+700) if you want to be bold.
Argentina vs. Mexico betting preview
| | Match Odds |
| --- | --- |
| Argentina vs. Mexico | Argentina (-182), Draw (+275), Mexico (+500) |
| Total Goals | Over 2.5 (+110), Under 2.5 (-138) |
| Goal In First 10 Minutes | Over 0.5 (+400) |
Alongside Poland, Argentina is the heavy favourite of the day. At -182 to win and -800 to win or tie, it's going to take a heroic effort for Mexico to find a way to win. The Mexicans are going to be facing a stacked and angry Argentinian squad that is looking to give Lionel Messi the send-off he deserves.
After losing in a shock upset to Saudi Arabia, Argentina will be looking to recoup some points against Mexico. However, a loss for the North American side will mean that Mexico is forced into a must-win third gme.
Even without the services of Paul Dybala, who will miss the entire World Cup with a hamstring injury, this should be an easy win for Argentina.
Argentina wins if: It does what it does best. Messi, Lautaro Martinez, Angel Di Maria, should be able to make life difficult for the Mexican squad from the jump. They will be motivated and focused after the embarrassing loss.
Mexico wins if: It copies Saudi Arabia's defensive success. Mexico is no pushover, making it out of the group stage in its last seven appearances. That said, the Mexicans are missing Carlos Vela, and Chicharito, both stalwarts of past teams. The team will need to lean on Gerardo Martino to guide it in order to topple Argentina.
Mismatch to watch: All eyes will be on Messi from start to finish this World Cup. The legendary scorer has never won the big one and will no doubt be playing his very best to secure the elusive World Cup title.
Prop to watch: Props based on scoring in a half have grown in popularity, but the real value may be in the first 10 minutes. At +400, taking the Over 0.5 Goals can potentially pay huge dividends, especially with a team like Argentina that is capable of filling the net with proficiency. Argentina scored many goals against Saudi Arabia that were called just a touch offside. It will come out firing and could find the back of the net quickly in this match.