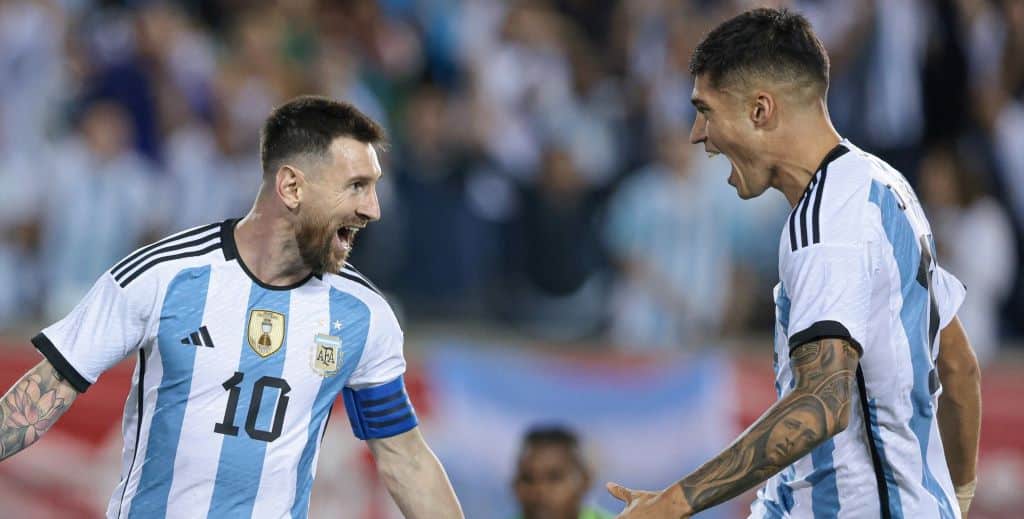 Groups C and D will be getting underway on Tuesday, Nov. 22 at the FIFA World Cup. The day will see a total of four games, two from each group, with Argentina vs. Saudi Arabia and Mexico vs. Poland from Group C, and Denmark vs Tunisia and France vs Australia from Group D. The first outing for each of these teams will be crucial, and will set the tone for what is to come from both groups.
With the exception of Mexico vs. Poland, the day's action will for the most part see heavy favourites take on pretty stark underdogs. Argentina is the biggest favourite, with odds of -600 to win over Saudi Arabia, with France not far behind as a -400 favourite to beat Australia. Denmark, meanwhile, is at -230 to beat Tunisia, meaning while it may not be the overwhelming favourite, it is clear they're widely expected to come out victorious.
Here are the match day odds courtesy of bet365 for all four games:
| | Match Odds |
| --- | --- |
| Argentina vs. Saudi Arabia | Argentina (-600), Draw (+650), Saudi Arabia (+1400) |
| Denmark vs. Tunisia | Denmark (-175), Draw (+280), Tunisia (+550) |
| Mexico vs. Poland | Mexico (+170), Draw (+200), Poland (+187) |
| France vs. Australia | France (-350), Draw (+450), Australia (+1200) |
Argentina vs. Saudi Arabia betting preview
| | Match Odds |
| --- | --- |
| Argentina vs. Saudi Arabia | Argentina (-600), Draw (+650), Saudi Arabia (+1400) |
| Total Goals | Over 2.5 (-150), Under 2.5 (+120) |
| Argentina to win, 3 or more combined goals scored in match (2 of them by Messi) | Yes (+550) |
The day's biggest favourite at -600, Argentina comes into the tournament with one of the most interesting storylines. Lionel Messi, arguably the greatest of all time, is playing in what is to be believed his final World Cup. His nation lost in the final in 2014, and then in the Round of 16 in 2018, to eventual champions France. Can Messi make the most of his last shot?
Argentina wins if: The team gels in time. Argentina's got no shortage of talent, but the problem has often been management and chemistry. The signs are good: Argentina has won its last five games by a combined score of 19-0 over Italy, Estonia, Honduras, Jamaica, and the United Arab Emirates. If all goes to plan, its front three of Angel Di Maria, Messi, and Lautaro Martinez should be far too much for the Saudis.
Saudi Arabia wins if: It puts in a defensive masterclass. Saudi Arabia will likely be playing for a draw in this one, with 11 men behind the ball. While it will have pretty low hopes of winning this one, just hanging in there would be a moral victory to take into the next couple of games with Poland and Mexico.
Mismatch to watch: Without sounding like a broken record, Argentina's x-factor remains Messi. Given that this is likely to be his final go at a World Cup, he will no doubt be playing his heart out, very possibly making life absolutely miserable for the Saudi defenders.
Prop to watch: Though most props are on individual players to score, the most interesting one is a prop being offered at +550. The match result is for Argentina, seeing three or more combined goals with at least two of them coming off the foot of Messi.
Denmark vs. Tunisia betting preview
| | Match Odds |
| --- | --- |
| Denmark vs. Tunisia | Denmark (-175), Draw (+280), Tunisia (+550) |
| Total Goals | Over 2.5 (+130), Under 2.5 (-163) |
| Denmark to win, over 2.5 goals, Kasper Dolberg to score | Yes (+450) |
Denmark is among the dark horses to go deep into this World Cup tournament, but both teams have played well across their last five matches, with Denmark posting a 3-0-2 record and Tunisia sitting at 3-1-1. Last time at the World Cup, Denmark lost in the Round of 16, whereas Tunisia didn't make it past the group stage.
Denmark wins if: It takes chances. The Danes have plenty of playmakers, like Christian Eriksen, Mikkel Damsgaard, and Andreas Skov Olsen, so it'll just be about taking their opportunities. Tunisia will likely be sitting deep and trying to deny them space in the box, so it might be harder than some expect.
Tunisia wins if: It suffocates the Danish attack. Tunisia is more than capable of defending deep, and the longer it can keep the Danes out, the better the chances of pulling off an upset.
Mismatch to watch: There's a bit of a creativity deficit in this one, with the Danes having a much more imaginative midfield to work with. Tunisia will be sitting back, but it remains to be seen if it'll have any idea what to do going forward, particularly against a stolid Danish backline.
Prop to watch: A good value bet to watch is in a parlay featuring Denmark taking the match, seeing the over of two goals being hit, with a specific Danish player (e.g. Kasper Dolberg) scoring at any time. The parlay pays out +450, slightly up from the previous odds of +350.
Mexico vs. Poland betting preview
| | Match Odds |
| --- | --- |
| Mexico vs. Poland | Mexico (+170), Draw (+200), Poland (+187) |
| Total Goals | Over 2.5 (+150), Under 2.5 (-188) |
| Robert Lewandowski to score | Yes (+175) |
Right now at bet365, Mexico has odds of +170 to take the match, but Poland is right there at +187, and a draw is sitting at +200. The over/under is at 2.5 goals, with the under being the heavy favourite at -188.
Since Argentina is favoured to take the top spot coming out of Group C, Mexico and Poland will likely understand themselves to be vying for that all-important second spot. The team that secures a win in this matchup will put itself firmly in the driver's seat in the race for second place in the group.
Mexico wins if: It sits back and hits hard on the break. Mexico can't match Poland's talent up front, so some defensive solidity will be necessary here. The Mexicans may sit deep for large portions of the game, and seek to score on the counterattack through pacey outlets like Hirving Lozano. Nonetheless, if Mexico puts in a sound defensive performance and takes advantage of its (likely few) chances in front of goal, it could win.
Poland wins if: It makes the most of its weapons. In Robert Lewandowski, Poland has the offensive firepower to compete with some of the best. However, it will still need find ways to create chances for Lewa, and maybe even find entirely different ways to score if Mexico's centre-halves are sticking too tight to their star No. 9.
Mismatch to watch: Lewandowski of Poland is a back-to-back winner of the Best FIFA's Men's Player Award, winning in 2020 and 2021, and there's no clear answer on hand for Mexico. Mexico will need to put in an exceptional defensive performance — including winning plenty of aerial duels — if it wants to keep Poland's superstar at bay.
Prop to watch: The most interesting props are on the goalscorers. Poland's Lewandowski is the favourite to score anytime (+175), as well as posting the first/last goal (+400). At the other end, Mexico's Raul Jimenez is the favourite to net one at +250, with the next closest being Lozano at +375.
France vs. Australia betting preview
| | Match Odds |
| --- | --- |
| France vs. Australia | France (-350), Draw (+450), Australia (+1200) |
| Total Goals | Over 2.5 (-138), Under 2.5 (+110) |
| Kylian Mbappe to score first goal | Yes (+333) |
France is without a doubt the favourite in this matchup, coming in at -350 to win outright. Given that France is the reigning World Cup Champions, it would be a significant disappointment if it failed to take the first match. Some might say the more interesting wagers are on the margin of victory, or on whether France will keep a clean sheet (currently +750).
France wins if: It doesn't make any silly mistakes. The team has more than enough skill in the likes of Kylian Mbappe, Karim Benzema, Antoine Griezmann, and just about everyone else on the roster to easily overcome Australia, but it still has to execute. As long as we don't see wasted chances and defensive mishaps, France wins.
Australia wins if: It brings its A-game, and France doesn't. Australia needed a pair of playoffs to get to Qatar, and though the squad has shown plenty of heart in qualifiers, this is another ballgame. Nonetheless, it's not impossible, especially if the Australians manage to score first, and don't let France back in the game.
Mismatch to watch: The mismatch may be the game itself. France's team is stacked, presenting several individual challenges for the Aussies. Whether it be Mbappe, Benzema, Griezmann, or whoever else, the Aussies will have their hands full, especially defensively, throughout the contest.
Prop to watch: The prop to watch is Kylian Mbappe to be the first goal scorer of the match. The French superstar is among the expected leading scorers of the tournament and backing him to score first at +333 might well be a popular pick.