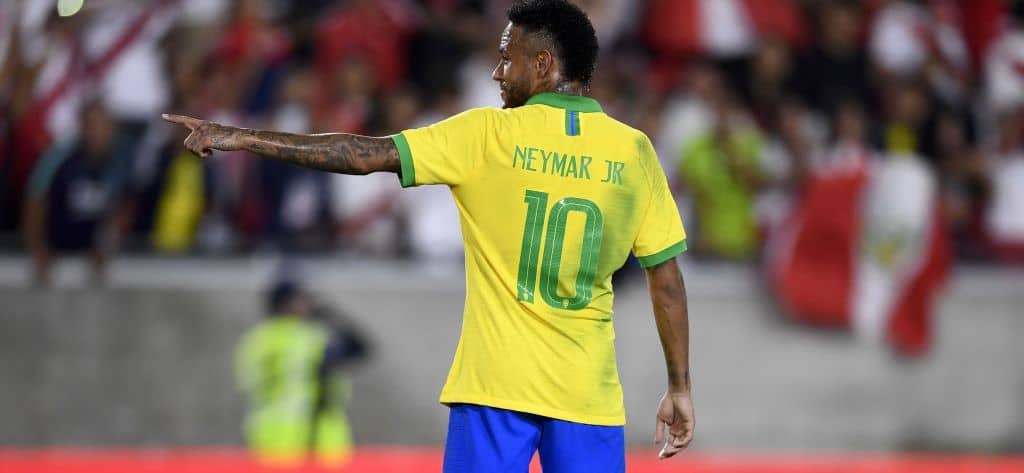 Eyes were always going to be focused on Group G with FIFA World Cup favourites Brazil headlining the group. At +350 now to win the tournament outright at bet365, all roads seemingly have Brazil pencilled in to reach the final.
Serbia and Switzerland won't be intimidated, having faced Brazil in the group phase in the last tournament, and Cameroon will welcome the role of underdogs happily. It's all to play for in what should be an electric group stage. Let's dig in further and see what we can glean from this Group G preview.
Group G Team Previews
Brazil
As cliche as it sounds, all roads to the final seemingly run through Brazil. The storylines are endless. Can Brazil score its way to a World Cup triumph? Is the tournament where a new star is crowned and Neymardependência ends? And if not, imagine the scenes if Neymar
dazzles and mesmerizes on the world stage and snatches a title in the final World cup featuring Lionel Messi and Cristiano Ronaldo.
As you can see, any writer might find themselves a bit overwhelmed when trying to write a succinct preview, so let's stick to the facts.
Dani Alves will make his fourth World Cup appearance. Alves won't be contributing on the field this tournament. At 39, he's more a quasi-coach, cheerleader, and morale booster than a squad player, but his presence will be felt in the later stages.
Manager Tite provides continuity from 2018 when Brazil finished in the quarterfinals. Tite will be expected to win the tournament after losing to Argentina in the most recent Copa America. It's now or never for the manager.
The trio of Richarlison, Gabriel Jesus, and Vinicius Jr. will all be looking to announce themselves after impressive showings at the club level.
Player to watch: Thiago Silva
I know the preamble focused a lot on the attack, but if Brazil is looking to go far in the tournament, Silva will be needed to solidify the back line. With 109 caps and seven goals to his name, Silva is a fantastic ball carrier and can start attacks and finish them in the box. He'll be needed to steady the ship and provide a calm presence for the erratic Ederson who's been known to make a blunder or two in net while representing Brazil.
Switzerland
The Swiss have a fire that can't be tempered. Led by their fiery and combative captain, Granit Xhaka, the beating heart of this team runs through the midfield. With a fantastic showing in the 2018 World Cup, not to mention a group stage filled with drama and storylines, the Swiss fell to Sweden in the Round of 16 after having waves of attacks thwarted by a resilient Swedish side.
Their qualifying campaigns had their ups and downs, but they found their way through with Breel Embolo and Denis Zakaria showcasing their form and realizing the potential so many had seen in them in their early careers. The Swiss will battle Serbia for qualification, but make no mistake, it'll be a battle that may include an upset along the way.
Player to watch: Breel Embolo
After a bright start in Switzerland with FC Basel, Embolo was earmarked for the elites of Europe with his mix of pace, strength, and goal-scoring pedigree. His first move abroad didn't prove fruitful, joining a Schalke team that was destined for relegation. He found form with Borussia Monchengladbach and a manager in Marco Rose who believed in a free-flowing style of football that pushed the pace to cause mayhem on opposing defences. The Swiss will be playing on the back foot for most of the tournament, but if they do find themselves with a chance, Embolo should be on the end of it.
Serbia
Serbians are proud, resilient people and they're still a force on the world stage. However, their defence is abysmal and porous. If Serbia is to qualify out of the group stage, it's attacking pedigree will have to push it over the hill. Aleksander Mitrovic, Dusan Tadic, and Sergej Milinkovic-Savic represent a once-in-a-generation trio of creative, decisive, and elite players with the ability to hopefully earn their nation a Round-of-16 berth.
Player to watch: Dusan Vlahovic
Not mentioned at the outset and a relatively recent debutant at the world stage, Vlahovic has reached the pinnacle of Italian soccer after transferring from Fiorentina to domestic heavyweights Juventus. With eight goals in 16 appearances for the national team, Vlahovic will be counted on to come in and push the pace in the latter half of matches. Unfortunately for him, or fortunately for Serbia, he's behind Mitrovic, who has been in sensational form after a relegation season to the English Championship with Fulham where he truly found his game and rolled the times back to become a prototypical target man with an illustrious goal-scoring record. Vlahovic or Mitrovic, the Serbian front line will inspire fear in any defence.
Cameroon
While Cameroon can no longer can rely on its mercurial talisman and one of the great African players to grace the game, Samuel Eto'o has pronounced captain Vincent Aboubakar as the best current player from the continent. Yes, even better than Mo Salah. Nevertheless, this is a side that wants to make noise on the world stage and remind its continental counterparts that African glory will only be achieved on the backs of Cameroon. The Head of the Cameroonian Football Federation, the aforementioned Eto'o, and his project, enticed and swayed numerous dual-national players to forego their nations of birth and switch to representing the Indomitable Lions.
Player to watch: Vincent Aboubakar
While the attack doesn't solely rely on Aboubakar, leading the front line with 33 goals in 88 appearances, Aboubakar will be key to a bruising and physical Cameroonian attack that relies as much on pace as it does its enduring sustained pressure that even the
Brazilians will find difficulty containing. A threat from set pieces, Aboubakar is fantastic at holding up the ball and playing seamless passes to the wing to unlock space out wide. The captain will surely be adding to his goal-scoring tally this tournament.
Group G Winner Odds
At -275, the value isn't terrible on Brazil, especially when we're talking about the potential champions. However, I'd be more focused on the +400 for a potential Brazil World Cup win. Those odds will get shorter as the tournament progresses, but if you're convinced, hammer the odds on it now.
Switzerland at +450 to win the group is a long shot. The Swiss are volatile. Xherdan Shaqiri has a penchant for breathtaking displays of skill and fantastic timing, but with Brazil destined for the Round of 16, the story of Group G is who will finish second. The Swiss do have a chance, but if I consider the odds and value, Serbia is a better bet on relatively low units.
Again, and I'm sure this is becoming readily apparent, I won't be diverting from my thesis that this group is Brazil's to lose. However, Serbia plays Brazil in the opening match of the group, and if it's able to escape the match with a positive result, things become immediately more interesting. If there was a match to pay attention to for live-betting opportunities, this is it.
Cameroon is purely a flyer for the most opportunistic. The Lions have the heart of a nation and the resiliency of a continent, however, in terms of a value bet, I'd be more inclined to bet on Cameroon's potential to qualify. At +350, there's some value, but again it's a punt for the most hopeful.
Group G World Cup Winner Odds
As previously discussed, Brazil is the only real play here. The other three teams in Group G are unlikely to make a Cinderella run as World Cup champions.
Group G Prop Betting Odds
Brazil backers that are looking for some extra value could take a look at the "Winner and Top Goalscorer" category at bet365. You can pick up Brazil to win the tournament and Neymar to be the top goalscorer for a hearty +2000.
Another fun, and potentially profitable prop wager at bet365, can be found in the "Winning Continent" category. You can grab South America at +162, and that will cover the two countries with the shortest World Cup outright odd outrights (Brazil +350 and Argentina +550) as well as Uruguay (+4000) and Ecuador (+15000).
Group G Soccer Betting Final Thoughts
Group G seems to be decided already. Brazil's failure to qualify out of the group will be a catastrophe for the national program. Neymar will need the group stage to find his feet and settle into the tournament, and if he does falter, Brazil has copious amounts of firepower to fill the void in the meanwhile. Serbia and Switzerland will inevitably become a story of geopolitics, not to mention the additional pressure of qualification. Again, a Serbia result against Brazil will open the floodgates and make the group immediately more attractive from a betting perspective.
Finally, the Indomitable Lions will need to muster all of the past heroics of Samuel Eto'o and manager Rigobert Song to find results, but their lack of success will not be because of a poor showing.
Group G has it all and provides value for smart bettors. Keep a keen eye on it and watch for live-betting opportunities. Check back for the rest of our group previews at Canada Sports Betting and be sure to watch the line movement at bet365.