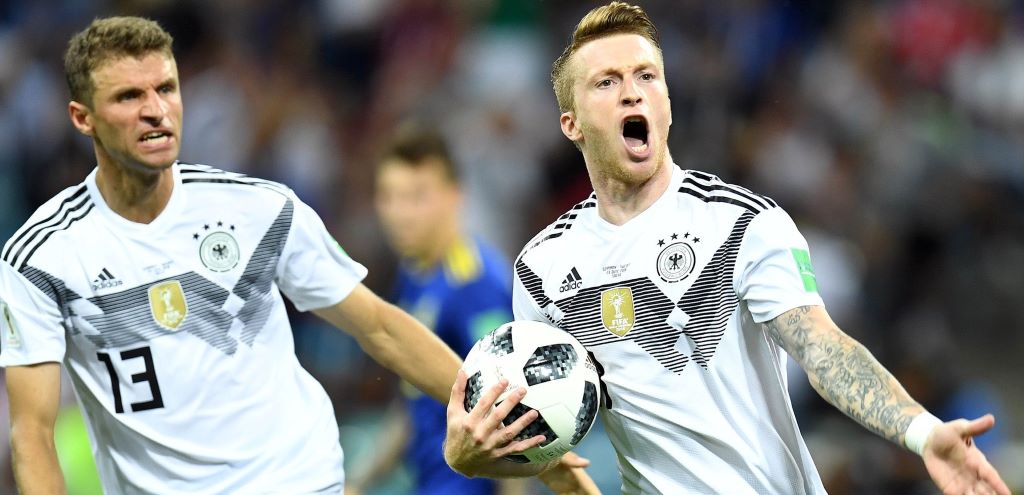 With the World Cup 2022 set to kick off on Nov. 20, soccer fans are eagerly anticipating the tournament, and many are now researching the teams, the bet365 odds, and picking their team to win it all. Canada Sports Betting will provide all the group preview coverage before the tournament begins as well as match day articles to assist bettors with handicapping.
There are five favourites heading into the tournament: Brazil at +400, Argentina at +550, France at +600, England at +800, and Spain at +850. But before we get into the action, it's time to take a closer look at Group E. How will Germany, Spain, Costa Rica, and Japan fare in the upcoming World Cup?
Group E Team Previews
Spain
Like Germany, Spain is a former World Cup champion. Its 2010 win is also its only one, but the nation certainly has the talent to make a run again in 2022. Spain is looking to rebound from its poor showing in 2018, when it suffered an upset in the Round of 16 to the hosts, Russia.
Spain is all about attacking and pressing, which has been a trademark of the team under manager Luis Enrique. The Spaniards are one of the highest-intensity teams in the group, with a coach that demands plenty of running from his entire starting 11 players.
Spain will be slight underdogs compared to the favourite Germany to top the group, though it will likely be on a knife-edge between the two nations. And if we're looking for difference-makers, this could be the stage on which Barcelona midfielder Pedri becomes a household name. He has all the tools to become a superstar, and many will expect him to be Spain's most influential player.
Spain's opening contest in this year's World Cup will be against Costa Rica on Nov. 23 and it will be a heavy favourite in that matchup and, at -120 to win the group, will hope to put itself in a good position to make some noise going forward.
Player to watch: Gavi
Gavi, alongside fellow midfielder Pedri, is set to be the one of the standout players for Spain. At just 18 years old, Gavi has plenty of swagger and the ball skills to match. He has impressed for his club with his ability to perform under pressure, and fans will hope he can deliver in key situations for Spain.
Player to watch: Sergio Busquets
In 2018, Busquets was known as "the king of pivots." Fans will know that Busquets does everything well, even if he isn't the flashiest player on the field. He has tremendous technique, making him a calm but crucial presence everywhere on the field.
Germany
The Germans are an interesting team to watch. Though oddsmakers have them a little further back than the five favourites, they aren't too far off at +1000. The 2014 World Cup winner will certainly be a threat worth watching as group play unfolds.
If there are question marks, things remain uncertain around the managerial role. This is the first World Cup for manager Hansi Flick, who took the reins from their World Cup-winning manager Joachim Low in 2021. Though Flick has the resume to bring Germany back to glory, German fans will be hoping that the new boss can replicate Low's success.
It's expected that the race to the top of Group E will come down to Germany and Spain (more on this later), but Germany's opening match will see it take on Japan on Nov. 23. Germany will be heavily favoured, though Japan has been known to pull off an upset.
Player to watch: Thomas Muller
Muller is a do-it-all kind of player for Germany. The veteran striker has the capacity to play deep and take on a creative role, or can seek out goalscoring opportunities with a poacher's instinct. In what is likely his last World Cup, the Bayern Munich striker will once again be key to Germany's success.
Player to watch: Jamal Musiala
Musiala has evolved from one of the best prospects in all of Europe to a major player for Germany. He has a natural feel for being in the right place at the right time. More importantly, he has the maturity to play between the lines with or without the ball.
Japan
The road to the World Cup for Japan saw it win seven of its eight games in its AFC qualifying group. Though its hopes of making the World Cup took a hit when it lost to Oman, it secured a crucial victory over Australia to secure second place in the group behind Saudi Arabia.
Japan has now qualified for seven consecutive World Cups. Three of its prior six appearances saw it make the Round of 16, including a thrilling contest in the knockout stages against Belgium in 2018, which it lost 3-2 in heartbreaking fashion.
Japan is a clear underdog compared to Germany and Spain, but it isn't a pushover. The squad's playstyle emphasizes being technically sound, and patiently waiting for mistakes to appear before capitalizing. The team's biggest issue lies in its lack of dynamic options. The Japanese are solid throughout, but won't have access to the starpower that Germany and Spain possess. The group stage game against fellow underdogs Costa Rica will be a must-win.
Player to watch: Takehiro Tomiyasu
Tomiyasu announced himself in the Italian league for Bologna, becoming the first Japanese player since Keisuke Honda to move to the Serie A. Since then, he has moved to Arsenal, where he currently plies his trade. A defender with a habit of getting forward, Tomiyasu is extremely versatile, and can even pose the occasional goal threat.
Player to watch: Kaoru Mitoma
Like Tomiyasu, Mitoma has taken his game to Europe via Brighton and Hove Albion in the Premier League. He is a constant headache for defenders, breaking through to find gaps in the line. He also shows an impressive penchant for scoring, making him one of Japan's most dangerous strikers.
Costa Rica
Costa Rica has the longest odds of winning Group E at +5000. Though Japan is a clear underdog compared to the two favourites, Costa Rica getting through would be much more of a Cinderella story. The nation started out 1-3-1 in CONCACAF's Hexagonal round, but finished with a flourish. In its final seven games, it won six, drawing one, and suffered no defeats.
Costa Rica will play defensively, and will be eager to protect any draw (let alone lead) it can secure. When at its best, Costa Rica can be suffocating defensively, but it will need to be performing at the highest level just to compete in Group E.
Costa Rica has one World Cup quarterfinal appearance in its history, which came back in 2014. Most will be expecting the squad to come in last in this group, but a little luck and some tight defence could inspire an upset or two.
Player to watch: Keylor Navas
For Costa Rica to have a chance, it's going to fall on the shoulders of star keeper Navas. During his stint at Real Madrid, he was in the discussion as one of the best keepers in Europe. He has exceptional reflexes, and Costa Ricans will be hoping they're as sharp as ever in Qatar.
Group E Winner Odds
Group E has the distinction of containing two of the tournament favourites: Germany and Spain. It therefore stands to reason that most oddsmakers are projecting that one of those two nations will win Group E. Germany is +110 to win the group while Spain is -120 to come out on top.
Though one can never write off any team, it's hard to imagine Costa Rica (+5000 to win Group E) making a serious threat. Though it is the clear third team in Group E, Japan can't be slept on at +375 odds to qualify from the group.
Group E World Cup Winner Odds
Recent history seems to stand behind the big boys of Group E. Spain was the 2010 World Cup winner in South Africa, while Germany has four titles under its belt with the most recent win coming in 2014 in Brazil. Both teams are prepared to make a serious run to add another title to their ranks.
Spain are sitting at +850 to win it all, while Germany trails just a little behind at +1000.
Group E Prop Betting Odds
Prop bets are another great way to get in on the World Cup 2022 betting action. One particular prop that will be sure to have everyone's attention is who the top goal scorer of the tournament will be. The clear favourites belong to England (Harry Kane, +700), France (Kylian Mbappe, +900), and Brazil (Neymar Jr., +1200).
Notable Group E players include Germany's Serge Gnabry and Kai Havertz (both +4000), along with Spain's Alvaro Morata (+4000) and Ferran Torres (+5000).
Group E Soccer Betting Final Thoughts
As we head into what promises to be an exceptional World Cup, most fans watching Group E will be paying attention to the two past winners. Germany and Spain are not only the favourites to take the Group, but both have been tipped by many to make a bid to lift the trophy. When play begins, the world will be watching to see if either of these soccer powerhouses can win the ultimate prize.