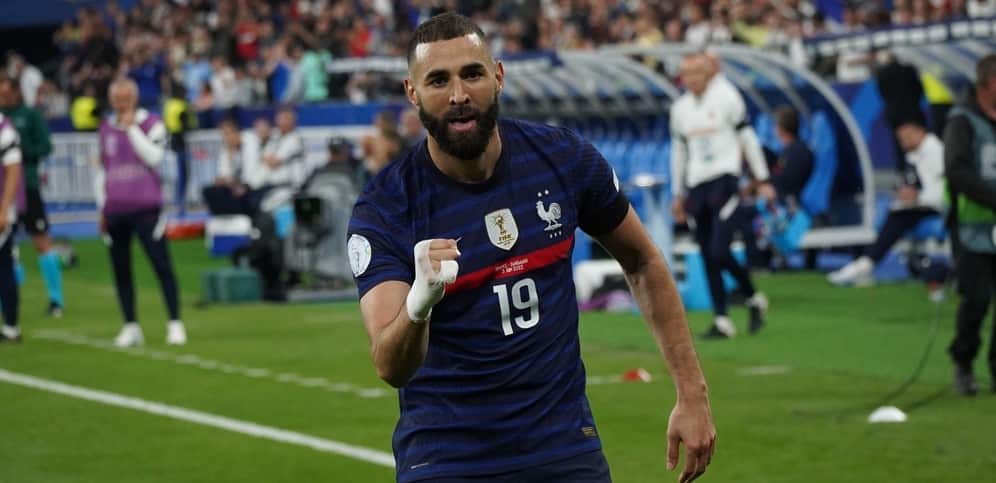 When the 2022 FIFA World Cup kicks off later this month the eyes of the soccer world will be focused on Qatar and the 32 teams vying to lift the World Cup trophy.
In anticipation, Canada Sports Betting has been previewing each of the eight groups that will divide the field utilizing bet365's odds, and when the tournament begins November 20, daily betting previews will dig in deeper on each of the 64 matches ahead.
Here's our Group D preview.
Group D Team Previews
France
Two-time winners and defending champions, France goes to Qatar as one of the teams expected to contend. For any other nation, injuries to pieces as important as midfielders Paul Pogba and N'Golo Kante would spell doom, but France is blessed with an abundance of top-level talent playing. As such, the main goal for head coach Didier Deschamps is to find a measure of peace amongst a volatile lot.
The history of infighting in the French camp has spelled its doom in past tournaments and after a lacklustre showing at the 2020 UEFA European Championships played in the summer of 2021, where France was knocked out by Switzerland on penalty kicks in the Round of 16, Deschamps will be eager to attain the harmony needed to go far in 2022.
Les Bleus went unbeaten – five wins and three draws – through UEFA World Cup Qualification in 2021 to secure their berth and the squad defeated Spain in the 2021 UEFA Nations League Final, but narrowly avoided relegation in more recent UEFA Nations League A action, collecting just one point more than Austria.
It is that inconsistency that Deschamps will be looking to navigate through Group D and beyond.
Player to watch: Kylian Mbappe
At just 23 years of age, Mbappe has already staked his claim to being one of the best footballers in the world. With a World Cup, five Ligue 1 titles, and five domestic cups to his name, it was thought that having won all there was to win in his homeland he would move onto a bigger, foreign stage.
His decision to remain with Paris Saint-Germain, spurning a proposed transfer to Spanish giants Real Madrid, came as somewhat of a shock, but PSG was able to offer more than financial rewards as it goes in search of elusive UEFA Champions League glory, though that has prompted some off-field trouble.
Lightning quick and a sublime finisher, Mbappe leads Ligue 1 with 11 goals this season through 13 appearances, tied with his Brazilian teammate Neymar.
Player to watch: Karim Benzema
At the other end of the age spectrum, the 34-year-old Benzema will likely be Mbappe's strike partner.
A rising star in his youth at Olympique Lyon, Benzema was drawn by the lure of Madrid and made the move to Spain in 2009 where he long toiled underappreciated in the shadow of brighter stars.
With maturity came recognition, and Benzema has been playing some of his finest football of late, winning his first Pichichi Trophy, awarded to the top scorer in Spain, last season, as well as the most recent Ballon d'Or in October.
Denmark
The Danes arrive in Qatar in a unique position: too familiar to be considered darkhorses, but not quite on par with the favourites.
Their march to the semifinal of the 2020 UEFA European Championships under head coach Kasper Hjulmand made a statement, one which they have only reinforced in the ensuing months.
A strong qualification campaign saw them win nine of their 10 matches and drawn into a difficult UEFA Nations League A group with Croatia, France, and Austria. Denmark missed out on a spot in the finals by a single point to Croatia, beating France both home and away.
Playing in its fifth World Cup, success in Qatar would not be the first time Denmark has surprised: the squad's 1992 Euros victory is the stuff of legend, called in as a last-minute replacement for Yugoslavia – some players purportedly already enjoying their offseason on the beach. The Danes won that competition and followed it up by winning the 1995 FIFA Confederations Cup.
Player to Watch: Christian Eriksen
On June 12, 2021 the soccer world held its collective breath. Just before halftime of its opening match at the 2020 Euros, Denmark's Eriksen collapsed. What followed was horrific to watch – the looks on the faces of his teammates, opponents, fans in attendance. Eriksen suffered a cardiac arrest on the pitch and had to be resuscitated. The world's biggest game seemed so small.
With Eriksen in mind, Denmark would reach the semifinals of that competition, but many feared his career over. The 30-year-old midfielder had other plans. Not permitted to play with his club Inter Milan in Italy after having a cardioverter-defibrillator implanted, Eriksen moved to English side Brentford FC in the winter where he proved himself to still be an elite chance creator earning himself a transfer to Manchester United.
A silky, attacking midfielder, it will be a special moment to see him back on one of the biggest stages in soccer.
Australia
The Aussies love a challenge and they'll be in for one to emerge from Group D.
Lacking the world class talent of past generations, head coach Graham Arnold has looked to lean on those characteristically Australian traits of graft and tenacity.
The Socceroos will be playing in their fifth-straight World Cup, but what has come to be expected nearly did not materialize. A disrupted AFC qualification cycle – domestic COVID-19 policies meant that Australia played the majority of its 'home' matches in Qatar – saw the Australians miss out on an automatic berth. Instead a conference playoff against the United Arab Emirates awaited.
Australia won, 2-1, on June 7, but then faced Peru in the inter-confederation playoffs later that month. Following a nil-nil draw after extra time, the match went to a penalty shootout where Australia emerged victorious, 5-4, thanks in part to the wobbly dramatics of substitute goalkeeper Andrew Redmayne.
Player to Watch: Mathew Ryan
Goalkeeper and captain, the 30-year-old Ryan will have to take a big role, both on and off the field, for his side. While a goalkeeper can never be looked to to provide the goals that propel a team, it will be just as important to Australian hopes of advance that he and the rest of the defence provide a foundation by limiting the damage done by the chances opponents such as France and Denmark will undoubtedly create.
Interestingly, after playing the majority of his career in Belgium and England, Ryan moved to FC Copenhagen in the Danish Superliga ahead of the current season.
Tunisia
The Carthage Eagles arrive at the first World Cup in the Middle East as somewhat of a question mark.
Tunisia topped its group in the Second Round of CAF World Cup Qualification, but a subpar showing in the 2021 Africa Cup of Nations played in early 2022 – the North African side would beat Nigeria in the Round of 16, but fall to Burkina Faso in the quarterfinals – prompted a coaching change.
With Jalal Kadri in place, the team rode a strong defensive performance in the second leg at home to make the most of an own-goal in its 1-0 away victory against Mali in the opening leg. That trend, of being defensively sound and looking to hit on the counter and make the most of set-pieces, has served them well of late. At the Kirin Cup in June, an invitational tournament in Japan, Tunisia would defeat Chile and Japan, outscoring its opponents 5-0 in the process.
A heavy 5-1 defeat by Brazil in Paris, France in September will have been a valuable lesson heading into Group D. Playing in its sixth World Cup, Tunisia has never gotten out of the group.
Player to Watch: Wahbi Khazri
A 31-year-old forward/attacking midfielder, Khazri plys his trade in France with Montpellier HSC.
Born in France – not uncommon for players who will represent Tunisia in Qatar – he has spent the majority of his career in French football, aside from a brief stint at Sunderland AFC in England. His three goals in CAF World Cup Qualification proved vital for a team that lacked offensive firepower, and of the players expected to be named to the final squad, his tally of 24 goals in 71 appearances stands out as a potential source.
Group D Winner Odds
France is heavily favoured to rise to the top of Group D (-250), but should Denmark get the better of it head-to-head, as it did twice recently, the Danes could top the quartet (+275).
As for Australia and Tunisia, the odds are long (+1400 and +1600, respectively), but that's why they play the games.
Group D World Cup Winner Odds
If Didier Deschamps can somehow manage to keep all those egos under control and harness the talent, France is one of a handful of teams with a legitimate shot to win (+600), becoming just the third team ever to win back-to-back titles and the first since Brazil in 1958 and 1962.
Neither true dark horses, nor proper favourites, Denmark (+2800) catches the eye as a potential bracket-breaker.
Group D Prop Betting Odds
With France expected to go far, the discussion of top scorer comes into play. As always, it is a matter of attacking potential, but also going as deep as possible in the tournament to compound the number of matches played.
Mbappe (+900) and Benzema (+1200) should both factor into that thinking, as well as the combination of "Winner & Top Scorer" with France and Mbappe, or Benzema, coming in at +3300 and +4000, respectively. Same goes for the "Golden Ball" odds, with Mbappe at +1000 and Benzema +1200.
One last category to note: "Golden Glove" for the goalkeeper of the tournament. France's veteran keeper Hugo Lloris (+650) is one candidate, as is Denmark's Kasper Schmeichel (+3300), who, should the Danes make a historic run, will be central to it.
Group D Soccer Betting Final Thoughts
With two heavily-favoured sides, France and Denmark, drawn into a group with two teams who enter the tournament with significant question marks, Group D appears to be a foregone conclusion, at least in terms of who advances and who will be going home.
Surprises are not out of the question, but most interestingly, and given the recent history between the two teams, as well as France's unpredictability and Denmark's surging form, it will be fascinating to see which side will emerge as winners.