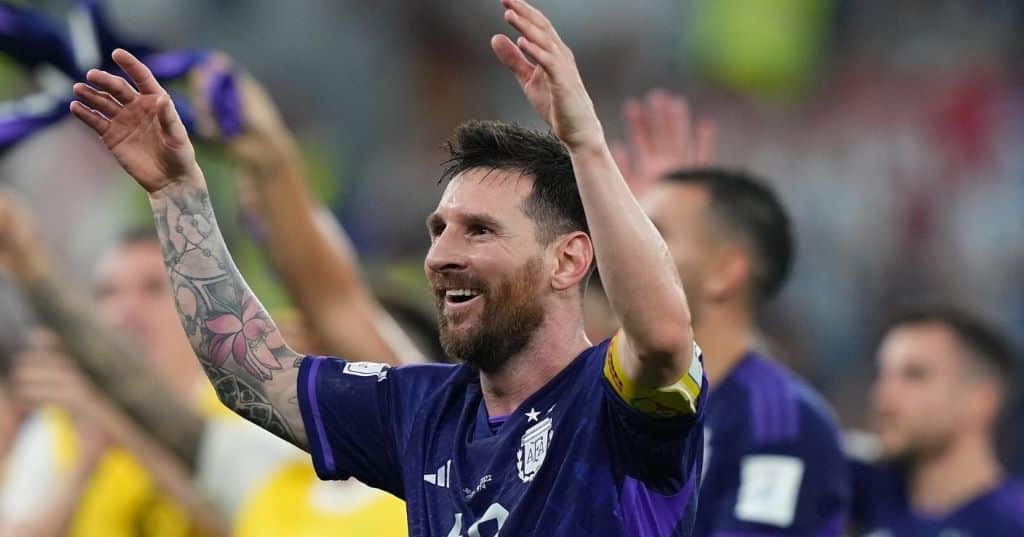 And then there were eight. The 2022 FIFA World Cup in Qatar resumes on Friday with the first pair of quarterfinal matches.
The early kickoff sees Croatia and Brazil clash just days after each nation progressed through the Round of 16. Croatia needed penalty kicks to move past Japan, winning 3-1 in the shootout following a 1-1 draw. Whereas Brazil waited just seven minutes to get the upper hand over South Korea. It would add three more before halftime to all but seal the result – a second half Korean goal was consolation in a 4-1 result.
The afternoon contest pits the Dutch against the Argentines. The Netherlands moved past the USA 3-1 on a tactical masterclass from coach Louis van Gaal and a man-of-the-match performance from Denzel Dumfries, who set-up two goals and scored the third. Argentina, on the other hand, was forced to endure some nervy moments after going up by two over the Australians, but held on to win 2-1.
Here are the match day odds courtesy of bet365:
| | Match Odds |
| --- | --- |
| Croatia vs. Brazil | Croatia (+800), Draw (+400), Brazil (-275) |
| Netherlands vs. Argentina | Netherlands (+260), Draw (+210), Argentina (+120) |
Croatia vs. Brazil betting preview
| | Match Odds |
| --- | --- |
| Croatia vs. Brazil | Croatia (+800), Draw (+400), Brazil (-275) |
| Total Goals | Over 2.5 (-125), Under 2.5 (+100) |
| Vinicius Junior Assists | Over 0.5 (+225) |
Croatia wins if: It takes the joy out of the game.
Brazil's opening half against South Korea was the epitome of jogo bonito, so when the two square off Croatia needs to turn this one into an ugly affair.
Luckily, the Croatian side knows how to dirty up a game. It gutted through scoreless draws with Morocco and Belgium in the group stage and even though it couldn't exactly get a stranglehold over the contest with Japan, it pulled back level after falling behind and saw out the remainder of the game and extra time with a characteristic calmness. Zlatko Dalic saw fit to remove his experienced midfield trio before penalty kicks indicating the next wave of Croatian talent is ready for this stage.
Croatia doesn't need to go toe-to-toe with Brazil in attacking dynamism, it needs to make it a battle.
Brazil wins if: It can dance through and around the Croatian midfield.
Brazil was 2-0 up after 13 minutes against South Korea, 3-0 after 29 minutes, and 4-0 by the 36th minute. It was a rampant attacking outing, all that Brazilian football embodies was on display.
Unfortunately for Croatia, as its strength lies in the middle of the park, a lot of that forward momentum was created by the two wide midfielders: Raphinha on the right and Vinicius Junior on the left. The Croatians will be eager to take the sting out of the game by controlling the tempo of the match in the midfield. Brazil could well just bypass them entirely up the flanks.
That four of five attacking pieces found the back of the net against the Koreans, as well as the return of Neymar from his ankle injury, will have Brazil in high spirits. Should it continue that samba against Croatia, this one could be over just as quick.
Mismatch to watch: Shots and quality of chances allowed.
Through four matches apiece, Brazil has dramatically outshot Croatia, both in terms of attempts (74 to 46) and shots on target (29 to 19). Both are hitting the target with roughly 40% of their attempts, but that added volume from Brazil translates to three more shots on target per 90 minutes. That is three extra chances to score.
Each has conceded two goals thus far, but they've done so in very different ways. Expected goals (xG) is a measure of the quality of an opportunity. Given the chances Croatia has conceded it should have conceded 5.0 goals – it gave up big chances that opponents wasted. Brazil's opponents, on the other hand, have only amassed an xG of 1.4.
In a game where only one chance is needed to advance, the team that gives itself more and concedes fewer is better placed.
Prop to watch: Assists: Vinicius Junior Over 0.5 +225.
Vini Jr., who opened the scoring in the Round of 16, has two assists through three appearances in Qatar, providing helpers to Richarlison in the opener against Serbia and setting up Lucas Paqueta against South Korea.
The speedy Real Madrid wide attacker has been in excellent form throughout the World Cup. He leads Brazil in a statistic called Goal-Creating Actions, a measure of contributions that lead to a goal, with four.
Netherlands vs. Argentina betting preview
| | Match Odds |
| --- | --- |
| Netherlands vs. Argentina | Netherlands (+260), Draw (+210), Argentina (+120) |
| Total Goals | Over 2.5 (+137), Under 2.5 (-175) |
| Both Teams To Score | Yes (+100) |
Netherlands wins if: It can win the tactical battle once more.
Heading into its Round of 16 bout with the Americans most thought it was a toss-up. The Netherlands had barely been forced out of first gear in Group A and the USA was looking good, controlling matches with patient build-up play while taking advantage of opportunities it created.
But the Dutch are savvy, van Gaal's side turned that American strength into a vulnerability, letting the Americans have that possession but restricting the outlet options and then pouncing clinically the other way when control inevitably broke down.
The mission against Argentina will be to take Lionel Messi out of the game. Easier said than done, but if the Netherlands can stifle his contributions then it can tilt the balance in its favour.
Argentina wins if: Messi is Messi and his teammates support him.
With three goals and an assist, Messi has factored in more than half of Argentina's World Cup output. That is not particularly unusual in a tournament setting, but it is an indication of Argentina's reliance on its talisman.
The Dutch will be seeking to shut him down, so should that succeed, other threats will need to step up. Julian Alvarez has already chipped in two goals, while Enzo Fernandez has a goal and an assist.
Can the Netherlands keep Messi at bay? And if it does, can somebody else provide the firepower?
Mismatch to watch: Regression towards the mean.
Through four outings, both teams have scored well – the Netherlands has eight and Argentina has seven – and both have conceded just twice, but the underlying numbers tell a different story.
In terms of expected goals for, a proxy for the quality of chances created, Argentina has slightly underperformed with an xG of 7.6. The Netherlands xG is just 4.0, meaning it has dramatically overperformed.
On the other side of the ball, Argentina has conceded the lowest xG in Qatar at just 1.3, whereas the Netherlands opposition had an xG of 4.2 – the Dutch, judging by the quality of the chances allowed, should have conceded more.
Outliers are expected to always regress to the mean as the sample size gets larger. Is the fifth game the place where that happens?
Prop to watch: Both teams to Score: Yes +100.
Through eight combined matches neither the Netherlands or Argentina have been held off the scoresheet for an entire game. Of the other teams to reach this stage only Portugal can claim the same feat.
And if a winner is combined with the above, the numbers get even more inviting: Result/Both Teams to Score Netherlands/Yes +700, Argentina/Yes +450.