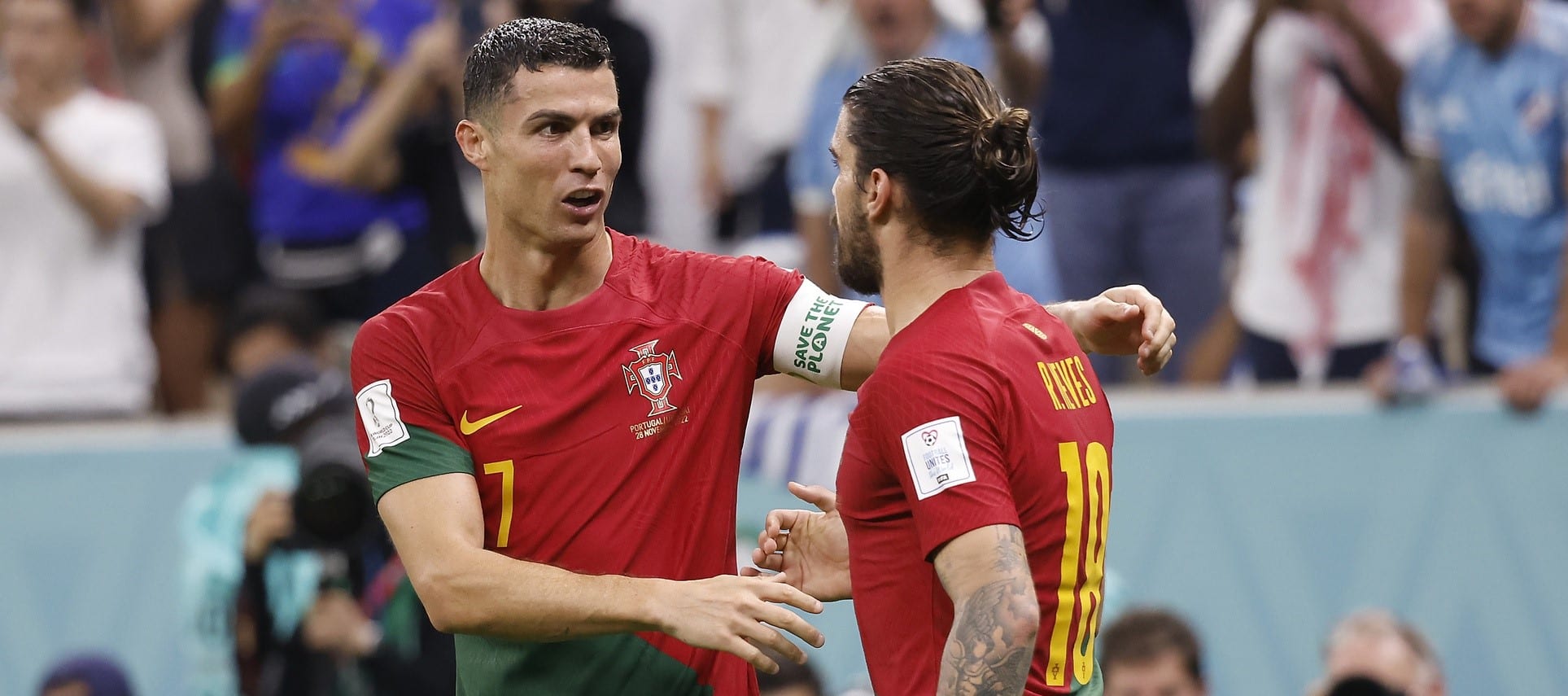 Dec. 6 features another pair of FIFA World Cup knockout round matches that will see Morocco, kings of Group F, take on Spain, while Portugal locks horns with a dark horse Swiss squad that is quietly making a name for itself after the group stage.
Morocco is the name that jumps off the page immediately, tying England and the Netherlands for the best record through the group stage. In other news, there is also a ton of firepower on display for these matchups, with Alvaro Morata and Ferran Torres of Spain (five combined goals), Breel Embolo of Switzerland (two goals), and Abdelhamid Sabiri of Morocco (one goal) all playing.
It remains to be seen whether the high-scoring attack of Spain can best a well-rounded Moroccan team and whether the dark horse Swiss can move out of the dark and into the light against the favourite in Portugal.
Here are the match day odds courtesy of bet365:
| | Match Odds |
| --- | --- |
| Morocco vs. Spain | Morocco (+600), Draw (+275), Spain (-175) |
| Portugal vs. Switzerland | Portugal (-110), Draw (+225), Switzerland (+350) |
Morocco vs. Spain betting preview
| | Match Odds |
| --- | --- |
| Morocco vs. Spain | Morocco (+600), Draw (+275), Spain (-175) |
| Total Goals | Over 2.5 (+120), Under 2.5 (-150) |
| Both Teams To Score | (+120) |
Despite their standing as the top point-getter in Group F, Morocco will be facing an uphill battle in their first Round of 16 matchup. It will be an interesting matchup of Morroco's team defence against Spain's impressive offence, with the North African side only allowing a single goal throughout the group stage.
On the other side of the ball is Spain, one of the serious favourites to take home that beautiful gold trophy. There are some questions to be had, however, about the consistency that Spain has to offer. Can a solid Moroccan team take advantage of their underdog status (Spain is -175 to win this game outright) to shock the world and move forward in the tournament?
Morocco wins if: They build on the confidence and strong play of the group stage. It is important to not listen to the critics or history. In three head-to-head matchups, Spain has a pair of wins and a draw to their name. Morocco has the capacity to play lockdown defence but finding a way to do so without sacrificing their attack will be a difficult balance to achieve. If they can, it will be hard for Spain to come away on top.
Spain wins if: They manage to find a way to break through the Morrocan defensive line. Spain fills the nets like no other. Look at the list of the top scorers in this year's tournament and you will see several Spaniards. Morata, Torres, and Gavi all have the capability to make Morocco pay. Finding a way to free up these talented goalscorers for good opportunities will be key.
Mismatch to watch: A deep attack for Spain versus a suffocating group defence for Morocco. We know the names near the top of the list in scoring but doing it against an opponent the calibre of Morocco will be another story for Spain. Even still, if they can manage a pair, it will be a major test for Morocco to overcome.
Specifically, look for Morata and Torres to be the ones to break through. Spain has so many weapons that it will become an overwhelming task for Morocco to keep everyone in check.
Prop to watch: We know the Spanish will bring the offence, the question is whether or not Morocco can match it. Both Teams To Score is currently listed at +120, making it a sound value play for what is likely to be a tight game with more than a few goals.
Portugal vs. Switzerland betting preview
| | Match Odds |
| --- | --- |
| Portugal vs. Switzerland | Portugal (-110), Draw (+225), Switzerland (+350) |
| Total Goals | Over 2.5 (+120), Under 2.5 (-150) |
| Switzerland To Score In Second Half | (+125) |
This should be one of the more interesting matchups in the Round of 16. Portugal is one of the teams with the strongest history in this tournament, despite having their best finish (third) all the way back in 1966.
Switzerland, meanwhile, has made the quarterfinals three times, the last coming in 1954. They are looking to make a place for themselves at the table with the biggest names in the sport and have shown they are a force to be reckoned with thus far. Even still, they continue to fly under the radar as Portugal is the favourite to win outright at -110.
Portugal wins if: They continue to play their high-octane game. A loss to Switzerland back in June's UEFA Nations League will be a motivating factor for Portugal, and not the only one. They will also play with the knowledge of every game being megastar Cristiano Ronaldo's potentially last in the World Cup. A stellar attack and all the motivation in the world are propelling Portugal in this one.
Switzerland wins if: They do not break as they did against Brazil. Switzerland's win back in June will give them the confidence to know that they can win, but they cannot rest on their laurels. They will need to be in peak form and take advantage of a potent Portuguese attack.
Mismatch to watch: Ronaldo will no doubt be the focal point of the media coverage throughout the knockout stage, but the real player to watch is Bruno Fernandes. He leads the team with a pair of goals and will face arguably his toughest match to date with a proven, solid Swiss backline.
Prop to watch: The Swiss attack may still be slept on, which means there are props to be taken advantage of. They have shown a propensity to play tight, waiting for mistakes to appear, oftentimes later in the contest. At +125 odds, the Swiss To Score In The Second Half is as sound a wager as one could make on the day.