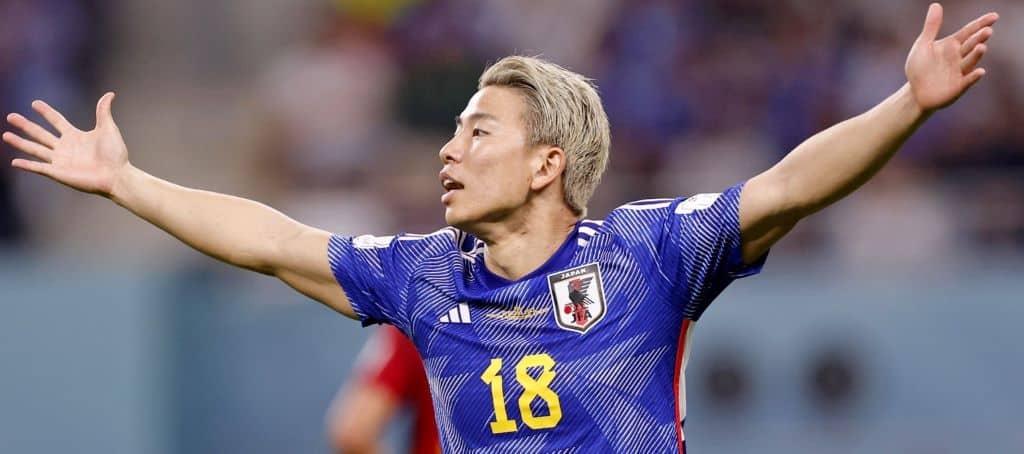 Japan surprisingly topped Group E, a FIFA World Cup quartet that featured both Spain and Germany, but 2-1 wins over both those European giants saw the Japanese advance with six points, despite losing 1-0 to Costa Rica. Scoreless draws against Morocco and Belgium, either side of a rampant 4-1 win over Canada, meant that Croatia was forced to settle for the second spot out of Group F with five points.
Brazil, the tournament favourite coming in, looked worthy of the tag in its 2-0 opening match against Serbia, but needed a clutch goal from Casemiro to squeeze a 1-0 win out of Switzerland in the second and followed that up with a 1-0 defeat to Cameroon in the third. Having already secured six points and one of Group G's spots in the next round, the side was heavily rotated.
South Korea drew nil-nil with Uruguay and then lost 3-2 to Ghana, but a 91st minute game-winner against Portugal in its final match 2-1 was enough to earn second place in Group H.
Here are the match day odds courtesy of bet365:
| | Match Odds |
| --- | --- |
| Japan vs. Croatia | Japan (+300), Draw (+225), Croatia (+100) |
| Brazil vs. South Korea | Brazil (-400) Draw (+450), South Korea (+1200) |
Japan vs. Croatia betting preview
| | Match Odds |
| --- | --- |
| Japan vs. Croatia | Japan (+300), Draw (+225), Croatia (+100) |
| Total Goals | Over 2.5 (+130), Under 2.5 (-163) |
| Clean Sheet | Croatia (+137) |
Japan wins if: It keeps things tight defensively and finds moments to pounce.
The Japanese side has looked its best when attacking on the move with lowing, sweeping attacks sprung by a pass or two to advance quickly through the midfield and make the most of the technical ability and pace of its squad.
Putting the opponent on the back-foot allows Japan to commit numbers forward, and even if that initial attack does not come off, the willingness to get bodies in the box has. The equalizing goal after going behind to Germany was a perfect example: Kaoru Mitoma bursts up the left side, he picks out one of two options which leads to a low-ball through the goalmouth. Manuel Neuer gets a hand to it, preventing the delivery from reaching the target sliding in at the back post, but his touch falls to the follow up lurking at the edge of the six-yard box. As that pass comes in, there are four Japanese attackers looking to get the final touch.
Croatia conceded just once in the group stage, but it looked vulnerable – Belgium had plenty of chances to send Croatia packing in the last match of the group stage. If Japan stresses Croatia the way it did Germany and Spain, it can win the day.
Croatia wins if: It can bottle up Japan and get defenders moving.
Facing the Croatian midfield trio of Luka Modric, Marcelo Brozovic, and Mateo Kovacic is akin to chasing shadows. They alone can dominate a game and 20-year-old defender Josko Gvardiol has been one of the revelations of the tournament, closing down half-chances and gobbling up loose balls at the back.
The Japanese defence, while solid when allowed to set up, can be disrupted if forced to scramble. Just like the attack, defending is a whole of team effort, but responsibilities can be muddled when everyone is behind the ball. Both Germany and Spain found gaps leading to chances and goals, while Costa Rica scored the game-winner by forcing a turnover before exploiting a gap and a lack of pressure from a jolted defense.
The playmaking ability in the midfield, as well as the wide play of Ivan Perisic, may be particularly valuable in that regard.
Mismatch to watch: Midfield control.
Croatia averaged 54% possession through three matches; Japan had just 33.7%. Croatia had some 500 more touches (2,097 to 1,520) overall, roughly 300 of which (1,044 to 724) came in the middle third.
That is not necessarily determinative – Japan will be perfectly happy to let Croatia move the ball around harmlessly in that middle third – but if it becomes a measure which team is able to impose its style on the other it could be.
Prop to watch: Clean Sheet – Croatia: Yes +137.
Croatia kept two clean-sheets against potent offences – Morocco and Belgium – and aside from a towering header from Alphonso Davies it kept Canada at bay for most of that match as well.
The opponent has scored first in all three Japanese matches, it was shut out in its only loss. If Croatia get ahead, it has the experience to just shut the game down and see it out.
Brazil vs. South Korea betting preview
| | Match Odds |
| --- | --- |
| Brazil vs. South Korea | Brazil (-400) Draw (+450), South Korea (+1200) |
| Total Goals | Over 2.5 (-125), Under 2.5 (+100) |
| Bet Boost Same Game Parlay: Match Result Brazil, Vinicius Junior To Score Anytime, Brazil To Score in Both Halves | (+400) |
Brazil wins if: Its individual brilliance overwhelms the South Korean resolve.
Even with Neymar's availability uncertain – he faces a race to be fit in time following an ankle injury – virtually every single player in the Brazilian starting lineup, not to mention everyone that comes off the bench, is one of the best at their position in the world.
Against Serbia it was Richarlison and his brace; against Switzerland it fell to Casemiro to provide the breakthrough. In the knockout stage, all it takes is for one of them to come up with a single moment to sway the tide.
South Korea's talisman Son Heung-min has not yet scored, though he did set up the goal that pushed his side into the Round of 16.
South Korea wins if: It makes Brazil uncomfortable.
South Korea is battle-tested. Down two it fought back level against Ghana with a quick pair of its own before conceding a third. Portugal took an early lead in a game the Koreans needed to win to have any hope of advancing, but 20 minutes later the match was tied, and come the 91st minute Son's defence-splitting ball created the game-winner.
Through the first 258 minutes in Qatar, Brazil's opponents did not muster a shot on target. That first one was saved, but Vincent Aboubakar put the second in the back of the net.
There is value in a team knowing how it reacts to adversity. South Korea has shown what it can do in those situations. What will Brazil do?
Mismatch to watch: Rest.
Brazilian coach Tite took advantage of Brazil having secured a spot in the next round by making nine changes to his starting lineup between match two and three.
With this World Cup falling mid-European season, and the games coming thick and fast, the ability to give players a rest before the knockout stage can be an advantage, especially with South Korea having sweated through two difficult games.
But it can swing the other way as well.
Tournaments are so often about which team gets on a roll. Can a side build momentum and translate the result in one game into the next one and the next one? Taking the foot off the gas for a bit of rest comes at a cost, for Brazil it meant suffering a defeat and seeing some of the air of invincibility evaporate.
Prop to watch: Bet Boost Same Game Parlay – Match result Brazil, Vinicius Junior to Score Anytime, Brazil to Score in Both Halves +400.
Brazil is the heavy favourite to advance from this contest and it has the ability to score early and often – South Korea conceded first in the last two group stage matches, both inside the opening 25 minutes.