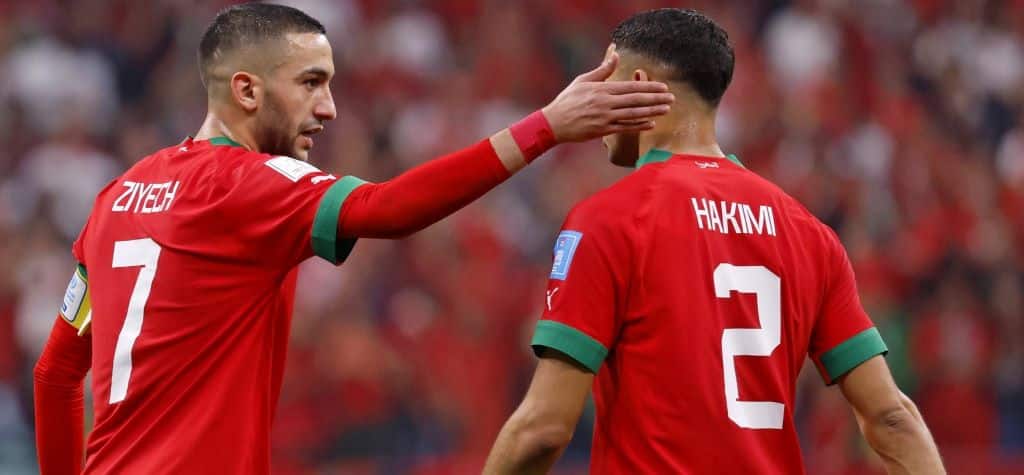 The Bronze Medal Game, the Third Place Playoff, meagre consolation, whatever one calls it, the meeting between Croatia and Morocco on Dec. 17 is not the game that either side wanted to play. Each would much rather be playing the following day in the Final of the 2022 FIFA World Cup in Qatar.
Both sides will be participating after losing semifinal clashes this past week. Croatia was beaten handily 3-0 by Argentina on Tuesday, while Morocco fell 2-0 to France on Wednesday.
For the Croatians, it was a five-minute period before halftime that spelled doom, a penalty kick awarded in the 34th minute was converted by Lionel Messi before Julian Alvarez's chaotic run doubled the gap quickly – Alvarez would seal the result with another in the second half.
Morocco, which had only conceded once all tournament – an own-goal against Canada – went behind after just four minutes in its clash with France after Theo Hernandez acrobatically chopped in a loose ball at the back post. The Moroccans pushed and pushed for an equalizer, which despite several chances, refused to come and Randal Kolo Muani, moments after subbing into the match, added an insurance goal in the 79th minute for the French.
Those disappointments make this a difficult game to anticipate. Though no side dreams of playing in this game it is still an important fixture for both an element of prestige and financial reasons. Over the years the third-place playoff has seen some doozies.
| | Match Odds |
| --- | --- |
| Croatia vs. Morocco | Croatia (+135), Draw (+240), Morocco (+200) |
| Total Goals | Over 2.5 (-110), Under 2.5 (-110) |
| Half Time Result/Total Goals Draw, Under 1.5 +175 | (+175) |
Croatia wins if: It keeps Morocco contained.
Perhaps the most stark difference between the two sides is the preference for which team has the majority of the ball. Croatia prefers to have it, letting its heralded midfield trio of Luka Modric, Marcelo Brozovic, and Mateo Kovacic pass and move through the opposition. Morocco, for most of the tournament, has opted to play a counter-attacking style. Croatia has had 55% of the possession in its matches, Morocco just 37.2%, the fourth lowest in Qatar.
The danger of playing with possession is that should one push forward too much it will leave gaps on the other side of the ball. That is where Morocco has feasted all tournament long, waiting patiently, absorbing pressure, and looking for a moment to strike.
With an extra day of rest in its legs, Croatia could be the more energetic of the two come kickoff and even more so as the game wears on. It will need to be careful in how it approaches those opening moments as Morocco will be looking to get that opening goal – it has taken the lead in each of its three wins in Qatar.
Morocco wins if: It takes the game to Croatia.
Morocco's performance has been one of the revelations of the World Cup. Energetic defending, threatening on the break, it has charmed the footballing world in Qatar.
Every team plays to win and devises a strategy that gives it the best odds to do so, but after falling behind early against France all the dynamism usually exerted in defence was turned into attack. It was just as fun to watch and nearly as successful.
Prior to that fourth-minute French goa,l Morocco had never trailed in the competition. And yes, France had the goal it needed to advance, so that likely played a part in how the match played out, but against a calm and competent Croatia it might serve Morocco well to find a middle way between the two looks.
Croatia was undone by Argentina's daring to play forward. If Morocco does the same, it may similarly find some joy.
Mismatch to watch: Reaction, fitness, and motivation.
Losing in the semifinal, with the childhood dream of a World Cup Final so close it can almost be grasped, is a massive disappointment. The life of a professional athlete is filled with such setbacks, success is often found in overcoming them, but none is quite as drastic as being one step away from that pinnacle.
How each side will absorb that defeat, reset, and prepare to go again can be a big factor in a game like this.
At this point in the month-long tournament both sides will be tired, but Morocco is limping into this game. Both first-choice centre-backs, team captain Romain Saiss and Nayef Aguerd, may not be available – Aguerd was forced to pull out of the starting lineup after warm-ups and Saiss lasted just 20-odd minutes before having to sub out. Starting left-back Noussair Mazraoui has been carrying a knock and influential midfielder Azzedine Ounahi was struggling in the waning moments against France.
Morocco has had impressive depth, but that is a lot of question marks around key components. With a little less than 72 hours between matches, one day less than Croatia, fitness could be a factor as well.
But there is also motivation.
Morocco is making history.
Only once in its four previous appearances at the World Cup has Morocco advanced out of the group stage, back in 1986 in Mexico when it lost in the Round of 16. By reaching the semifinals in Qatar it became the first African side to ever reach that stage of a World Cup. A third-place finish, while obviously not the aim, would still be a massive achievement both for the team, the country, and the Arab and African footballing worlds.
Croatia, on the other hand, was runners-up at the 2018 FIFA World Cup in Russia, and finishing third in Qatar is just treading water. Croatia is a proud country, however, and no doubt it will be looking to send off Modric, one of its all-time greatest players, with a win.
Prop to watch: Half Time Result/Total Goals Draw, Under 1.5: +175
Neither side has been particularly explosive offensively in Qatar. Through six matches each, Croatia has scored just six goals and Morocco five. Only two of Croatia's goals came in the first half of matches, three of Morocco's came in the opening 45 minutes. Interestingly, both of Croatia's and two of Morocco's first-half goals were scored against Canada.
Add in that the two sides have already met in Qatar, playing out a rather uneventful 0-0 draw on Nov. 23 in the opening match of Group F, and there is an element of familiarity heading into this clash.