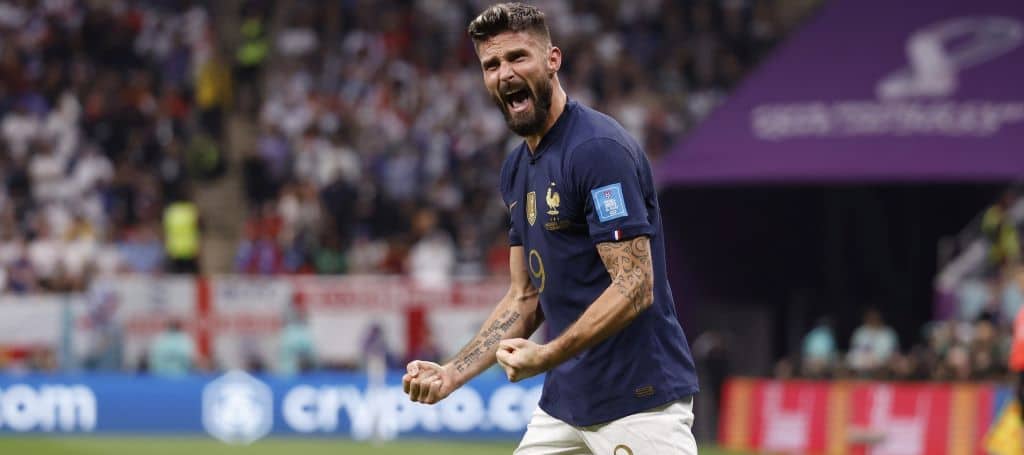 The 2022 FIFA World Cup finally has its final four, and the second semifinal match between France and Morocco is scheduled to take place on Dec.14, with the kickoff set for 2 p.m. ET.
It's likely to be a hard-fought contest, with Ziyech, Hakimi, Amrabat and company having already produced more than their share of upsets for Morocco, while maintaining the best defensive record in Qatar. Indeed, although Morocco was underestimated earlier on, by now it seems clear that the Atlas Lions won't be an easy task for Didier Deschamps' team. Nonetheless, with the likes of Brazil and England eliminated, France is now the team to beat. Will France's star-studded 11 and stacked bench give it the edge? Or will Morocco prove too solid at the back to break down for a third consecutive top European side?
Here are the match day odds courtesy of bet365:
| | Match Odds |
| --- | --- |
| France vs. Morocco | France (-188), Draw (+275), Morocco (+700) |
| Total Goals | Over 2.5 (+120), Under 2.5 (-150) |
| Alternate Total: Under 1.5 Goals | (+200) |
Both teams are enjoying their form. France just eliminated England in a close-run 2-1 game that could have gone on longer had Harry Kane put away his second penalty kick of the game, while Morocco claimed the honour of permanently ending Cristiano Ronaldo's World Cup dream. They're now coming into the first of two semi-final tests – the winner will battle for the title; the loser will have to go through the hassle of a third-place match conventionally accepted to be meaningless.
France, now the presumptive favourite to win the tournament, is also favoured (-188) in this match with Morocco (+700). The odds of a draw (to be followed by the mandatory extra time and possible penalty shootout) are +275.
Morocco wins if: It keeps playing its defensive game and the stars align once again. The game plan, once again, will be to stop France from scoring, and to nick a goal on the counter-attack, or otherwise push the game to penalties. It's a difficult plan to execute three games in a row, and Morocco will need lady luck on its side against France. Nonetheless, while France will be its toughest test, it's no coincidence that this Morocco side has drawn against fellow semifinalists, Croatia, and has beaten Belgium, Spain, and Portugal. Sofyan Amrabat's experience and tireless legs, combined with top talents like Noussair Mazraoui, Achraf Hakimi and Hakim Ziyech, will be crucial for Morocco. If everything falls into place for Morocco, France could well become yet another giant to fall at its feet.
France wins if: It forces Morocco to chase the game. France should be seeking to control the tempo of the game from very early on, in an effort to raise the intensity to a point that Morocco can't handle. Morocco is exceptional at managing pressure; it held out for 120 minutes in style against Spain's possession-based attack, and while Portugal created better chances, its willingness to open up in the attacking third ultimately allowed Morocco to counter and score. The key, for France, will be to bring forth an attacking onslaught early, get a goal, and create a situation where Morocco cannot simply hold the fort. If Morocco gets behind, and can't play its patient, suffocating brand of defensive football, its odds of getting a result will plummet. France's first step to victory would therefore be an early lead; if Morocco had to open things up and switch to an attack-minded formation, it'd be playing directly into France's hand.
Mismatch to watch: There will be those who will argue that the whole game is a mismatch, but at this point that would be decidedly unfair to the Moroccans, who are not in the semifinals by accident. Nonetheless, the point at which France may overwhelm Morocco is on the wings. So far, Morocco has relied heavily on its full-backs, Mazraoui and Hakimi, to play both defensively and offensively. This has worked brilliantly so far, but with Ousmane Dembele and Kylian Mbappe steaming down the wings for France, it will be difficult for the two Moroccan defenders to get forward at all without leaving too much space in behind for the French to exploit. This might place a critical limitation on the Moroccan ability to transition from defence to offence. At the same time, Hakimi knows Mbappe as well as anyone, given that they are teammates at Paris Saint-Germain in the French Ligue 1, and their duel is likely to be one of the best one-on-one battles of the tournament.
Prop to watch: There are several interesting props to consider at bet365. One wager with clear appeal is Total Goals Under 1.5. At the time of writing, this bet was at +200, and there's certainly a case for the under to be made: Morocco has just conceded one goal in Qatar, and it was an own-goal against Canada in the group stage. Even fellow semifinalists Croatia couldn't beat Yassine Bounou. If you like this line of thinking but want even better odds, a Correct Score Bet on France to win 1-0 is currently at +500. Another intriguing prop, given the amount of action likely to take place in and around the Moroccan penalty area, is France To Score A Penalty, which is currently at +400, and if you really believe in the magic gloves of Bounou (who saved two penalties against Spain), France To Be Awarded A Penalty And Fail To Score it is at +1600.