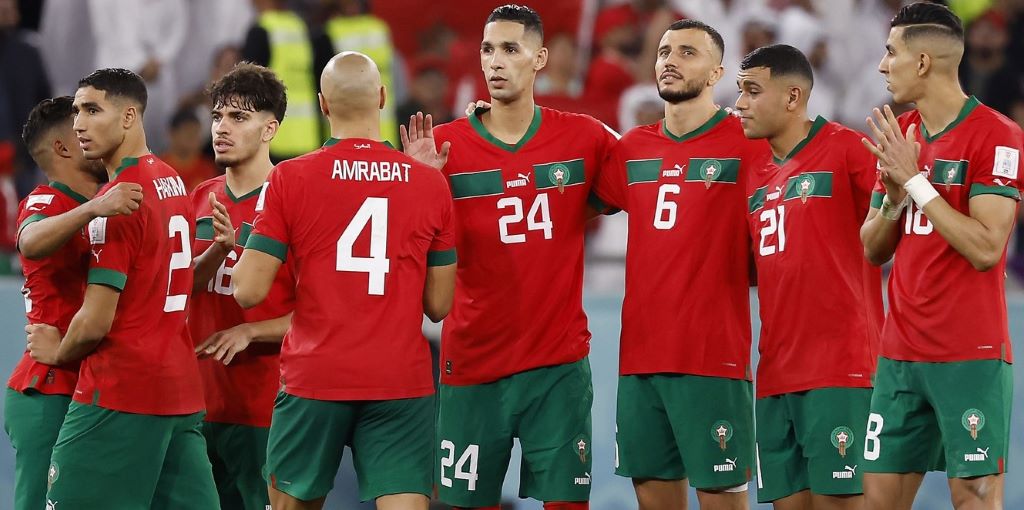 Saturday, Dec. 10 will see the conclusion of the quarterfinal round, with Portugal facing Morocco at 10:00 a.m. ET and England playing France at 2:00 p.m. ET. Similar to the previous day's lineup, the two games offer an interesting contrast: one pitting an underdog against a favourite, the other more evenly matched. Portugal is expected to win, as is France. But all four of these teams have had remarkable World Cup runs so far, so it's sure to be an exciting day where anything's possible.
Here are the match day odds courtesy of bet365:
| | Match Odds |
| --- | --- |
| Morocco vs. Portugal | Morocco (+475), Draw (+260), Portugal (-150) |
| England vs. France | England (+200) Draw (+225), France (+140) |
Morocco vs. Portugal betting preview
| | Match Odds |
| --- | --- |
| Morocco vs. Portugal | Morocco (+475), Draw (+260), Portugal (-150) |
| Total Goals | Over 2.5 (+120), Under 2.5 (-150) |
| To Win To Nil | Morocco (+800) |
The first match of the day will see Morocco face off against Portugal. Hot on the heels of its recent upset victory over Spain, Morocco will be hoping to recreate some of the magic that has brought the team to the quarterfinals for the first time. But Morocco is the clear underdog here: Portugal is coming into this match with a tremendous amount of momentum, with its 6-1 demolition of Switzerland being (aside from possibly Brazil's similar rout of South Korea) the most dramatic and decisive victory of the tournament so far.
The imbalance is shown in the odds, with Portugal at -150, Morocco at +475, and a draw at +260. The over/under is at 2.5 goals, with under at -150 and over at +120. Both teams are not favoured to score, with the odds against both teams scoring at -134.
Portugal wins if: It brings the same energy it did against Switzerland, but doesn't get too comfortable. Portugal was off to a somewhat shaky start in Qatar, with on- and off-field drama surrounding longtime centrepiece Cristiano Ronaldo threatening to affect team morale and chemistry. It was in the midst of this drama that manager Fernando Santos decided to bench Ronaldo and start international newcomer Goncalo Ramos instead. This move ended up paying off big time, with Ramos scoring a phenomenal hat trick – the first of the tournament – and helping secure an easy win. Of course, Portugal can't get complacent and it should be wary of Morocco's right flank, with Hakimi and Ziyech having shown that they're not to be trifled with.
Morocco wins if: It continues to make the most of its time with the ball. Morocco's possession against Portugal will likely not be as mismatched as it was against Spain, but the fact that it was able to put up six shots to Spain's 13 with only 23% possession is a good sign. Of course, in order to secure a win, Morocco will have to follow through on its shots and score some goals. On the defensive side of things, Morocco is looking good: in Hakimi and Mazraoui, Morocco has one of the best fullback pairs in the entire World Cup. Add in goalkeeper Bono (Yassine Bounou), who played an essential role in preventing Spain's victory, and there's no doubt that Morocco can hold its own defensively.
Mismatch to watch: Unfortunately for the Atlas Lions, the entire game may be a mismatch. Morocco is good, and the matchup of fullbacks Mazraoui and Hakimi against wingers Bernardo Silva and Joao Felix will be strength vs. strength. But if Portugal has truly hit its stride, and can prove capable of replicating the kind of performance we saw on Tuesday, there might be nothing Morocco can do to pull off another upset.
Prop to watch: An interesting prop to watch could be a bet on Morocco, the underdog, to win, with a sweetener in the form of keeping a clean sheet. Morocco has only conceded one goal in the tournament so far (an own goal against Canada), and its chances of beating Portugal will rely heavily on keeping that near-perfect record. Right now at bet365, Morocco To Win To Nil (i.e. without conceding a goal) is at +800.
England vs. France betting preview
| | Match Odds |
| --- | --- |
| England vs. France | England (+200) Draw (+225), France (+140) |
| Total Goals | Over 2.5 (+110), Under 2.5 (-138) |
| Kylian Mbappe To Score Anytime | (+200) |
The last of the quarterfinal matches will be just as riveting, with reigning champions France and ever-hopeful England meeting at a World Cup for the first time since 1982. They are both formidable teams, so this will undoubtedly be an exciting match to watch. The match will be close, but France edges ahead as the favourite at +140. England trails slightly at +200, and the odds of a draw are at +225. For total goals, the over/under is at 2.5, with the under favoured at -138.
England wins if: It can hold off France, particularly Mbappe. The only goals the Three Lions have conceded so far came in their first match, a 6-2 victory over Iran. France, on the other hand, has conceded goals in every single one of its matches to this point. England's best path to victory may well be to put up a goal early, and then sit back. Scoring shouldn't be an issue for England; it's one of the highest-scoring teams this World Cup and has no shortage of capable offensive players with goals under their belts, like Bukayo Saka, Marcus Rashford, Harry Kane, and Jude Bellingham. That means that if the English defenders can take Mbappe out of the equation, England has a great shot at advancing.
France wins if: It find goals, even with Mbappe under plenty of pressure. After lighting up Poland, Mbappe will be going into this game with a massive target on his back, and the English strategy will likely revolve around keeping the ball as far away from him as possible. On the offensive side, this means France will need to use players like Olivier Giroud, who recently became France's all-time top goalscorer, and Antoine Griezmann, who was a major player in 2018 and has been playing well so far this tournament.
Mismatch to watch: Clearly, the biggest factor tipping the scales in this mostly balanced game towards a French victory comes in the form of Mbappe. The 23-year-old superstar has proven himself to be one of the best players in this World Cup, as well as a potential candidate for the Ballon d'Or, and shows no signs of slowing down. Mbappe is currently the tournament's leading scorer, with five goals at the moment and likely more to come. If nothing else, it's his speed that causes the mismatch here: once Mbappé gets going, Harry Maguire and Kyle Walker may not be able to catch him.
Prop to watch: In terms of players to score, Mbappe and Kane are the favourites to score anytime with identical +200 odds. Another interesting prop to watch is corner kicks – the over/under is at 8.5 total corner kicks by both teams, with the over just slightly favoured at -110.