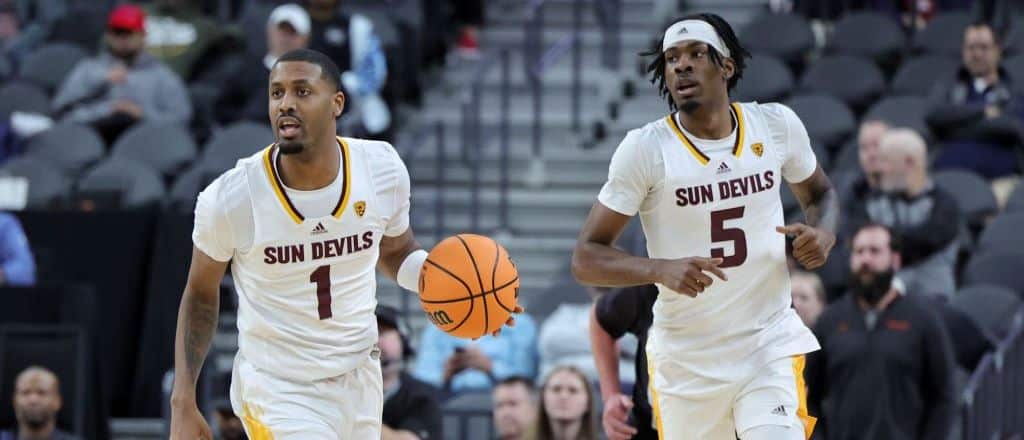 The 2023 March Madness tournament begins this Tuesday with the First Four. Eight teams will be playing in four games in Dayton, Ohio for their opportunity to make the official tournament.
These are the four matchups we can look forward to seeing this Tuesday and Wednesday:
Here's everything you need to know about these First Four matchups including how the bet365 sportsbook is viewing each matchup.
No. 16 Texas A&M Corpus Christi (-4) vs. No. 16 SE Missouri State (South Region)
The Texas A&M-Corpus Christi Islanders are in the First Four for the second consecutive year. The Southland Conference champions are hoping this year goes better than last year when they were knocked out by rivals Texas Southern.
Texas A&M Corpus Christi is led by second-year head coach Steve Lutz and senior guards Trey Tennyson and Terrion Murdix. Lutz likes TAMU-CC to play fast and score lots of points. As a team, they averaged just under 80 points per game this season, a number that is good for 24th-best in the NCAA. Tennyson leads the team in scoring with 15 points per game. Murdix is slightly behind Tennyson averaging 13 points per contest and he also leads the team in assists and steals.
Southeast Missouri State was the first team in college basketball to secure a place at the 2023 March Madness tournament after beating Tennessee Tech in the Ohio Valley Conference. The Redhawks needed overtime to beat the Golden Eagles and secure their spot in the tournament.
SE Missouri State is another high-scoring team, but its defense isn't as strong as TAMU-CC's. On average, SE Missouri State gives up more points than they score.
If the Redhawks are going to score more than TAMU-CC and make it to the next round, they need Phillip Russell and Chris Harris to perform. Not only are Russell and Harris the Redhawks' leading scorers, they also will be directly matched up against TAMU-CC's Tennyson and Murdix, so they'll need to be at the top of their game defensively too.
Bet365 has made TAMU-CC a 4-point favourite over SE Missouri State. That line seems accurate and I think TAMU-CC will be too much for SE Missouri State to handle in this one. The winner of this game will play the South Region's number-one seed, Alabama.
No. 11 Mississippi State (-2.5) vs. No. 11 Pittsburgh (Midwest Region)
Mississippi State started the season looking like one of the best teams in the country, but that quickly fell apart. After starting the season with 10 straight wins, the Bulldogs spiraled downward and became one of the most inconsistent teams in the NCAA.
This is largely down to Mississippi State's poor offence. The Bulldogs scored just 66 points per game. For context, there are 305 Division I college basketball teams who scored more points per game than Mississippi State.
Thankfully for the Bulldogs, they have a top-10 defence in the country that kept them in enough games for the selection committee to give them an 11-seed ranking in this year's tournament. Before they get to the tournament proper though, they'll have to get past Pittsburgh.
Pittsburgh will be a tough opponent for Mississippi State. Unlike the Bulldogs, the Pittsburgh Panthers have a much better offence than their defence and are especially proficient from beyond the arc. Pittsburgh averages nine three-pointers per game, which is good enough to rank in the top 30 in the country.
On average, Pitt's Greg Elliott and Blake Hinson are responsible for five of those nine threes per game, but Jamarius Burton is its key player. Burton leads the team in scoring with an average of 15 points per game and he also dishes out four assists per contest.
For Mississippi State, Tolu Smith is the man Pitt will need to stop. Smith leads his team in points, rebounds, and blocks per game. Smith will need to show up, but his guards might be more crucial for a Mississippi State victory. Dashawn Davis and D.J. Jeffries will need to have big defensive performances to stop Pittsburgh's variety of three-point shooters.
Bet365 thinks this will be a close one. The sportsbook has made Mississippi State a slim 2.5-point favourite. In my opinion, this is the right call. Mississippi State may struggle to score, but it's one of the best teams at defending threes in the country
If Mississippi State does win, it'll play the Midwest's No. 6, Iowa State.
No. 16 Texas Southern (-2) vs. No. 16 Fairleigh Dickinson (East Region)
Texas Southern qualified for March Madness by beating Grambling State in the Southwestern Athletic Conference Tournament. Texas Southern came into that tournament as an underdog, so it's a bit of a surprise to see the small school at the Big Dance for the third straight season.
Last year, Texas Southern had the second-best record in the Southwestern Athletic Conference with a 19-13 record overall and a 13-5 conference record, so it was no surprise to see it win the conference tournament. This year, the Tigers were eighth in their own conference with a 7-11 conference record and an abysmal 14-20 record overall, so it's more of a shock to see them at this point.
Strong performances from PJ Henry and Davon Barnes were the reason for Texas Southern's SWAC Tournament victory. Over the season, they were two of three Texas Southern players to average more than 10 points per game. In the SWAC tournament, Henry scored 26 points in the semifinals as he and Barnes scored more than half of their team's points in the final. Another good showing from this guard-forward combo will be key to beating Fairleigh Dickinson.
Fairleigh Dickinson is less dependant on just two players as it features a more balanced attack. Demetre Roberts, Grant Singleton, Ansley Almonor, and Joe Munden Jr. all average more than 10 points per game for this squad. Roberts and Singleton have been the most important to FDU's March Madness qualification this year.
Before the season, Roberts and Singleton joined FDU from Division II's St. Thomas Aquinas. St. Thomas Aquinas coach Tobin Anderson also made the move to FDU. These moves transformed the team. Last season, FDU won just four games. This year, it managed to put up a 19-15 record and finish as the runner-up in the Northeast Conference Tournament.
Bet365 expects FDU's miraculous season to come to an end against Texas Southern. The sportsbook has made the Tigers 2-point favourites over the Knights. This could be a good chance to back an underdog as the Tigers have struggled throughout this season. Whoever wins this game will have the tough task of facing last year's champion, Kansas.
No. 11 Arizona State (-2) vs. No. 11 Nevada (West Region)
Arizona State has already had a taste of college basketball craziness this year when it beat Arizona on a 60-foot buzzer-beater earlier this season. After that huge win, the Sun Devils ended the regular season on two losses and were then knocked out of the Pac-12 Tournament by Arizona. Despite those late-season losses, they were good enough to be named as an 11-seed in the West by the selection committee.
Similarly to another 11-seed we've discussed, Arizona State's problem is its offence, which averages just 70 points per game. Unlike Mississippi State, though, the Sun Devils' defence is pretty run-of-the-mill. The only area Arizona State's defence shines is in limiting opponents' shooting percentage to just 39.8%, which is 12th-best in the NCAA.
Nevada, meanwhile, had a solid season without the late-season craziness. Nevada finished four places higher in its conference than last season and won 20 games for the first time since 2019. This is the first time Nevada has qualified for the tournament since 2019 as well.
Nevada isn't in the top 50 in the country for any major statistical category besides turnovers. The Wolf Pack turn the ball over just 10 times per game, which is 21st-best in Division I basketball. Not losing possession of the ball is a good thing for tournament basketball, but Arizona State is a tough first opponent for the Wolf Pack.
Key players in this one are Nevada's Jarod Lucas and Arizona State's Desmond Cambridge. Both players lead their respective teams in points. Cambridge also leads the Sun Devils in steals, so he could be important for forcing Nevada into uncomfortable positions by making it give up the ball.
Bet365 has made a Arizona State 2-point favourite in this one.I think this is a safe bet, but I wouldn't put it past Nevada to pull off the upset, especially if Lucas goes off, which he is more than capable of. This is why I'mbacking Nevada in this situation.
The winner of this play-in game will face West Region No. 6, TCU.