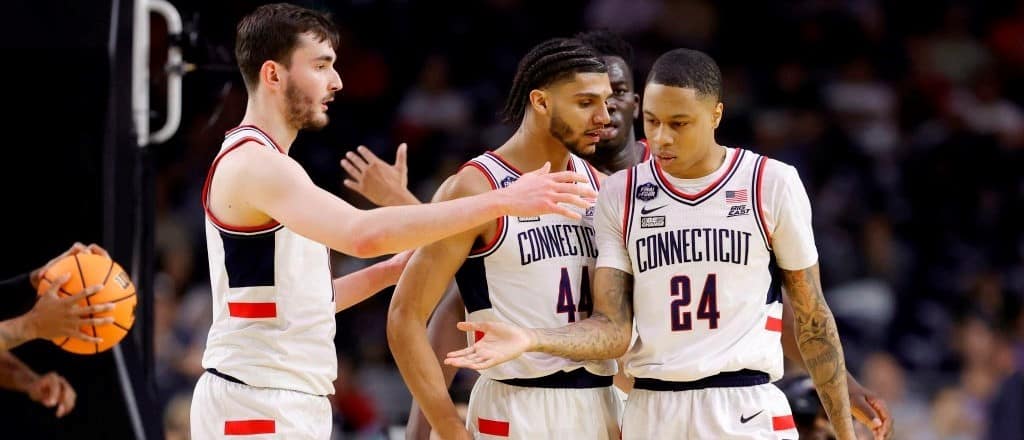 We have finally reached the final game of the 2023 edition of March Madness. With one of the craziest brackets in recent history behind us, the two best teams in the nation have arrived at the national championship game. And it is safe to say that neither is a team that was expected to reach this point.
This tournament has been one for the ages. One-seeds have not been safe at any point, with all of them being eliminated prior to the Elite Eight. Just about all of the tournament favourites – Purdue, Alabama, Houston, UCLA, etc. – were gone by the time the dust settled on the Sweet 16.
Upsets and buzzer-beaters have brought us to this point. San Diego State versus UConn for all the marbles. A first-timer versus a former college basketball power. Let's get into the matchup, including how we got here, what to look for, and the best bets.

(5) San Diego State Aztecs vs (4) Connecticut Huskies (-7.5, 132.5 o/u)
Time (ET): 9:20 PM
Odds to win: San Diego State +280, Connecticut -360
Previous tournament games:
San Diego State
Round of 64 – San Diego State 63, Charleston 57 (Aztecs covered as 5-point favourites, teams played under 142-point total)
Round of 32 – San Diego State 75, Furman 52 (Aztecs covered as 5.5-point favourites, teams played under 137.5-point total)
Sweet 16 – San Diego State 71, Alabama 64 (Aztecs covered as 7-point underdogs, teams played under 137.5-point total)
Elite Eight – San Diego State 57, Creighton 56 (Aztecs covered as 2.5-point underdogs, teams played under 134.5-point total)
Final Four – San Diego State 72, FAU 71 (Aztecs did not cover as 2-point favourites, teams played over 131.5-point total)
Connecticut
Round of 64 – UConn 87, Iona 63 (Huskies covered as 9.5-point favourites, teams went over 141-point total)
Round of 32 – UConn 70, St. Mary's 55 (Huskies covered as 4-point favourites, teams pushed 125-point total)
Sweet 16 – UConn 88, Arkansas 65 (Huskies covered as 3.5-point favourites, teams went over 140-point total)
Elite Eight – UConn 82, Gonzaga 54 (Huskies covered as 3-point favourites, teams played under 153.5-point total)
Final Four – UConn 72, Miami FL 59 (Huskies covered as 5.5-point favourites, teams played under 149.5-point total)
About San Diego State
For the first time ever, the national championship game will feature the San Diego State Aztecs on one side of the court. The journey to get here has been a crazy one, especially in the Elite Eight and Final Four games.
The Aztecs have reached this point because they are one of the strongest defensive teams, not only in the country but in recent history. That defence shut down one-seed Alabama in the Sweet 16, shocking the nation in a tournament full of shocking moments.
In the Elite Eight, their win was met with some controversy. A last-second foul called sent the Aztecs to the line where they managed to sink the winning shot against Creighton. It was the second consecutive game that San Diego State would be underdogs, though the Aztecs delivered by covering and helping deliver on the over.
Speaking of the over, perhaps the most interesting part of their Final Four matchup with fellow first-timer FAU is that the game finally went over the total. San Diego State had been in the middle of a 12-game run going back to the regular season, hitting the under each time. Both teams shot well – with San Diego State being accurate at the buzzer to win the game – en route to a 143-point total.
Defensively, the Aztecs have shown they can hang with anyone. That said, the Huskies have proven to be a different beast than even the one-seeds in this tournament.
About UConn
When everyone was laying out their brackets, who would have thought that A) UConn would be here and B.) it would do so in such a dominating fashion? Many one-seeds don't have the kind of performance that the Huskies have had in the tournament so far.
The Huskies have crushed opponents at every stop. Even with slow starts against Iona and St. Mary's, they cruised to double-digit wins. They easily handled an Arkansas team that upset one-seed Kansas the round before and then embarrassed Gonzaga in the Elite Eight.
UConn set the tone against Miami and never let up, hitting a trio of threes to start the game and never looking back. Since the tournament became what we know it to be back in 1985, UConn is just the sixth team ever to win five straight games by double-digits. Four of the first five teams to do it – Michigan State in 2000, Duke in 2001, UNC in 2009, and Villanova in 2018 – won the national title. Only the 2016 Tarheels failed to win it all.
UConn is the Terminator, putting everyone down with ruthless ferocity. But San Diego State is the plucky underdog that doesn't know when to go away. It is the kind of game that scriptwriters dream about. And it is what we are looking at in this year's national championship.
Can UConn cap off the perfect tournament with another dominating performance? Or will San Diego State pull off one of the greatest underdog stories in recent memory?
Betting stat to know: Perhaps the key difference in this unlikely matchup will come from beyond the arc. The Huskies have been deadly from three-point land during the tournament, shooting 40% over their five tournament games. As a matter of fact, they just delivered their worst performance (9-for-26 against Miami) and still walked away as double-digit winners.
San Diego State, however, ranks third in the nation defending the three, holding opponents to 28% from beyond the arc. The Aztecs have been even better in the tournament, holding opponents to just 22% from three during the most important time of year.
While UConn's rebounding dominance will certainly be a factor, it may come down to which team can win the battle at the three-point line. If UConn stays hot from downtown, it'll be impossible to hang with, let alone beat.
Best bet: While 7.5 points are quite a bit, it is hard to bet against the Huskies covering. They have beaten every single opponent by at least 13 points in this tournament, thoroughly dominating both offensively and defensively. Even when they struggled from the three-point line against Miami, they dominated on the glass to more than make up for it.
The Aztecs have the defence to keep things tight, but UConn is so versatile. As the Huskies showed against Miami, even if one aspect of their game isn't quite clicking, the others can pick up the pace and allow them to keep dominating. It is the kind of team that the Aztecs have not faced in tournament play so far.
With all due respect to San Diego State, the Huskies have been a juggernaut in the tournament. Perhaps the Aztecs can keep it tight late but there has been no indication that anyone can hang with the Huskies at this point.