NCAA Football 2019-20 Odds
Kicking off on Saturday August 24th and finishing on January 13, 2020, the 2019-20 NCAA Football season provides us with more of the sports action we crave - plus the opportunity for profit taking online wagering.
Tune in to watch amateur stars of today become National Football League stars of tomorrow. Similar to NFL Odds, NCAA Football Odds are widely available and one of more popular sports in North America
2019-20 NCAA Football Season Explained
Odds to Win 2020 NCAAF National Championship
2019-20 NCAA Football National Championship odds are up and available at popular online betting sites. Below are USA College football title odds, available at the best sportsbooks, last updated on October 21, 2019:
Bet365 odds are subject to change - Visit any bookmaker above for LIVE prices!
Clemson and Alabama are top two National Championship chalk following Week 5 action. Since the BCS Playoff format was implemented five seasons ago, the Crimson Tide have played in four consecutive title games.
Alabama has a 2-2 NCAAF Championship record. The Tigers beat 'Bama both times - including the 44-16 blowout in January 2019. Will they meet again?
Mighty on offense - the LSU Tigers are dogs with a shot at the NCAAF title. We wagered on the odds below on October 7, 2019. Check above for latest lines.
NCAA Football Picks
College football betting is generally a top heavy propostion. Big name programs get most of the public money and drives lines up higher than they would be in normal circumstances.
With two powerhouse schools maintaining at the top of the NCAAF hierarchy, if you wish to bet chalk you may as well grab them both at these prices before the season. If they meet in the finals again, you're freerolling for 1 unit.
But IF a team was going to upset the favorites - Who might take the crown?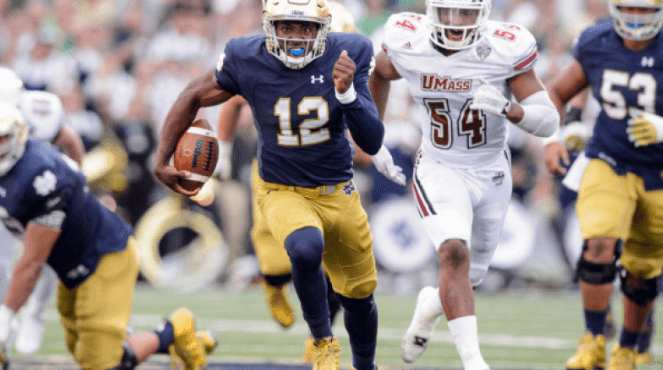 What Nick Saban's tenure at Alabama has shown us, is that once a program reaches the mountain top, they are there to stay for a while.
Clemson's coach, Dabo Swinney now understands this having made 3 of the last 4 title games, all against Alabama, and going 2-1. It's not going out on a limb to think two of the four playoff spots will be occupied by those two teams.
That means bettors need to decide which two schools will make up the Final Four. Heading into the season - here are three underdogs squads with a shot:
If you're looking for value, Wisconsin 26.00, Auburn 51.00 and Notre Dame 81.00 all qualify as good to great programs who are tagged as longshots. 
How to Read NCAA Football Odds
College Football Odds for regular season games are widely available across all popular online betting sites.
In fact it's possibly right under the NFL as the most wagered on sports event in the United States. Oddsmakers and sharps pay careful attention to NCAAF lines as much as any to make sure they stay ahead of the curve.
NCAA Football Moneyline odds
This is a simple propostion in the sense that it depends on who wins the game, and that's all. If you're betting on a favorite, you need to risk more to win less, meaning you need to be right much more often than you are wrong.
NCAA Oddsmakers listed Alabama as roughly a -220 money line favorite in last season's national title game meaning that to win $1, one would have to risk $2.20.
Conversely, Clemson was a +180 underdog, meaning that for every dollar risked, the return would be $1.80
NCAA Football Odds against the spread
Spread betting means that you need a team to win or not lose by a certain amount of points. Point spreads are determined by oddsmakers whose job it is to try and produce lines that dont give any edge to the betting public.
The four best teams in the nation last year were Clemson, Alabama, Ohio State and Oklahoma. However in terms of ATS wagering, they went 31-25-1 against the spread, which is still profitable, but by no means a lock on a weekly basis to cover.
Like anything else, it's a market that requires study to gain any significant edge.
NCAAF Football odds and predictions
With 7 straight wins, the Ohio State Buckeyes have recently dominated their Big Ten arch rival Michigan Wolverines in their head to head series.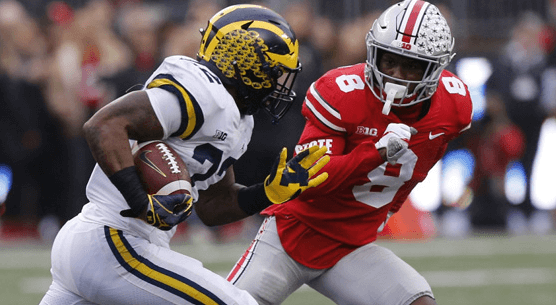 Will the Buckeyes continue to stick it to the Wolverines and ruin their hopes or will Jim Harbaugh finally get his first victory in this rivalry?
Past history in big games matters, especially when the same coaches are going head to head. 
In Bowl Games, important factors such as players decalring for the NFL draft and not playing may be the difference between victory and defeat.
NCAAF Football odds of winning national championship
Sportsbooks opened up last year much the same way they opened up this season, with Alabama at +250 and Clemson at +600 to win the National Championship. However, in an effort to cut down on losses, they've slashed the odds of the heavy favorites leaving little value for the teams who feel destined to take home the crown.
How Does the 2019-20 NCAAF Season Work?
The NCAA football regular season begins on August 24th and ends on December 14, 2019. Then the College Bowl season start.
The four best teams in the nation, determined by overall record and polling get put into a 4 team bracket and play a single elimination playoff tournament, much the same way the NCAA Basketball Champion is determined.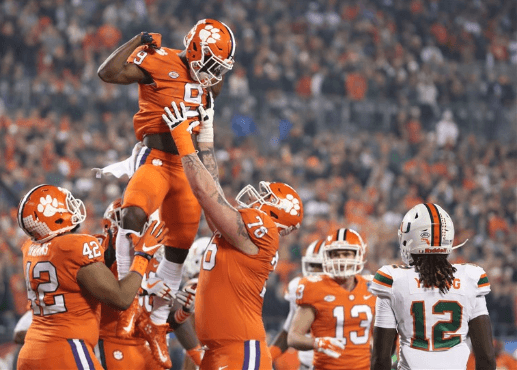 In total there are 11 conferences that the various schools belong to and play the majority of their games within, with only a couple games each season being out of conference.
But during that College Bowl season there will be many, many bowl games between teams from across the conferences that can all be wagered on.
All-tTime US College Football Champions
The last decade of NCAA football has been been dominated by the SEC. This is down to two factors mainly; recruitment and money. SEC schools invest more heavily in their football programs out of necessity.
In order to compete they need to match the committment of their rivals, like any arms race. Similarly, prospects who wish to advance into the NFL often favor SEC schools, as these programs have a reputation for producing more NFL talent than the other divisions. As such, college football odds favor the elite SEC teams at this point in history.
Leading the field in the modern era has of course been Alabama, who have 6 national Championships in the Nick Saban era, and 17 in the history of their school.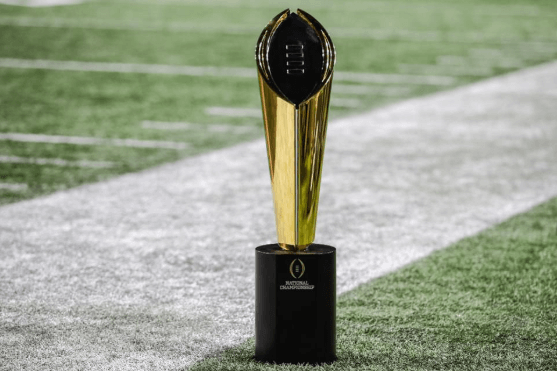 But leading the way are two Ivy League institutions. Princeton who last won a Championship in 1950, lead the way with 28, whilst Yale who last won a title in 1927 are still in 2nd place with 27.
| Team | Titles |
| --- | --- |
| Princeton | 28 |
| Yale | 27 |
| Alabama | 17 |
| Notre Dame | 11 |
| Michigan | 11 |
| USC | 11 |
| Pittsburgh | 9 |
| Ohio State | 8 |
| Harvard | 7 |
| Oklahoma | 7 |
| Minnesota | 7 |
| Penn | 7 |
| Michigan State | 6 |
| Tennessee | 6 |
| California | 5 |
| Cornell | 5 |
| Illinois | 5 |
| Miami | 5 |
| Nebraska | 5 |
| Georgia Tech | 4 |
| Iowa | 4 |
| Texas | 4 |
| Washington | 4 |
| Army | 3 |
| Clemson | 3 |
| Florida | 3 |
| Florida State | 3 |
| Lafayette | 3 |
| Ole Miss | 3 |
| LSU | 3 |
| SMU | 3 |
| TEXAS A&M | 3 |
| Auburn | 2 |
| Chicago | 2 |
| Columbia | 2 |
| Georgia | 2 |
| Penn State | 2 |
| TCU | 2 |
| Stanford | 2 |
Schools with 1 National Championship: Boston College, Arkansas, BYU, Centre, Colorado, Dartmouth, Detroit, Kentucky, Maryland, Navy, Oklahoma State, Rutgers, Syracuse, UCF and UCLA.