BetRivers' parent company Rush Street Interactive may only have a decade's worth of business to its name, but in that time, it's built up a very strong reputation across North America. Founded by a group of gaming industry veterans in 2012, RSI made their first push from physical casinos to the digital world in 2015 and has continued to grow ever since.
BetRivers is the crown jewel of the bunch, earning several accolades from eGaming Review over the years, including twice being named the Online Casino Operator of the year. RSI's philosophy is centred around working in regulated markets, making their growth methodical, but ensuring that everything is on the level. Ontario's emergence as a hub for regulated gaming in 2022 included a new BetRivers market as part of the founding list of members, and that new platform is what Canada Sports Betting will be diving into today! Specifically, we'll be focusing on the BetRivers Mobile Casino – if you're curious about the BetRivers Ontario Sportsbook, you can check out our previous review on that end.
Deposit with Interac e-Transfer
Localized apps
Huge selection of slots
Large focus on regulation
Additional software needed on computers
BetRivers Bonus
BetRivers Online Casino will, at times, have incentives for members to play their games. These are often separate from what they have on their sportsbook. Check the BetRivers site to see what the latest incentives are!
Sign Up And Make Your First Deposit!


BetRivers Online Casino Canada Review
We've examined the BetRivers Online Casino experience from top to bottom, inside and out, to see what it has to offer. This is what we found, and what you should know: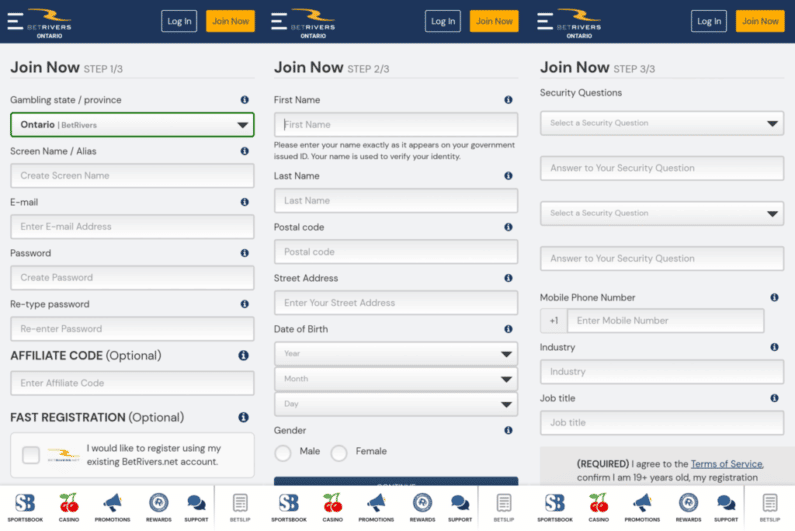 BetRivers Casino Ontario Sign Up Process
BetRivers' signup process is a little lengthy, but fairly straightforward. Hitting the "Join Now" button in the top-right corner of your screen will bring you to a sign-up page that operates more or less the same on mobile or web.
There's a three-page process. Enter your gaming state (or in this case, the Province of Ontario), a username, email, and password, and if you have an affiliate code, you can drop it on this first page. You're also offered a fast-track pathway on this page, allowing members from BetRivers' .net portal to transition over.
On the next page, you'll be adding more personal information, to help with the ID verification process when you start depositing. This includes info like your full name, address, and date of birth. On the last page, you'll add some security questions and answers, your cellphone number, and a bit of information about your occupation. After that, you're good to get started!
BetRivers Mobile Casino Performance
Using the BetRivers platform on mobile has been an overall pleasant experience, from our testing. BetRivers, like most Rush Street properties, prefers to go the localized route with their apps, meaning that you have to download an Ontario-specific app rather than a general use BetRivers app. You'll be looking for "BetRivers Casino Sportsbook ON" by Rush Street Interactive LLC on the Google Play Store for Android, and the Apple App Store for iOS.
Overall, performance seems good, as both apps are relatively small and seem to have mutual threading with the web-based platform. The apps are more than just shells to display the mobile website, as some companies do, in order to include things like Face ID for login and more detailed location services. We tested with phones on both major ecosystems on hand, and found very little difference between the app on the two – the Casino and Sportsbook icons are switched around in order on the bottom bar depending on which device you use, but besides that, it's all the same. Load times are quick, the Casino games all work great, and the interface is simple to use.
BetRivers Casino Web-Based Platform
Like mentioned above, there is a lot of common threading between the mobile apps and the web-based platform. While not officially identical, the two sides of the coin are built to be near-equals, with the BetRivers web-based platform essentially looking like a larger version of the app.
One caveat worth noting here is that when viewing the BetRivers Casino Ontario website from a computer, you'll likely be asked to install an application that serves to verify your location (this is already built into the iOS & Android mobile apps). This is admittedly a minor annoyance, but it is completely safe. It's BetRivers' way of ensuring that you're actually playing in Ontario, as the company takes following regulations in its markets very seriously.
Once you get past that, the performance results tend to mirror the apps. The site has a clean, easy to understand interface, and load times are prompt and snappy. One advantage that Rush Street Interactive has here with their product is that they're both old enough to have industry experience, but new enough that their platforms are built entirely to modern web standards, so games tend to perform well.
Overall User Experience
Generally, we enjoy the experience provided by BetRivers here. Many prefer the feel of having a dedicated app on their mobile devices, and they've worked hard to quickly release an Ontario-specific app on both of the major ecosystems. The dedicated website is nice, and while we could do without having to install a location app when accessing the site on a computer, it does do the trick and helps ensure the experience matches with provincial regulations.
Games are easy to access and navigate through, and the live events with real dealers and hosts are a fun experience. Overall, so long as you're comfortable with installing an app on whatever device you plan on playing on, you'll enjoy your time at BetRivers Casino Ontario!
Customer Support
BetRivers Casino Canada is a bit of a mixed bag when it comes to customer support, in the sense that the site doesn't readily present where to find it. That doesn't mean that it doesn't exist, though – you can use helpcentre.on.betrivers.ca to find answers to your questions, or reach out to a live chat agent that's available from 9:30 AM to 2 AM EST every day. They also have an email support line ([email protected]) where they can be reached.
Ideally, a future update will make this more accessible on the website. On the iOS and Android Apps, you can find a direct link to the live chat in the footer of the app, and a link to the Help Centre in the Hamburger Menu in the top-left corner. BetRivers also offers contact info for ConnexOntario at the bottom of every page on their website if you find yourself being irresponsible and need support in that regard.
Deposit and Withdrawal Options
BetRivers Online Casino Ontario is fairly limited in their payment options, but does zero in on the most popular methods. For deposits, they offer direct deposit and withdrawal from your bank account via Trustly Online Banking as their preferred service. Beyond that, you have credit/debit card deposits, INTERAC e-transfer, and PayPal as your opinions.
When it comes to withdrawal, you lose the credit card option, but Trustly, Interac, and Paypal all remain available. Again, it's not the longest list in the world, but Interac and Paypal alone cover a significant portion of consumers.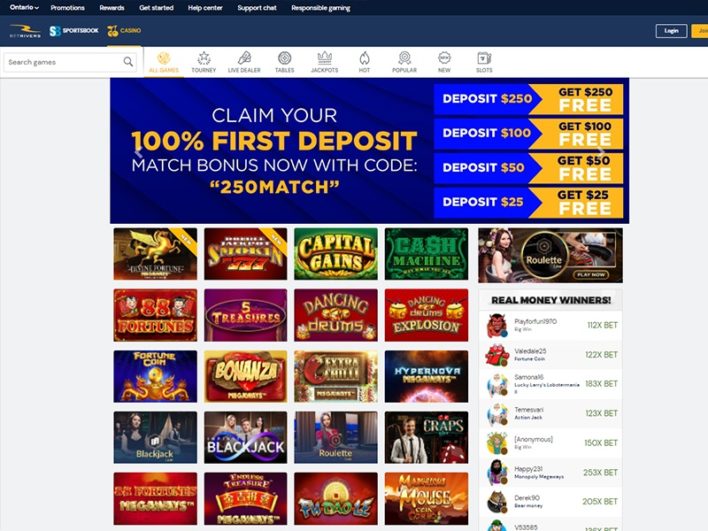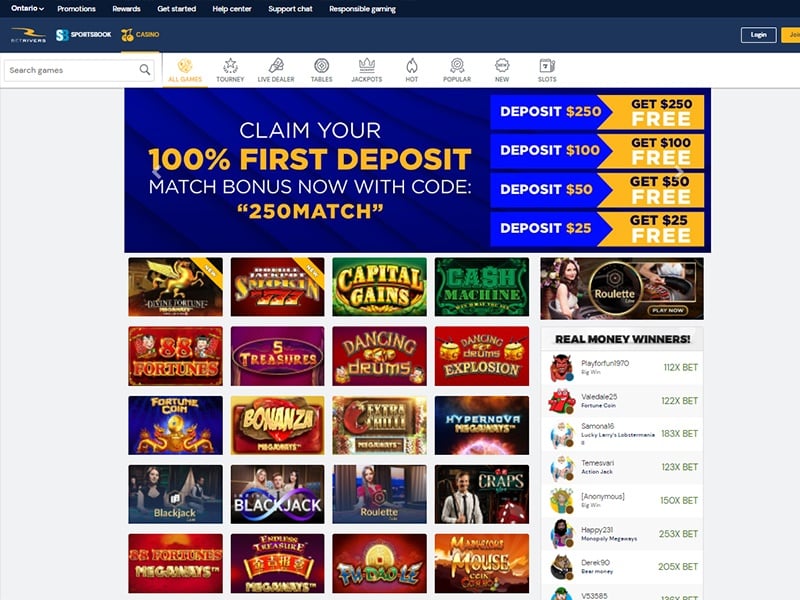 BetRivers Online Casino FAQ
Is BetRivers Casino Legit?
As legit as one can be! BetRivers and their parent company, Rush Street Interactive, have over a decade of experience in the industry, both digitally and in physical casinos across North America and Latin America. More importantly for Ontario customers, they're also one of the first handful of companies approved by the AGCO and iGaming Ontario to take in bets and offer games under the new provincial gaming laws introduced in 2022. Rush Street has historically taken regulation very seriously, to the point of only working in regulated areas, so you know that they'll be working by the book.
How to withdraw from the BetRivers Online Casino?
The withdrawal process on BetRivers Ontario Mobile Casino is very easy. Simply click your balance, and you'll have both the Deposit and Withdrawal screens pop up as options. CLick withdraw, and it will bring you to the Trustly Banking withdrawal page. If you want to use Interac or Paypal instead, there are buttons to switch to those on the same page.
Does BetRivers Casino have an Android App?
It does! You can find the app on the Google Play Store. Note that Rush Street Interactive likes to keep their apps regional, so you'll be looking for "BetRivers Casino Sportsbook ON" when searching.
Does BetRivers Casino have an iPhone App?
While only the Android version of the app was available at launch in Ontario, BetRivers did recently push their Ontario variant of their app onto the Apple App Store, compatible with both iPhones and iPads. Similar to the Play Store, make sure you search for the correct "BetRivers Casino Sportsbook ON" name when trying to find the App. Other variants are only for certain regions.
Is BetRivers Casino rigged?
You can rest easy knowing that Rush Street Interactive is among the most stringent about following government guidelines and regulations with their platforms. As BetRivers Casino Ontario is AGCO and iGaming Ontario-certified, they are beholden to fair play standards and follow through as such.
---