The experts here at Canada Sports Betting will provide a comprehensive Unibet review, which will give users all the detail you need before placing a bet. What's on offer? Unibet has a number of unique features, which we'll highlight next!
Broad sports betting markets
Over 50 types of casino games available
Great options for depositing funds
Main currency on-site is Euros
Unibet Bonus
CLAIM YOUR BONUS – Take advantage of this unique sportsbook 24/7 and get up to 100% Deposit Bonus up to $100 + up to $250 Risk-Free Bet by making your first deposit.
Take Me To Unibet!
Unibet Canada Sports Betting
One of the first things you notice when navigating the Unibet site is the sheer depth of betting markets on offer. Unibet offers a broad range of betting options on major events and sports, they also cover some of the lesser-known markets which is what makes Unibet stand out from other top-tier sportsbooks.
The site is wonderfully laid out. Simplicity and style, the Unibet website provides all the functionality of any of the other top-tier providers while providing an excellent user experience.
As you'd expect, Unibet is committed to providing an enjoyable betting experience for its users no matter where they are playing. As such Unibet offers odds in three formats, including Decimal, America and Fractional.
In order to provide a quality Unibet Sportsbook review for Unibet users in Canada, we wanted to cover all aspects of the betting experience. As such, we wanted to discuss how the website's design offers special features and benefits, allowing bettors to stay connected to the action!
As we are seeing more and more these days, oddsmakers are offering "In-Play" or live betting odds, which allows bettors to bet on the action as it's happening and displays live betting odds.
One thing you noticed about the site, is It's clear that Unibet Canada is focused on the sport of soccer. They offer a wide variety of promotions – they even have a "Top Football Leagues" section, which offers all the latest action from Europe's elite.
While Unibet does offer odds on the NFL, NBA, college sport and the rest of the American sports leagues, it's a European site where soccer reigns supreme.
This provider also offers the Unibet casino, which features a range of unique games, Unibet poker, and a variety of slots to enjoy. While this Unibet review will focus on the sportsbook offerings, the casino is an excellent addition to the service and well worth checking out!
Unibet Bottom Line Recommendation
Overall, it must be said that the Unibet sportsbook is impressive. Focused on a modern feel and providing customers with some of the most competitive odds out there. An excellent choice for Canadian players, though it's worth noting that players from Quebec are not accepted.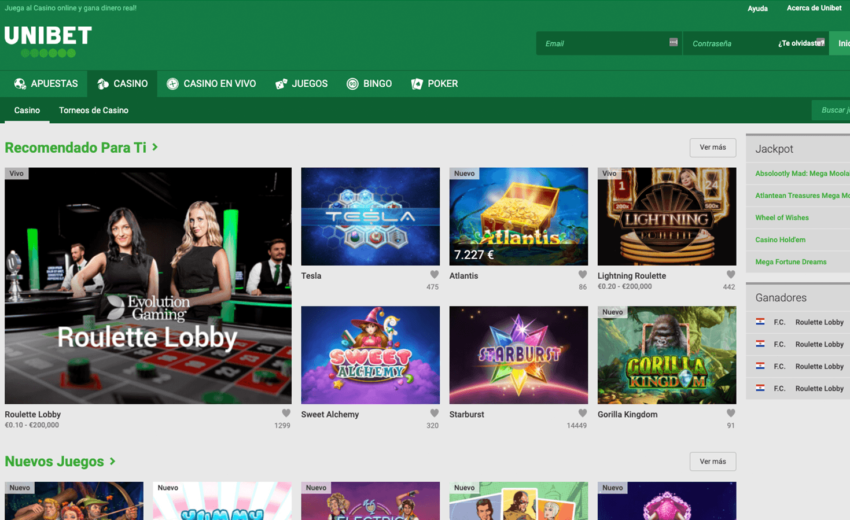 Visit Unibet and see for yourself…
Want access to this bonus? Open an account at Unibet and make a first deposit.
Ok! Let's Check Out Unibet!
---
Unibet FAQs
Can I deposit using cryptocurrency?
The growing popularity of cryptocurrencies has influenced a variety of areas of society, the gambling industry is certainly one of those. Unibet offers cryptocurrency deposits for its sportsbook, racebook and casino – check out the deposit bonuses today!
Is Unibet online betting legal?
As always, Unibet offers an online betting service much the same as many other providers. The legality of gambling with Unibet is down to the betting laws in the place the bettor resides. Always check the law where you are when betting.
Can I deposit using Bitcoin?
As one of the many major payment methods available to customers at Unibet, Bitcoin offers customers the opportunity to wager on a variety of markets and receive a great bonus on deposits.
Can I depsoit with PayPal?
Unibet customers can deposit using the popular online payment platform PayPal, simply select from the main menu to access the PayPal deposit option.
What markets can I bet on?
Unibet customers have a broad range of sports betting markets to choose from, ranging from Soccer to Volleyball – if it's a sport, you can bet on it at Unibet! As well as that, there is a range of non-sports betting markets; entertainment markets, including TV shows and awards ceremonies, as well as political props.
Who owns Unibet?
Unibet is part of the Kindred-Group, which is an online gambling operator consisting of 11 different brands. The company is vast and has employees all around the world, including in major cities like New York and London.
When was Unibet founded?
Unibet has been in the sports betting and online bookmaking industry for a long time, first appearing online back in 1997.
Why can't I place bets?
The main reason for this is likely because your account lacks funds and needs topping up, though it could be for other reasons. If you're betting on futures markets, it may be that the event is about to conclude and it's too late to place a wager. Another reason may be that you are trying to wager from a country that has banned online betting.
Can I get bonuses betting from Canada?
Canada, much like any other nation, offers customers the opportunity to deposit funds using a variety of different methods. There is a general deposit bonus (welcome bonus), as well as reload bonuses available to customers. On top of that, certain deposit methods, such as cryptocurrencies, have their own unique bonuses.
What do I do If I forget my password?
From the main menu, you can see that there is an option below the account login that reads "Retrieve password". From there, customers will receive an email, which they can then use to reset their password on the Unibet account.
Does Unibet feature a racebook?
Unibet does indeed feature a racebook, offering a broad range of betting lines on major horse racing events throughout the year. Not only that, but Unibet covers many of the smaller horse race meets on the calendar as well. Unibet offers a comprehensive racebook.
---