Nowadays, sports lovers are given even more direct access to live sports markets, as they are able to stay connected to live matches from their own handheld devices. With an array of sports betting mobile apps to choose from, it can be very difficult to select the right one for you when looking at an endless list of free sports streaming apps.
However, in many cases, these apps aren't free. In fact, some of the most popular apps require a subscription from users, while some of the best free sports apps are readily available to users on both iOS and Android platforms.
Sports fans and bettors can now access live betting markets, simultaneously enjoying your favourite sports games from your smartphone screen with ease.
We are living in a technology world, which allows sports fans to watch matches from almost any corner of the world, anytime. But, with an overabundance of sports streaming apps, which is the right one for you? Well, we'll explore this question and provide some ideas for Canadian sports fans.
Top 5 Sports Streaming Apps
The best free app to watch live sports cannot be defined for all sports fans as one individual app, rather there are a variety of options with one which will likely suit certain players more than others. We'll highlight some of the free sports apps available for android, as well as the best app to watch live sports free on iOS devices.
Sportsnet App
Sportsnet is one of the leading sports news media sites, reporting on all major sports leagues and covering news from events across the globe. As such, they designed an Android app to support their platform, bringing the excitement of sports right to the customers' device.
Not only does the app provide live streams, but also has regular updates of opinion pieces, video content and analysis from a variety of experts. While this app is specific to Android, there are many other options available to iOS users, which we'll go on to now.
NHL Streaming App
This is a hockey lover's app—obviously. For all access to live sports streaming, the NHL app is your one-stop-shop for all things hockey. The Regular Season is long, then hockey fans are gifted with a riveting post-season.
Hockey fans can catch all of this action through the NHL streaming app. From overtime winners to the latest news, sports fans will be gifted with a range of options when accessing this great app. But, it doesn't stop there. The NHL app also features scores, stats, tickets, arena info, highlight reel videos and much more—check it out today.
DAZN: Live Sports Streaming
DAZN has become one of the most popular streaming services around, providing streaming across Europe and the US. The streaming service was built upon boxing and is stacked with a lineup of fights all year round, the likes of Canelo, GGG, Anthony Joshua, Tyson Fury, and Ryan Garcia are just a click away for mobile users.
But, it doesn't stop there. Sports fans will find much more than boxing at DAZN, they can catch major North American sports leagues, European soccer, and motorsports.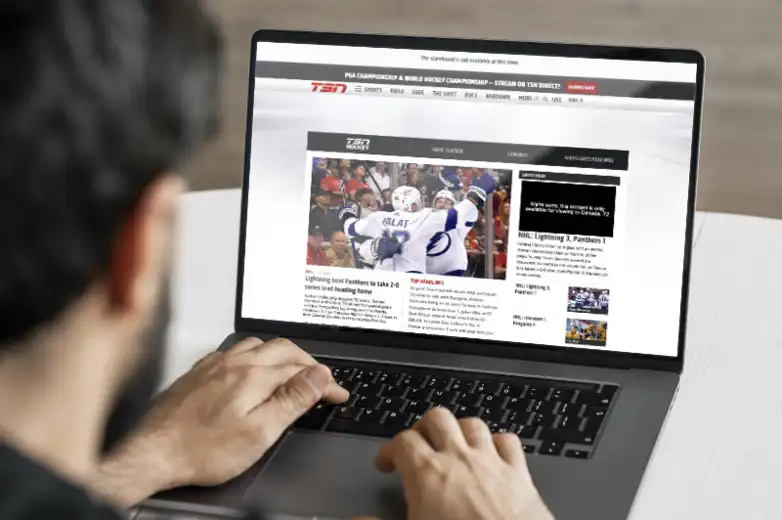 TSN App
TSN is the ultimate Canadian sports betting app, with fans able to view live streams on any of the major channels; TSN1, TSN2, TSN3, TSN4, AND TSN5, across multiple platforms.
From the World Juniors to the Grey Cup, Canadian players will be provided with whatever they desire. As well as Canadian specific markets, TSN covers the major North American leagues meaning sports fans can follow the Jets, Oilers and Canadiens in the NHL, as well as the Raptors in the NBA.
Maple Leafs Mobile App
Another streaming app catered specifically to hockey fans, the Maple Leaf's app is one of the premium streaming apps available to Canadian hockey fans. The marketing team has spent a lot of time and effort designing and polishing the app so that the quality of service is as good as can be.
Sports fans can follow the game live with real-time scores, play-by-play updates and shot charts. As well as that, hockey fans will find team and player stats, video highlights from games and highlight reels.
---