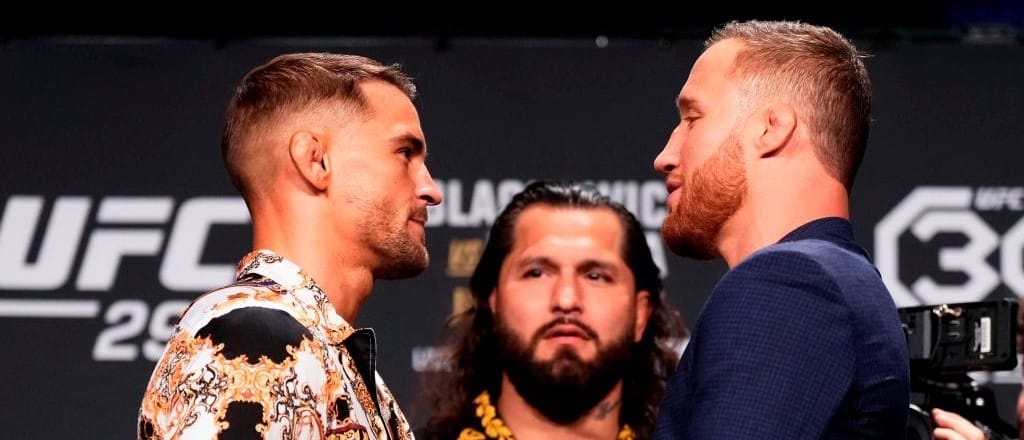 UFC 291 is right around the corner and it's time to take a closer look at this exciting event. There will be five fights on the main card to finish out the night, including the much-anticipated rematch lightweight bout between Dustin Poirier and Justin Gaethje.
There are big names and interesting matchups across the five fights on the main card for Saturday night. Let's dive further into each of them, explore the odds, look at the matchups, and see what some of the best picks will be before the night gets underway.
Michael Chiesa (+120) vs. Kevin Holland (-151)
Holland is one of the more interesting fighters out there in that you don't really know what you're going to get. When he fought Steven Thompson, he went into the fight with a clear advantage in terms of grappling but vowed not to wrestle. It was confusing and he wound up losing the fight but didn't really seem all that bothered by it.
Holland responded well with a win against Santiago Ponzinibbio back in April, showing that when he's focused he can be quite tough to beat. When handicapping this fight, there's also the matter of his opponent having not fought since November 2021.
Speaking of Chiesa, he's historically been a good fighter with great stamina, so if he can keep Holland at bay, he may be able to wear Holland down. The downside to this strategy is that Holland also has pretty good stamina, meaning this should be a bout that goes into the final round.
Holland has a big advantage in terms of jiu-jitsu talent and wrestling, which Chiesa struggled with in his bout against Sean Brady.
Holland also has a height and reach advantage, putting Chiesa as a definitive underdog heading into this one. Holland has the blueprint to keep Chiesa at bay with jabs and kicks but this one should go the distance unless Chiesa is extremely rusty since his last fight. Look for Holland to take this one in what should be a long fight.
Tony Ferguson (+285) vs. Bobby Green (-370)
Tony Ferguson is the biggest underdog on the main card. There are many who believe that he's past his prime and on the verge of being out of the UFC entirely. This could very well be the make-or-break fight that determines the future of his UFC career, as a loss could mean Ferguson goes into retirement.
That said, Green is not necessarily a world-beater. He's in the midst of a four-fight losing streak but those losses have come against some of the biggest names in the division. If anything, Green needs to refine his game to become more versatile. He recently struggled against Nate Diaz, eating a ton of jabs in the loss.
Ferguson might have the skills to win one more fight but there are also questions about his gas tank. In his last fight, he got gassed in the fourth round, went for a takedown, and wound up getting submitted in the process.
Green has good takedown defence and the kind of jab that can keep Ferguson out of reach. Green also has all the motivation in the world to show that his recent string of losses is a stepping stone to something bigger down the line. Take Green by KO/TKO (+150) but don't be surprised if he gets the submission victory, either.
Jan Blachowicz (-116) vs. Alex Pereira (-106)
Aside from the main event, this may be the most even fight on the main card. Pereira is interesting to watch coming into this fight because, in a recent fight, he seemingly had Israel Adesanya on the ropes only to be suddenly and viciously KO'd in the loss.
If he takes that loss personally and comes out firing, he could have this one over early. If he isn't completely motivated to answer, it could be a long night for him. Blachowicz is one of the best pound-for-pound fighters in any division and it will be a tough task for Pereira even if he's on his game.
Jan can use his leg kicks to keep Pereira, the better striker of the two, at bay and even do some serious attacking damage. Watching the last three fights for Blachowicz, those could easily have gone in either direction. He had to battle from behind to beat Rakic before a knee injury took him out, so Blachowicz isn't impervious.
If Pereira can come out firing on all cylinders and put the pressure on, his strikes may be too much to handle. This one comes down to personal preference from a betting standpoint, but the better pick is to go with the technically sound Blachowicz to win by split-decision.
Stephen Thompson (-145) vs Michel Pereira (+110)
Expect this one to get deeper into the fight. For Pereira, he has gone seven fights in a row with at least one completed round while Thompson has 11 straight. Thompson will keep his distance thanks to his karate background which should also extend the fight.
Pereira's main issue in the past has been cardio. If Thompson can get Pereira chasing a bit, his stamina could come into question the longer the fight goes. That said, he also has some of the most unique attacking techniques in the game, getting as creative as possible in his strikes.
Thompson is very good at sticking and moving, so it will be difficult for Pereira to land a clean shot. Picking a winner might be tough but betting this to go the distance (-188) is a safer play. Thompson earning a split-decision victory seems like the most likely outcome, but don't be shocked if he earns a unanimous decision, either.
Dustin Poirier (-151) vs Justin Gaethje (+120)
Despite having more favourable odds, this one could go either way. This is probably going to be a war as the last bout between these two was. Gaethje was stopped back in 2018 when the two first battled, succumbing by TKO in the fourth round. The fight was instantly seen as a classic.
There is little doubt that Gaethje's camp was watching Poirier's bout against Michael Chandler. In that fight, Chandler did best when he had Poirier against the fence and applied pressure. As a matter of fact, if he didn't tire himself out with strikes, Chandler may have ended that fight in the second round.
Poirier's resume is the kind that could be used to make any argument. Yes, he lost his lightweight title bout against Charles Oliveira, but he's also the guy that beat the legendary Conor McGregor twice leading into that (granted, it wasn't prime McGregor but still).
Both fighters have a litany of finishes to their name. It could go either way and it wouldn't be surprising to see this one end early. Gaethje has shown patience in recent bouts and that could be the difference if he hopes to even the series with Poirier.
Conclusion
Overall, this is a solid card from top to bottom. While there have been deeper cards, most of these bouts are evenly contested and it's not out of the realm of possibility to expect an upset from Ferguson. The draw is obviously the main event and it has the kind of potential that can make this a memorable card.
When all is said and done, we could see a new contender for the lightweight title as well as a former contender (Pereira) that could be ready for another shot. From a betting standpoint, this is one of the tightest, toughest cards to predict definitively, which should keep everyone on the edge of their seat from start to finish.