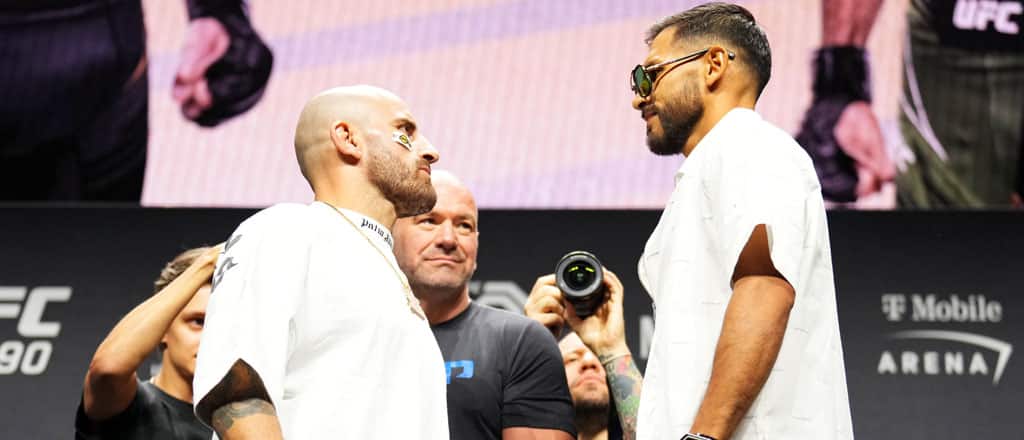 UFC 290 will conclude International Fight Week with a banger of an event in Las Vegas, Nevada. Just a few months after the last main event, the UFC tour returns to Sin City and T-Mobile Arena with a double-title-fight event that will surely keep every UFC fan on edge. The UFC 290 main event will take place on Saturday, July 8th, at 10 p.m. ET, with preliminary fights starting at around 6 p.m. ET.
UFC 290 sees the return of Alexander Volkanovski in the Featherweight Division to defend his title against the current interim champion Yair Rodriguez. On top of that, the main card features an exciting five-round title match in the Flyweight Division between Brandon Moreno and Alexandre Pantoja.
In today's bet365 preview, Let's dive deeper into these incredible fights, as well as everything else you can expect to see on the UFC 290 main card this Saturday night.
Bo Nickal vs Val Woodburn
After a successful UFC debut that ended with a comfortable first-round win via submission, Bo Nickal returns at UFC 290 for his second-ever UFC bout in the Middleweight Division. Initially, he was supposed to face Tresean Gore; however, Gore had to pull out due to a serious wrist injury. Thus, Val Woodburn took the golden opportunity to make his debut at UFC 290.
Bo Nickal is definitely one of the biggest and brightest prospects the UFC has ever seen. He has an explosive fighting style and impressive stats in all his amateur and professional fights so far. He's known for taking down his opponents very quickly, which has led to three consecutive submission wins within the first round. Nickal will definitely look to end the fight early, either with a knockout or submission, and continue his hot streak in the UFC.
Nickal's opponent, Val Woodburn, will be making his debut at UFC 290. He was originally supposed to fight at the Dana White's Contender Series, but once the opportunity for a main event bout came, he couldn't possibly pass it. While seemingly on a lower level than his opponent, Woodburn is still a very capable fighter with a solid 7-0 record in his previous fights.
Bo Nickal opened as a huge favourite for this bout at -2500 odds, while Woodburn sits at +1100. It's clear the UFC is looking to provide Nickal with some "lesser" competition to ease him into the promotion. While Nickal will most likely overcome Woodburn pretty easily, there's no real value at such low odds. Instead, a better approach would be to look for the upset, even though it seems unlikely if you're set on picking a side for this fight.
Jalin Turner vs Dan Hooker
This Lightweight Division matchup was originally scheduled for UFC 285 but had to be canceled due to Hooker's broken arm. Now, at UFC 290, Jalin Turner will look to extend his 13-6 win record against a veteran opponent in Dan Hooker, who holds a 22-12 record in his career.
Jalin Turner comes off an amazing fight against Mateusz Gamrot, which ended his five-win streak since he lost via split decision. However, he looked very good throughout the bout and generally seems to be entering his peak. He has a two-inch reach advantage over Hooker, as well as very long legs, which will help him land important kicks. He's also known as a relentless striker, with 5.63 significant strikes per minute, and he's a decent wrestler to boot.
Dan Hooker has had mixed results over the past few years and has looked inconsistent. However, he's still a great lightweight fighter with a solid 4.83 significant strikes per minute. He's also more experienced than his opponent, which could give him the edge if the fight goes the distance. Hooker will need to avoid Turner's huge strikes and fight smartly if he wants to win.
Jalin Turner comes in as the favourite at -275 odds, compared to Hooker with odds of +225. It certainly won't be easy, but Turner is very likely to win this bout and continue his excellent form. He'll most likely look to take down Hooker in the distance, as the longer the fight goes on, the more likely it is for him to get knocked out or lose via decision in the end.
Robert Whittaker vs Dricus Du Plessis
The UFC 290 main card continues with another great Middleweight bout between Robert Whittaker and Dricus Du Plessis. Whittaker is one of the best fighters in the division with an impressive 24-6 record, while Du Plessis is a very formidable opponent with a solid 19-2 win record.
Robert Whittaker is a very strong and skilled fighter with excellent footwork and killer jabs. He's also very tactically aware and knows when it's time to go hard and when to lay off. The majority of his fights have been victories by decision, except for two losses against superstar Israel Adesanya. He's a potent striker with 4.48 significant strikes per minute and has a great takedown defence percentage of 84%.
Dricus Du Plessis is known to be slightly sloppy in his fights, as well as gas out pretty easily. However, he's still been victorious in his last five bouts. He's also amassed some great stats, including an impressive 6.72 significant strikes per minute and a 2.83 takedown average. Keep in mind, though, that none of his opponents have been on Whittaker's level.
According to the bookmakers, Whittaker is a huge favourite for this fight at -400 odds compared to +300 for Du Plessis. While Du Plessis hasn't fought against skilled fighters like Whittaker, he still boasts some impressive stats and a good win record. But, ultimately, Whittaker is an experienced, quick, and tactical fighter who won't have any trouble overcoming Du Plessis, even inside the distance, if he brings his A-game. However, if he slips up, Du Plessis could pounce on him and cause some serious damage.
Brandon Moreno vs Alexandre Pantoja
The UFC 290 co-main event will see Brandon Moreno defend his Flyweight title against Alexandre Pantoja. The two have faced each other twice, and Pantoja emerged victorious both times, but that was many years ago. Moreno currently holds a 21-6 win record, while Pantoja sits at 25-5.
After winning his fourth-ever matchup against Deiveson Figueiredo, Brandon Moreno will look to overcome another fighter that has had his number in the past. Moreno has previously lost twice to Pantoja but has evolved significantly as a fighter since then. He has a three-inch reach advantage over his opponent, as well as much more experience when it comes to five-round fights. He'll definitely look to utilize his excellent cardio and take the fight to the distance.
Alexandre Pantoja is finally getting his title shot, at 33, against an opponent he knows very well. The Brazilian is a very strong fighter who hits hard with 4.25 significant strikes per minute and can definitely wrestle with Moreno very well. His explosive nature and solid strikes should win him the first round or two, and then it'll be up to his stamina to allow him to win the fight.
Moreno opened as a solid favourite for the fight, with his current odds being at -200, whereas Pantoja sits at +170. The bout will definitely be very close and will most likely go the distance, especially if Moreno survives the onslaught of Pantoja during the first few rounds. An upset is also not unlikely, as Pantoja has already defeated Moreno and things seem ripe to change.
Alexander Volkanovski vs Yair Rodriguez
After a short-lived ascend to the Lightweight Division, Alexander Volkanovski returns to his beloved Featherweight Division to defend his title and extend his already impressive 25-2 record. His opponent, Yair Rodriguez, has recently picked up the pace and shown some great fighting ability on top of maintaining a great 15-3 record.
Simply put, Alexander Volkanovski is an excellent fighter in almost all aspects. He's got a great game both on his feet and on the mat, but what makes him shine is that he's a vicious striker, landing 6.35 significant strikes per minute. Even in his loss against Islam Makhachev, Volkanovski out-striked the Russian fighter by a large margin. Plus, his cardio is amazing, so he should be able to pound Rodriguez relentlessly, even for five rounds.
Yair Rodriguez has steadily climbed the Featherweight ladder over the past few years and managed to win the interim title by submitting Josh Emmett. He also held his ground well against strong fighter Max Holloway. He'll need every weapon in his arsenal if he's to go toe-to-toe with Volkanovski for the entire 25 minutes. His striking is decent at 4.48 significant strikes per minute, but his takedown defence is a weak point, with an underwhelming percentage of 63%.
As expected, "Alexander The Great" is a huge favourite at -400 odds, compared to +300 for Rodriguez. There's a reason why Volkanovski is in the conversation for the best Flyweight fighter of all time. He excels at everything and even held his ground against one of the best Lightweight fighters ever. He most likely won't run into any trouble against Rodriguez and will probably finish the fight in the distance, either through a knockout or submission.
Conclusion
Overall, the return to Las Vegas for UFC 290 promises an exciting event. With such a stacked main card, including the two title fights of Alexander Volkanovski vs Yair Rodriguez and Brandon Moreno vs Alexandre Pantoja, as well as many more exciting bouts, it's certainly looking like an event you won't want to miss!