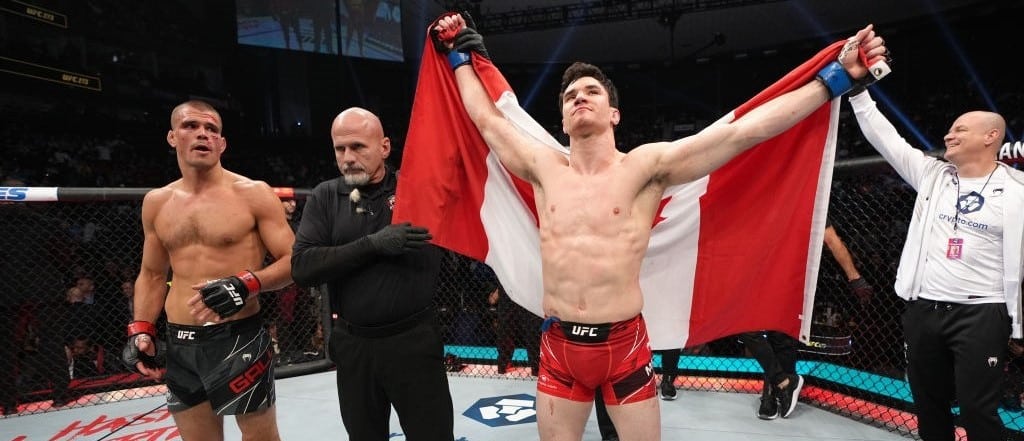 Canada, buckle up! The UFC tour returns to the Great White North after nearly four years since the last main event, UFC 240, which took place in September 2019.
UFC 289 will take place on Saturday, June 10, at Rogers Arena in Vancouver, British Columbia. You can expect the main card to begin around 10 p.m. ET, with early preliminary matches starting at 7 p.m. ET. Prelim fights can be watched in Canada on TSN.
The main event is all about the Women's Bantamweight Division, where Amanda Nunes will defend her title against Irene Aldana. The co-main event also promises some great action, with the No. 1 seed in the Lightweight Division, Charles Oliveira, taking on Beneil Dariush. Across the board, this is an exciting slate of fights as many of the bouts are being handicapped relatively evenly across the card.
Get ready to dive into the main card of UFC 289 and explore the breathtaking fights the event has in stock for us, including the fantastic main event title bout.
In total, five Canadians — Marc-Andre Barriault, Mike Malott, Jasmine Jasudavicius, Aiemann Zahabi, and Kyle Nelson — will be entering the Octagon throughout the evening.
Marc-Andre Barriault vs. Eryk Anders
The UFC 289 main card will kick off with the Middleweight bout between Canadian Marc-Andre Barriault and Eryk Anders. Both fighters are very experienced and hold similar win records of 15-6 and 15-7, respectively. Additionally, both have had their fair share of UFC fights, at 10 and 15, respectively.
Marc-Andre Barriault is a very potent striker who tends to go all out in terms of punches, landing 5.9 significant strikes per minute. This means his aggressive attack is a pain to deal with for his opponents, which is evident by his three out of five UFC wins coming via KO/TKO. He's also very good at defending against strikes and takedowns, making him tough to pin down overall.
Eryk Anders is also a decent striker, but nowhere near the level of Barriault, at just 3.39 significant strikes per minute. Instead, Anders will likely look to wrestle and try to control the fight this way. However, Barriault is very resilient, to begin with, and will most likely not allow Anders to knock him to the ground in the first place.
The odds for this fight are close, with a slight edge to Barriault at -150 compared to Anders' odds at +125. Both fighters are very tough and will be difficult to knock out. Therefore, this fight is looking very likely to go the distance, with Barriault coming out on top. The Canadian is a more powerful striker and will also have the home crowd cheering him on.
Dan Ige vs. Nate Landwehr
For the Featherweight Division, we have two very experienced and strong fighters battling it out at UFC 289. Dan Ige comes in with a 16-6 win-loss record and 14 UFC fights, while his opponent, Nate Landwehr, has an equally impressive 17-4 record, albeit with only six UFC fights.
Ige is a technically proficient fighter and has stood his ground against some of the best fighters in the division. His overall stats, including his 3.8 significant strikes per minute, seem mediocre, but that's only due to fighting superior competition. However, this doesn't necessarily mean he will easily overcome a theoretically inferior opponent in Landwehr.
Landwehr has the numbers and form behind him, coming off three straight wins, albeit against lesser competition. He has a lot more striking volume, which gives him a remarkable 6.9 significant strikes per minute, and he will definitely look to outstrike his opponent. But Ige is very solid defensively and has the skill to land important strikes that could win him the fight.
The bookmakers favor Ige for this fight at -260, whereas Landwehr sits at +200. Notably, Ige has never been knocked out, so the only KO/TKO possibility should come from his end. However, with both fighters being hard to pin down, this one will most likely go the distance. If it reaches that point, it's anyone's game, and an upset is not out of the question, especially at this price.
Mike Malott vs. Adam Fugitt
Another notable fight on the UFC 289 main card is the bout between Canadian Mike Malott and Adam Fugitt in the Welterweight Division. Both fighters have a solid winning record at 9-1 and 9-3, respectively, with Malott having a 2-0 UFC record and Fugtitt coming in at 1-1.
Malott is a very solid fighter overall. He's got strong punching, with 4.49 significant strikes per minute, and is also a very capable grappler who knows how to overwhelm his opponents and beat them early. This is evident by all nine of his wins coming in the first round. However, that's also his biggest drawback, as he hasn't been properly tested in an extended fight scenario.
Fugitt comes into this fight with a four-inch reach advantage, which should allow him to keep Malott at a distance. Fugitt is a very aggressive striker with 5.4 significant strikes per minute, however, his defence is questionable. He also likes to go to the ground but hasn't faced a capable wrestler like Malott yet.
The bookmakers give the edge to Malott for this one, at -235 odds, with Fugitt sitting at +175. It's hard to see any result other than a win for Malott, as he is a more capable fighter overall. A nice approach would be to bet on Malott to win in the first round. If it goes too far, Malott could be in trouble, so he'll look to finish it early, just like he has so far in his career.
Charles Oliveira vs. Beneil Dariush
For the UFC 289 co-main event, we have the people's main event, an absolute banger between two of the best fighters in the Lightweight Division, Charles Oliveira and Beneil Dariush. Oliveira comes in with a winning record of 33-9 (21-9 UFC), while Dariush has a 22-4-1 (16-4 UFC) record. The two fighters have very different styles and will look to bring the game into their comfort zone to come out on top.
Oliveira will definitely look to bounce back from his title loss against Islam Makhachev at UFC 280. Where Oliveira shines is on the ground, as his jiu-jitsu background allows him to earn several wins via submission. He's a strong puncher, although he only lands around 3.48 significant strikes per minute. Expect him to hit the back of his opponent and try to pin him down.
Dariush had a brilliant fight at UFC 280, upsetting Mateusz Gamrot and winning by decision. Dariush is an excellent overall fighter and very potent on his feet, as well as on the ground. Despite his 3.81 significant strikes per minute, he punches very hard and can cause serious damage to anyone. But, most crucially, he's a very good wrestler with an excellent 80% takedown defence, which will make Oliveira's life difficult.
This is arguably the hardest fight to predict, and it's evident by the odds, which place Dariush as a slight favorite at -151 compared to +120 for Oliveira. If the bout goes to the ground, Oliveira will most likely have the edge. If Dariush keeps fighting on his feet, he can land some important strikes and even potentially knock out Oliveira. In any case, this fight will most likely go the distance.
Amanda Nunes vs. Irene Aldana
And now, we've come to the first women's main event since UFC 277. The UFC 289 main event will feature Amanda Nunes defending her Bantamweight Title against Irene Aldana. Aldana, who comes in with a 14-6 win-loss record, accepted the challenge on short notice and will hope to beat Nunes (22-5 record) and claim the Women's Bantamweight belt.
During her first fight against Julianna Peña at UFC 269, Nunes was submitted and lost her belt, but regained it shortly after, with a decisive win against Peña at UFC 277. Nunes is a fierce and very strong fighter with excellent takedown skills and very strong punches, which net her 4.4 significant strikes per minute. Her aim will be to dominate the fight and win in a decisive manner to further cement her place as the best female MMA fighter.
When Aldana got the call for the title fight on short notice, she jumped at the opportunity, hoping to cause an upset just like her fellow countrywoman Alexa Grasso did at UFC 285 against Valentina Shevchenko. Aldana will need to rely on her hard punches and 5.39 significant strikes per minute to cause damage to Nunes. Her wrestling game isn't the best and, combined with Nunes' excellent 82% takedown defence, won't be very helpful in this fight.
The UFC 289 main event title bout has a clear favourite in Amanda Nunes at -325 odds, while Aldana sits at +255. Aldana will need to start very aggressively and try to land important hits, causing damage and potentially knocking out Nunes. Otherwise, if the fight goes the distance, the superiority of Nunes will likely overwhelm the Mexican and lead to a decisive victory for "The Lioness."
Conclusion
All in all, Canadians, as well as UFC fans across the world, should be very excited for UFC 289! Between the potentially legendary Oliveira vs Dariush fight and the main event title fight between Amanda Nunes and Irene Aldana, UFC 289 has the potential to be a true banger. Plus, don't forget to cheer for the two Canadian fighters, Barriault and Malott, as well as the Ige vs. Landwehr bout, which could end up being an outstanding battle.