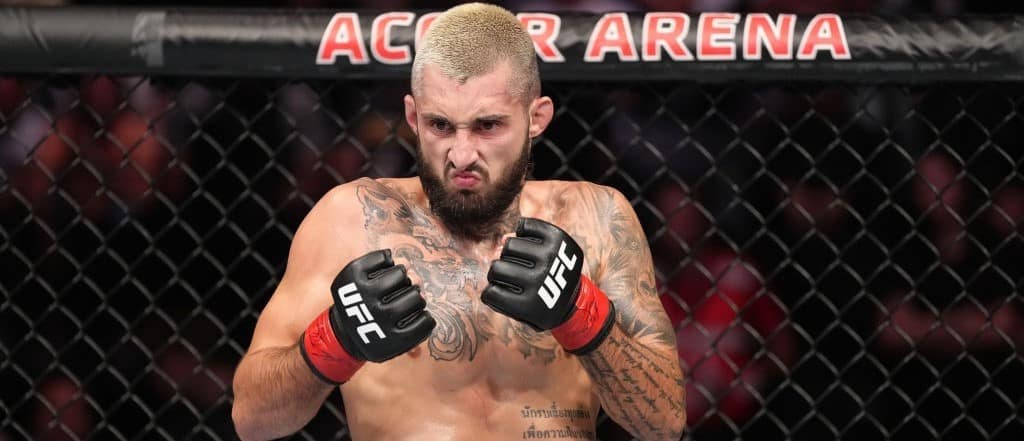 The UFC tour remains in the U.S. with its much-anticipated return to Newark, New Jersey. The last UFC event in Newark was back in 2019, and fans will be eager to watch their favourite fighters go at each other on Saturday, May 6, at the Prudential Center. As usual, the preliminary card starts at around 6 p.m. ET, and the main card begins at 10 p.m. ET.
Headlining UFC 288 is the Bantamweight title fight between Henry Cejudo and reigning Bantamweight Champion Aljamain Sterling. The co-main event will see two excellent Welterweight brawlers – Gilbert Burns and Belal Muhammad- fight against each other in what promises to be an exciting bout.
Let's take a closer look at the UFC 288 main card and see what each fight, including the sensational main event title fight, has to offer, as well as find any potential betting opportunities for the big day.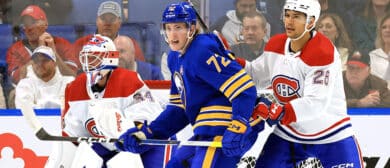 Kron Gracie vs. Charles Jourdain
The UFC 288 main card kicks off with a Featherweight bout between two experienced fighters who will hope to get things started with a banger of a fight. In one corner, there's 34-year-old Kron Gracie with a 5-1 record but only two UFC fights under his belt. His opponent, Charles Jourdain, holds a 13-6 win record with 10 UFC bouts.
Gracie is a veteran fighter but this will only be his third UFC bout and his first since 2019. Therefore, it's safe to assume that "ring rust" may affect the Brazilian fighter. Still, he has a one-inch reach advantage over his opponent and lands a very respectable 5.15 significant strikes per minute. His other two UFC fights have resulted in one loss and one win.
Jourdain, 27, will look to bounce back from his two-loss streak with this battle at UFC 288. The Canadian is a very capable fighter that can easily switch between stances and lands around 5.84 significant strikes per minute. However, his takedown game is questionable, with a low takedown defence percentage of 48%. This will be a weakness that Gracie hopes to exploit.
This is one of those matches that could go either way, and the bookmakers agree. Jourdain is the slight favourite at -175 odds, with Gracie coming in at +145. Jourdain has the power and quickness to overwhelm his opponent and win two out of three rounds. A risky but reasonable approach could be to go with a win for Gracie through submission. If Jourdain falls victim to several takedowns, like in his previous matches, he could be out of the fight quickly.
Movsar Evloev vs. Diego Lopes
The second consecutive Featherweight bout at UFC 288 will see a top fighter looking to take the next step in his UFC career take on an unexpected new face. Movsar Evloev from Russia, who remains undefeated with a 16-0 record and a 6-0 UFC record, will take on promotional newcomer Diego Lopes, after fan favourite Bryce Mitchell withdrew unexpectedly.
Evloev wants to continue his undefeated win streak and climb the Featherweight ladder with aspirations of challenging for the title in the not-too-distant future. Despite his relatively small stature, the 29-year-old Russian has a reach advantage and lands way more significant strikes per minute at 4.36. Also, he's a very active grappler, with a takedown average of 4.83.
Originally from Brazil, Diego Lopes is 28 years old, and will be making his UFC debut on short notice. His overall record is good, at 21-5, and he has previously come close to securing a UFC contract, having narrowly missed out in 2021. He has a three-inch height advantage over Evloev, and will undoubtedly be hoping to make a splash in what could be a statement fight in his career.
The odds for this fight have Evloev as an overwhelming favourite at -900, compared to +566 for Lopes. On paper, it seems that Evloev's numbers are superior in every category, plus his 71% takedown defence should help him avoid getting submitted. Therefore, all signs point to an easy win for the Russian. However, Lopes is something of an unknown quantity, which makes for a degree of unpredictability.
Jessica Andrade vs. Yan Xiaonan
The UFC 288 main card continues with a women's fight in the Strawweight division, where UFC veteran Jessica Andrade from Brazil will take on Yan Xiaonan from China. Andrade holds an impressive 24-10 fight record, with a 15-8 mark in her UFC fights, while Xiaonan has a 16-3 overall record with a 7-2 number across her days in the UFC.
Andrade has enjoyed a great run over the past few years, except for her last fight, where she was submitted by Erin Blanchfield. In general, though, Andrade is a very capable wrestler with a 73% takedown defence and a takedown average of 2.64. However, she's known for being a very active puncher, with an impressive 6.84 significant strikes per minute, and she likes to overwhelm her opponents.
Yan Xiaonan is coming off an impressive upset against Mackenzie Dern and has momentum on her side. She also has an advantage in the physical department, being four inches taller and having a one-inch advantage in reach and two inches more in leg reach. She's very aggressive, with 5.45 significant strikes per minute, and despite her 0.87 takedown average, her actual takedowns are usually very effective.
Andrade's experience will play its part in the bout, which is why she comes in as a favourite at -188 odds, compared to +155 for Xiaonan. Xiaonan could cause another upset, but she'll likely need to do it by going the distance, as Andrade's overwhelming fighting style will likely net her a win via decision. However, if Andrade suffers a few too many takedowns, she could end up being submitted again by Xiaonan.
Gilbert Burns vs. Belal Muhammad
The Burns vs. Muhammad Welterweight bout at UFC 288 will likely steal the show, with both fighters accepting the fight on very short notice and a potential title challenge in the cards for the winner. Burns comes in with an overall record of 22-5 and 15-5 in his UFC fights, while Muhammad is on an eight-win streak and boasts a 22-3 overall record with a 13-3 number in the UFC.
Less than one month after his impressive win over Jorge Masvidal at UFC 287, Burns was called up again, on short notice, for a co-main event fight. The Brazilian has done well throughout his last few fights and is very motivated to get that Welterweight title challenge. Known for his excellent wrestling skills, Burns will look to go toe-to-toe with his opponent and potentially win against him on the ground.
Muhammad was skeptical about accepting the fight on such short notice, as he needed to make weight and face a higher-ranked opponent. Still, he will look to defend his eight-win streak at UFC 288, with his eyes set on the Welterweight title later in the year. Physically, Muhammad is very similar to Burns, but he's an excellent striker that averages 4.47 significant strikes per minute. Plus, his outstanding 92% takedown defence should help him against Burns' grapples.
This is one of the hardest fights to call, and it's evident by the tight odds: Burns -125, Muhammad +100. Burns is in very good form and has the wrestling skills to submit his opponent, as well as fight with him until the end. Comparatively, Muhammad will look to defend against takedowns and exploit his opponent's weaknesses. The bout looks like it'll go the distance, and if it gets there, it's literally anyone's game.
Aljamain Sterling vs. Henry Cejudo
Wrestling and MMA legend Henry Cejudo will make his return to the Octagon to challenge for the Bantamweight title against current champion Aljamain Sterling. Both fighters have had impressive UFC careers, with Cejudo holding a 16-2 overall record and a 10-2 UFC record, while Sterling's overall win record is 22-3, and his UFC record is 14-3.
This will be the first time that Cejudo will be fighting in the Octagon in the last three years. However, he's no stranger to fierce competition, as he's a former Olympic gold medalist and one of the few UFC fighters to have held both the Flyweight and Bantamweight belts simultaneously. Cejudo's wrestling capabilities are extraordinary, and he'll look to utilize his explosiveness and takedowns to overcome his opponent.
After a less-than-ideal title win at UFC 259, Sterling has looked better than ever and has successfully defended his title twice. While Sterling is an excellent wrestler, he's no match for Cejudo in that department. Instead, he will need to use his height and reach advantage, alongside his superior striking, to overcome his opponent.
Bookmakers are torn on this one, with both fighters having similar odds. The issue is that Sterling's only win outlet may be through decision since Cejudo is notoriously very hard to pin down. Admittedly, the veteran's age and "ring rust" might not allow him to perform at his best. However, if he brings his A-game, Cejudo is one of the best fighters in the company's history and could easily steamroll his opponent and win via submission.
Conclusion
Overall, despite a lack of top names or highly-anticipated fights, UFC 288 at Newark, New Jersey, could easily be an unforgettable event. The main card is filled with thrilling fights, including the return of UFC legend Cejudo, a winner-takes-all bout for a potential title challenge between Burns and Muhammad, and much more.