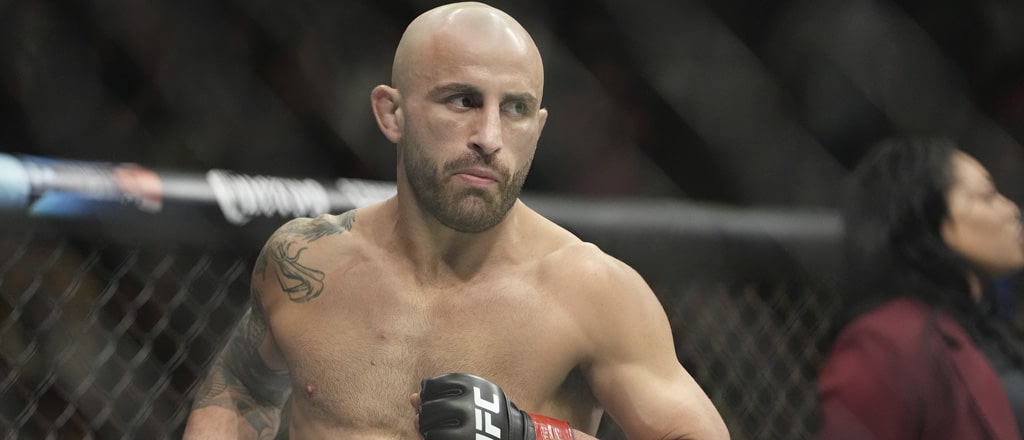 Three weeks after an amazing event in Brazil, the UFC is going Down Under. UFC 284 will take place at the RAC Arena in Perth, Australia, on Saturday, February 11th. The main card will begin at 10 p.m. ET, with the preliminary fights starting at 6 p.m. ET. This event is a long-awaited return to Perth and Australia for the first time since 2018 and 2019, respectively.
UFC 284 features some amazing fights for its main card. Local fans will be able to enjoy fellow Aussie Alexander Volkanovski battling it out against Islam Makhachev for the Lightweight Title. Additionally, Volkanovski's move to the lightweight category has generated a great Featherweight Interim Title bout between Yair Rodriguez and Josh Emmett for the co-main event.
Let's take a deep dive into these fantastic fights, as well as the entire main card of UFC 284.
The Best UFC Betting Sites: Undecided on where to make your play? Check out our breakdown of the best UFC Sportsbooks in Canada! This will get you up to speed on how to make the most out of your Canadian MMA betting and be ready for these fantastic cards.
Jimmy Crute vs Alonzo Menifield
The main card of UFC 284 kicks off with a banger in the Light Heavyweight category with the fight between Jimmy Crute and Alonzo Menifield. Crute has a total track record of 12-3 with 4-3 in his UFC fights, and Menifield has a winning record of 13-3 with his UFC stats being 6-3.
Jimmy Crute returns to the octagon after a year-long knee injury that forced him into surgery. He is a complete fighter with great athleticism that likes to fight on the ground, as is evident by his takedown average of 4.87 per 15 minutes. Additionally, six out of seven of Crute's fights have ended in a stoppage within the first round.
Menifield is a true brawler. He is very muscular and relies on his strong hits to knock out his opponents quickly. He isn't a particularly technical fighter, but his takeout defense stats are very solid at 85%. However, his stamina is lackluster, and he often runs out of gas early in his fights.
While Crute is considered a better fighter overall, he hasn't fought in almost a year, and his last two UFC matches were a loss, compared to a two-win streak for Menifield. Both fighters like to go all out from the beginning, and the fight will most likely end within the first or second round.
Betting on Menifield at +187 odds seems like a better value than Crute's -225 odds due to his poor form and lack of fighting. It wouldn't be surprising to see Menifield knocking Crute out within the first round.
Justin Tafa vs Parker Porter
The second fight of the UFC 284 main card will be between Justin Tafa and Parker Porter in the Heavyweight division. At first glance, it doesn't seem like a particularly flashy fight since both athletes have unimpressive 2-3 and 3-2 UFC records, respectively. But, a few factors could make this bout very interesting.
Tafa is playing on home soil and is looking to start his first win streak in the UFC. He packs a heavy punch which is evident by both his wins in the division being by knockout. He also has particularly strong and very athletic legs, which help him reach a 100% takedown defense rating, albeit in a smaller sample size.
This will be Parker Porter's first fight outside his home territory which could shake up the American looking to bounce back from his previous UFC loss. Porter is a potent fighter with very strong arms and legs who likes to give his all throughout every fight. Interestingly, all three of his UFC wins have been by unanimous decision.
Tafa comes in this fight as the favorite at -150 odds, whereas Porter sits at +125. Tafa's recent showing and better athleticism compared to Porter give him a slight edge in the fight. Even though Porter's bouts are known to go the distance, three out of five of Tafa's UFC matches have finished in the first round. Therefore, an under bet on the total rounds seems like a decent alternative.
Jack Della Maddalena vs Randy Brown
The UFC 284 main card also includes an eye-catching fight in the Welterweight division with Jack Della Maddalena taking on Randy Brown. Maddalena has an impressive 3-0 UFC record and is considered one of the hottest prospects in the division. Brown comes in the fight with a four-win streak and a UFC record of 10-4.
Della Maddalena is currently riding the wave with three first-round knockout wins in his first three UFC bouts. He is very agile and knows how to punish his opponents with potent hits. He will need to close the distance due to Brown's larger reach, but his technique and the home crowd support should allow him to thrive.
Randy Brown has competed in the UFC since 2016 but has never quite reached an elite level. His strongest weapon is by far his size. At 6′ 3″ with a long arm reach of 78 inches, he can easily land hits from a distance and wear down his opponent. This is evident by three out of his last four wins going the distance.
Della Maddalena is a very strong favorite at -333 odds compared to Brown's at +250. While Maddalena looks ready to extend his UFC winning streak, there's not a lot of value in his win. Instead, since all his three UFC fights have ended with a knockout/TKO in the first round, it's not unlikely for something similar to happen at UFC 284.
Yair Rodriguez vs Josh Emmett
The co-main event of UFC 284 is the most interesting and arguably the closest fight of the night. The ascendance of Featherweight champion Alexander Volkanovski to the Lightweight category created a unique matchup between Yair Rodriguez and Josh Emmett for the Featherweight Interim Title. Both fighters hold the same UFC record of 9-2.
Yair Rodriguez is a truly vicious fighter with a very aggressive style. He prefers to lead the charge, and that's evident by his excellent offensive and underwhelming defensive stats. He's won two out of his last three fights and will look to extend his win streak with a quick win against his opponent.
Emmett is a veteran fighter with a wrestling background. What makes him stand out among his competitors is his defensive effort. He prefers to let his opponents take charge and punish them when they make a mistake. Although he's almost 38, he still has excellent stamina, which shows as his last three fights have been victories via unanimous decision.
Rodriguez comes in as the clear favorite at -163 odds, while Emmett sits at +137 odds. Even though the bookmakers lean towards Rodriguez, both fighters are very skilled, and an upset is definitely on the cards. Emmett's three-win streak via unanimous decision is also something to consider. If the American holds his ground, the fight will most likely go the distance.
Islam Makhachev vs Alexander Volkanovski
The UFC 284 main event is bound to be a banger. Less than four months after his impressive win against Oliveira, Islam Makhachev will have to defend his Lightweight Title against the Featherweight king Alexander Volkanovski.
The protege of Khabib Nurmagomedov, Islam Makhachev, has enjoyed a very successful UFC career so far. He is a relentless fighter who prefers to battle on the ground and utilize his array of submissions. His impressive 65% takedown accuracy, six submissions wins, and his four-inch height difference will give him an edge on Saturday.
After many years and a 12-win streak in the Featherweight division, Volkanovski decided to move up to the Lightweight division. There, he'll battle it out against an elite fighter for a chance at a double title. Volkanovski hits pretty hard, but his non-elite takedown defense percentage of 73% will be put to the test against grappling specialist Makhachev.
The bookmakers firmly believe that Makhachev will walk away as the winner on Saturday and price his win at -400 odds. It's hard to overlook Makhachev's impressive performances and huge size difference compared to his opponent. On the contrary, Volkanovski is undefeated in the UFC and will have the home crowd cheering for him.
His underdog odds of +300 are great if you believe in an upset. If Volkanovski manages to escape Makhachev's grapples and land some crucial hits, we could see him taking down the Russian champion.
However, if he can't avoid him, the fight could end with an early tap-out. In any case, it seems like the fight will finish in the distance as both fighters will look to take the lead in the opening rounds.
Conclusion
All in all, UFC 284 is shaping up to be an amazing event. There are plenty of impressive fights among both elite and not-so-popular fighters. Plus, the return to Australia after over three years will have Aussie fans on the edge of their seats and cheering for their local fighters. Not to mention that the main event meets all the conditions to go down as a classic in UFC history.