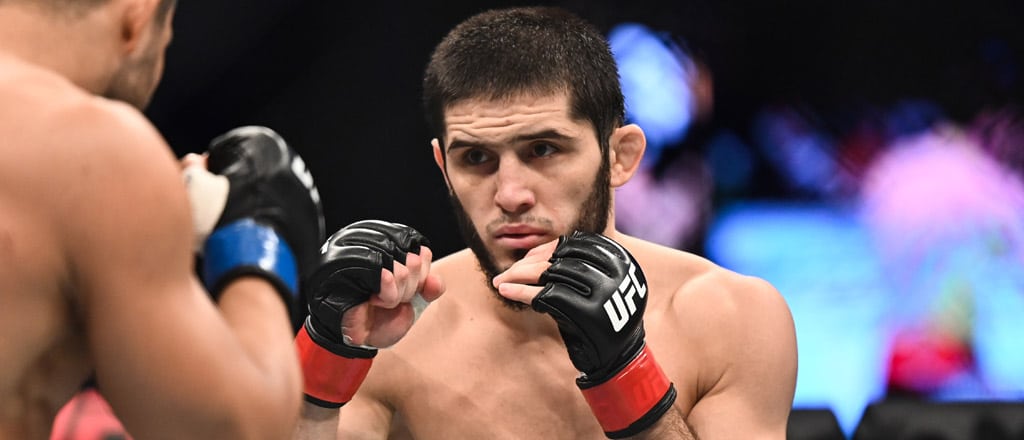 UFC 280 is here with an absolute banger main event of Charles Oliveira vs Islam Makhachev for the Lightweight title, along with other awesome fights. Keep reading to learn more about each bout and valuable insight into the UFC 280 betting odds.
Looking for Canadian MMA Betting info beyond the upcoming UFC 280 fight card? Here at Canada Sports Betting, we've got you covered! Check out our Best UFC Betting Sites guide for a place to make your picks, and our UFC Betting Odds Canada guide to figure out the ins and outs of what picks to make.
UFC 280 Main Card Preview
The UFC 280 main event will take place on October 22 at the Etihad Arena in Abu Dhabi. The event's main card is packed with some amazing matches that might even become all-time classics. Naturally, the Oliveira vs Makhachev fight stands out, but don't underestimate the rest of the fights, as they could end with upsets.
Charles Oliveira (+155) vs Islam Makhachev (-180)
Aljamain Sterling (-170) vs TJ Dillashaw (+145)
Petr Yan (-305) vs Sean O'Malley (+255)
Beneil Dariush (+165) vs Mateusz Gamrot (-195)
Katlyn Chookagian (+155) vs Manon Fiorot (-180)
Here are all the details you should know about each of the main card matches:
Charles Oliveira vs Islam Makhachev
The headliner of UFC 280 and one of the most important fights of the year. Both fighters come into this match well-prepared and hungry for success. This fight is a chance for Oliveira to redeem himself for his last title match at UFC 274. Despite submitting Justin Gaethje, his belt was taken away because he was overweight by half a pound.
For Makhachev, this fight is crucial, as it's a chance for his first-ever title. Even though he's considered one of the division's best fighters, critics like to downplay his achievements because he hasn't fought many strong opponents. Still, he comes into the fight as a strong favourite against his first top opponent for a chance to prove he's one of the best.
Aljamain Sterling vs TJ Dillashaw
Sterling has gained a lot of notoriety over the past few years after he became the first fighter to win a title through disqualification in UFC history. Specifically, he claimed he couldn't continue after receiving an illegal knee move from his opponent Petr Yan in their title match.
Yan was disqualified, and Sterling was crowned champion. Despite this, he beat Yan and defended his title in their next fight at UFC 273.
At UFC 280: Oliveira vs Makhachev, Sterling will face off against Dillashaw for the Bantamweight title. Dillashaw's form is questionable since he hasn't fought much over the past few years due to his 2-year ban and recent knee injury. Sterling will look to defend his title once again and comes into this match as a hot favourite.
Petr Yan vs Sean O'Malley
This fight is crucial for both competitors. Petr Yan wants another win to extend his 16-3 record and become a title contender. Besides his two defeats against Sterling (one DQ), Yan has beaten all his recent opponents comfortably. The UFC 280 betting odds have him as a strong favourite, meaning he'll likely overcome O'Malley if he brings his A-game.
For Sean O'Malley, this could be his breakout fight that lands on the top rankings of the division. He's currently no. 12 and could climb up to no. 2 with a win against Yan. However, it definitely won't be easy for the rising star as Petr Yan is by far the toughest opponent he's ever faced and will potentially struggle.
Beneil Dariush vs Mateusz Gamrot
This match should be exciting, as it's a huge chance for both fighters to prove they can be at the top of the rankings. Gamrot comes into the match as a slight favourite after his impressive win against Tsarukyan in June and wants to establish himself as a top-10 fighter in the division.
His mission won't be easy, though, as he goes up against veteran UFC fighter Beneil Dariush. Dariush's most recent fight against Tony Ferguson showed his potential to be a title contender, and he was scheduled to fight Makhachev in February but couldn't due to an ankle injury.
At UFC 280: Oliveira vs Makhachev, Dariush will want an emphatic win to prove he's one of the best.
Katlyn Chookagian vs Manon Fiorot
UFC 280: Oliveira vs Makhachev will also include a fight from the Women's Flyweight division in the main event. The match between Chookagian and Fiorot was initially scheduled for UFC Paris in September but got pushed back to UFC 280 on October 22.
Both fighters come into the match with a four-win hot streak, but Fiorot is a strong favourite due to her undefeated streak since her debut loss in 2018. Fiorot also recently beat former flyweight title challenger Jennifer Maia. Still, Chookagian, currently ranked no. 2 in the flyweight division, will make it hard for the French fighter.
UFC 280 Preliminary Card Preview
Most people will pay attention to the main card fights and disregard the preliminary card. However, looking at the UFC 280 odds, you'll see that even some preliminary fights will be exciting to watch.
Belal Muhammad (+120) vs Sean Brady (-140)
Volkan Oezdemir (+145) vs Nikita Krylov (-170)
Makhmud Muradov (+190) vs Caio Borralho (-225)
Zubaira Tukhugov (-155) vs Lucas Almeida (+135)
Magomed Mustafaev (-550) vs Yamato Nishikawa (+425)
Armen Petrosyan (-210) vs AJ Dobson (+180)
Abubakar Nurmagomedov (-175) vs Gadzhi Omargadzhiev (+150)
Muhammad Mokaev (-645) vs Malcolm Gordon (+480)
Karol Rosa (-250) vs Lina Lansberg (+210)
Keep your eyes on Yamato Nishikawa, as the Japanese fighter will be making his debut at UFC 280: Oliveira vs Makhachev. Also, the Muhammad vs Brady fight should be a banger, with both fighters hungry for the win.
UFC 280 Betting Odds
If you're a fan of UFC betting, then you should have UFC 280 on your radar because there are a lot of opportunities to make significant profits. Here are some important betting markets you should keep an eye on:
Charles Oliveira vs Islam Makhachev
The main event of UFC 280 will gather the most betting attention. While Oliveira comes into the match as the underdog (+155), many believe he's got what it takes to beat Makhachev. On the other hand, Makhachev's hot streak and rise to prominence make him a strong favourite (-180) to win the match.
If you prefer to bet on other UFC 280 betting odds, you should look at some of the special prop bets for the match, like the winning method. Oliveira holds the record for most submission wins (16) and the most finishes (19). Therefore, considering his numbers, Oliveira winning by submission (+310) or by KO (+540) could be a great value bet.
On the other hand, Makhachev also holds a respectable number of submission wins (10), so you could opt for Makhachev to win by submission (+190).
Aljamain Sterling vs TJ Dillashaw
This matchup looks pretty straightforward. Sterling comes in as the favourite (-170), and his recent title defence against Yan at UFC 273 has given him a huge confidence boost. Then again, Dillashaw's underdog status (+145) will give him some extra motivation and reward brave sports bettors.
While he is a very strong and versatile fighter, his readiness is questionable since he has only fought in one professional match since 2019. Still, he will definitely make Sterling's life difficult. And since none of the two is particularly well-known for submissions or knockouts, the fight will likely come down to a decision.
Petr Yan vs Sean O'Malley
This UFC 280: Oliveira vs Makhachev match has a very heavy favourite in Petr Yan (-305), and for a good reason; Yan is an established title contender, whereas O'Malley (+255) is still looking to break into the top 10 of the division.
O'Malley could cause an upset if he starts strong and catches his opponent off guard. Yan also has odds for a win by knockout (+275) if you prefer these types of bets.
Beneil Dariush vs Mateusz Gamrot
This fight should be very interesting to watch as it includes fighters at two very different points in their careers. On the one hand, Beneil Dariush is a veteran UFC fighter looking to get back to title contention. On the other hand, Mateusz Gamrot is an aspiring fighter who just broke into the top 10 of his division.
The UFC 280 odds have Gamrot as a favourite (-195) due to a strong showing in all his matches and his four-win streak since 2021. Despite Dariush's underdog status (+165), he will want to be competitive and take the fight to a decision.
Belal Muhammad vs Sean Brady
By far the most anticipated fight from the preliminary event, with two very skilled and athletic fighters who will most likely battle it out until the last round. Sean Brady has risen to prominence over the past few years and has amassed an impressive 15-0 winning streak. Therefore, it's no surprise he's a strong favourite (-140) to win the match.
His opponent, Belal Muhammad, also has a lengthy 8-win streak, and a win in the upcoming match will make him a title contender. So, even though he's the underdog (+120), expect him to fight hard for the win.
Volkan Oezdemir vs Nikita Krylov
While this fight doesn't seem particularly exciting, it has some interesting statistics behind it. Nikita Krylov is a strong favourite (-170) and has quite a few wins by knockout and submission in his latest matches.
Despite being the underdog (+145), Volkan Oezdemir also has a few knockout wins but has also lost several matches by knockout. Therefore, there could be some value in a Krylov (+375) or an Oezdemir (+300) win by knockout.
UFC Betting Advice For UFC 280
Overall, UFC 280: Oliveira vs Makhachev should be an excellent event for UFC fans and bettors. There are some great value bets and lots of profit to be made, provided you consider some helpful tips.
The most important tip for UFC betting is not to let your emotions cloud your judgment. Instead of simply betting on your favourite fighter, look for value bets in each fight. Value in UFC bets is usually found in underdogs because upsets are common.
So, instead of relying on heavy favourites, consider betting on slight underdogs who will win often enough to make you a profit. Finally, remember that the older players are much more likely to go down to a knockout than younger fighters, so use this to your advantage.