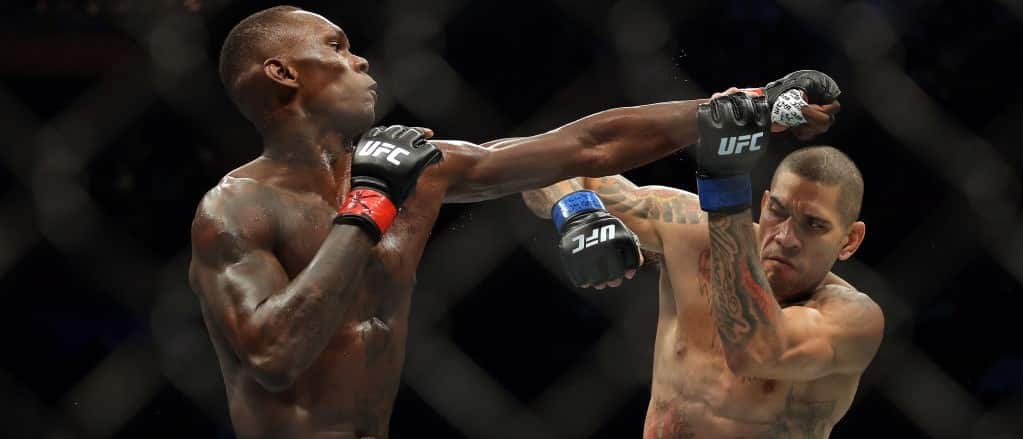 A year after UFC 273, the top fighting competition in the world returns to Florida for UFC 287, which promises to be a great event. In fact, the last UFC main event hosted in the city of Miami was 20 years ago. UFC 287 will commence on Saturday, April 8, at the Miami-Dade Arena. The 13-bout event will begin at 6 p.m. ET, with the main event starting at 10 p.m. ET.
UFC 287 is all about the main event rivalry between Alex Pereira and Israel Adesanya. The two fighters clashed six months ago, with Pereira knocking Adesanya out and winning the Middleweight Title. Now, Adesanya will be looking to defeat his opponent and reclaim his belt.
Let's dive deeper into the main card of UFC 287 and have a look at all the fights, including the thrilling main event title bout.
All odds courtesy bet365.
Raul Rosas Jr. vs Christian Rodriguez
The main card of UFC 287 kicks off with a clash between two hot prospects in the Bantamweight category. Both Raul Rosas Jr. and Christian Rodriguez are very young and have a lot of potential in the UFC. Rosas Jr. is undefeated with a 7-0 (2-0 UFC) record, while Rodriguez has an 8-1 (2-1 UFC) win record.
At just 18 years of age, Raul Rosas Jr. is the youngest UFC fighter, and the teenager has shown huge potential for the future. He is an expert at Brazilian jiu-jitsu, which lends to his overall aggressive wrestling style. His takedown stats are impressive as he averages 4.23 per 15 minutes, and his confident and aggressive fighting style can help hide some of his weaknesses.
On the other hand, Christian Rodriguez shows much more experience and discipline in his fighting style despite being just 25 years old. While he does have a background in wrestling, he is far more effective at kickboxing, which is evident by his 3.31 significant strikes per minute. He has the skill set to counter his opponent's fighting style but must remain on top of his game to avoid getting steamrolled by Rosas Jr.
Rosas Jr. opened up as a strong favourite at -220 odds, and it's hard to overlook the 18-year-old's top-level performances. On the other hand, Rodriguez, at +180 odds, has a real chance to establish himself as a formidable fighter in the category. If the fight comes down to wrestling, Rosas Jr. will have the upper edge and could force his opponent into submission. However, if Rodriguez finds his rhythm, his punching might be enough to edge out his opponent.
Kevin Holland vs Santiago Ponzinibbio
The UFC 287 main card continues with an interesting matchup between two experienced strikers in the Welterweight category. In one corner, there's Kevin Holland, who's trying to climb the Welterweight ladder and has a UFC record of 11-6. His opponent is the veteran Santiago Ponzinibbio, who returned to UFC after an 3 1/2-year absence and has an 11-5 record.
Holland is a very athletic and powerful fighter with a particularly long reach. He is well-known for his impressive punches, quick feet, and ability to take hits and deliver strong counterpunches. Despite having all the aspects of a top fighter, Holland has struggled to climb the rankings ladder and is riding a two-loss streak. He will be looking to bounce back at UFC 287 and establish himself as a top contender in the division.
Ponzinibbio has been in the UFC for almost a decade. However, he suffered from injuries that forced him to remain inactive for almost four years. Before his absence, he held an impressive seven-win streak, but his results have been mixed since his return. Despite losing some of his speed and stamina, he still packs an incredible punch. He also needs to build a fresh win streak if he wants to fight for a title.
This matchup has a clear favourite in Kevin Holland at -250 odds. He's an overall better fighter, and his aggressive style may easily overwhelm his opponent. Ponzinibbio will need to slow the fight down if he wants to win, but his +200 odds don't seem high enough to wager on an upset. Since both fighters are strong punchers, a knockout finish seems like a decent option, considering both have a KO/TKO percentage of over 50%.
Rob Font vs Adrian Yanez
The Bantamweight division has an amazing bout for UFC 287, with Adrian Yanez looking to step up his game and fight one of the division's veterans, Rob Font. Yanez holds an impressive 16-3 record and he's 5-0 in his UFC matches. On the other hand, Font has a decent 19-6 win record with a 9-5 mark throughout his UFC career.
Despite having some success throughout his UFC fighting days, Font has had mixed results as of late and has taken two consecutive losses. He's a capable fighter with excellent strikes, although his body sometimes betrays him. Font will look to bounce back from his losing streak, and will need to extend the fight and use his experience to overcome his opponent.
Yanez has had a brilliant start to his UFC career with an impressive five-win streak and four out of those five fights ending with a knockout or TKO. Yanez has a swift and aggressive fighting style and can easily punch through or around his opponent's guard. Plus, he has a very strong chin and knows how to take hits and find opportunities to counter.
Font is once again considered the underdog for this fight at +150 odds, and he's not been very successful as the underdog in the past. If he wants to end his losing streak, he'll need to avoid the explosive nature of Yanez and strike him effectively. Still, it seems Yanez, at -175 odds, has a great chance to extend his win streak at UFC 287. Another betting approach could be for Yanez to win through KO or TKO, as he's come through in that regard in four of his five UFC wins so far.
Gilbert Burns vs Jorge Masvidal
The bouts between veterans continue with a fantastic co-main event between two well-known and excellent fighters in the Welterweight division. This fight is sure to warm up the crowd as hometown fighter Jorge Masvidal steps back into the Octagon as he looks to improve his 12-9 UFC win record. His opponent is the Brazilian veteran Gilbert Burns, a fighter with an amazing 14-5 UFC record.
Burns has been climbing up the Welterweight ranks and looks hungry for another title bout. The Brazilian is coming off a great win against Neil Magny at UFC 283 and will look to add another victory against a UFC veteran under his belt. Burns will rely on his explosive style and wrestling ability to gain control of the match and potentially win through stoppage.
After an absence that spanned an entire year, Masvidal returns to his hometown, Miami, to fight against one of the hottest fighters currently in the division. Masvidal is a very experienced fighter and will need to use his brain and reach advantage to keep his opponent at bay and find opportunities to strike effectively. He'll also need to rely on his excellent takedown defence percentage of 74% if he wants to fend off an opponent with such high wrestling capabilities.
As soon as the odds opened, Burns was immediately touted as a huge favourite and currently sits at -450 odds, compared to +350 for Masvidal. This is by far the most lopsided odds set at UFC 287 since and an upset looks very unlikely for the crowd favourite. If you're looking for higher odds, a win through stoppage for Burns could be an option, although Masvidal is known for being extremely difficult to take down.
Alex Pereira vs Israel Adesanya
A huge UFC rivalry is cooking, as Pereira and Adesanya will clash for a second time at the UFC 287 main event. This is the first time that Pereira will defend his Middleweight Title, which he won from Adesanya at UFC 281. The two have fought three times at kickboxing and UFC, with Pereira beating Adesanya 3-0. Pereira's UFC win streak stands at four straight fights, whereas Adesanya holds an impressive 12-2 record.
Even though Pereira made his UFC debut in 2021 and has only had four fights, the Brazilian has managed to stay undefeated and win the title. His previous fight with Adesanya at UFC 281 showed some holes in his game that he still needs to patch up in order to win against a much more prepared opponent. Despite that, he's a formidable boxer and has definitely been Israel's Kryptonite so far.
Adesanya looked set to win the title bout at UFC 281 thanks to his great takedowns and wrestling before getting knocked out in the fifth round, stunning everyone. This fight is all about how Adesanya comes back from this devastating loss. If he focuses on his strong attributes and minimizes mistakes, he could beat Pereira on Saturday and regain his Middleweight Title.
Pereira currently sits as the underdog for this bout, at +110 odds, despite being the current champion and having zero losses against Adesanya. The crowd and bookmakers believe Adesanya to be a better fighter overall, who got very close to winning last time, which is why his odds are at -138.
This will definitely be an exciting and very close match where anything can happen. If you don't fancy choosing a winner, going with an over bet on the total rounds might be a decent approach. Both fighters will give it their all, and it wouldn't be a surprise for the fight to go the distance.
Conclusion
Overall, the return to Miami and the second UFC clash of the Pereira-Adesanya rivalry will certainly make UFC 287 memorable. Not only that, but the main card is also full of fantastic bouts between very capable fighters, including the crowd-favourite Masvidal, and even more!