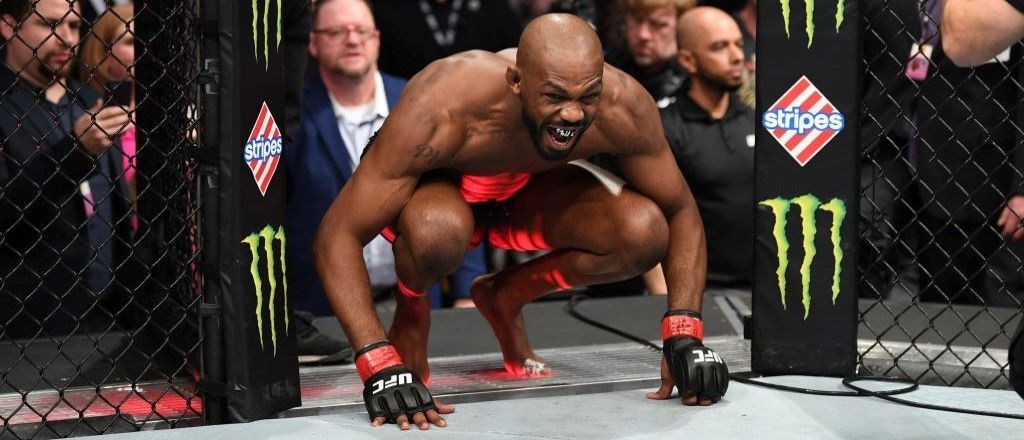 After almost three months, the UFC returns to Vegas! Even though Sin City is a very common venue for UFC events, fans of the sport can still expect a banger of a show for the big return. UFC 285 will take place at T-Mobile Arena, in Las Vegas, Nevada, on Saturday, March 4. As usual, the main card starts at 10 p.m. ET, and the preliminaries begin at 6 p.m. ET.
The UFC 285 main card is packed with some fantastic bouts. Naturally, what stands out is the main event fight between Jon Jones and Ciryl Gane for the vacant Heavyweight Championship. We'll also see one of the greatest fighters ever, Valentina Shevchenko, defend her Women's Flyweight title for the seventh time as the co-main event.
Let's have a thorough look at these incredible bouts, along with the other fights on the UFC 285 main card.
All odds courtesy of bet365.
Bo Nickal vs Jamie Pickett
The UFC 285 main card begins with the long-awaited UFC debut of Nickal, who will square off against Pickett. This middleweight bout was initially scheduled for UFC 282, but an injury forced Nickal to pull out of the competition. Nickal holds a 2-0 professional record, while his opponent, Pickett, has a respectable 13-8 record.
Nickal is one of the hottest prospects in the UFC at the moment. Many fans have been waiting for the debut of the American fighter, and it's finally happening at UFC 285. In his first few fights, Nickal has shown great athleticism, confidence, and a knack for takedowns, which has led to both his wins being through submissions in the first round.
Comparatively, Pickett is more of a brawler and will look to utilize his almost four-inch advantage over his opponent to keep him at bay. He's coming off two losses and will want to bounce back as soon as possible. However, his takedown defence is not the best at 65%, which could prove to be his downfall if Nickal manages to get a hold of him.
It's clear that the Nickal vs. Pickett fight was scheduled to be the entry point for Nickal in the UFC. That's why he stands as a huge favourite at -2000 odds, compared to +1000 for Pickett, which doesn't provide enough value. Instead, you could look for a finish in the first round since both of Nickal's victories came through submission in the first round.
Mateusz Gamrot vs Jalin Turner
The Gamrot vs. Turner bout was a late inclusion in the UFC 285 main card, as Turner's original opponent, Dan Hooker, had to pull out due to a broken hand. Instead, Turner will look to extend his five-bout winning streak against the higher-ranked Gamrot, who holds an impressive 21-2 record.
Gamrot comes off a decision loss to Beneil Dariush at UFC 280, which broke a streak of four straight wins, and he'll want to bounce back as soon as possible. He's a very athletic and skilled fighter with a great takedown defence percentage of 90%. He'll need to maintain control of the fight against a very explosive opponent and find openings to take him down.
Having won his last five fights, Turner enters the fight on a hot streak. He constantly shows excellent striking, evident by his 6.48 significant strikes per minute. Not to mention that nine out of his 14 wins have come via knockout. A win will see him climb into the top 10, so he'll definitely want to end the fight as early as possible.
As soon as the fight was locked in, Gamrot opened as a solid favourite; however, his odds have dropped to -220, with Turner's odds being at +180. Both fighters know how to win from a favourite or underdog position, so it seems like it will be a very close fight. Backing the underdog is a good approach for this one, as Turner appears to be in better form overall. Plus, a win via knockout is always on the cards with him.
Geoff Neal vs Shavkat Rakhmonov
The Neal vs. Rakhmonov fight was, at first, scheduled for UFC Vegas 67, but Neal had to withdraw due to injury. Thus, the welterweight bout was rescheduled for UFC 285. Both fighters have great UFC records at 7-2 and 4-0, respectively, and have huge aspirations for a Welterweight Title bout in the near future.
Neal comes into the fight after two consecutive wins and will look to cause an upset in the division. He's an excellent striker with an average of 5.27 significant strikes per minute. Geoff will need to start aggressively and rely on his strikes from the very beginning to damage his opponent. That way, he may be able to cause an upset.
Rakhmonov has gathered a lot of hype around him due to being undefeated in his MMA career thus far. Not only that, he's won all his fights through knockout or submission. That's an impressive feat, even considering he's only fought against four UFC opponents. His stats are skewed by his early wins and small sample size, but he's an excellent grappler and wrestler.
According to the odds, Rakhmonov is a very strong favourite at -550, compared to +400 for Neal, which is understandable, considering he's still undefeated. The obvious approach would be a heavy bet on Rakhmonov. However, if you want a more exciting wager, you could bet on the fight going the distance or through a stoppage since Rakhmonov has won all his bouts like this.
Valentina Shevchenko vs Alexa Grasso
Shevchenko is ready to defend her Flyweight Title for the eighth time in the UFC 285 co-main event. This time, her opponent is Grasso, who remains undefeated after moving to the Flyweight Division.
Shevchenko holds the longest title reign in the Women's Flyweight Division, as she has defended her title seven times over more than four years. However, her latest title bout against Taila Santos came down to a split decision, with many believing she should have lost. She will need to bring her "A" game and prove once more that she's the best fighter in the division.
Grasso moved up from the Strawweight Division, where she had lacklustre appearances, to the Flyweight Division, where she currently holds a four-win streak. She now has her chance at a title bout and will cause a massive upset if she defeats her opponent. To do this, she must utilize her aggression and excellent striking to cause damage and end the fight early.
Shevchenko is the clear favourite for this fight at -700 odds, compared to +450 for Grasso. However, Shevchenko did look shaky in her previous fight against Santos. Could all of this be down to complacency? Could Shevchenko's reign finally come to an end?
One thing's for sure: She's done amazingly well to defend her title seven times already, and there's no reason to suspect she won't do it again this Saturday. However, with Grasso's fighting skill and excellent form, her underdog odds are good enough to warrant a small bet.
Jon Jones vs Ciryl Gane
The UFC 285 main event will see one of the greatest Light Heavyweight fighters, Jones, return to the Octagon. He will also step into the Heavyweight category for the first time. His original opponent would have been the former Heavyweight Champion Francis Ngannou, who vacated his title after a contract dispute. Thus, Jones will face Gane for the vacant Light Heavyweight Championship.
Jones is arguably the most complete modern-day MMA fighter with a comprehensive skill set and extremely high fighting IQ. He also has a massive reach of 84.5 inches which will come in handy against his opponent. He will be unstoppable if he manages to get his opponent on the ground. The only concern is whether he'll be quick enough on his feet.
Gane is the perfect match for Jones' return and he'll make the American's life very difficult. Gane is an explosive fighter that dominates his opponents through relentless strikes. In fact, this is the first time that Gane has ever been the underdog in a fight. Even in his one UFC loss against former champion Ngannou, he was a strong favourite. He will need to watch out for his opponent's excellent mid-fight adjustments, though.
Jones opened as a favourite, and odds have swayed in his favour even more since fans expect him to win. He currently sits at -170 odds, compared to Gane's +140 odds. There are some question marks regarding Jones due to his three-year absence, and Gane is an excellent fighter who can easily cause an upset.
However, the consensus is that Jones' return to the Octagon will be triumphant. Another approach would be to look at the total rounds. With both competitors being excellent fighters, it won't be a surprise if the fight comes down to a decision.
Conclusion
All in all, UFC 285 looks like a classic in the making. The return of Jones –arguably the greatest modern MMA fighter– alone is enough to make the event significant. Plus, there's the potential extension of Shevchenko's title reign, the introduction of a new prospect in Nickal, and much more.