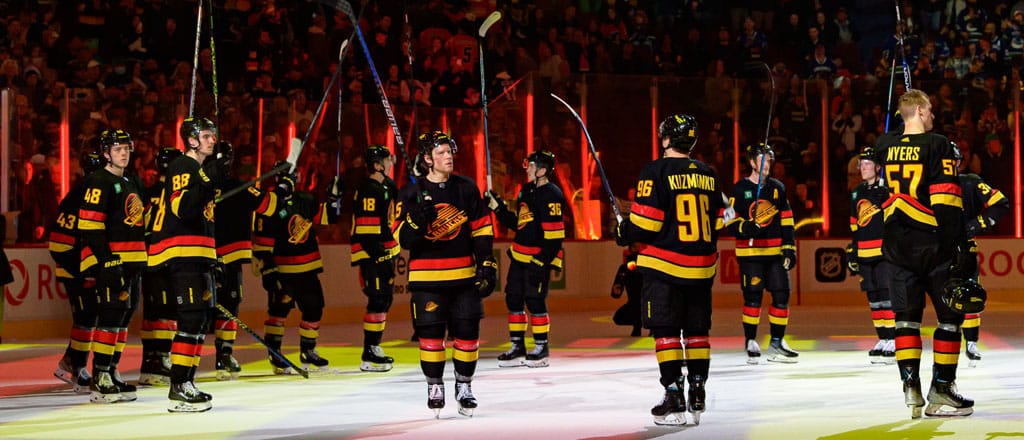 Last season, the Vancouver Canucks provided fans with a memorable drama. The Canucks, who had a knack for surrendering leads, started their season on a challenging note with a string of seven consecutive losses. Under the helm of head coach Bruce Boudreau, the team struggled and posted an 18-25-3 record before his eventual departure.
Rick Tocchet's hiring was a turning point, as the team began to show signs of improvement after he took over as the new bench boss. However, despite finishing the season with a respectable 20-12-4 record, the Canucks missed the playoffs by a mile. If you strain your eyes, you can see a playoff team, but the expectation is that Vancouver is one of the eight best teams in the Western Conference.
General manager Jim Rutherford has stated that the Canucks can get back to the playoffs if everything goes right. In my experience, if you're betting on everything to go right in the game of hockey, things aren't likely to work out in your favour.
2023/24 Season Forecast
Every year, I engage in extensive simulations, examining tens of thousands of scenarios to forecast the point totals for each of the 32 NHL teams. These simulations factor in various elements, including team strength, schedules, and historical trends. This comprehensive process allows me to assess the likelihood of each team achieving specific milestones.
Take a look at the chart below, which provides an overview of potential outcomes. It offers insight into what we can anticipate from the Winnipeg Jets in the upcoming season. The chart breaks down their chances of securing the Central Division title, clinching a playoff berth, and potentially making a significant push for the Stanley Cup.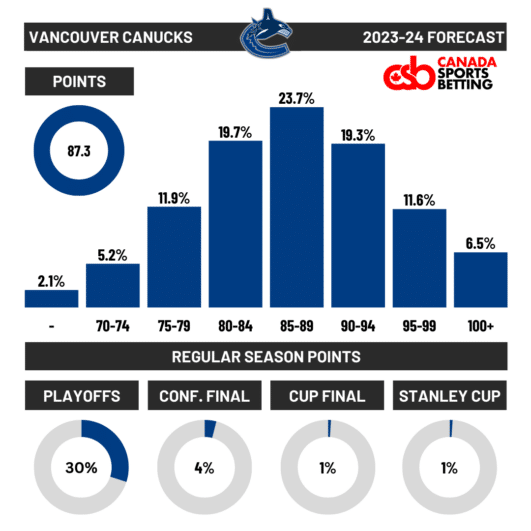 Vancouver shows some playoff potential, but do they grade out better than the eight playoff teams from 2022-23? Even with Tocchet in charge, they were pretty average in many areas. While they did step up their defence, I'm still waiting to see if they can do it consistently for a full 82-game season.
Remember the hype after the 2021-22 season? Well, it didn't quite live up to it. They played like a 100-point team down the stretch under new head coach Rick Tocchet, but more than half of those games were against non-playoff teams, so it's probably not a coincidence that the Canucks turned it around when they did.
Take a look at the schedule. A lot of the dates could be considered glorified exhibition games, especially the last 20 games, and while Tocchet was at the helm, the team ranked 20th in expected goals (for and against) at five-on-five. Not to mention, they were blessed with the fifth-highest shooting percentage in the league.
To Make The Playoffs (+130)
Vancouver's season was torpedoed by an injury to their starting goaltender, Thatcher Demko, who is among the best goaltenders in the league when healthy. However, even with the additions of Ian Cole, Carson Soucy, and a full season of trade deadline acquisition Filip Hronek, I'm skeptical that this group will be able to protect him.
The team can lean on newly acquired backup Casey DeSmith more than the likes of Spencer Martin or Arturs Silvos. So, if Demko stumbles out of the gate like he did last season, or worse, suffers an injury, DeSmith is capable of stepping into the starting role. He's a fine goaltender, but the Canucks need a lot to go right for them to make the playoffs, and they'll almost certainly need Demko to be in the crease, playing at his best.
The projection model suggests the Canucks will finish with 87.3 average points, which is close to their regular season point total of 88 and a half. According to the forecast, that results in Vancouver making the playoffs around 30% of the time. That means the Canucks are a better bet to miss the playoffs than they are to make it because the odds (+130) represent a 43.5% chance.
Elias Pettersson is a superstar, and J.T. Miller is a star player, whether you're a fan or not. Additionally, emerging sniper Andrei Kuzmenko appears to be a pure goal scorer after notching 39 goals during his first NHL season, albeit at 26.
Pettersson is only one player, though, and Miller has shown signs of decline. And, while fans should be excited about Kuzmemko, it would be ridiculous to expect him to score at the same rate (27%) in 2023-24. The best goal scorers in hockey don't find the net at that rate, or anywhere close to it.
Maybe if Ilya Mikheyev returns to his pre-injury form, and Brock Boeser can be the top-tier sniper that he believes he can be, the Canucks can be a top-10 offensive team over a full season, when the games still matter. But, Vancouver must prove that they can be a more responsible team without the puck, night in and night out.
Thatcher Demko To Win Vezina Trophy (+2500)
If the Canucks show that their strong defensive play at the end of the last season wasn't just a product of most of their opponents having nothing to play for, and Demko can be as good as he was in 2021-22, then Vancouver might have a 50-50 shot to make the playoffs. There are too many ifs, for me, to make that bet at the current odds, though.
However, if Demko can put forth his best season yet, that might be enough to get him into the Vezina Trophy conversation, which is currently ruled by the likes of Igor Shesterkin, Ilya Sorokin, Juuse Saros, and Connor Hellebuyck. At +2500, Demko has the 10th shortest odds of winning the award in 2023-24.
The thing is, even at his best, Demko hasn't put up the kind of numbers that it's going to take to win a Vezina Trophy unless the voters are feeling generous. The last two winners have finished with 35-plus goals saved above expected, and while Demko will get some love from voters if the Canucks make the playoffs, I don't know if his ceiling is high enough to beat out the aforementioned players.
Thatcher Demko Vezina Trophy Winner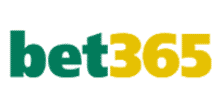 +2500
Expect to see more season betting previews here at Canada Sports Betting in the coming days as we continue our countdown of the seven Canadian teams and examine the NHL futures market to find value bets to consider.