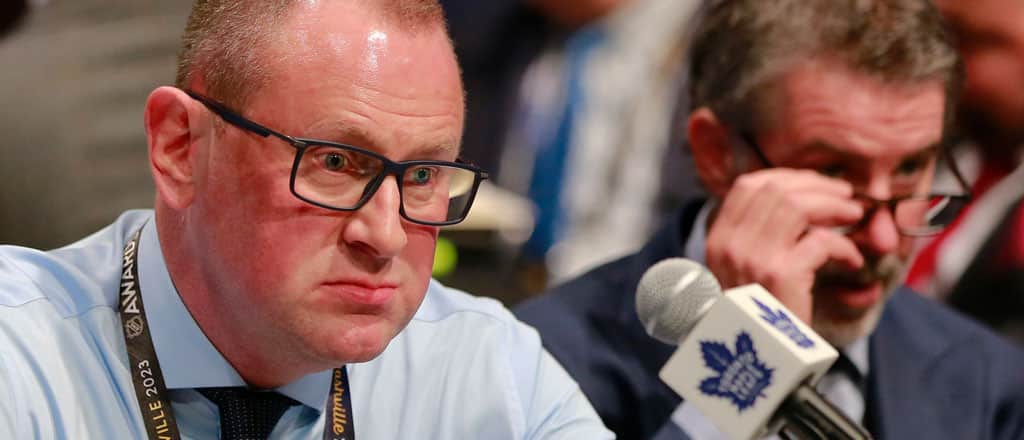 A lot of pressure is on the Toronto Maple Leafs as the NHL offseason gets underway. Since the last time we did an autopsy on the team, they made a front office change in replacing Kyle Dubas with Brad Treliving in the GM's seat, extended David Kampf and Pontus Holmberg's contracts, and ran a low-stocked, but upside-focused draft.
Saturday, free agency starts and the clock starts ticking on a lot of decisions, big and small. Here are some things for them to keep in mind in the coming days, weeks, and perhaps longer.
A Last Second Heat Check on Free Agents
The salary cap is coming for a lot of teams, the Leafs included, and it seems unilkely that they'll be able to keep many of their free agents as a result. They did make a commitment to bottom-six shutdown centre David Kampf on Wednesday, signing him for four years at a $2.4 million AAV, but still have Ryan O'Reilly, Michael Bunting, Alex Kerfoot, Justin Holl, Noel Acciari, Luke Schenn, Erik Gustafsson, Zach Aston-Reese and others about to head to market.
While most of these seemed likely for divorce and still do, I do wonder a bit about how quickly you lose their numbers. The logical fit for O'Reilly was supposed to be St. Louis, but does its acquisition of Kevin Hayes change that dynamic? The Leafs were supposed to be priced out of Bunting, but did his antics and his suspension dampen the market to the point where an extension could be feasible? Toronto scratched Gustafsson a bunch post-acquisition and during the playoffs, so it's unlikely we'll see him back, but you can argue that he was under-utilized and that the lack of use may have hurt his value enough to give him another try. Kerfoot and Holl were perpetual, undeserved scapegoats for their last couple of years here, and for their own sanity I hope they get paid elsewhere – but if the Toronto negativity effect dampens their value, what's the line where you bring them back?
Funny enough, the player I'm least curious about here is Luke Schenn, despite him being on the top of so many others' list of UFAs they'd like to keep. The fact he is part of why I feel this way – not to be contrarian, but rather that the late regular season and round 1 bump, combined with the attention that his feel-good return brought, seems to have juiced his value up. Schenn, to my understanding, believes that he can get both salary and term that are significant improvements on his last few contracts, and an extension in Toronto, even if he took "less," would likely require a noteworthy raise, a 2-3 year commitment, and trade protection. His return was a fun moment, but if he's one of the fewer risers in a cold free agent market, I think he should go get that last big pay day.
Look for Mobility and Creativity on the Blue Line
When your team gets eliminated in the playoffs and another team, maybe even the one who knocked you out, has success, you tend to try to seek lessons from them. This can often be a fool's errand, as even the most deserving runs carry elements of fortune, and there is no experience-point system to cashing a Stanley Cup. It can be outright disastrous if you identify the wrong separating strengths and weaknesses.
Many in Toronto look to their loss to the Florida Panthers, a series where they got outscored by four goals over five games, scored no more than two goals in any game, and were met with .943 goaltending, and feel that a lack of physical presence on the blue line and assertive toughness in the lineup was what sunk the Leafs. When the Panthers eventually met the Vegas Golden Knights in the finals and had their bubble burst, this somehow became an even bigger assertion, especially after people started to look at the roster sheet for Vegas and noticed that, in fact, many of their defencemen were very tall.
Not noticed as much was the speed with which the Vegas blue line would make plays to initiate counter-attacks – generally lost in talk of defence is what teams do with the puck once they get it back, and that's where the Golden Knights really excelled. Their talent was capable and the team was deliberate and quick with their decisions. That to me was something Toronto lacked and Florida exposed, as a combination of "steady" defencemen with less on-puck skill and patience to a fault allowed the Panthers to slow down the Leafs' counter attack, occasionally reclaim plays through their forecheck, or at minimum, delay enough to get set up to defend a controlled entry and cover up the areas of the d-zone that they were concerned about. (A more in-depth look at this comes from friend and former Leafs analyst Cam Charron, on his blog).
Solving this can be somewhat tactical (speed up the check-down of options once you have the puck), somewhat rooted in internal personnel (more minutes for Timothy Liljegren, revisiting Gustafsson as mentioned above), trying to find value on the free agent market (unfortunately, minimal on the puck-mover front this year), or landing a trade. But if I'm Toronto, I'm looking for ways to make that blue line more dynamic, rather than more defensive. Especially for the less-creative bottom six forwards, every half-second a guy can buy of time against an unprepared opposition matters once the counter starts.
Get Matthews, Nylander, Keefe Extensions Sorted
The biggest stories going into the weekend, and until they officially get sorted out, will be the contract extensions of Toronto's two soon-to-be-available star forwards.
Technically speaking, there is no rush to extend Auston Matthews and William Nylander's deals, as both are committed through the 2023/24 season. But even with all the frustrations in town about the "Core 4" and the era still being unfulfilled from the perspective of playoff success, the greatest fear is to lose the players, especially Matthews, for nothing.
The good news is that Matthews, to both the reports of NHL insiders and my own personal understanding, will likely not keep fans waiting long. As it stands now, it sounds likely that the extension will for the moment make him the highest-paid player in the league, and will be mid-term, likely four or five years. What the exact number is remains to be seen; some feel he might only ask for a marginal upgrade on Nathan MacKinnon's $12.6 million, while others feel the number could eclipse $14 million. There's a tough balance here between the player being worth that much in raw value and deserving to maximize his dollars, and a hard-capped league with comparable measuring up against each other rather than the value of their performance. If Matthews takes the latter number, he likely will still be "worth it" from a numbers perspective, but it'll feel out of touch with his peers. In a no-cap league, I'd give him a blank cheque, but dollars mean more than dollars so Toronto should hope to get it closer to the former.
Nylander's deal will likely take a bit longer. Agent Lewis Gross is famous for taking these negotiations the distance, and likely sees tomorrow as less of a marking point than the fans, media, and to an extent, Toronto management do. I don't think the Leafs are in a position where they have to make a decision on the player's future with the team today, before his no-trade-clause for this year kicks in, as a too-far-apart negotiation ending in a trade would have its maximum value dictated by Nylander's willingness to extend somewhere, and the most likely spot for that likely won't mesh with the 10 teams he's able to block trades for. As far as dollar figures go, the Timo Meier extension in New Jersey sounds like a fine comparable ($8.8 million AAV over eight years), though Toronto will likely want to try to argue for less, and Nylander and his camp, who have seen the player exceed his current $6.96 million hit in recent years, will almost assuredly ask for more.
Lastly, you have head coach Sheldon Keefe. This one is a little different in the sense that coaches aren't the same risky-to-lose assets in the way that prime-aged players are, and in that many in Toronto were content with moving on from Keefe if it came down to it. At the same time, it typically makes more sense to minimize any lingering cloud during the season for those staff members. We all just saw a managerial example of where this can go awry with Kyle Dubas' pivot from Toronto to Pittsburgh, and behind the bench, Bruce Boudreau's half-season in Vancouver last year was an example of a coach who started making decisions in seeming conflict with the team's. Not that I'd expect Keefe in particular to "go rogue," but when you don't have a certain future, you will naturally start trying to make sure you're auditioning yourself for others as well instead of just focusing on the task at hand. Even if this year is just Brad Treliving's "taster" of Keefe to see how he feels about keeping him, a short-term extension to create peace of mind makes sense.
Check into the Forward Bargain Bin
As mentioned within the first point, the Leafs have a lot of free agents coming off the books and out of the lineup this summer, and as mentioned in the second point with a more defence-led focus, the team could stand to add a bit of flair beneath the Core Four. The salary cap ceiling will prevent the Maple Leafs from making significant splashes in this regard, as will a relatively tame UFA class. This could play to their advantage, though, as it'll tighten up the market on the fringes.
Ideally, you're looking for players who can add some transition mobility, some finishing touch, some ability to convert a forecheck into a scoring chance, or a combination of the three.
Former Leafs forward Connor Brown, coming off of an injury-disrputed year that saw him play just four games with Washington, would be a fun reunion, though reports suggest that Edmonton is the play there. Another reunion candidate I wonder a bit about is Andreas Johnsson, though his up and down results since leaving Toronto would leave me underwhelmed if the cost was anything above the buryable threshold. Josh Bailey's trade to and subsequent buyout from Chicago makes him an interesting possibility given his connection to John Tavares – while last year was a bit of a struggle for him, if you can get a cheap half-point a game out of him, the fit could be there.
Other names to keep an eye on for the bottom half of the lineup might include Penguins forward Danton Heinen, Sabres center Vinny Hinostroza, and Capitals winger Conor Sheary. I also have a lot of curiosity about 25-year-old Axel Jonsson Fjalby, who will be a Group VI free agent. Miles Wood is another name who should theoretically be on this list, but his raw speed and physicality might price him out of it.
This morning also added Blake Wheeler, Matt Duchene, and Kailer Yamamoto to the free agent pile. The latter two in particular would be interesting adds – Duchene in the tier above the bargain bin but still potentially willing to take a below-market tag, and Yamamoto feeling like a buy-low candidate.
I'd also sign Jeffrey Veil, but not because I expect anything from him. I'm pretty sure you can guess why.
Let The Rest Come To You
After the above, I mostly think that patience will be a virtue this summer. Obviously, there are a lot of expectations on this team to succeed, but rushing a new general manager into making big philosophical shifts can often be a recipe for disaster. Heck, this is also the case for a long-standing one; you need to be deliberate, and not desperate with your moves if you're looking to do something substantial.
Combine that with the fact that this is a sour free agent market, and that most of the league is in a holding pattern due to one last year of slow cap ceiling growth, and there's just not a lot of value into scrambling to make a move. Everyone wants that foundation-shaking decision, but the ones that succeed are usually the ones where opportunity falls into your lap, and not the one where you're the ones handing others the opportunity.
The Matt Murray contract, for example – you can run out and try to dump his last year now, but until you have something to fill his cap space with, there's not much to gain from rushing to throw sweeteners at people. If it's a quiet market, you instead have a third-string option in goal that could even become value-positive if another team doesn't land the goalie they want, has an injury setback, or in the case of the scorched-earth teams, still have some trouble with getting salary and bodies above sea level.
Or for those wanting blockbusters, your leverage will increase if you wait for the other team to get desperate. Many look to the Panthers' Matthew Tkachuk acquisition last summer as the blueprint for refreshing your team, but also forget that they were the opportunists, not the seekers in that deal. There wasn't much in speculation that Jonathan Huberdeau and MacKenzie Weegar were on the block when everything went down weeks into the start of free agency, but when a young superstar that had them on his preference list wanted to come, they emptied the clip.
It's going to be a long offseason. Opportunity will come at random times (Duchene's UFA availability came in the midst of me touching up this post, for example). Be prepared, but be patient. In the worst-case scenario, you have the main pieces of a fifth-overall team that finally got a playoff series win under its belt to work with. It's not about running it back, but knowing that the market is in a weird spot right now, and having fallbacks.