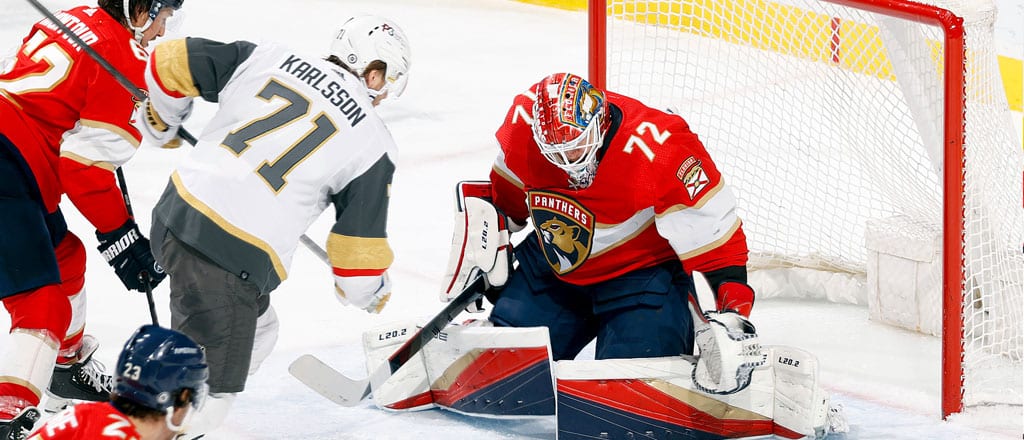 The Stanley Cup Final is upon us, and it's a a very southern affair. Somehow, a team from Las Vegas has been the most northern hope for the National Hockey League's top trophy since the start of the conference finals, and now with two teams remaining, we're guaranteed a first-time winner. Both come-up stories have been great, but there can only be one champion, so let's break down this matchup between the West's top-seeded Vegas Golden Knights, and the East's bottom-seeded, Cinderella-come-buzzsaw Florida Panthers.
NOTE: While there's some variance from sportsbook to sportsbook, these odds will be more or less applicable to all of the best sportsbooks in Canada! As well, keep checking in with our NHL news section as we break these games down one by one.
2023 Stanley Cup Final
Vegas Golden Knights vs. Florida Panthers
2023 Stanley Cup Final schedule
| Game | Home Team | Date | Time (ET) |
| --- | --- | --- | --- |
| 1 | Golden Knights | June 3 | 8:00 PM |
| 2 | Golden Knights | June 5 | 8:00 PM |
| 3 | Panthers | June 8 | 8:00 PM |
| 4 | Panthers | June 10 | 8:00 PM |
| 5* | Golden Knights | June 13 | 8:00 PM |
| 6* | Panthers | June 16 | 8:00 PM |
| 7* | Golden Knights | June 19 | 8:00 PM |
* If necessary
On the Western front, we have the Golden Knights. The Knights have been one of the greatest expansion team stories in the history of professional sports, hitting the ground running in 2018 and never looking back. This marks their second appearance in the dance since their inception, and this time, they're less of a Cinderella team of misfits and more a legitimately deep team that makes sense to be here.
Some of that original cast is still around – William Karlsson, William Carrier, Shea Theodore, Brayden McNabb, and most interestingly in the context of this series, Jonathan Marchessault and Reilly Smith, who have been among the franchise's most important players since the Florida Panthers essentially paid Vegas to take them away.
But the team has built itself out even further than that. A team that didn't have true star power its first time around has the likes of captain Mark Stone, Alex Pietrangelo, and most notably in this moment, Jack Eichel. The Knights' pivot from having picks to use as a development launch pad to being able to immediately start buying, and their flexible salary cap layout, allowed them to fit those big players in, creating a continued perfect storm into more recent years.
This, combined with the addition of talented depth players, the hiring of former Boston Bruins coach Bruce Cassidy, and a great trade deadline play for St. Louis Blues forward Ivan Barbashev, led to a conference-leading 51-22-0-9 record this season. That momentum has since carried into the playoffs. While they lost their first playoff game in a shocking 5-1 defeat to Winnipeg, they've yet to find themselves in danger since, sweeping the rest of that series, defeating the Edmonton Oilers 4-2 in the second round, and the Dallas Stars 4-2 in the conference final.
The team's success has come through production by committee, but if there are any standouts, they're the 25-year-old Eichel, the day 1 hero in Marchessault, and breakthrough goaltender Adin Hill. While Hill wasn't plan A, or B, going into this season, the former Coyote and Shark put up a more than respectable .915 save percentage over 27 games in the regular season and has exploded for a 7-3, .937 SV%, 78% quality start run in the spring.
Vegas coming out ahead would be the culmination of a multi-year effort to win at just about all costs. Once the opportunity arrived, the Knights stepped on the gas, remained consistently competitive, and yet never complacent. Regardless of the outcome, they'll probably push hard again this summer. Sure, you may put a sword through a player's gear every now and then, and that could perhaps be handled better, but you can't argue with the determination and the results.
Across the hall in the East, you have the Florida Panthers, who a year after winning their first playoff series since 1996, are back to the Stanley Cup Final for the first time since then as well. Needless to say, while their first breakthrough ended in a quick 4-0 sweep to Tampa, the team has risen to this occasion.
Weirdly enough, though, this almost never happened. The Panthers just barely made the playoffs, and had one of the biggest single-season dips in recent NHL history, at least coming from a top position. The Presidents' Trophy winners with 122 points in 2021/22, the Cats finished the year with just 92, clinching the last wild-card spot in the East not by their own result, but as a result of the Pittsburgh Penguins losing to the Chicago Blackhawks.
Once they got it, things seemed like they'd end up how you'd expect a team that made this drop did, with three losses to the record-setting Bruins in their first four games. But what's happened since is like nothing we've seen in quite some time. The Panthers took Game 5 in overtime, snatching victory from the jaws of defeat, and have not looked back since. Two more wins got them through the Bruins, shocking the world. Four more in five games ended the excitement surrounding the Toronto Maple Leafs, who were in a similar spot to where the Panthers were a year before. In the conference finals, one of the longest games in NHL history kicked off the series, and it ultimately all ended in a mind-blowing Panthers sweep.
This is all to say that, since going down 3-1 to Boston in Round 1, the Panthers have posted an incredible 11-1 record. More incredibly, they've done this while scoring just 3.25 goals per game on that run, and while only having one game where they won by more than one non-empty-net goal.
The driving force there, without hesitation is Sergei Bobrovsky. The 34-year-old has by and large been a disappointment in Florida after four years of not living up to an all-time large contract for a goaltender, but might pay it all off in the span of two months here. Since this run has started, Bobrovsky has stopped 438 of 465 shots, good for an insane .942 save percentage. Some of that is buy-in from his skaters, some of that is struggles from his opponents, but regardless, a 41-point jump over the regular season is near unprecedented.
Beneath him, or in front of him, rather, the main storyline up front is Matthew Tkachuk. The 25-year-old was acquired by the team last summer after he requested a trade out of Calgary, and while the cost of Jonathan Huberdeau, MacKenzie Weegar, and a draft pick was seen as hefty, they're currently the team reaping the rewards. Tkachuk put up 40 goals and a career-high 109 points in the regular season, and after years of struggle in the spring, has broken through for a productive postseason.
Weirdly, traditional 5-on-5, first-three-period production has been a little all over the place for him, but he's come up clutch in overtimes, in last-second situations, and made a ton of process plays that routinely have him as the best skater on the ice. He's testing the margins of what a productive playoffs look like – the numbers likely look a lot less impressive if Bobrovsky isn't keeping games going for as long as he has – but it's all come together for unmatched theatrics from perhaps the world's best winger. Supporting him is production by committee from the likes of Carter Verhaeghe, Aleksander Barkov, Sam Reinhart, Sam Bennett, and Brandon Montour.
Stanley Cup Final prop bets
This being the Stanley Cup Final, the market for prop bets is going to be a little bit more expanded than we usually see for individual rounds. Some options include..
Most goals in the series. Tkachuk is currently the favourite at +450, thanks in large part to some clutch performances along the way. The actual leader in these playoffs across the two teams is Karlsson – he has 10 goals in 17 games, and sits with the ninth-shortest odds at +1400.
Most points in the series – similarly, Tkachuk leads at +250, which lines up with him being the points leader among the two teams. I'd keep an eye on the second-seeded Eichel, though. He has 18 points in 17 games and has largely produced at even strength, and his run has arguably been just as impressive as Tkachuk's has.
Conn Smythe Trophy – The three players with the best odds are Bobrovsky, Tkachuk, and Eichel. Personally, I think Bobrovsky's case is so good right now that it would take a couple blowout losses to push him off the top, even if Vegas wins it all, so his +200 looks pretty good to me. Tkachuk does have a currrent boost on bet365, though, going from +320 to +350.
Stanley Cup Handoffs – These bets are essentially for the player who the captain will pass the cup off to after the team wins. So if you're betting early, you're essentially predicting the team as well. Bobrovsky and Marc Staal rank the highest among the Panthers, while Marchessault and Eichel rank the highest for Vegas. I'd lean towards veterans for the Panthers and original Golden Knights for Vegas, so this mostly fleshes.
Overall, this has the potential to be a modern classic of a matchup. Vegas has felt like a team that could and arguably should be here throughout the season, and while the Panthers stumbled their way towards the battlefield, they are swinging as well as any right now. Both teams have star power backing surprisingly great goaltending. For those who like superstition, there's the whole debate about touching the conference trophy, something Florida did and Vegas didn't. This could go a lot of different ways, but it's hard to imagine that they aren't going to land on one that doesn't leave us excited, yet wanting even more.
Prediction: Vegas Golden Knights win their first Stanley Cup in six games.