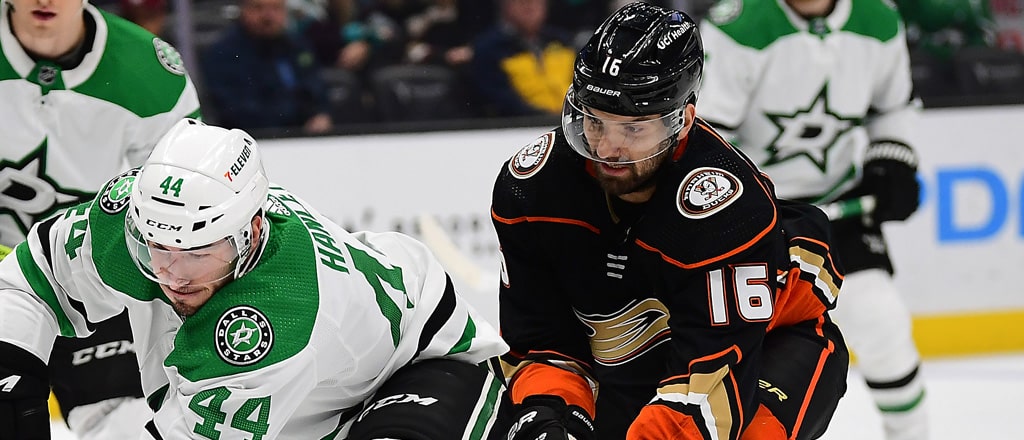 Late on Friday night, the Toronto Maple Leafs announced the signing of forward Zachary Aston-Reese to a Professional Tryout Contract, or a PTO. For those who aren't as obsessive about the ins and outs of the National Hockey League, a PTO essentially allows the player to practice and play with the team without committing to a full season, and at the highest level, are typically reserved for training camp and exhibition games. There are a few benefits for both the player and team here, so let's do a quick breakdown of what to expect:
The Player
Aston-Reese is not a high profile, star talent, which is among the reasons why his future took until September to get even a bit of clarity. If you follow the deeper, more enthusiast circles of the hockey world though, his name – or it's abbreviation, ZAR – might sound familiar.
This is because Aston-Reese is regarded as one of the more interesting defensive forwards in hockey. To be clear, this is absolutely not a player that you should be expecting to rack up points for your team. At 28 years old, ZAR has played 230 NHL games, mostly with the Pittsburgh Penguins but including a short stint with the Anaheim Ducks at the end of last year. In that timespan, he has put up just 66 points, and has yet to put together his first 10-goal or 20-point season – though he has paced out to those milestones in 2018/19 and 2020/21, years where he played 43 and 45 games respectively.
The thing is, when ZAR hits the ice, the puck tends to not hit your net. Take a look at these isolated impact heatmaps from Micah Blake McCurdy's HockeyViz website, for example: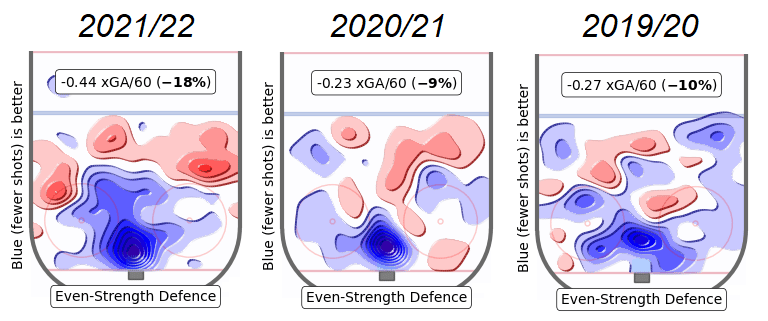 The long and short of what you're seeing here is that when Aston-Reese is on the ice, his team gives up significantly fewer shots, and particularly shots in closer, more dangerous areas, than when he's off of it. Making things more impressive, this is done despite Aston-Reese finding himself starting his shifts in the defensive zone nearly twice as often as he starts them in the offensive-zone over the course of his career, and it's often matched with his goaltending posting good results – something that can be a red flag when used to praise a hot stretch, but when replicated in five consecutive seasons, you wonder if there's a legitimate connection there.
There are some caveats to this, though. For starters, while his defensive results are great, they're usually at least equaled by a lack of offensive creation. ZAR's teams will not create opportunity with him on the ice, at least not typically, though some would argue the tradeoff is worthwhile if you're using him as a specialist for shifts where you're just trying to minimize action. I like to call these "absence of hockey" players, and they tend to sit around the fringes of the lineup. In his case, he's one of the better of the bunch due to his ability to make simple plays to escape the defensive zone once a puck is free or available for battle, and maintain control of the puck to move up further once there. He's physical, but it's not the only element to his game.
This all also makes him less effective when players who are exceptionally gifted offensively, or elite two-ways go up against him. Times where he's been matched up against two-way superstars like Patrice Bergeron, Aleksander Barkov, Toronto's very own Auston Matthews, or Sean Couturier have typically been slanted heavily in those players' favour on the shot charts, as have stretches against dynamic offensive threats like Nikita Kucherov and Nathan MacKinnon. If you're looking at the defensive buzz that ZAR gets and are thinking about him as the next shutdown/matchup forward, you're sorely mistaken. Put him in those minutes, and it's likely that the top chefs will cook him.
The Fit
That doesn't mean that there can't be a spot for him, though. One thing that has hurt the Maple Leafs in recent years is a lack of identity to leverage. Yes, while I'm a big believer that the team has been unlucky in their playoff failure rate in several different ways (how often does a team outshoot and even outscore their opponent in consecutive rounds and lose both?), there is a legitimate grievance in that that recent versions of the roster tried to be too many things at once without having any specific leans on to strengths, creating a jack of all trades, master of none scenario. Over a long sample, versatility is great when combined with total talent. In short bursts, it's nice to have scenarios you know you can lean on.
One way to do that is by creating purpose in the bottom half of the forward group. Last off-season's signing of David Kampf and the emergence of Pierre Engvall as a speed threat helped create a really excellent, pain-to-play against third line, and while Ilya Mikheyev has moved onto Vancouver, few would be shocked if Calle Jarnkrok's signing was purposed to take his place.
The fourth line, however, has always felt like a bit of a mixed bag of the best cheap talents that that the team could find. In some respects, this was great – Jason Spezza, for example, played out the last few years of his career as an incredibly efficient sheltered point producer at a league minimum salary. But this also meant that sometimes the line would get caught against tougher opponents and not really have a set motive.
If the Aston-Reese tryout turns into a full contract, this could change. One looks at ZAR's ability to mix in physicality with legitimate defensive acumen and can't help but think of what would happen if paired with Nicolas Aube-Kubel, who the team signed this summer. Aube-Kubel is of a mold that isn't identical, but is very similar – speedy, aggressive on pucks, physical, and while his results aren't in the same tier as Aston-Reese's, generally come out as defensively favourable despite tough zone starts.
If you put a third worker with them – maybe it's veteran Wayne Simmonds, maybe it's emerging Marlies prospect Joey Anderson, you've got a line that has purpose, brings the physical element that the more old-school part of the fan and media base loves, and does so while actually contributing to the team. It wouldn't be a high scoring group and it would be used sparingly, but it could be one that reliably kills time for the star-laden first two lines or more tough-minute oriented third line to catch their breaths.
The Caveat
Of course, just because a tryout contract has been agreed upon, doesn't mean that we can guarantee that Aston-Reese will be playing with the team for the long-haul. What scenarios are ahead really come down to what the reasoning was for the PTO.
For example – if it's a matter of being unsure of his fit with the team, and wanting to see if the theoretical described above will translate on the ice, he'll have to audition his strengths in the preseason, which takes place between September 24th and October 7th. If he doesn't impress, then maybe this is a quick come-and-go experience.
If it's a matter of having a safety valve in case of injuries or waiver claims, then the situation might not be in his control at all. A healthy roster and a list of successful AHL assignments may rid the team of the need for a 13th/14th forward, if that's where they presently slot him. The same goes for if he's an option only if the team moves a roster forward, or if a younger skater like Nick Robertson doesn't leapfrog him.
There is also the possibility that, due to the NHL's requirements of "regular" players in exhibition lineups and the team likely seeing little value in giving the likes of Matthews, Marner, Tavares and Nylander too much warmup time to potentially get hurt in, that ZAR is just along for the ride and that all of this brainstorming is just window dressing on our end.
If that were to be the case, though, it wouldn't necessarily be a bad thing for Aston-Reese. The Toronto microscope can be a great leverage point if you're confident in your game and need some eyeballs on it, which is why the Leafs organization has had little trouble in recent years getting known cusp players to take these tryouts. I imagine that Aston-Reese's PTO is one of genuine interest and that the odds are in favour of him making the team full-time, but if it's not, a solid camp should quickly parlay into an offer elsewhere, be it in the NHL, or a higher-paying offer from the outside than he would've gotten without the attention. So either way, it's likely that this will be of value to the player.
Overall, I like this bet for the Leafs – while I'm skeptical of Aston-Reese being an absolute defensive wizard, he does appear to have positive value and there seems to be a pathway to a high-energy "worker bee" fourth line here with Aube-Kubel and one other body (my early pick is Anderson). I could see this evolution of the lineup's bottom trio being one that is liked across multiple factions and niches within the Toronto discourse, and we'll see if he can grasp that spot and if the decision makers feel the same way about his potential role.