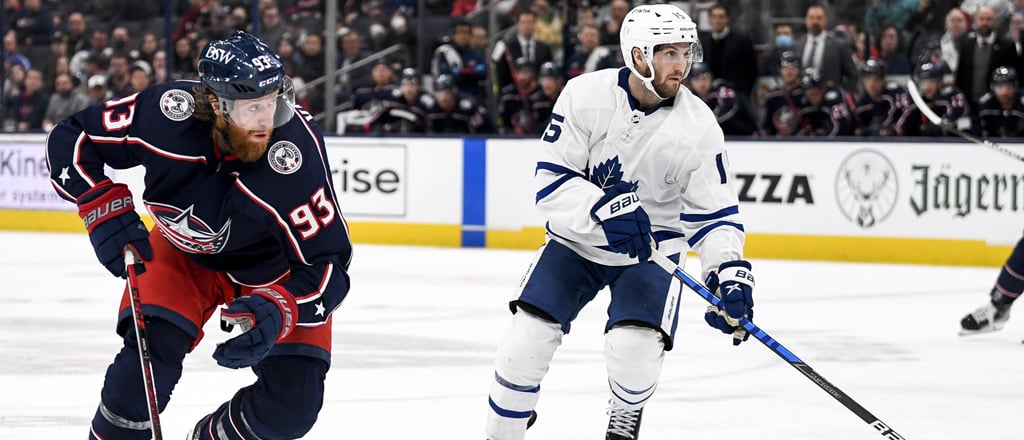 The Toronto Maple Leafs are back from a combination of the National Hockey League all star break and a bye week, leaving them fresh and ready for… a home-and-home against a broken down, 32nd overall Columbus Blue Jackets? Oh boy. This seems like a match made in heaven for the Leafs to get their wheels back under them and pick up four easy points, but as most in Toronto know, there is nothing this team likes nothing more than a trap game – so why not have two of them in quick succession? Alright, alright, let's see what we can find under the hood here.
Know Your Enemy
The Columbus Blue Jackets, are, uhh, jarringly bad this year. Since starting a poor but somewhat respectable 3-4-0, the team has seven regulation wins to go with a 12-28-4 record. Since the start of the calendar year, they're 3-8-2, and that feels like an improvement. Their longest winning streak this year is two games.
"But wait," you might ask. "Isn't this the team that signed Johnny Gaudreau this summer, to everyone's shock?". Your answer is yes – and Gaudreau, to his credit, leads the team in points by eighteen, maintaining a near point-per-game clip. Alas, the rest of the team has been a bit shambolic, and injuries have not helped the situation. Zach Werenski has been limited to 13 games, while his heir apparent Adam Boqvist has played just 19 (but returns tonight!). Yegor Chinakov, a 21-year-old prospect who has exceeded expectations, has been limited to 30 games. Jakub Voracek has only played 11 games, Justin Danforth only six.
Healthy goaltending has also been an issue, though so has the results from one of their platoon netminders when he's healthy. Joonas Korpisalo has been fine, but Elvis Merzlikins is having a year from hell, posting a 0.870 save percentage and a quality start percentage of just 17%. He's conceded 22.6 more goals than a league average save percentage would've provided. Yes, the fact that Columbus has scored the third-fewest goals in the NHL hasn't helped things, but you'd imagine they'd have a few more wins if they kept those pucks out of the net. Needless to say, it's all added up to short-term disaster, though if it leads to lottery balls going in their favour, they might just look back on this series of unfortunate events as long-term investments.
Buds Watch
As mentioned, it's been a pretty boring week and change for the Maple Leafs since their last game against the Bruins. It didn't quite go as we expected – the Bruins winning wasn't a terribly shocking outcome, but the 5-2 result stuck it to me for thinking it would be a low-scoring affair. But hey, Mitch Marner had a gatorin' good time at the All Star festivities, and now the team gets a little closer to Auston Matthews and Matt Murray being at full health.
The most interesting story in the past few days is likely the extension of Conor Timmins, who signed a two-year contract at a $1.1 million AAV on Thursday, carrying him through to the end of the 2024/25 season. Timmins, who was acquired in a trade with Arizona earlier this year, has impressed in sheltered minutes, producing 12 points in 18 games while having positive shot attempt differentials relative to his teammates. The 24-year-old was once a highly touted prospect, so if he can keep this going and stay healthy, this might be a deal that joins the ranks of Mark Giordano and Timothy Liljegren in the crazy-good-value club.
The Last One
As you might expect, the Maple Leafs and Blue Jackets haven't taken each other on yet this season – hence the back-to-back to catch up. The last matchup between the two teams came in Columbus last March, with Toronto securing a 5-4 win the hard way. After coming out of the first period up 3-0, the Leafs allowed the Blue Jackets to claw back with two second period goals and a Jack Roslovic equalizer to kick off the third. Patrik Laine added one more in the last minute of regulation, but thankfully for Toronto, not before Alex Kerfoot and Michael Bunting regained the lead and added insurance. Toronto went 2-0-1 against Columbus last season despite the Jackets being a better team than they are last year, though with just a one goal edge across the series, they can't be bragging too much. As we've talked about many times, the Leafs historically have a habit of playing down to opponents, and doing so again would potentially cause them a world of hurt over the next 48 hours.
The Lineups
The Maple Leafs are expected to run this lineup tonight, with Ilya Samsonov likely to start in goal:
Michael Bunting – John Tavares – Mitch Marner
Calle Jarnkrok – Alexander Kerfoot – William Nylander
Pierre Engvall – David Kampf – Joey Anderson
Zach Aston-Reese – Pontus Holmberg – Alexander Steeves
Morgan Rielly – TJ Brodie
Mark Giordano – Justin Holl
Rasmus Sandin – Timothy Liljegren
Key Injuries: Auston Matthews, Matt Murray
Meanwhile, the Blue Jackets are expected to look like this, with Joonas Korpisalo likely to start in goal:
Johnny Gaudreau – Boone Jenner – Patrik Laine
Kent Johnson – Cole Sillinger – Kirill Marchenko
Emil Bemstrom – Jack Roslovic – Liam Foudy
Eric Robinson – Sean Kuraly – Mathieu Olivier

Vladislav Gavrikov – Andrew Peeke
Tim Berni – Erik Gudbranson
Gavin Beyreuther – Adam Boqvist
Key Injuries: Zach Werenski, Jakub Voracek, Gustav Nyqvist, Justin Danforth
The Betting Lines
Toronto enters this game as the heavy favourites on the money line, which given the heavy rest and the large gap between the two teams, makes a lot of sense. We may talk about trap games and playing down to opponents, but the reality here is that we're talking about the last place team against a team that's bouncing between second and fourth overall. If you aren't feeling confident in the buds, though, the puckline might provide you a little bit of hedging. Tonight, it's set on 1.5 goals in Toronto's favour. The Leafs have just two multi-goal victories against the Blue Jackets since the start of the 19/20 season, including their bubble playoff series, and while the gap between the two teams increases the likeliness that we see one this week, that fear always persists. I would imagine that the road game to bounce out of a week and a half off is the one most at risk of being uncomfortably close, so I might consider Columbus on the puck line.
The line you'll find for total goals tonight is around 6.5. Toronto typically averages 6.06 combined goals for and against per game, while Columbus averages 6.41. 6.5 wouldn't be a massive stretch for either team, and the gap between the two is pretty big. On the other hand, Columbus is missing a lot of offensive pieces, Toronto is missing Auston Matthews, and Columbus' games against Boston, Carolina, and New Jersey (the three teams above Toronto in the standings) have averaged 6.33 total goals per game, largely because Columbus couldn't put the puck in the net. So I'd err on the side of caution here.
As for props, my favourite tonight isn't one with a high probability, but one with a great narrative. I'm looking to see if Kirill Marchenko finally gets his first career assist. The 22-year-old Russian is having a pretty good rookie season with the Blue Jackets, but also has one of the most absurd statlines to grace the league, with thirteen goals and no helpers. He is the fourth player in NHL history to have his first twelve points all be goals. Now, here's the kicker – the other three had theirs between 1917 and 1927. In all cases, this meant no forward passing was allowed in the NHL, and in those times, secondary and even primary assists were often not counted. To go on a run like this is so unprecedented that it not only takes a shoot-first mentality, but also sheer luck, as even someone who does nothing but fire pucks will mix in a rebound assist from time to time. Toronto has a habit of getting into history. I wouldn't be shocked if Marchenko snaps the run tonight.
| Prop | Price | Book | Prop | Price | Book |
| --- | --- | --- | --- | --- | --- |
| William Nylander to score a goal | +118 | FanDuel | Boone Jenner over 2.5 shots | -118 | FanDuel |
| Morgan Rielly over 1.5 shots | -165 | BetMGM | Kirill Marchenko to get an assist | +440 | FanDuel |
| Mitch Marner over 1.5 points | +116 | FanDuel | Patrik Laine to score a goal | +165 | BetMGM |
| Over 2.5 total goals in the second period | +133 | Caesars | Joonas Korpisalo over 30.5 saves | -111 | BetMGM |
| John Tavares to score first goal | +1100 | BetMGM | Johnny Gaudreau to score first goal | +1800 | BetMGM |
| Both teams score two goals | -208 | BetMGM | Liam Foudy to score a goal | +475 | BetMGM |
Closing Thoughts
There's no real measuring stick in this game, or tomorrow's rubber match (which I'd expect to largely be the same for all of the above, just with a likely goalie switch to Merzlikins for Columbus, and an unlikely but possible one to Joseph Woll for Toronto), but these games will still hold interest for many. Minnow games tend to be chaos for the Leafs, and if nothing else, we'll get to see if the break did any good for any of the players. The easy answer is that Toronto storms through both of these games, the pessimists one is that they'll be rockier than the should be. They can mostly afford for either outcome, but it would certainly be nice to pad some points in case Tampa Bay goes thermonuclear or Boston hits a hurdle. We'll see how it goes this weekend!