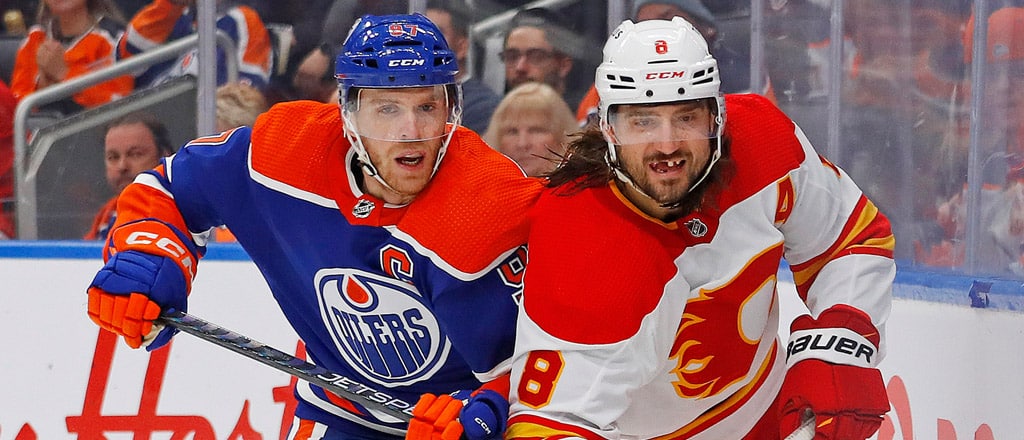 Welcome back to HNIC Coast To Coast, a breakdown of Canada's National Hockey League teams as they head into their respective weekends, most notably those participating in Saturday Night's Hockey Night in Canada headliners. This week, the reoccurring theme is road trips – of the six Canadian teams playing this weekend, only one does so as the home team. The rest take their talents to new lands, some far away from home.
7:00 PM HNIC Headliner: Toronto Maple Leafs @ Los Angeles Kings
The last week has done little to temper frustrations in Toronto, and a Thursday night loss to the San Jose Sharks has certainly done no favours to the narratives. The Maple Leafs did come back from an early 3-1 deficit and Auston Matthews did snap his goal-scoring slump with a rocket of a one-timer, but losing to a team who entered the game 2-6-0 will naturally leave a tense market even tenser.
Head Coach Sheldon Keefe attributed the loss, and much of the 4-3-1 start to sloppy defensive touches, particularly to initiate play. While he stressed that he doesn't believe it to be a personnel issue, but rather a need for the current group to get better, it's hard to not hear that and look to the players out of the roster. Jake Muzzin was placed on Long Term Injured Reserve earlier this week, with many wondering if he'll ever play again (Mitch Marner's comments did not help here). My personal understanding of the situation suggests that the team does see him returning to their lineup at some point this season, but the timeline is unclear at the moment. So expect at least one more lap for number eight, but don't hold your breath on it coming any time soon.
Closer to return are Timothy Liljegren and Jordie Benn, who are in the midst of conditioning stints with the AHL Toronto Marlies. Neither player is unfamiliar with the league, with Liljegren last playing regular minutes with the Marlies in 2020/21 and Benn last appeared with the Texas Stars in 2012/13. I decided to head down to Coca-Cola Coliseum on Wednesday to check in on the two in the first of their conditioning games. Benn didn't provide much impact, though it wasn't for a lack of effort as the veteran had no second thoughts about sprawling out and attempting to block shots and eliminate lanes. As for Liljegren, he was spectacular – comically better than everybody else on Toronto or the opposing Syracuse Crunch. Liljegren put up 24:20 of ice time according to third-party data company InStat, with a shot attempt share of 56%. My personal tracking had him responsible for eight controlled zone exits, twice as many as any player on either team, three "key" passes, and several high-awareness offensive and defensive plays. In other words, exactly the type of game Keefe wants from his NHL players.
"I thought he looked really good," Marlies head coach Greg Moore told Canada Sports Betting following the game. "Obviously, he's coming back from injury and he hasn't played in a while, but he looks very comfortable, very calm, he's skating really well. His defence through the middle of the rink is one of the best I've ever seen [at this level]." Suffice to say, Liljegren likely doesn't need much more conditioning time, though the mechanics of Long-Term Injured Reserve mean we likely won't see him up with the Leafs until late next week. Benn's fate remains up in the air – while I'm not certain that he's Toronto's seventh-best defenceman once re-activated, his injury timing meant that he has yet to go through the waiver wire, meaning that the Leafs could opt to send Victor Mete down instead to insure themselves against losing a body permanently.
Back to the Saturday matchup, the Buds will be taking on the Los Angeles Kings in the second of a three game California road trip. The weekend matchups play much closer to their advantage from a time zone perspective, as their opponents have accommodated the TV schedule with afternoon starts (for reference, San Jose was a 10:30 PM puck drop in Toronto time). The Kings are off to a so-so start to their season, posting a 4-5 record through nine games. While their skaters have been productive, both Jonathan Quick and Calvin Petersen have had shockingly bad starts to their years, combining for a save percentage of just 0.868. That could be something for Toronto to feast on as key pieces look to regain their offensive mojo, or something that inevitably regresses in their faces.
10:00 PM HNIC Headliner: Edmonton Oilers @ Calgary Flames
For the second time this season, the Battle of Alberta returns, with both teams flying pretty high of late. The Edmonton Oilers have won three in a row between games against Pittsburgh, St. Louis, and Chicago, and the Calgary Flames, who won the first matchup of this rivalry on October 15th, come in with a 5-1 record, nearing the top of the NHL standings. Due to the absurdity of the NHL schedule, there will only be one more regular season meeting between these two teams this year, and that doesn't come for another two months from now. So, if either side has something to be said to the other, they're going to have to show it on Saturday night.
A big focus point for me remains the goaltending, which we talked a little bit about for both sides last week. Jack Campbell delivered a strong 20-save performance in a 2-0 loss last Saturday, but five goals against him on Thursday night re-open concerns for the 30-year-old, who has struggled to find form since November of last year. Jacob Markstrom, on the other hand, is showing that he doesn't want to lose his inclusion in my personal "Group of Seven", indicating goaltenders who can be relied on for higher-end year-to-year performance. Markstrom followed up a 25-for-27 performance against the Hurricanes last Saturday with a 32-save effort against the Penguins on Tuesday, bringing his full season save percentage up to 0.907. That's still below his norm, but about at the league average to start the year.
He'll have some trouble on his hands come Saturday, though, as Connor McDavid looks to be shaping up for an explosive goal scoring year. A lot of preseason talk hinted at a move towards the generational talent shooting to score more often, and with eight goals in his first eight games, including a hat trick on Thursday, he seems well on his way.
The discussion there reminds me a lot of Sidney Crosby's year atop the Rocket Richard race in 2009/10. While Crosby is known as one of the greatest players of all time, most of his career has been centred around being the greatest grinder of all time, making simple plays that contribute to his teams results, and often getting his points in through exemplary playmaking. That season, though, Crosby had the benefit of a heightened shooting percentage, but also made an effort to shoot more, taking over a full extra shot on goal per hour over his career average up to that point. McDavid, interestingly, is above his career average but below his rate from last year, which makes you wonder how much of this run is rooted in a fortunate 28% rate of conversion. That number wont last – it never lasts for anyone – but getting up to four shots on goal per game and maintaining his career average shooting percentage of about 15 would get him above the 50 goal plateau for the first time in his already great career.
Afternoon Matchup (4:00 PM): Ottawa Senators @ Florida Panthers
It turns out that this Senators team might be alright after all? I'm still not all in on them being instantly great, and the Atlantic Division is going to be a going to be a hard nut to crack if they want to make the playoffs, but there might be something here. Ottawa's five-game homestand saw them secure four consecutive wins and improve their record to 4-3-0 on the weekend.
What's interesting here is that their results have not been a case of the team shooting over its own head. In three of those four wins, and five of the seven overall games, the Sens won the expected goal splits at 5-on-5. They've also won the shot attempt and scoring chance battle in five of seven (but not the same five), and tied both in one of the two outliers. The end result is that Ottawa is, at this stage of the year, in the league's top 10 in both shot attempt share and expected goal share.
They'll be facing a tougher challenge than they have in the past week and a half, though, when they take on the Panthers on Saturday. While their rather putrid blue line post-Aaron Ekblad injury feels like it could be a problem for the group long-term, it hasn't prevented Florida from controlling the ice yet, with their 59% shot attempt share ranking them third in the league. The cracks are beginning to show, however, with back to back losses against Chicago and Philadelphia – both playing better than expected, but neither of them great teams. It'll be interesting to see if the Senators can take advantage of that, and with players like Alex Debrincat, Drake Batherson, and to everyone's surprise, Tyler Motte starting to heat up, maybe they can.
Evening Matchup (7:00 PM): Montreal Canadiens @ St Louis Blues
The last Canadian game on Saturday night, at least of the non-headliners, sees the Habs take on the Blues. Both of these teams have started the season at a 0.500 pace, which could be seen as a disappointment for St. Louis and a pleasant surprise for Montreal – though, if you're hoping for one more tank year, maybe you see actually winning a few games as a disappointment in it's own right. Either way, both teams have even records despite slightly negative goal differentials, and at the end of this one, someone is going to be swimming above water.
The most interesting story out of Montreal this week for me came off the ice, as Carey Price spoke to the media about his long-term injuries that have set him back over the past year and change. In his Monday availability, the future Hall of Fame netminder suggested that he doesn't have imminent plans to retire, but that he's still a long ways away from exploring a return. "We'll have to take it step by step. I don't have a plan to retire right at this moment," he said, according to the CBC. "Right now, my goal is to just be pain-free from day to day. I'm still having some issues getting up and down stairs and carrying my kids up and down stairs is difficult.
It would be great to see him come back down the line, and given his position, 35 might just be young enough that he can take an extend break and rehab and come back for one more run. It's not something I'd bet a ton on though (figuratively – the books obviously aren't carrying this one), and an official retirement likely won't come for at least another 3 or 4 years due to the logistics of his contract.
In the immediate, Cole Caufield remains a fun player to look out for on Saturday. He's carried over his hot conclusion to his 2021/22 season with seven points in his first eight games, including three goals in his last four games.
Sunday, Sunday, Sunday
Unlike last week, we do have a pair of Sunday games involving Canadian teams! Both are 8:00 PM Eastern time starts, and both feature Canadian teams heading out west.
First, you get the Maple Leafs on the second half of a back to back, taking on the Anaheim Ducks. The Ducks have not gotten off to the start that many hoped they would – frequently picked as potential risers this summer, they've won just one of their first seven games and have a league-worst goal differential of -16. With that said, Toronto has had a ton of trouble getting themselves engaged against "minnow" opponents, to the point where short betting odds almost feel like a trap. The best case scenario here is that their game against the Kings leaves them feeling heated and ready to pick up where they left off, but it'll really depend on how that game goes.
Meanwhile, the Winnipeg Jets will pay respects to new Ironman Phil Kessel when they head to Vegas. They've had a relatively decent start to their season by record (4-3-0), though Jets faithful will remind you that a lot of that comes from netminder Connor Hellebucyk standing on his head – he followed a 25-save shutout on Monday against St. Louis with a 40-save performance against Los Angeles on Thursday. They'll need a lot more from their skaters, and with Nikolaj Ehlers still out of the lineup with an undisclosed injury, they're missing some key help.
Where To Watch HNIC Games
Want to tune into these games? Of course you do, that's why you're here. Worry not, we're here to help you with that!
As always, the best place to go for Saturday's headliners is CBC, be it on your cable box, antenna, or your internet stream. CBC offers both games for free on their website.
For the non-headline games, you can catch Canadiens/Blues on Sportsnet 360 and City TV, along with TVA Sports in French. Senators/Panthers will be available on TSN 5 (Ottawa) and TVA.
On Sunday, you'll be able to watch Leafs/Ducks on TSN 4 (Toronto), and Jets/Golden Knights on TSN 3 (Winnipeg).
Saturday Night NHL lines
As always, there is plenty of action to be had on these games. We've checked in with our friends at NorthStar Bets to see what the current lines are, and you can find them below:
If you're looking for another book to bet at, we've also got you covered – check out or Best NHL Betting Sites guide for more info!