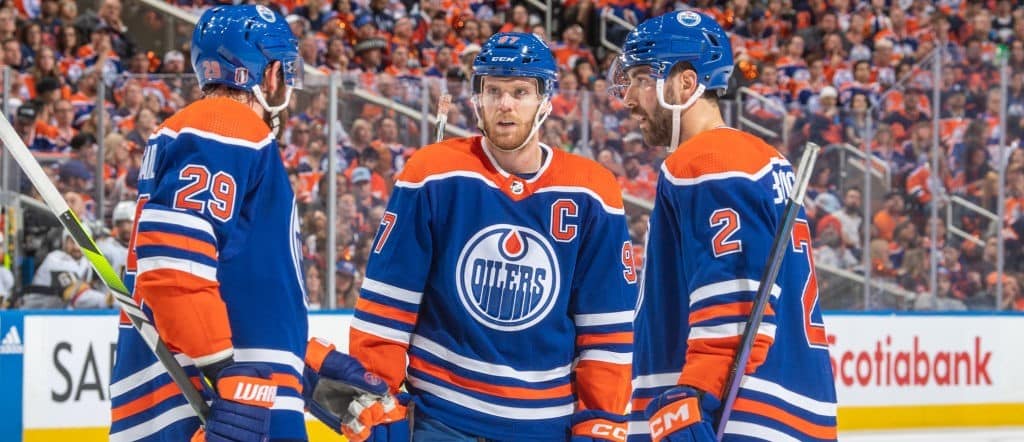 The Edmonton Oilers came up short in the NHL postseason for the fourth straight season after losing in the conference semifinals to the Vegas Golden Knights, who went on to claim the first Stanley Cup title in their short franchise history.
So where does the franchise go from here? Well, with salary cap space at a premium, the options are limited for the Oil this offseason. However, with the dynamic duo of Connor McDavid and Leon Draisaitl under contract and returning next season for another playoff push, Edmonton is once again one of the favourites to win the 2023-24 Stanley Cup.
Only the Colorado Avalanche (+850) have shorter odds than the Oilers to claim Lord Stanley's Mug next season. The Toronto Maple Leafs share +900 odds with the Oilers next season. And it's been a long time since a Canadian team has hoisted the Cup. In fact, some young Canadian hockey fans, and bettors, weren't even alive when Patrick Roy and the Montreal Canadiens accomplished the feat in 1993.
Here are five things the Oilers need to consider this offseason in order to remain contenders.
Get Bouchard signed
Defenceman Evan Bouchard proved his worth during the team's last postseason run by recording 17 points in 12 playoff games while quarterbacking the top power-play unit. He was a sure bet to record at least a point on a nightly basis during the playoffs, and 15 of his 17 points came with the man advantage.
Although Bouchard's offensive outburst was welcomed at the time, the Oilers will now likely have to pay a premium in order to retain his services as a restricted free agent. Evolving Hockey has Bouchard's next contract projected at six years with a $5.35 million AAV. However, a bridge deal is also possible for two years with Bouchard earning a projected $3.64 million per year. A one-year deal could also be done.
With only an estimated $5.07 million in cap space available to them heading into next season, the Oilers could elect to get Bouchard signed to a bridge deal so they don't have to dismantle their roster in order to get their budding defenceman signed and under the cap.
Create some cap space
Stuart Skinner and Jack Campbell are locked in as the team's goaltending tandem heading into next season, for now.
Skinner provides great value with his $2.6 million salary for next season and Campbell, who has four years and $20 million remaining on his contract, has a 10-team, no-trade clause built into his contract that makes him virtually unmovable without the Oilers retaining some of his salary. This could make Campbell a buyout candidate in order to free up cap space, though.
If bought out, Campbell would be on the books for the Oilers for the next eight seasons. His cap hit for next season would be $1.54 million, according to CapFriendly. His cap hit would then range from $1.14 million to a maximum of $2.64 million over the next seven seasons.
Moving Kailer Yamamoto and his $3.1 million salary is also a way for Edmonton to get some breathing room. Warren Foegele and his $2.75 million contract is another way for Edmonton to free up cap space. Perhaps moving Cody Ceci and his $3.25 million salary is another way to make it happen. Someway, somehow, the Oilers need to find cap room to add impactful players to help the team win now.
Add to defence
The addition of Mattias Ekholm for a playoff push last year served the Oilers well, but another addition of a right-shot, top-four defenceman could solidify Edmonton as a true Stanley Cup threat. Obviously, this is easier said than done given the limited availability of such a defenceman on the free agent market and the dwindling cap space the team has to work with.
Matt Dumba, John Klingberg and Dmitry Orlov are the top blueliners in this year's free agent class, but they'll likely command contracts that would push Edmonton well over the cap, unless the Oilers decide to shed some salary and get creative.
Some affordable, and perhaps more realistic, free agent options that might be able to fill the role include veterans Scott Mayfield and Kevin Shattenkirk. But would these veterans be an upgrade over Cody Ceci in the top four? It's tough to say.
Exploring the trade market for a defenceman is also a viable option. Rumours are still swirling that the Oilers are interested in reigning Norris Trophy winner Erik Karlsson, but taking on his massive $11.5 million salary isn't realistic.
The Oilers coughed up 3.5 goals per game during their last playoff run, so adding a veteran presence on the back end with previous playoff experience won't hurt their cause moving forward. You can never have enough depth on the blue line.
Solidify the bottom-six forwards
Edmonton has around $5 million in cap space, but it is projected to take over $7.5 million to sign its four restricted free agents: Bouchard, Ryan McLeod, Klim Kostin, and Raphael Lavoie.
General manager Ken Holland has qualified McLeod, but the team and Kostin are "far apart" on a potential deal. Kostin, who scored a few big goals for the Oilers during last year's postseason run, also has the ability to play in Russia or Europe next season.
Holland will also have to find a way to solidify his bottom-six forwards. Perhaps adding a veteran free agent like winger Connor Brown, or former Chicago Blackhawks captain Jonathan Toews, would be beneficial? Will the Oilers have the cap flexibility to make such a potential signing possible?
Brown appeared in just four games last season before he tore his ACL while playing for the Washington Capitals. The 29-year-old is expected to be fully healthy by training camp and he previously served in a top-six role with the Ottawa Senators. He has the potential to be a very impactful top-nine forward next season and log minutes on the power play. Coming off injury, the Oilers could potentially sign him at a relatively affordable rate, but of course, they could be outbid by other teams with more cap space.
Toews, and his three Stanley Cup rings and 137 games of playoff experience, would be an incredible addition to Edmonton's top-heavy roster. The 35-year-old centre logged 31 points in 53 games for the lowly Blackhawks last year, but he's still an incredibly useful forward with established leadership skills. However, Toews is still deciding whether or not he wants to play next year, but if he does play, signing with a legitimate contender like the Oilers makes sense. Of course, fitting Toews under the cap could be a challenge.
Plan To Utilize Dylan Holloway
Dylan Holloway, Edmonton's first-round selection in the 2020 draft (14th overall), appears ready for a top-nine forward role on the team.
The 21-year-old didn't score much at the NHL level last season, recording three goals and six assists in 51 games while averaging 9:35 of ice time. However, he flourished offensively at the AHL level with the Bakersfield Condors, amassing seven goals and three assists in 12 contests. In 45 career games with the Condors, Holloway averaged .33 goals per game and .71 points per game.
This is the year Holloway could break out and the Oilers have to give him the opportunity to do so by providing adequate ice time on the team's third line, and maybe even sprinkling in some power play time. He could even crack the top six depending on how Edmonton's roster is constructed this offseason.
Holloway is still playing under his affordable entry-level contract, so why not utilize the young talent already available with the cap crunch looming? It's at least worth giving him a shot after he clearly went through some growing pains in his inaugural NHL season.