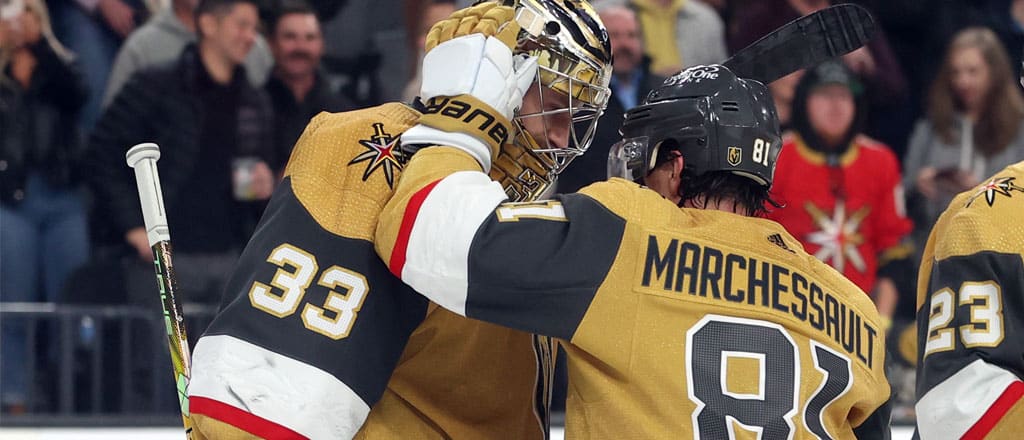 On Saturday night, the Vegas Golden Knights took a 3-1 lead in the 2023 Stanley Cup Final, bringing them one step closer to the National Hockey League's most esteemed prize. That's the one that everyone on both sides wants, but there is another one that the individuals wouldn't hate picking up either – the Conn Smythe Trophy. The award is given out at the end of the playoffs to the MVP of the postseason, and is voted on by the media. As such, it's typically a combination of spectacular performance and a great accompanying storyline.
Today, we look at the players who have the best odds (via our friends at bet365) of taking that trophy home in the next few days. These are subject to change as the series progresses – be it one, two, or three games – especially if the Florida Panthers are able to mount a comeback or at least give a real scare. But as it stands, we have a pretty good picture of how this should shake out. Let's dive in!
Jonathan Marchessault, Vegas (-600)
Marchessault is firmly in the favourite's seat as we head into the final game or three of these finals, and in a lot of ways it's great for those who love a good narrative.
Sure, the actual numbers are favourable to him as well. Marchessault is currently tied for the playoff lead in goals (13) and points (24), has three game winners to his name, a +16 goal difference, and has risen up for everything from clutch goals to pretty passes to hat tricks along the way.
But what makes the Marchessault angle so tantalizing is the fact that he came to the Golden Knights on Day 1, in the expansion draft, as a sweetener from… the Florida Panthers. Yes, Vegas were paid one Marchessault to take away Reilly Smith, a player who they also have extended and kept for every day of their existance since. The Golden Knights' climb to immediate and then sustained contention is a direct result of the Panthers organization misevaluating their talent. That he might end up being the most productive skater in the playoffs, culminating in winning a Stanley Cup against the team that gave him away, makes him the favourite here.
Personally speaking, I also like the idea of Marchessault winning this award because, in a playoffs where so much of the coverage has felt like an attempt to bring "can't teach size, need physicality and defence to win" discourse back towards conventional wisdom, it would be great for the MVP to be a 5'9 finesse scorer (who, admittedly, does have his share of vinegar to his game too).
Adin Hill, Vegas (+1000)
There is a bit of surprise here, to see a goaltender who isn't Sergei Bobrovsky near the top of of this list. We'll get to him in a little bit, but Adin Hill has quickly earned his credit in these playoffs. Acquired for a future fourth round pick just nine month sago, the 27-year-old was brought in as injury insurance, essentially to be Vegas' fourth goaltender, and has instead found himself in the midst of a fairytale run of form in the postseason.
Hill found himself between the pipes for the first time in this run in the third period of the second round's third game. He turned away four of four as a followup to a bad night in the office for Laurent Brossoit, but didn't get the opportunity to go in the next night. At least, not right away. Twelve minutes into Game 4, Brossoit suffered an injury, and Hill once again went perfect – 24 for 24 this time in 48 minutes of work. Since that moment, it's been his net, and he's been unbelievable, posting a 10-4 record with a 0.934 save percentage, 77% quality start rate, and 2.11 goals against average. Hill has maintained his performance in the final, stopping pucks at a 0.925 rate and giving Vegas a chance to win in every game.
Matthew Tkachuk, Florida (+1800)
Coming into this series, Tkachuk was the favourite among skaters to bring home the award, and it was easy to see why. He had 21 points in 16 games, he had taken over Florida's massive comeback against the Bruins, and he scored three of the four game winning goals against the Hurricanes – twice in overtime, and once in the dying seconds of Game 4. If you're a believer in Clutch, you believed in Matthew Tkachuk, as no one was scoring higher-leverage goals than him in these playoffs.
The love was there from the outside world, which especially matters in a media-voted award like this. He guest-appeared on the Inside the NBA panel and was being written up by People Magazine, things that don't typically happen for NHLers. Some even wondered if this run, a chain of heroic events that solidified the Panthers blockbuster bet on him from the summer, would make him the new face of the league to the casual fan.
Needless to say, his finals haven't been quite as good. He still has a respectable two goals and three points in three games, but the pest side of his game is getting the best of him of late and it sure seems like he's playing through an arm injury.
Should Florida come back, and he's a part of it, he seems like the likeliest bet to shoot up the rankings. For now, though, the last week has hurt his stock.
Jack Eichel, Vegas (+2000)
Speaking of superstars who have big games and big trades attached to their resume, this has been a bit of a perfect storm for Jack Eichel. Eichel was drafted by the Buffalo Sabres in the second overall position back in 2015, and has since been a bit of a perpetual "other". He was Connor McDavid's other, as the player selected after him. He was Auston Matthews' other, as the slightly less hyped up American phenom. He even became the Sabres' other after they traded him to Vegas, and began to play better without him, using some of the pieces they got back from them.
But it's been Eichel having the last laugh of late. Playing in his first mostly-full season since a career-threatening neck injury took him away from most of the last two seasons, Eichel put up a not luxurious but still excellent 66 points in 67 games in the regular season, only to step up for 23 points in 21 games in these playoffs. Not only has he produced fairly well, including taking the playoff lead in assists, he's also absorbed the majority of the main matchup minutes, freeing up his other teammates and keeping opponents from doing much with them.
It would be an awesome story if, after all the years of othering, Eichel casually walked into the playoffs for the first time and absolutely dominated them. In a sense, he's accomplished that already, but one more win and a bonus trophy would put that over the top. If the series ends Tuesday, though, he's going to need a takeover game for the ages to vault into the 1-seed.
Sergei Bobrovsky, Florida (+2500)
For a while, it looked like Sergei Bobrovsky could win this trophy even if the Panthers lost this series, a feat not completely unprecedented in NHL history but an extremely rare one at that. After all, from the start of the comeback against the Bruins to the end of the Eastern Conference Final, Bobrovsky had posted an 11-1 record and a 0.942 save percentage against three of the best teams in the sport.
The only way it wasn't going to happened, it seemed, was if there was a combination of him falling back to earth and Vegas' players rising to the occasion. The story was simply too good to pass up otherwise. A 35-year-old netminder who has been mocked for a bloated long-term contract since heading to South Beach was all of the sudden dragging his team to the promised land, even in games where they just barely stayed alive, and across many overtimes splashed in. He had the narrative arc, he had the numbers, he just had to avoid the double whammy scenario.
Well, we've hit the double whammy. That's not to say that Bobrovsky has been atrocious in this final, but Vegas have found ways to get into more valuable areas and finish better than Florida's previous opponents while doing so, and that 0.942 has become a 0.875 in the Final. Now, a 0.924 save percentage over 18 games and 17 decisions is still incredibly impressive, especially given all context, so it makes sense for Bobrovsky to still be in the race. If Florida can once again snatch victory from the jaws of defeat, he'll likely play a huge role and suddenly be vaulted near the top – heck, two elite performances in Game 5 and 6 might put him back in serious contention regardless of how a Game 7 would go. But for now, he's less of an heir apparent and more of just an option – nothing to be ashamed of, not even close, but not the safe bet he felt to be last week.
The Longshots
There are several other players that you can currently get action on with the major books, though most of them are deep longshots at this point. With somewhere between 1 and 3 games to go, there just isn't a lot of time to further weave a storyline here. This list includes:
Of them, Stone (as captain of Vegas) and Verhaeghe (who has had a Tkachuk-like touch of scoring huge goals) probably stand the best chance of catching up, though I'd likely refrain from betting on either.