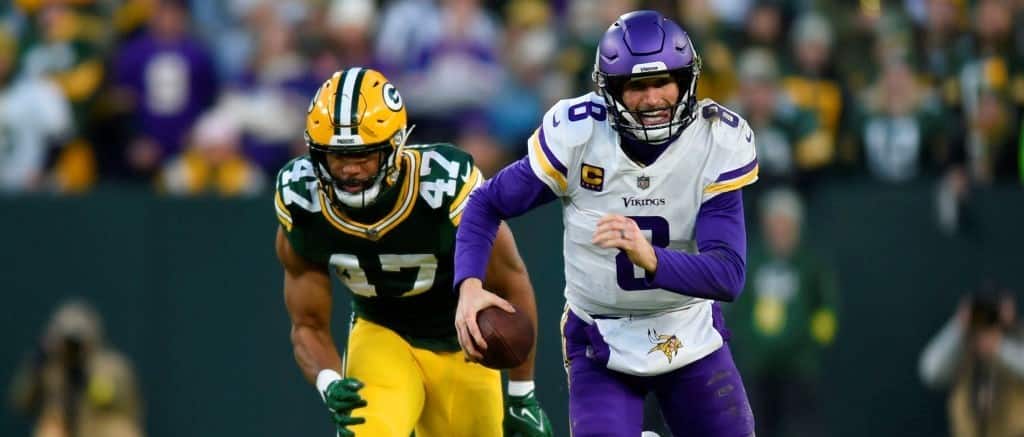 For the first time since 2005, the NFC North is truly a wide-open division. That's what happens when a four-time NFL MVP and living legend departs for the stacked AFC East. That's what happened this offseason as longtime Packers quarterback Aaron Rodgers was dealt to the New York Jets.
Going into the 2023 season, there is a lot of uncertainty about what the NFC North holds. Speaking of 2005, it could be the first time since that year that the Packers finish last in their division.
Here's our NFC North preview featuring odds from bet365.
Detroit Lions
Super Bowl odds: +2200
To win conference odds: +900
Division odds: +130
Odds to make the playoffs: Yes -175, No +145
Season win total: Over 9.5 (-130), Under 9.5 (+105)
2023 record: 11-6 (over 9.5)
Key additions: CB Cameron Sutton, RB David Montgomery, S Chauncey Gardner-Johnson, CB Emmanuel Mosely
Key subtractions: RB Jamaal Williams, CB Mike Hughes, WR D.J. Chark, LB Chris Board
Most important game on the schedule: Week 1 is huge for the Lions. Expectations are through the roof, and they'll need to be sharp out of the gate when they visit the defending Super Bowl champions in the first game of the season. A win or even a competitive loss against Kansas City and expectations will remain high. If they get destroyed at Arrowhead? Lions fans may have their warning lights flashing early.
Prop to watch: Jahmyr Gibbs doesn't get the attention that Bijan Robinson does, but he should. At +1100 for Offensive Rookie of the Year, he slides into a Detroit offence that has serious potential. Many believe that he can be the Swiss Army knife that can make a huge impact both on the ground and through the air.
Potential breakout player: Defensive end Josh Paschal is an interesting player. He missed most of his rookie year after having a sports hernia fixed following his final college season. He appeared in 10 games, starting four, but was clearly working through having missed camp. A pair of sacks in the finale against Chicago last year piqued the interest of the fan base. Defensive coordinator Aaron Glenn has high hopes for him because of his athleticism and versatility. If he can push for more snaps, it is entirely possible that he does real damage playing alongside Aidan Hutchinson.
Betting projection: It's hard not to be excited for the Lions going into this season. They won eight of their final 10 games last year, looking like one of the best teams in the league down the stretch. They even managed to end the playoff hopes of rival Green Bay.
This year, the pieces are in place not only for a return to the playoffs (-175), but potentially the first playoff win for the franchise since 1991. This is the most open the NFC North has been in some time and winning the division (+130) seems like a solid play at this juncture. Given the lack of top-end depth in the NFC, keep an eye on the Lions to make some noise in the playoffs. The over (9.5, -130) isn't 100% safe but stands a good shot if last year is an indicator. If the Lions can get one win in the postseason, those +900 conference odds might not seem so crazy.
Minnesota Vikings
Super Bowl odds: +4000
To win conference odds: +1600
Division odds: +280
Odds to make the playoffs: Yes +100, No -125
Season win total: Over 8.5 (-115), Under 8.5 (-105)
2023 record: 10-7 (over 8.5)
Key additions: TE Josh Oliver, CB Byron Murphy, DE Dean Lowry
Key subtractions: DT Davlin Tomlinson, WR Adam Thielen, CB Patrick Peterson, LB Eric Kendricks, RB Dalvin Cook
Most important game on the schedule: It's hard not to be excited when the Super Bowl champs come to town. Oct. 8 is one Vikings fans should circle because it could show what is to come. The Vikings have a somewhat easy schedule with the Bucs, Eagles, Chargers, and Panthers through four weeks. How they perform against the Chiefs will give a good indication of how the rest of the season will go.
Prop to watch: How do you talk about anyone other than Justin Jefferson? The best wide receiver in the league, Jett is tied with Ja'Marr Chase of the Bengals at +1200 to win Offensive Player of the Year. He led the league in receptions, receiving yards, and yards per game a year ago. If he can bump up his touchdown totals (eight last year), who knows what awards he could win?
Potential breakout player: The Vikings drafted WR Jordan Addison to be the co-pilot for Jefferson, but K.J. Osborn may be the next guy ready to make an impact in the receiving corps. Osborn has been solid the last two years, posting between 50 and 60 catches, 650-ish yards, and around a half-dozen touchdowns. Last year it looked as though he really found chemistry with quarterback Kirk Cousins late in the year and 2023 could prove to be the big year Osborn has been looking for.
Betting projection: The Vikings are perhaps one of the toughest teams in the league to nail down. They were very reliable last year, winning the division handily. They were also the best team in one-score games in NFL history, going an incredible 11-0. Most of that team returns but the outlook isn't the same. They're a strong shot to make the playoffs (+100) because the conference is a bit weak and, historically speaking, the Lions are the Lions. It would shock no one if they won the division (+280) again. That said, the defence is a mess. Cousins and Jefferson can only bail them out so many times in one year. They certainly won't be as good in one-score games, either. Still, this is a good team and over 8.5 wins (-115) seems like a sound play. Past that, there are too many factors that need to fall into place. Alexander Mattison needs to successfully replace Dalvin Cook, the defence needs to make a huge step forward, and Cousins has to prove that he can win when it matters most.
Chicago Bears
Super Bowl odds: +5000
To win conference odds: +2500
Division odds: +400
Odds to make the playoffs: Yes +170, No -210
Season win total: Over 7.5 (-130), Under 7.5 (+105)
2023 record: 6-11 (under 7.5)
Key additions: LB Tremaine Edmunds, G Nate Davis, DE DeMarcus Walker, LB T.J. Edwards, TE Robert Tonyan Jr., DJ Moore
Key subtractions: RB David Montgomery, T Riley Reiff
Most important game on the schedule: The Bears have a very favourable schedule to start the season. Aside from the Chiefs, every other game looks potentially winnable heading into a Week 11 showdown with division favorite Detroit. It could determine who the young upstart in the NFC North really is.
Prop to watch: All eyes facing Chicago are on quarterback Justin Fields. He displayed unreal potential last year, and many believe he's on the cusp of greatness. At +2200 for Offensive Player of the Year, he provides solid value in the category. Some believe he's still got work to do while others think this could be the year he emerges as an elite quarterback.
Potential breakout player: Can TE Cole Kmet even qualify for this status after what many feel has been two good years? Kmet saw his receptions and yardage drop from his 2021 totals, but his touchdowns exploded from zero to a whopping seven. As Fields continues to grow in this offence, having a safety valve will be critical. Kmet has proven to be that so far and the potential only looms larger. If Fields takes a major step forward in 2023, Kmet is likely to go along for the ride with him.
Betting projection: If you're looking for a true wild card team this season, the Bears may be it. They were abysmal a year ago but a lot has changed since then. Fields is on the verge of becoming a franchise player and there are some rumblings that he could take Offensive Player of the Year. The defence gets better with the additions of DeMarcus Walker and Tremaine Edmunds. The offence gets a huge boost at receiver thanks to the trade for DJ Moore. If he can develop a connection with Fields, the over on their wins total (7.5, -130) could be in sight. For now, this is a talented team that has the potential to be big in 2024. Take the under on wins (+105) and feel good about it. If you want something that feels a bit safer, choose the Bears to miss the playoffs (-210) once again.
Green Bay Packers
Super Bowl odds: +5000
To win conference odds: +2200
Division odds: +400
Odds to make the playoffs: Yes +175, No -220
Season win total: Over 7.5 (-125), Under 7.5 (+100)
2023 record: 6-11 (under 7.5)
Key additions: CB Keisean Nixon
Key subtractions: QB Aaron Rodgers, WR Allen Lazard, DE Jarran Reed
Most important game on the schedule: Week 7 against the Vikings is an interesting one. The schedule is somewhat favourable to start with the Bears, Falcons, Saints, Lions, Raiders, and Broncos. A strong defence could have Packers fans feeling good heading into an important division battle with the Vikings. It could also position one of them to be in contention for the division depending on how the Lions start out.
Prop to watch: The Packers went defence even after losing major pieces on offence. Linebacker Lukas Van Ness slides into one of the better defences in the league, setting him up favorably. Watch him for Defensive Rookie of the Year (+1200). He has the size and speed to become a force on the edge in Green Bay, especially since he won't be asked to be the focal point in year one.
Potential breakout player: Offensive line isn't the sexiest position, but it is vital to the success of any team. For that reason, Zach Tom could be the name to watch in 2023. He played every position but centre on the line in his rookie year and wound up as the preferred option at right tackle. This year, it's possible he could take control of the right tackle spot. If he loses a battle to Yosh Nijman, he could easily compete at right guard or centre. His versatility is critical, especially with the transition to Jordan Love at quarterback.
Betting projection: It is a time of change for the Packers. The old regime, namely Rodgers, is out and uncertainty holds sway. There are a million question marks on offence that make it tough to love this team. The defence is one of the best in the league and added another weapon in Van Ness. If they can perform at a 2022 level, the Packers will be in most games. But they aren't good enough to offset what might be an abysmal offence. Love is being given the keys and will have help in the form of a solid ground game. But his development as a starter will be the most crucial aspect. It's hard to believe that he can replicate the successes of Rodgers and Brett Favre before him. There will be growing pains, so missing the playoffs (-220) and falling short of their wins projection (+100) seems most likely.