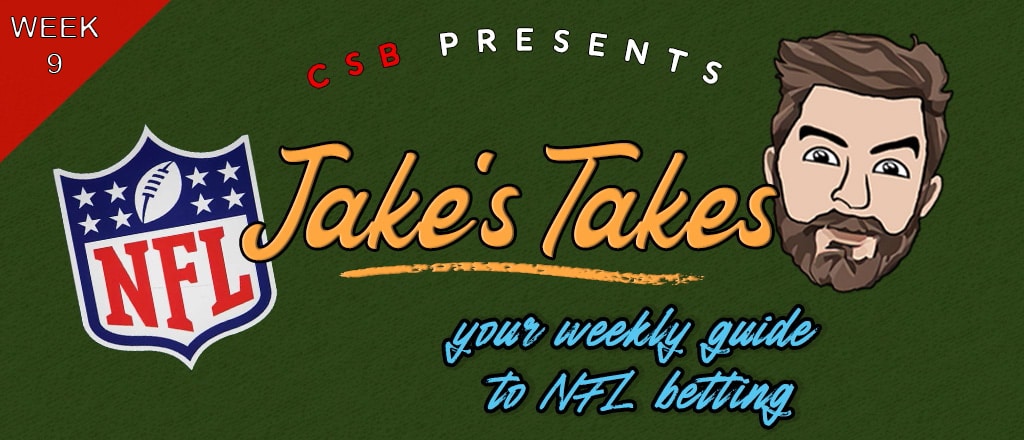 Welcome back NFL fans! With Week 8 in the bag we've officially passed the midway point of the 2023 NFL regular season and we still find ourselves obsessed with the Taylor Swift of it all. Hey, don't shoot the messenger, it's not like I WANT to talk about this, but it's undeniable that an aura of Switfty-ness has permeated around football this year. This was further solidified last week when the Chiefs were unexpectedly thumped by the up til now downtrodden Broncos. Swift was not in attendance, and this fact was front and centre within the game's coverage. With the Chiefs and Dolphins meeting in one of the better clashes in Week 9 and with that game taking part in Frankfurt, Germany, the intrigue over whether Travis Kelce's girlfriend will be there or not may take up more analytical brain power than any statistic will.
Personally, I prefer looking at the numbers when trying to make my picks, but emotional intangibles can't be entirely ignored. Another matchup, perhaps the premiere matchup of the week, with a lot of emotion attached sees the surging Bengals host the Bills. Last season, Week 17's Bengals/Bills clash was derailed by Buffalo's Demar Hamlin collapsing on the field from a cardiac arrest. Hamlin fortunately made a full recovery and is currently part of the Bills' roster, however, the emotional impact of that incident undeniably took the wind out of the Cincinnati/Buffalo rivalry. The Bengals would eventually defeat the Bills in the divisional round and it was clear that Buffalo was a distracted team in the midst of some soul searching. All that being said, this rivalry is real and the hope is that this week's clash can reinject some energy into it.
With a couple marquee matchups in our back pocket and whole bunch more NFL action on deck, it's time we get to checking out the odds, and making some picks!
---
All odds courtesy of bet365
* = Home Team
Underdog
---
Week 9 lines to bet NOW
Kansas City Chiefs– Moneyline: +120
Let's get this game out of the way right off the bat. A lot of attention will be paid to this matchup but ultimately folks need to want to wake up at 9 a.m. ET to watch it. The game itself will be used to grow the international audience, but I'm willing to bet quite a few of us in North America will sleep through it. The Chiefs will certainly not be sleeping on it, however. Despite the travel and unfamiliar confines of Frankfurt Stadium, Patrick Mahomes, Andy Reid and the Chiefs at large will regroup to defeat the Dolphins in Germany. Mahomes was sick during last week's loss to Denver, the team was sloppy, and execution was lacking. Listless, sloppy, lacking finish, not characteristics you'd normally use to describe Kansas City. Despite facing an opponent significantly more polished than the Broncos, we will also see the best side of Mahomes and the Chiefs this week. Bet on a European bounce back.
New York Jets– Moneyline: +150
The Jets aren't getting a ton of respect at home Monday night and that's something we can pounce on. Yes, they just came off a pretty lacklustre win against the state rival Giants. And yes, that game was dreadful to watch, but there was still a lot of positives to draw from it. Despite the lack of rushing output, Breece Hall was as effective in the passing game as I predicted. Breece's haul of 76 yards and a TD on six catches made him essentially the team's second receiver. In Hall, the Jets have a weapon which will get them out of a lot of bad situations and keep them in games. What's more, Zach Wilson's chemistry with second-year receiver Garrett Wilson just gets better and better. Wilson is averaging 11 targets per game this year and has become a powerful weapon and one of the premiere receivers in the league. The Chargers are undoubtedly a tough opponent, but having to travel across the country to play in New York can have an adverse effect on any squad. Not to mention that L.A. sits second to last in overall team defence this year, and with the Broncos seemingly taking some big steps in the right direction, could very well be dead last in a week or two, there's going to be room for the Jets' stars to exploit. Whenever a team from the west coast travels to the east, or vice versa, especially to play a team with the tools that the Jets have, I like the home team's odds.
Los Angeles Rams– Moneyline: +160
Now I'm gonna contradict myself a little bit, the Rams are indeed a west coast team travelling this week to unfriendly confines. Not exactly the east coast but distinctly more frozen than Los Angeles. Usually I would give a pretty stark edge to the home team here, but with Green Bay's play of late, how can I? Particularly egregious has been the play of pivot Jordan Love. There has been no love lost for Jordan, even from his own GM, who was quoted as saying that even his staff has not yet decided if Love is indeed their QB of the future, which is understandable when you break down the stats. Love enters Week 9 ranked 22nd in the NFL among qualified players with a 43.6 adjusted QBR, 28th with a 78.2 passer rating, and 32nd with a 57.7% completion percentage on the season. He's thrown 11 touchdown passes and eight interceptions over Green Bay's first seven contests, and he's routinely failed to impress during a four-game losing streak that has dropped the club to 2-5. Great QBs of Green Bay's past have been able to make a frozen fortress out of Lambeau but opposing teams wont fear the frost with Jordan Love in command.
Week 9 lines to bet LATER
Indianapolis Colts– Moneyline: +120
I have a feeling the money will be going Carolina's way as the week progresses which gives us a bigger opportunity to back this game's eventual winner in Indy. The Panthers just enjoyed their first win of the season, are hosting this tilt, and to top it all off will have the added motivation of head coach Frank Reich's revenge game versus his former team. The resulting attention on Carolina will push bettors to back the upset despite the fact that they are simply overmatched. Neither team has a defence strong enough to prevent a shootout and the Panthers simply do not have the weapons to outpace the Colts in such a scenario. While Carolina enjoys some well deserved positivity let's not get ahead of ourselves. The Colts are winning this one and if you're willing to be patient might be worth a bit more closer to game time.
Bet on Colts vs. Panthers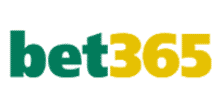 IND -140
CAR +120
Week 9 line that makes me go hmm…
Minnesota Vikings– Moneyline: +180
The Falcons have been consistently inconsistent thus far. After winning their first two games and dropping the next two, they've gone win-loss-win-loss since then for a 4-4 record. Due to that wishy washy span, Desmond Ridder has officially lost his job at QB, as Atlanta will roll with veteran Taylor Heinicke. Meanwhile, the Minnesota Vikings got the news that no team ever wants to receive, the news that their highly-paid, star QB is out for the year with injury. Kirk Cousins suffered an Achilles tear late in the Vikings' Week 8 win in Green Bay and will be out for the rest of the season, to be replaced by rookie QB Jaren Hall. Hall gets his opportunity due to Vikings backup Nick Mullens also being out with injury. Due to this uncertain QB situation, the Vikings are predictable underdogs travelling to Atlanta, but the way I see it, we should look beyond the QB situation when making a pick here. Hall has pedigree, producing two stellar seasons at BYU. In two seasons as a full-time D1 starter, Hall accounted for 53 total touchdowns and just 11 interceptions, along with 798 rushing yards and nine scores. As a junior, he posted career highs for completions (248), attempts (376), passing yards (3,171), passing touchdowns (31), rushes (86) and rushing yards (348). To say that he has the tools to utilize the Vikings' wealth of weapons is an understatement. Even with Heinicke at the helm, Atlanta is still an up and down squad that has a tendency to fizzle. There's a lot to like about backing Hall and the Vikes on the road this week.
---
Betting mismatches of the week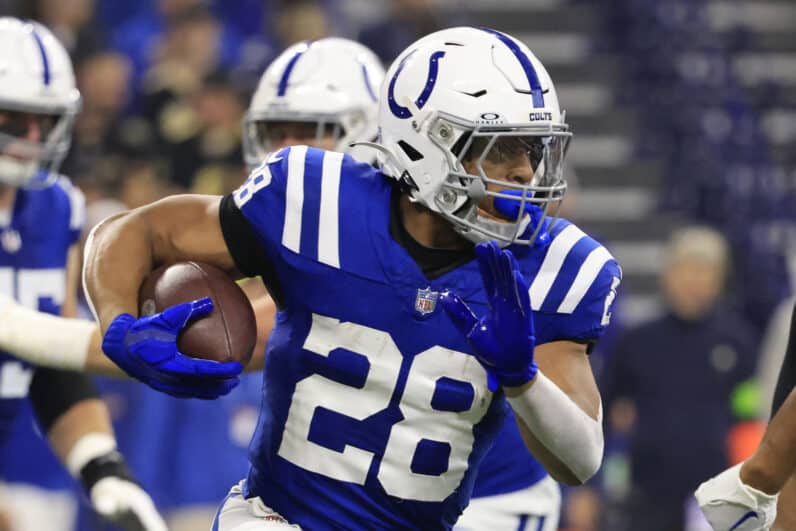 Jonathan Taylor vs. the Carolina Run Defence
Taylor has slowly but surely reintegrated himself into the Colts offence since returning to the team on Oct. 8 and has looked more like himself in Indy's last two games. Over that span, Taylor has amassed 170 yards on the ground and looks to have reached 100%. This fact does not bode well for a Panthers team which sits fourth to last in rush yards allowed heading into Week 9. Look for Taylor and the entire Indy ground game to come out swinging against Carolina in this one.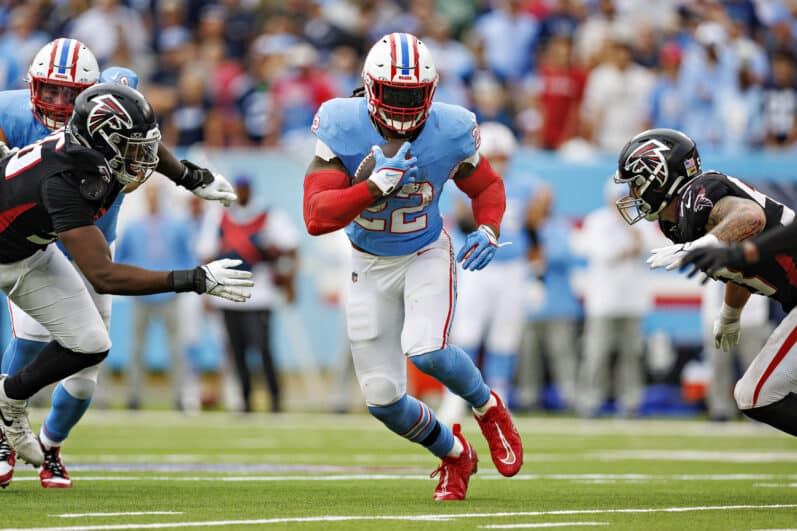 Derrick Henry vs. the Pittsburgh Run Defence
I feel like Henry doesn't get featured or shouted out too much because he is just consistently great. He's averaging 75 yards per game and is as close to a guaranteed performer on any given Sunday. This week is a particularly juicy opportunity to bet on a stellar day as Henry's opponents this week in the Steelers sit sixth to last in rush yards allowed per game and third to last in total offensive yards allowed.
Bet on Steelers vs. Titans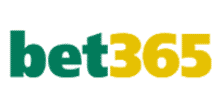 PIT -160
TEN +140
Betting trends of the week
Here are a few trends to keep in mind when placing your bets this week:
ThePittsburgh Steelersare 7-3 ATS in their last 10 🔥
TheMiami Dolphinsare 3-7 straight up over their last 10 🧊
TheCleveland Brownshave hit the over in 6 of their last 10 away games 🔥
TheGreen Bay Packersare 3-7 ATS in their last 10 games as favourites 🧊
TheHouston Texansare 8-2 ATS in their last 10 games as underdog 🔥
---
Player props to play in Week 9
Here's a few player props I love this week:
2nd Half Anytime TD Scorer – Travis Kelce: +220
Kelce can be trusted to bounce back after a Chiefs loss, much like I expect Patrick Mahomes will, so picking him to pick up a score in Germany seems like a no-brainer. On top of that, three of Kelce's last four scores have come in the second half so that's where I'd back him to score one this week.
Player Passing Yards Milestones – 200 Yards – Tyson Bagent: +115
Bagent ran into turn over trouble in his Week 9 matchup against the Chargers but despite the missteps, he showed the football world that he's not afraid to air it out. And air it out he'll have to against a Saints team which ranks first in offensive plays, fourth in pass attempts and 11th in total yards.
1st Half Anytime TD Scorer – CeeDee Lamb: +115
Lamb has been trending in the right direction of late and had a huge game in Dallas' Week 8 win over the Rams. All three of Lamb's TDs this year have come in the first have, so target him there.
⭐ Gold Star Pick ⭐
This week we're gonna switch things up and target some spreads I think are exploitable. Last year I wrote a column of ATS picks and I figured now's as good a time as any to revisit spread betting. I've honed in on three games here that we're gonna parlay into a nice gold star pick for the week.
3-Way Parlay – LA Rams +3.0, WAS Commanders +3.0, HOU Texans -2.5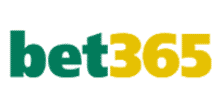 +568
---
2023 NFL Season FAQ
What NFL Teams Have a Bye Week in Week 9?
Week 9: Broncos, Lions, Jaguars, 49ers
What is the 2023 NFL Bye Week Schedule?
Week 5: Browns, Chargers, Seahawks, Buccaneers
Week 6: Packers, Steelers
Week 7: Panthers, Bengals, Cowboys, Texans, Jets, Titans
Week 8: None
Week 9: Broncos, Lions, Jaguars, 49ers
Week 10: Chiefs, Rams, Dolphins, Eagles
Week 11: Falcons, Colts, Patriots, Saints
Week 12: None
Week 13: Ravens, Bills, Bears, Raiders, Vikings, Giants
Week 14: Cardinals, Commanders
What are the 2023 Week 9 NFL Power Rankings?

Buffalo Bills
Kansas City Chiefs
Miami Dolphins
San Francisco 49ers
Baltimore Ravens
Dallas Cowboys
Philadelphia Eagles
Los Angeles Chargers
Jacksonville Jaguars
Cincinnati Bengals
Detroit Lions
Seattle Seahawks
Los Angeles Rams
Cleveland Browns
New Orleans Saints
Tennessee Titans
Pittsburgh Steelers
Minnesota Vikings
New York Jets
Houston Texans
Tampa Bay Buccaneers
Atlanta Falcons
New England Patriots
Green Bay Packers
Indianapolis Colts
Denver Broncos
Chicago Bears
New York Giants
Washington Commanders
Carolina Panthers
Arizona Cardinals
Las Vegas Raiders

(Per ESPN Power Index)
What is the 2023 Week 9 NFL Schedule?

Thursday, November 2, 2023
Tennessee @ Pittsburgh 20:15

Sunday, November 5, 2023
Miami @ Kansas City 09:30 (in Frankfurt, Germany)
Minnesota @ Atlanta 13:00
Arizona @ Cleveland 13:00
Los Angeles @ Green Bay 13:00
Washington @ New England 13:00
Chicago @ New Orleans 13:00
Seattle @ Baltimore 13:00
Tampa Bay @ Houston 13:00
Indianapolis @ Carolina 16:05
New York @ Las Vegas 16:25
Dallas @ Philadelphia 16:25
Buffalo @ Cincinnati 20:20

Monday, November 6, 2023
Los Angeles @ New York 20:15

What is NFL Against the Spread betting?

If you're new to ATS betting in football, check out our convenient primer on Point Spread Betting and take a look at our new and improved Parlay Betting Guide should the mood strike to combine some of these picks!

When are the next week's NFL Lines set?
Typically oddsmakers will set the next week's Game Lines after the Sunday slate of games. NFL Odds will evolve as bets are made throughout the week and NFL Picks made too early may lack vital information. The NFL Point Spreads are set with a somewhat unclear picture and NFL predictions become more informed as the games get closer.