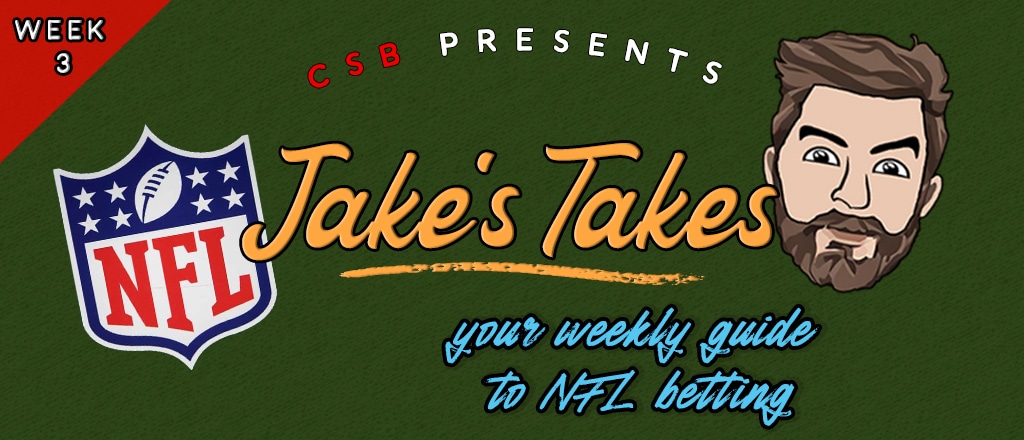 Welcome to Week 3 NFL fans! It feels like we just started this thing yet here we are, gearing up for the third week of the season. Time flies.
As was the case with Week 1, the second week of the football season was tainted by yet another season-ending injury, this time to Cleveland's bell cow running back Nick Chubb (who also happened to be on my fantasy team, yay). The Browns aren't allowed to have nice things, and we should have known that after they beat their Ohio rivals to kick off the season disaster would strike. Boy did disaster ever strike. For any of us unfortunate enough to see the play live (or watch a slo-mo replay), well, football can be pretty brutal. Here's hoping superstar and all around good guy Chubb can make a full recovery.
On to the business at hand, our Week 3 predictions. Last week bore fruit for us, as Philly, Atlanta and Pittsburgh were all winners and the Rams managed to cover (just barely). So let's hope for more good calls here. This week sees some tilted early lines that are hard to disagree with, along with a few tight matchups that will take some dissecting. So let's not waste time and start taking stock of Week 3.
---
Here are a few Week 3 matchups to chew on:
Three lopsided games stand out right away as the49ersface the Barkley-less Giants, theChiefshost theBearsand theCowboys travel to the desert to play theCardinals.
TheLions host the 2-0Falconson the heels of Detroit's disappointing loss to Seattle. Detroit will have to find consistency at some point.
TheBillswill travel to Washington to take on the unbeatenCommanders. Buffalo's 38-10 pasting of the Raiders in Week 2 went a long way in erasing their opening night let down against the Rodgers-less Jets. A win on the road this week will get everyone back on the Bills bus.
Monday night's highlight matchup sees the winlessBengalshost theRams with Joe Burrow's status very much in question. There's a very real possibility that presumed Super Bowl contenders Cincy fall to 0-3.
With some key matchups in hand let's dive into the odds and picks for Week 3 in the NFL.
| Favourite | M-Line | Spread | Total | Underdog | Day/Time (ET) |
| --- | --- | --- | --- | --- | --- |
| San Francisco 49ers | -550 | -10.5 | O/U 45 | New York Giants | Thursday / 8:15 PM |
| Detroit Lions | -170 | -3 | O/U 46 | Atlanta Falcons | Sunday / 1:00 PM |
| Buffalo Bills | -290 | -6.5 | O/U 44.5 | Washington Commanders* | Sunday / 1:00 PM |
| Miami Dolphins | -280 | -6.5 | O/U 48 | Denver Broncos | Sunday / 1:00 PM |
| Jacksonville Jaguars | -450 | -9.5 | O/U 44 | Houston Texans | Sunday / 1:00 PM |
| Baltimore Ravens | -390 | -8 | O/U 54 | Indianapolis Colts | Sunday / 1:00 PM |
| Los Angeles Chargers | -110 | -1 | O/U 54 | Minnesota Vikings* | Sunday / 1:00 PM |
| New England Patriots | -150 | -2.5 | O/U 37 | New York Jets* | Sunday / 1:00 PM |
| Green Bay Packers | -125 | -2 | O/U 43.5 | New Orleans Saints | Sunday / 1:00 PM |
| Cleveland Browns | -180 | -3.5 | O/U 40.5 | Tennessee Titans | Sunday / 1:00 PM |
| Seattle Seahawks | -260 | -6 | O/U 42.5 | Carolina Panthers | Sunday / 4:05 PM |
| Kansas City Chiefs | -800 | -13 | O/U 48 | Chicago Bears | Sunday / 4:25 PM |
| Dallas Cowboys | -700 | -12 | O/U 43.5 | Arizona Cardinals* | Sunday / 4:25 PM |
| Pittsburgh Steelers | -110 | -1 | O/U 44 | Las Vegas Raiders* | Sunday / 8:20 PM |
| Philadelphia Eagles | -230 | -5.5 | O/U 46 | Tampa Bay Buccaneers* | Monday / 7:15 PM |
| Cincinnati Bengals | -130 | -2 | O/U 43.5 | Los Angeles Rams | Monday / 8:15 PM |
All odds courtesy of bet365
* Home Team
Underdog
---
Week 3 lines to bet NOW
Tennessee Titans – Moneyline: +145
It seems obvious to just bet on the Cleveland misery compounding on Sunday but hear me out, there are legit reasons to back Tennessee here beyond the Nick Chubb injury. The Browns depend heavily on their superior pass rush to win games, or at the very least keep the opposing offences off the field to put themselves in a position to win games. Last year, Cleveland owned the fifth-best defence against the pass, giving up 196.2 yards per game. It's where the Browns and particularly Myles Garrett excel. Now compare that to their run defence which in 2022 was seventh-worst in yards allowed per game with 135. Tennessee's entire game plan is to pound the ball with Derrick Henry and limit the need for Ryan Tannehill to throw at all costs. This game sets up well for the Titans, and though it may be close, they'll grind it out in the end.
Minnesota Vikings – Moneyline: -110
The Vikings won all their one-score games in 2022, all 11 of them! Minnesota carved out a 13-4 record last year on the back of nail-biters, and nail-biters can go either way, as is their nature. Now the nails are biting back and the Vikings are 0-2 after dropping their first games, 20-17 and 34-28. Had they the luck of 2022, we would be talking about them in glowing terms. Instead, much like their opponents this week, they sit winless and are aiming to get the season back on track. Biting your nails is not quite the same analogy we'd apply to the Chargers. No, ripping your hair out might be more apt. L.A. finds new and inventive ways to lose from week to week, if not for the play of Justin Herbert, the Chargers would be heavy underdogs every game. If you need more convincing, in Week 2 Herbert threw for 305 yards and two touchdowns, the Chargers sacked Tannehill five times and limited Henry to under 100 yards rushing and STILL LOST. Back the Vikings at home.
Los Angeles Rams – Moneyline: +110
I know what you're thinking, this should be a bet LATER game this week, but hold on a sec, I have my reasons. If Burrow manages to play in this one then the line will remain more or less the same as it is now. Should he be out for this one, the line will get less and less enticing for the Rams. Should Burrow play he'll be running away from Aaron Donald on a bum foot, something no one in their right mind wants to do. We've seen Burrow across two weeks of the season not looking at all like himself and we should jump on this game before the stink gets stinkier. This is billed as a do-or-die game for Cincy and therefore will keep the line relatively sane. Jump on the Rams before folks start to come to their senses.
Week 2 lines to bet LATER
Detroit Lions – Moneyline: -170
This line could easily look better for the Lions in a few days time. Bettors are gonna get nervous that the Lions are gonna Lion this up and fail to live up to expectations once again. Add to that the fact that the Falcons are looking legitimately good thus far and the money will start to swing Atlanta's way. However, I'm confidently picking Detroit to bounce back and win this one at home. Amon-Ra St. Brown had over 100 yards receiving when he exited last week's game with cramping, he could have easily been the x-factor for the Lions had he stayed in. The defence was bad but adjustments will be made, St. Brown will be back healthy, and Detroit will get right.
Bet on Lions vs. Falcons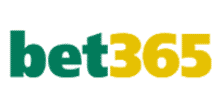 DET -170
ATL +150
Week 2 line that makes me go hmm…
New York Jets – Moneyline: +125
I have a bad habit of underestimating the Cowboys, particularly in the early weeks of the season, but judging from their playoff failures over the last few years, can you really blame me? Well, in Week 2, I underestimated them again and overestimated Zach Wilson, and it didn't work out too good. Now I might be guilty of some under/overestimating once again. Historically, picking the Jets to beat the Pats is really dum dum stuff, as New England has dispatched New York 11 straight times. That's why I'm not entirely sold on this. I'm not making it a lock or anything but there seems to be sharks in the water around Belichick and the Patriots. The Jets return home to MetLife where they pulled off an emotional Week 1 upset of the Bills while New England goes on the road after dropping both of its games thus far at home. The Jets are gonna win a few more games than people expect them to and make Aaron Rodgers' bold claim of being ready for the playoffs an interesting talking point all year. I think this might be one of those wins.
---
Betting mismatches of the week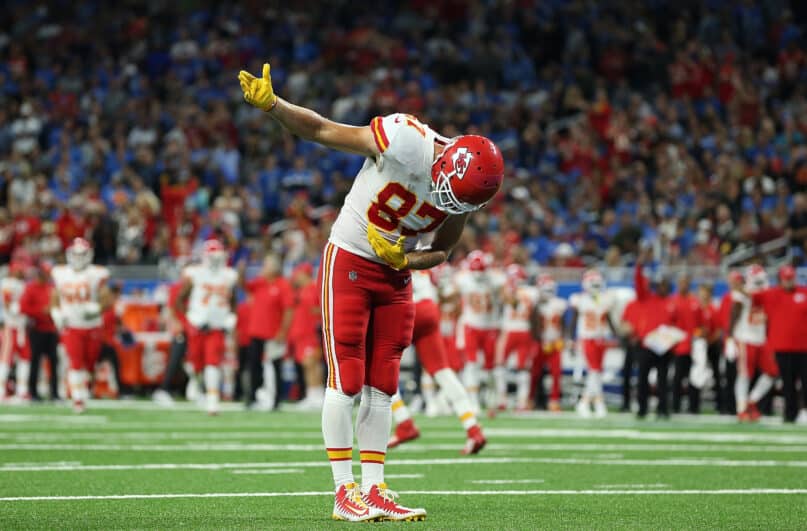 Travis Kelce vs. the Chicago defence
The Bears have given up an eye watering 554 yards through the air in two games, which works out to a per game average of 277. Yikes. Their opponents for those two games: Green Bay and Tampa Bay, not exactly world-beaters with top tier receiving corps. Having been swept by the "Bays" Chicago's reward is now a road matchup with the defending Super Bowl champion Kansas City Chiefs. The Chiefs have sputtered a bit to start the season, dropping an all-around sloppy affair to the Lions in Week 1 and winning an equally-messy game in Jacksonville last week. In both games KC was more or less deprived of its No. 1 weapon not named Mahomes, tight end Travis Kelce. Kelce missed Week 1 rehabbing a knee injury and though he played (and scored) in Week 2, it was clear that his workload was limited. Now, Kelce should be ready for his traditional reps and targets (he averages eight and was only targeted four times in Jacksonville). To add to all that, Kelce's brother, Jason all but confirmed that Travis is indeed dating Taylor Swift. Since Travis has about three weeks until they break up and she writes a scathing pop hit about him, I'd bet he plays pretty well over that span.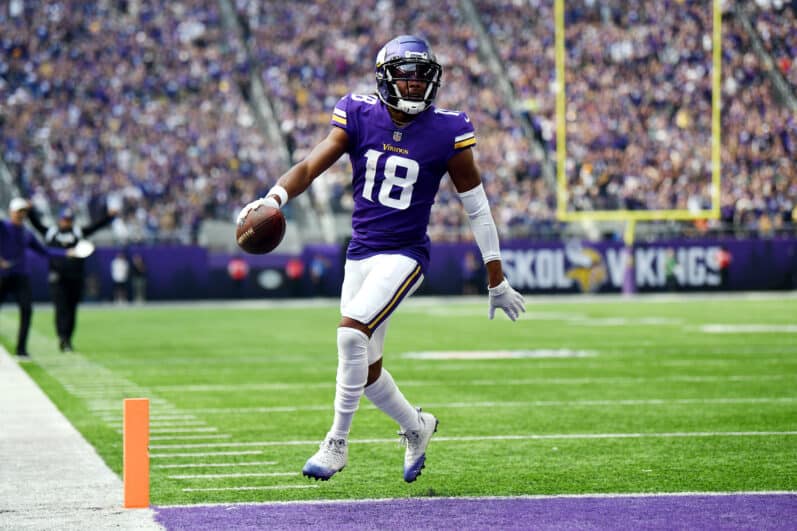 Justin Jefferson vs. the Chargers' defence
If you thought the above passing stats given up by Chicago were tough to read, you ain't heard nothing yet. The Los Angeles Chargers hold the ignominious record of worst pass defence in the league thus far and it's not even that close. L.A. has given up a downright spooky 666 passing yards in two games this year for an average of 333 yards per game (quick maths). The loss of linebacker Drue Tranquill in the off-season (signed with the Chiefs) has put a damper on their ability to pressure the QB. Tranquill led the team with 144 tackles last season (93 solo) and had five sacks and eight quarterback hits plus one interception and one forced fumble in 17 games. Edge rusher Kyle Van Noy also departed after filling in admirably for the injured Joey Bosa in 2022. All that to say that a defence that was middling at best last year is downright dreadful now. L.A. made key draft picks in the off-season to shore things up, but those rookies are still finding their footing, and in the interim, the Chargers are ripe for the picking. Justin Jefferson has 25 targets and 309 yards in two games thus far, and although he's only played the Chargers once in his career, he torched them for nine catches on 11 targets for 143 yards. Expect a massive game from JJ this week.
Bet on Vikings vs. Chargers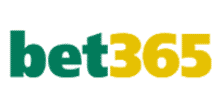 MIN -110
LAC -110
Betting trends of the week
Here are a few trends to keep in mind when placing your bets this week:
TheGiantshave scored first in three of their last 19 games 🧊
The49ersare 13-2 ATS in their last 15 home games 🔥
TheSaintshave gone under the total in 11 of their last 12 games 🧊
Nine of theLions' last 10 home games have seen at least 51 combined points scored 🔥
TheJaguars are 1-10 ATS in their last 11 games as a home favourite 🧊
TheEagleshave scored first in 18 of their last 22 games 🔥
---
Three player props to play
Here's a few player props I love this week:
Anytime 2nd Half TD Scorer: Lamar Jackson (+275)
In 2021 and 2022 combined, Jackson had five scores and 792 yards on the ground in the second half of games that accounted for all his rushing TDs over that span. This week's matchup with the Colts bodes well for a Jackson scamper as Anthony Richardson will likely sit due to a concussion. Without an elite QB on the other side to keep things close, the Ravens won't have to throw too much.
Same Game Parlay: Christian McCaffrey – To Score First TD for the 49ers, To Score Last TD for the 49ers (+525)
This one is kinda fun and has what I think is some pretty simple reasoning behind it. The Niners are gonna romp this Thursday and CMC is gonna be a big part of that. In Week 1, McCaffrey scored the last TD for San Fran, and last week he scored the first. This game is the perfect spot for him to land the double swoop.
⭐ Gold star pick ⭐
Like last week, we're gonna attempt to make a slam-dunk game a little more interesting. Picking San Fran on the moneyline isn't gonna net you much, but if we combine a few factors here into a parlay, we get some worthwhile action. A Barkley-deprived Giants team, in primetime, is gonna crumble. Daniel Jones is quickly becoming the heir apparent to Kirk Cousins, as he currently owns a 1-10 record in prime-time games. New York is gonna get crushed and the 49ers have no issue running up the score. Back a big night from the Niners on Thursday.
Same Game Parlay: Giants @ 49ers – Over 45.5 Points in the Match for Both Teams Combined, Match Result 49ers, Over 30.5 Points 49ers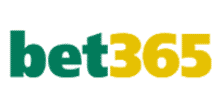 +190
---
2023 NFL Season FAQ
What NFL Teams Have a Bye Week in Week 3?
Week 1: None
What is the 2023 NFL Bye Week Schedule?
Week 5: Browns, Chargers, Seahawks, Buccaneers
Week 6: Packers, Steelers
Week 7: Panthers, Bengals, Cowboys, Texans, Jets, Titans
Week 8: None
Week 9: Broncos, Lions, Jaguars, 49ers
Week 10: Chiefs, Rams, Dolphins, Eagles
Week 11: Falcons, Colts, Patriots, Saints
Week 12: None
Week 13: Ravens, Bills, Bears, Raiders, Vikings, Giants
Week 14: Cardinals, Commanders
What are the 2023 Week 3 NFL Power Rankings?

Dallas Cowboys
Buffalo Bills
Kansas City Chiefs
San Francisco 49ers
Miami Dolphins
Baltimore Ravens
Philadelphia Eagles
Los Angeles Chargers
Cincinnati Bengals
Cleveland Browns
Detroit Lions
Jacksonville Jaguars
Minnesota Vikings
Seattle Seahawks
Green Bay Packers
New York Jets
New Orleans Saints
Atlanta Falcons
Denver Broncos
Los Angeles Rams
Pittsburgh Steelers
New England Patriots
Tennessee Titans
Washington Commanders
Tampa Bay Buccaneers
Las Vegas Raiders
New York Giants
Indianapolis Colts
Chicago Bears
Carolina Panthers
Houston Texans
Arizona Cardinals

(Per ESPN Power Index)
What is the 2023 Week 3 NFL Schedule?

Thursday, September 21, 2023
New York @ San Francisco 20:15

Sunday, September 24, 2023
Tennessee @ Cleveland 13:00
Atlanta @ Detroit 13:00
New Orleans @ Green Bay 13:00
Denver @ Miami 13:00
Los Angeles @ Minnesota 13:00
New England @ New York 13:00
Buffalo @ Washington 13:00
Houston @ Jacksonville 13:00
Indianapolis @ Baltimore 13:00
Carolina @ Seattle 16:05
Chicago @ Kansas City 16:25
Dallas @ Arizona 16:25
Pittsburgh @ Las Vegas 20:20

Monday, September 25, 2023
Philadelphia @ Tampa Bay 19:15
Los Angeles @ Cincinnati 20:15
What is NFL Against the Spread betting?

If you're new to ATS betting in football, check out our convenient primer on Point Spread Betting and take a look at our new and improved Parlay Betting Guide should the mood strike to combine some of these picks!

When are the next week's NFL Lines set?
Typically oddsmakers will set the next week's Game Lines after the Sunday slate of games. NFL Odds will evolve as bets are made throughout the week and NFL Picks made too early may lack vital information. The NFL Point Spreads are set with a somewhat unclear picture and NFL predictions become more informed as the games get closer.