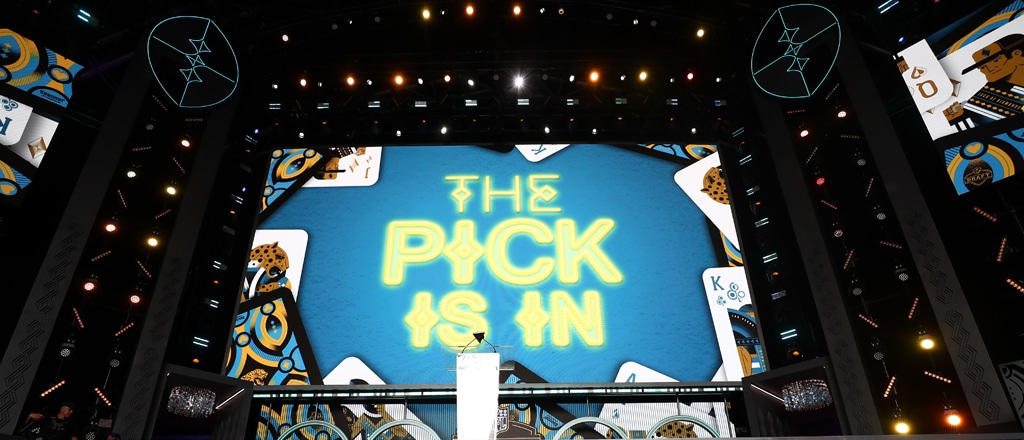 The NFL Draft signals the mighty engine of football to fire up anew as the true business of crafting champions begins for 2023. An eager and talented draft class awaits its fate in what is one of the more intriguing and exciting rituals in pro sports.
There's plenty of speculation and player movement leading up to the event, but the Draft serves as an all important green light for the season. This year's NFL Draft presents us with a mixture of mystery, drama, and anticipation that any good draft should, so let's dive in shall we?
Chicago deep dish deal
For starters, this year's first overall pick was traded for only the 12th time since the NFL/AFL merger in 1967. The Chicago Bears, who held the first choice by virtue of their 3-14 record, found themselves in the curious position of already having their quarterback of the future in Justin Fields, but little else to surround him with. As football goes, so too does the draft. In other words, quarterbacks are king. A franchise cannot hope to succeed without a franchise quarterback and the Bears already possess one. So, in a shrewd bit of business, the decision-makers in Chicago acquired an almighty haul from the No. 9 pick holders, Carolina.
The Bears flipped the first overall pick to acquire wide receiver D.J. Moore and four more picks across the next three drafts: The Panthers' first-round pick in 2023 (No. 9), second-round pick in 2023 (No. 61), their first-round pick in 2024, and their second-round pick in 2025. Next time you dream of your team trading up for the first overall pick, remember to consider the potentially painful price tag attached.
So with that trade, speculation began about who Carolina would settle on with the first pick. It's one thing to earn your shot at the top prospect in the sport by just being really bad, it's another thing entirely to leverage so much player and draft capital to potentially right your franchise for years to come. Needless to say, the Panthers have put themselves and their gamble firmly under the microscope.
The (Bryce) Young and the restless
The presumptive No. 1 pick has been, and remains to be, Alabama quarterback Bryce Young. In fact, since opening at -120 (odds courtesy of BetMGM), Young now sits at a slam dunk -2000 to hear his name called first on Thursday night. But that doesn't mean there hasn't been some hand-wringing between pundits, scouts, and oddsmakers about who is truly the top talent in this year's quarterback field and as such will ultimately win over the Carolina brass.
Two of Young's peers, Ohio State's CJ Stroud and Florida's Anthony Richardson, have made serious claims to be the draft darling. Stroud even claimed the top spot briefly in March, coming in at -300 at BetMGM. Richardson's opening odds of +10000 have dropped dramatically, and now sit at +2500 while being as low as +500 in March. Of course the lion's share of odds action in March resulted from oddsmakers and the collective football world reacting to the first overall pick being traded to Carolina. That being said, there's a case for all three men to be taken first and a case for the Panthers to pass on them.
The case for Bryce Young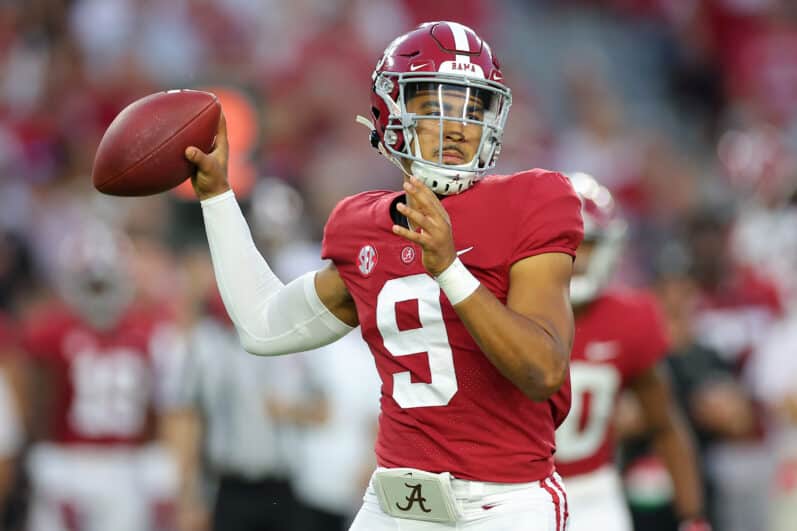 To excel at quarterback is to excel at reading the field and exploiting gaps, and no one in this draft class is better at that than Young. Young has been the best player in college football for the last two years. He's a talented playmaker who can throw accurately to all areas of the field, with excellent footwork and deception. He's also the best out-of-structure quarterback in the draft, with the agility and acceleration to extend plays and hit receivers on the run. His pocket awareness, quickness, and evasion skills should mitigate concerns about his size. But therein lies the rub. Despite the fact that Young will most likely be the No. 1 pick, his size will always leave room to wonder. At 5-foot-10, it's not like he's freakishly small. In fact, he's identical in size to current Arizona Cardinals quarterback Kyler Murray, who is one of the elite talents at the position in the league.
Though there may be bigger quarterbacks in the draft, none possess the same level of maturity, understanding of the game, and athletic prowess as Young. In short, he's the likely No. 1 for good reason.
Prediction: Young goes first overall to the Carolina Panthers
Bryce Young – 1st Overall Pick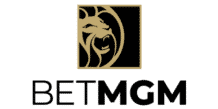 -2500
Bet Now!
The case for CJ Stroud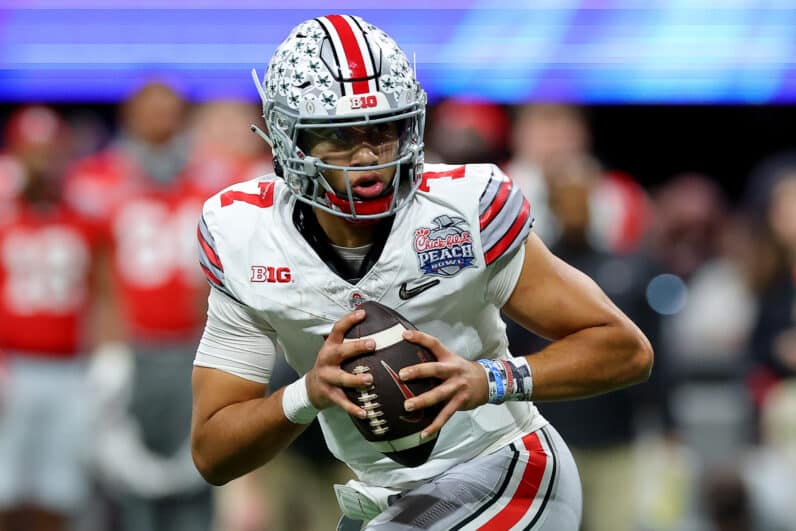 In the NFL, quarterbacks are bound to take hits no matter how elusive they are. Players in the mould of Russell Wilson and Murray have managed to stay in the game, but only after adding muscle to their frames for protection. Even so, Wilson and Murray struggle with hitting the most valuable part of the field, the intermediate middle.
Stroud will get looks at first overall primarily for the size advantage he possesses over Young, but he's not merely a big frame. Stroud has a natural talent for passing, boasting a quick release and a strong arm that can make even the tightest of throws. His ability to alter his arm angle and release is an asset that allows him to adjust to any situation. He's considered by many to be the most accurate quarterback in the draft. His processing and vision make him a threat, and his ability to manipulate defences is outstanding.
Stroud might not have the field awareness, pocket presence, and creativity that Young possesses, but the difference between them isn't that significant. Stroud has a bit less experience with pro-style concepts, and adjusting to the NFL could take some time. However, the goal is not to win the first game of his rookie season, but to eventually win the Super Bowl. And Stroud has an excellent chance of achieving that.
Prediction: Stroud goes to Houston at #2.
CJ Stroud – 2nd Overall Pick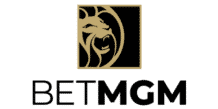 +1400
Bet Now!
The case for Anthony Richardson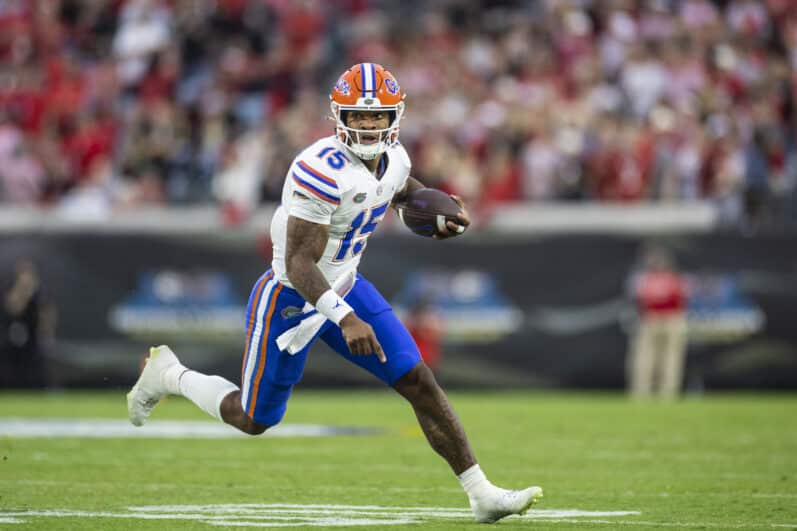 Richardson has been described as having the "highest ceiling" of all the quarterbacks in the draft but also the "lowest floor."
The high ceiling expression, especially in draft terms, is often code for talent with baggage, and in terms of Richardson it's execution more than physical talent that may hinder him in the long run. The young quarterback has taken to nicknaming himself "Cam Jackson" as he compares his style of play to those of Cam Newton and Lamar Jackson, and if he can perform at the level of those two greats, then any NFL GM would be thrilled to have him. However, a potent mix of speed, arm strength, and athleticism is often hindered by his lack of consistency and accuracy, as his low completion percentage suggests that he struggles with threading the needle and hitting his receivers. The potential for greatness is there, and though I doubt Carolina opts for that much risk with the first overall pick, another team in need of a franchise cornerstone may well hit a home run with the Richardson pick.
Prediction: Richardson goes to Indianapolis at #4. (Arizona has the 3rd pick and does not need a QB)
Anthony Richardson – 4th Overall Pick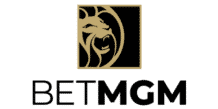 +5000
Bet Now!
Rising stock: Will Levis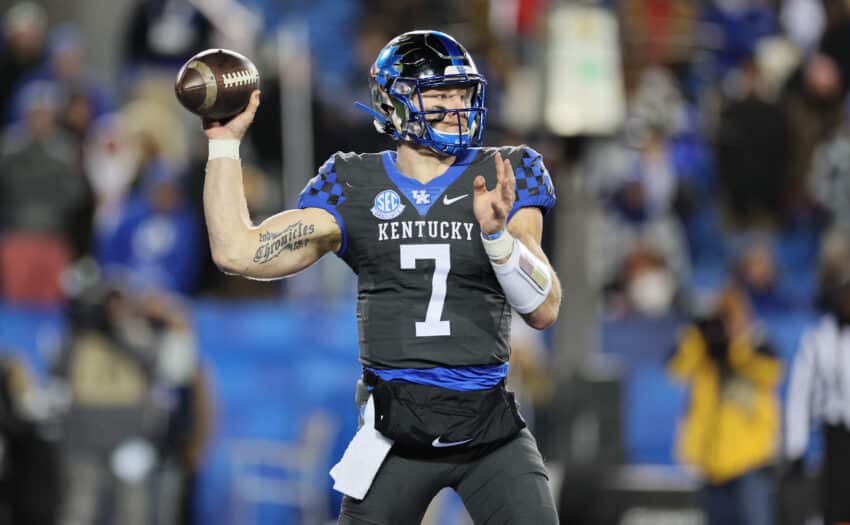 Will Levis is high on the quarterback tier for this draft, but he was never high enough to threaten for that No. 1 spot leading up to the draft. Of course, sports discourse would be nothing without rumours and speculation shifting the way we feel about players and trends.
With that in mind, it's no surprise that two days before the draft, a seemingly innocuous thing like a Twitter post could send the odds world on it's head:
Levis is a seasoned pro-style quarterback. His arm is a weapon to be feared, not just for its strength, but also for the way he can use it to improvise and overcome tough situations. He's one of the few quarterbacks who can make throws on the run, off-balance and under pressure, and still hit his target with precision.
Compared to other quarterbacks in the draft, Levis stands out for his arm talent and athleticism. He's more accurate and has better field vision than the better athlete in the draft, Richardson. He also doesn't have the size concerns of Young or the pressure concerns of Stroud.
The concerns about Levis, however, are with his consistency, particularly in terms of anticipation and field vision. He's been coached by two former NFL coaches during his time at Kentucky, and certainly has the potential to develop into an elite quarterback, but he'll need guidance. He may need some time, but his arm talent is rare, and his experience in a pro-style offence is a big plus.
Are the rumours about Levis true? We'll all find out together when the draft opens on Thursday. Until then, let the speculation run wild.
Will Levis – 1st Overall Pick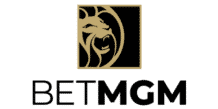 +1000
Bet Now!
🍁 Choice Canadian Draft Stock 🍁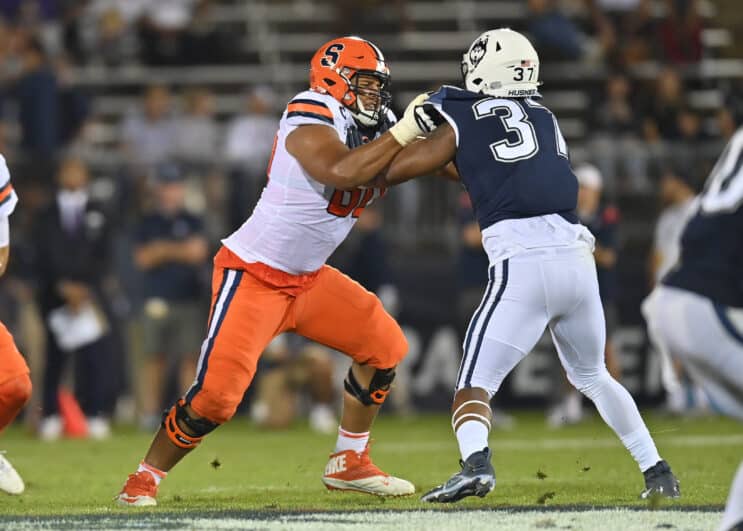 Four Canadian players were drafted in both 2014 and 2021, and that number still stands as the record for most in one year. However, 2023 has a decent chance of being the record-breaker as there are five Canadians projected to be taken in this week's NFL Draft.
Matthew Bergeron
Topping this year's list is Victoriaville, Quebec native Matthew Bergeron. The six-foot-five, 323-pound tackle from Syracuse was a 2022 second-team All-ACC selection and AP All-ACC second-team selection and is projected to be an early second round pick.
Sydney Brown
Second amongst Canadian prospects is Illinois captain Sydney Brown, hailing from London, Ontario. A defensive back, Brown was first-team All-Big Ten and tied for third in interceptions amongst D1 players. Brown is expected to be picked late in the second round or sometime in the third.
Chase Brown
Sydney's twin brother, Chase Brown, a running back also at Illinois, finished fourth in NCAA rushing with 1,643 yards, averaging five yards per carry. He also eclipsed the 100-yards rushing plateau in 10 games last season and is expected to go somewhere between the third and fifth rounds.
Sidy Sow
Sow, a native of Bromont, Quebec, is considered a raw talent that needs polishing. The left guard for Eastern Michigan started in 13 games in 2022, allowing only two sacks in 949 snaps. He's expected to be picked somewhere in the third to fifth rounds.
Tavius Robinson
Robinson, from Guelph, Ontario, is a defensive end at Ole Miss. He finished the season with 44 total tackles, including eight TFL. He also tallied seven sacks and five forced fumbles, both of which led the team. He's projected to be called somewhere in the fifth round or later.
Matthew Bergeron, Sydney Brown or Chase Brown Selected in First Round – Yes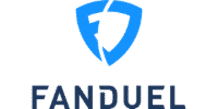 +150
Bet Now!
The Buffalo of it all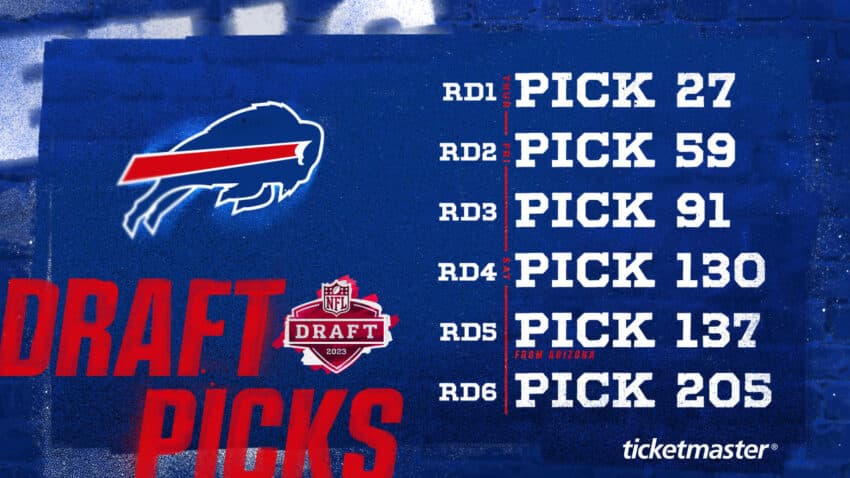 A wide swath of Canadian football fans are de facto Buffalo Bills fans. The proximity to Canada, paired with Buffalo's recent success, has only intensified that love affair. The Bills are now aiming to keep their competitive window open as long as possible, and while GM Brandon Beane wrestles with an ever-narrowing cap crunch, the 2023 draft can serve to bolster a team with serious championship aspirations. Buffalo owns six picks this year starting with No. 27 overall. Let's take a look at the Bills' most glaring needs.
Linebacker: The departure of Tremaine Edmunds in free agency has left a gaping hole in the Bills' defensive lineup. Failing to fill this crucial position could prove to be a costly mistake, especially considering that linebacker plays an essential role in Coach Sean McDermott's defensive strategy. As it stands, the team's current options at linebacker do little to inspire confidence and could potentially become a liability. Addressing this glaring need must be the Bills' top priority heading into the 2023 season.
1st Drafted Player Position – BUFFALO BILLS – Linebacker

+300
Bet Now!
Wide Receiver: The team has certainly made strides in revitalizing its receiver corps of late, however, a missing piece of the puzzle still remains. The Bills need a game-changing receiver who can elevate their performance to new heights and alleviate some of the pressure on Stefon Diggs. The clock is ticking, with Gabe Davis set to become a free agent after 2023 and Diggs approaching his thirties at the end of this season. It's high time for the team to prioritize acquiring an early-round receiver who can bring both immediate and long-term benefits to the position.
1st Drafted Player Position – BUFFALO BILLS – Wide Receiver

+200
Bet Now!
Defensive tackle: The Bills only need one more defensive lineman to complete their lineup for the upcoming season, but the situation is more complex than it seems. Ed Oliver, DaQuan Jones, and Tim Settle – the current trio holding down the position – are all set to become free agents after the season ends. Therefore, Buffalo has to look beyond the immediate future and start prepping for the long term. As such, this year's draft could be an excellent opportunity for the Bills to lay the groundwork for a sturdy and reliable future at the position.
1st Drafted Player Position – BUFFALO BILLS – Defensive Lineman

+170
Bet Now!
A Missouri-sized event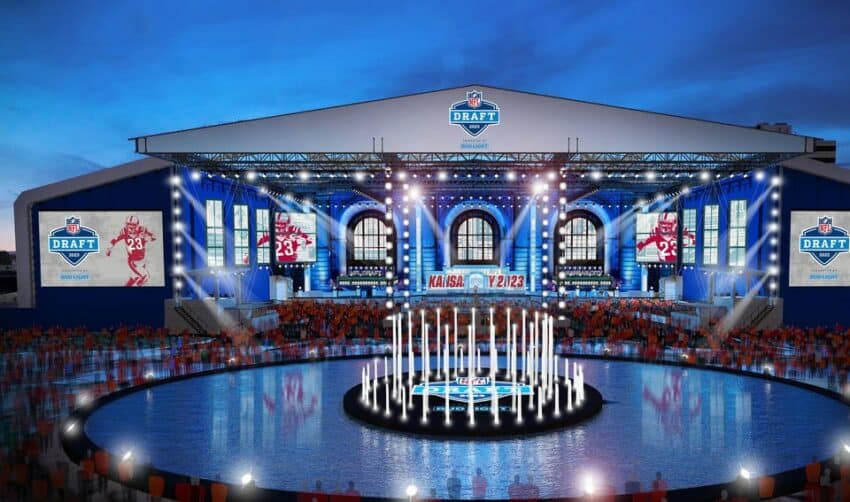 This year's NFL Draft takes place in the home of the 2022 Champions, Kansas City, and is set to be the biggest event in NFL history (by area that is).
With a whopping footprint of approximately 3.1 million square feet, the draft site at KC's iconic Union Station is one million square feet bigger than the previous drafts in Cleveland and Las Vegas.
According to Katie Keenan, the NFL's senior director of live event operations, the league's aim is always to outdo themselves and make every event even more spectacular than the last. One of the reasons behind the massive size of the event is the NFL's desire to showcase Union Station, which boasts three large windows. In order to make this happen, they had to construct their largest theatre structure to date – a behemoth that measures 378′ x 176′ and is about the size of a football field.
But that's not all – the 2023 draft will also feature the most TV screens ever, including two IMAX-sized screens flanking the theatre structure, a first in draft history. And to make sure that fans farther away can also enjoy the action, there will be 10 screens outside the venue.
With all these grand plans in motion, one thing is clear – the 2023 NFL Draft is shaping up to be a truly unforgettable event.