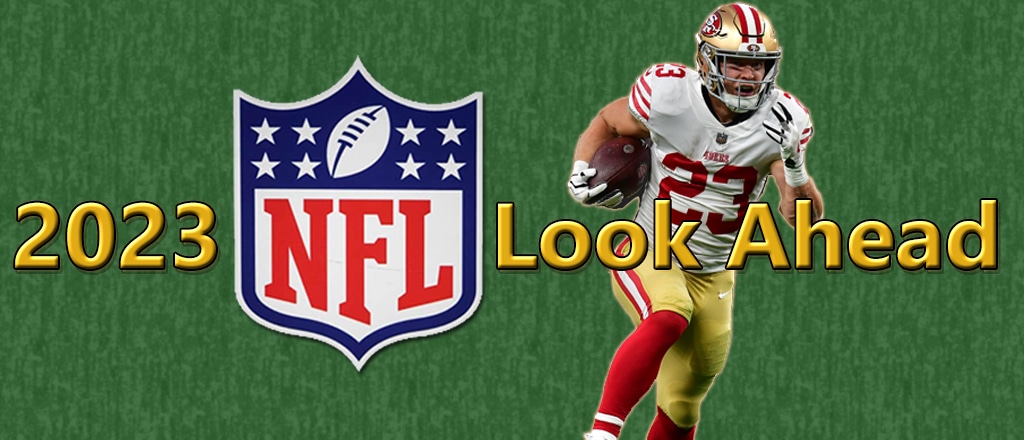 The 2022 NFL season officially came to a close on Sunday evening, with the Kansas City Chiefs narrowly defeating the Philadelphia Eagles in Super Bowl LVII by a score of 38-35. Expect to see plenty of buzz around both teams in the near future, as Patrick Mahomes and crew cemented their status as an up-and-coming dynasty while Jalen Hurts showcased his talents as Philly's franchise face with a historic performance. But as the 2023 offseason kicks off, the spotlight will soon shift to the rest of the league.
Sure it seems way too early to start prognosticating about a football season that's seven months away, but that's part of the fun! The NFL off-season will be chock-full of narratives and speculation so why waste any time?
Super Bowl outright odds are already posted, so let's dive into to the key factors, key players, and key teams to look out for in 2023.
The Favourites
As we look towards 2023 and the early favourites to win Super Bowl 58, the top five doesn't illicit much in the way of surprise. Those of us who paid close attention during the recent playoffs know that the teams at the top of the heap will likely remain there in the short term. It's the second half of the top 10 that may really see some flux in the coming months. Huge questions about star players returning or not returning, off-season acquisitions that may bump some off this list, and bump others on to it, and major coaching shakeups that may squeeze that little bit extra out of under-performing squads.
For now, we can rest easy knowing that the top end of this list may not change much, but with a little digging, we may be able to uncover some teams that are paying off as longshots now, whose true odds may not actually be that long.
The QB Carousel
Two major pending quarterback decisions loom large over the outlook for next season, as Aaron Rodgers and Lamar Jackson's futures remain hard to pinpoint.
In Rodgers' case, the veteran quarterback for the Packers hasn't given any clear indication about his future plans. However, if he does decide to come back, a separation from Green Bay appears to be a greater possibility than ever before. According to reports, the team is willing to entertain offers to trade Rodgers and may be ready to hand the reins over to their former first-round draft pick, Jordan Love. With plenty of potential takers in the market, it seems that Green Bay is serious about moving on from its star signal-caller. This could cause major ripples in the power structure of the league, particularly in the AFC, as rumours have linked Rodgers with a move to the Big Apple and a gig with the Jets. The Jets are already a talented squad, and the addition of Rodgers may very well make them contenders in 2023.
As for Jackson, The Baltimore Ravens have repeatedly expressed their desire to keep him as their quarterback for the foreseeable future, but they have yet to meet his contract requests or successfully bring him back to the bargaining table. While a franchise tag could be used to maintain control over Jackson for the 2023 season, a holdout would be a distinct possibility there. Adding fuel to the fire, there are now rumours circulating that Baltimore is willing to part ways with the former MVP, who has struggled with injuries. As a result, a potential split between the Ravens and Jackson seems like it could be a realistic scenario.
These two quarterbacks hold a lot of potentially league-altering power in their hands and their decisions will ultimately shape the power rankings for 2023 and beyond. Exciting stuff!
Your Turn Coach
Coaching changes are commonplace in sports and the NFL is no exception. Already in 2023 we're seeing major regime shakeups and even some coach/team reunions that may well impact the balance of power.
Chief among the changes so far has been that of Sean Payton unretiring to take the reins of the Denver Broncos. The New-Look Broncos of 2022, complete with recently acquired quarterback Russell Wilson were more suited for a glue factory than Churchill Downs. Wilson never clicked with rookie head coach Nathaniel Hackett, whose play calling was downright perplexing at times (potentially bad news for the Jets who turned around and hired Hackett as offensive coordinator). Payton brings pedigree and respect to the Denver locker room and will hope to build around Denver's superior defence. If Payton can get more from Wilson and the offence, they could be a dark horse (heh) pick for a playoff berth.
To Indianapolis now, where Shane Steichen was hired as head coach fresh off his trip to the Super Bowl as the Eagles offensive coordinator. The Colts have plenty of talent to build on and with the fourth overall pick in this year's draft, will hopefully have a decent young quarterback to give the keys to. Hiring an offensive coordinator as your head coach is usually a pretty clear signal of intent, and the Colts want to expand upon the skilled players they already have, and those lie primarily on the offensive side of the ball. The Colts could surprise and challenge other teams around them or be a really fun team to watch that still loses 14 games. Either way, it will be really interesting to see what they do.
An interesting reunion of sorts in New England has maybe flown under the radar but could pay dividends for the Pats nonetheless. Bill O'Brien, who spent four years in various offensive coaching roles with the Patriots between 2007-2011, returns to Foxborough as offensive coordinator. O'Brien has had a interesting resume since departing, coaching both Penn State University football for two years and the Houston Texans for four. O'Brien even served as the Texans' GM in 2020 and was responsible for the heavily criticized trade of beloved wide receiver DeAndre Hopkins to the Arizona Cardinals. His short-lived stint as a general manager aside, O'Brien brings a wealth of experience to the Pats and (perhaps more importantly) an existing rapport with head coach Bill Belichick. The Patriots seem to be on the precipice of a rebuild, or at least heading for major changes, but for now they are content to see if they can compete for one more year before those major decisions are forced upon them. The pedigree of O'Brien may well stay the executioner for a little while longer.
The Sleeping Giants (Not actually the Giants)
If you were paying attention this past season, you'll know that there are a few teams that seemed primed to take that all important "next step" into contention. The catalytic moment that all fanbases wait for, where the total sum of all the trades, signings, drafting, developing, coaching, and culture coalesces into a powerhouse. Ok, maybe I'm being a little hyperbolic here but it sure is fun to see also-rans finally come good and see new teams in the power mix.
The New York Jets
The Jets have a talented core and were in the playoff mix until the very end. They seem resigned to give up on quarterback Zach Wilson and either find their quarterback of the future in the draft, or find their quarterback of right now in someone like Rodgers. Rookie running back Breece Hall was a major breakout prior to his season-ending injury and will headline a talented 2023 offensive group. Add a plus defence, a good draft, and some off-season moves, and the Jets may finally start to take some steps into the sun in 2023.
The Detroit Lions
If you've read my NFL coverage at all this year you'll know that I (along with many NFL fans) fell in love with the 2022 Detroit Lions. They were not supposed to be as good, or as fun as they were, but youth has come to claim the dreariness of Lions past and bring them kicking and screaming into relevance. Breakouts like wide receiver Amon-Ra St. Brown and running back D'Andre Swift make Detroit's offence threatening on every play and a joy to watch. Don't get me wrong, the Lions are by no means a complete team, but their performances in 2022, capped off by a near miracle 8-2 run to end the season, will prove valuable in attracting free agents to this once moribund franchise. Bills fans north of the border have gotten treated to successful-ish Buffalo teams in recent years and I can only hope for the same for Canadian Lions fans.
The Jacksonville Jaguars
Sure this one is less of a secret as the Jags were obviously good this year, not only making the playoffs, but winning their first-round matchup. However Jacksonville's season as a whole was a bit shakier than you'd like from a contender. Clearly the topsy-turvy disaster that was Urban Meyer's short-lived run as head coach in 2021 took a while for the Jags, and star quarterback Trevor Lawrence to forget. Now that it's fully in the past and head coach Doug Pederson has had a full season with the team and its franchise pivot, 2023 looks to be the start of a truly elite era for Jaguars football. As we've seen with the likes of Buffalo, Kansas City, and Cincinnati, a true MVP-calibre quarterback has the ability to take a franchise to new and rarified heights and maintain that success despite personnel changes around them. Jacksonville seems to be primed to fully enter the prime Lawrence years, and we'll be hearing about the Jags for a long time.
The Stars of 2023
The 2023 season will be loaded with top-tier talent that will compete for the title of NFL MVP. Mahomes, winner of the 2022 award (and a little thing called the Vince Lombardi Trophy) will be the betting favourite so soon after season's end, but there are many who could challenge his spot as the league's top player.
The usual suspects will reside at the top of the MVP odds heap for the majority of the offseason with little save a surprise injury to derail them. Star quarterbacks Joe Burrow, Josh Allen, Justin Herbert, and Jalen Hurts round out the top five.
This early in the offseason there are going to be major sleeper picks with longer than normal odds and it might be the best time to pounce on them if you can stand the long wait for potential payoff. The aforementioned Lawrence has everything it takes to put together a MVP season and 2023 may well be the year he's primed to do it in. Upstart quarterback Justin Fields looked every bit the most valuable player on several occasions in Chicago this year, and with the Bears primed to get him some help in the draft, Fields could surprise everyone in 2023.
And like a perfect circle we return to Rodgers and Jackson. Both have won MVP titles in the not-so-distant past and still have the talent to do so. If either, or both, land on legit contending teams like say the Jets or the Raiders, we could see everything line up for them to challenge for the NFL's top individual prize once again.
There's so much still to be decided this offseason, before camps open, and well before the opening kick off of the 2023 season, but there's so much fun to be had in the wild speculation. We at CSB hope you enjoyed all of our NFL coverage this season and look forward to continuing to be the No. 1 destination for NFL betting news in Canada. For now, let's take a well-earned break from thinking about spreads, quarterback controversies, and Gatorade showers and come back all that much stronger next season! Until then!