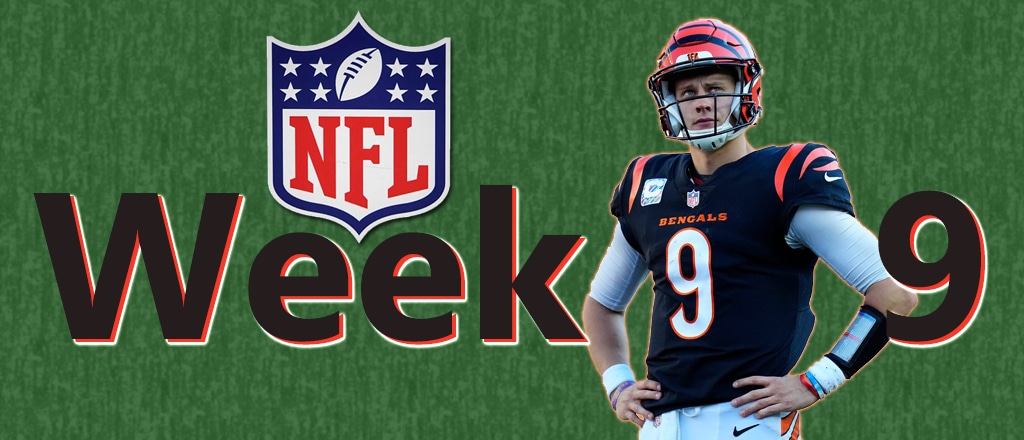 Bit of a letdown last week no doubt, but there was enough evidence to keep me zen in trusting my process. A 7-8 score in Week 8 could very easily have been 9-5 or 10-4 had a few thin margins gone our way. We roll on undaunted into a Week 9 slate that sees a lot of teams on a bye and more double-digit lines than any week before. Mismatches a plenty? Or trap game central? Read on to find out!
As always if you're new to ATS betting in football, check out our convenient primer on Point Spread Betting.
Week 9 Record: 7-8 😕 / Season Record: 62-61🙂
Without further ado, on to the Week 9 picks against the spread.
Skip Around to Any Week 9 Game Here:
Thursday Night Game
Philadelphia Eagles (-13.5) @ Houston Texans
As demonstrated by the Packers' backdoor cover in Week 8, these double-digit lines are trouble. That being said, these Eagles beat the Steelers by 22 points last week, and didn't seem to take their foot off the gas at any point. Provided that trend continues here against an even worse opponent, then not much digital ink need be spilled.
Eagles keep flying and cover easily.
Pick: Eagles Cover
Sunday Afternoon Games
New England Patriots (-5.5) vs Indianapolis Colts
The Pats made Zach Wilson look the fool in Week 8 and I fear the same fate for Colts rookie quarterback Sam Ehlinger. Ehlinger showed some flashes of brilliance last week, and at least gives Indy fans something to build on in what has been a pretty dreadful campaign thus far, but facing the New England defence at home is far from a positive. Running back Jonathan Taylor briefly exited the game last week with an ankle injury and is clearly not 100%, neither is the Colts offensive line, which is as porous as can be, offering both Ehlinger and Taylor zero time and space.
Indy has produced some against-the-grain results this season, but I don't see anything in Week 8 to indicate a breaking from script. Bill Belichick tortures yet another greenhorn quarterback at Gillette Stadium and the world keeps spinning.
Pick: Patriots Cover
Buffalo Bills (-12.5) @ New York Jets
I promised I'd hang in there with the Jets until they gave me a sign not to, and last week they gave me that sign. I think this season will start to veer downhill for New York and that can be attributed to the loss of running back Breece Hall. A good, workhorse back opens up so many options for the rest of the offence. If you lose that, you lose your mojo, and the Jets sure looked like they were sans mojo last week.
Had this matchup occurred a few weeks ago, I would've picked the Jets to beat this line without a second thought, but based on recent trends I have to opt for Buffalo to steamroll here.
Pick: Bills Cover
Best NFL Sign Up Bonuses in Canada
If you're looking to sign up for a Canadian Sportsbook for the first time and put these picks to good use, check out these great sign up bonuses currently on offer:
New users at BetVictor can get a 100% deposit bonus up to $500! – Sign Up Now
New users on Bet99 will get a Matched Bonus of 100% on their first deposit, up to $500! – Check It Out
New users at PariMatch get a 100% deposit bonus of up to $500 with a minimum deposit of only $10. – Sign Up Today
Miami Dolphins (-5) @ Chicago Bears
Pick: Dolphins Cover
Minnesota Vikings (-3.5) @ Washington Commanders
Pick: Vikings Cover
Vikings 27 – Commanders 21
Green Bay Packers (-3.5) @ Detroit Lions
The Lions are getting ever closer to that fun, high-powered offence we saw earlier in the season, before it was derailed by injuries. They kept a very good Dolphins team honest in Week 8, and are getting a Packers team desperate for things to go right. Desperate means Aaron Rodgers will try to force plays and turn this into a shootout.
I'll take the (mostly) healthy Lions on home turf to add to the Green Bay misery.
Pick: Lions Beat the Spread
Los Angeles Chargers (-3) @ Atlanta Falcons
I have to admit, I have a lot of respect for the 2022 Falcons. They've changed my perception of them and are a fun team to root for, which makes this game all the more difficult to call.
The factor that stands out to me the most in this tilt is not Atlanta's home-field advantage, but rather LA's Week 8 bye (Read: Much, much-needed rest).
The Chargers are the superior squad, and while no team is 100% healthy at this point in the season, the first week off a bye is about as close as you're gonna get.
This is going to be a nail-biter, but give me LA.
Pick: Chargers Cover
Cincinnati Bengals (-7.5) vs Carolina Panthers
Pick: Panthers Beat the Spread
Las Vegas Raiders (-1.5) @ Jacksonville Jaguars
Pick: Jaguars Beat the Spread
Arizona Cardinals (-2.5) vs Seattle Seahawks
Not sure how the Cardinals are favoured here. Sure, they're at home, but their record at State Farm Stadium is dreadful and has been no help to them at all. Seattle thus far has been the model of balance and Arizona the poster child for imbalance. Sure there's a chance Kyler Murray goes off and has one of his (increasingly) few and far between big games, but I have to roll with the recency bias and pick a Seahawks team that's rolling.
Pick: Seahawks Beat the Spread
Seahawks 27 – Cardinals 24
Tampa Bay Buccaneers (-2.5) vs Los Angeles Rams
Two teams meeting each other at major low points in the Sadness Game of the Week.
Newly single Tom Brady and the Buccaneers have looked downright dreadful of late after dropping their last three tilts. To make matters worse, two of those teams are well outside the playoff picture. Maybe that was the final straw for Gisele?
Meanwhile, the clearly hobbled Matt Stafford has looked like a shadow of his former self, and the Rams offence has suffered greatly for it. LA has lost three of its last four games and was thumped twice by its bitter rival, San Francisco, inside a month. The post Super Bowl season has been anything but rosy.
So how do you pick? Two sad-sack teams on sad-sack losing streaks playing in the Sadness Bowl. I'm going to settle on the Rams ending up the sadder of the two, compounded by Cooper Kupp's ankle issues. 😥
Pick: Buccaneers Cover
Sunday Primetime Game
Kansas City Chiefs (-12.5) vs Tennessee Titans
As much as I've slagged them, I have to go with the Titans here. Don't get me wrong, Kansas City is by far the better team and I think a lot of my slagging of Tennessee is warranted, I just underestimated how good Derrick Henry (still) is.
The Chiefs are winning this game, that doesn't even bare thinking about, but they are a team that tends to play up or down to their opponents, and with Henry getting a major workload expect a final score far more pedestrian than the betting line suggests.
Pick: Titans Beat the Spread
Monday Night Football
Baltimore Ravens (-2.5) @ New Orleans Saints
Not a ton to think about here. Andy Dalton on a Monday night is about as bad a bet as you can find. He's 6-19 as a starter in primetime and has lost his last six straight.
The Ravens can be inconsistent at times, but I don't see them having much trouble containing the Saints in this one. Roll with Baltimore.
Pick: Ravens Cover
---
---
2022 NFL Season FAQ
What NFL Teams Have a Bye Week in Week 9?
Week 9: Cleveland Browns, Dallas Cowboys, Denver Broncos, New York Giants, Pittsburgh Steelers, San Francisco 49ers
What is the 2022 NFL Bye Week Schedule?
Week 6: Detroit Lions, Houston Texans, Las Vegas Raiders, Tennessee Titans
Week 7: Buffalo Bills, Los Angeles Rams, Minnesota Vikings, Philadelphia Eagles
Week 8: Kansas City Chiefs, Los Angeles Chargers
Week 9: Cleveland Browns, Dallas Cowboys, Denver Broncos, New York Giants, Pittsburgh Steelers, San Francisco 49ers
Week 10: Baltimore Ravens, Cincinnati Bengals, New England Patriots, New York Jets
Week 11: Jacksonville Jaguars, Miami Dolphins, Seattle Seahawks, Tampa Bay Buccaneers
Week 13: Arizona Cardinals, Carolina Panthers
Week 14: Atlanta Falcons, Chicago Bears, Green Bay Packers, Indianapolis Colts, New Orleans Saints, Washington Commanders
What are the Week 9 NFL Power Rankings?

Kansas City Chiefs
Buffalo Bills
Philadelphia Eagles
Dallas Cowboys
Baltimore Ravens
Cincinnati Bengals
San Francisco 49ers
Green Bay Packers
Miami Dolphins
Tampa Bay Buccaneers
Cleveland Browns
New England Patriots
New Orleans Saints
Minnesota Vikings
Las Vegas Raiders
Jacksonville Jaguars
Arizona Cardinals
New York Jets
Los Angeles Rams
Los Angeles Chargers
Atlanta Falcons
Tennessee Titans
New York Giants
Denver Broncos
Washington Commanders
Seattle Seahawks
Carolina Panthers
Pittsburgh Steelers
Chicago Bears
Detroit Lions
Indianapolis Colts
Houston Texans

(Per ESPN Power Index)
What is the Week 9 NFL Schedule?

Thursday, November 3, 2022
Philadelphia @ Houston 20:15

Sunday, November 6, 2022
Los Angeles @ Atlanta 13:00
Miami @ Chicago 13:00
Carolina @ Cincinnati 13:00
Green Bay @ Detroit 13:00
Indianapolis @ New England 13:00
Buffalo @ New York 13:00
Minnesota @ Washington 13:00
Las Vegas @ Jacksonville 13:00
Seattle @ Arizona 16:05
Los Angeles @ Tampa Bay 16:25
Tennessee @ Kansas City 20:20

Monday, November 7, 2022
Baltimore @ New Orleans 20:15

What are CSB's Week 9 Picks Against the Spread?

Eagles (-13.5)
Patriots (-5.5)
Bills (-12.5)
Dolphins (-5)
Vikings (-3.5)
Lions (+3.5)
Chargers (-3)
Panthers (+7.5)
Jaguars (+1.5)
Seahawks (+2.5)
Buccaneers (-2.5)
Titans (+12.5)
Ravens (-2.5)

When are the next week's NFL Lines set?
Typically oddsmakers will set the next week's Game Lines after the Sunday slate of games. NFL Odds will evolve as bets are made throughout the week and NFL Picks made too early may lack vital information. The NFL Point Spreads are set with a somewhat unclear picture and NFL predictions become more informed as the games get closer.