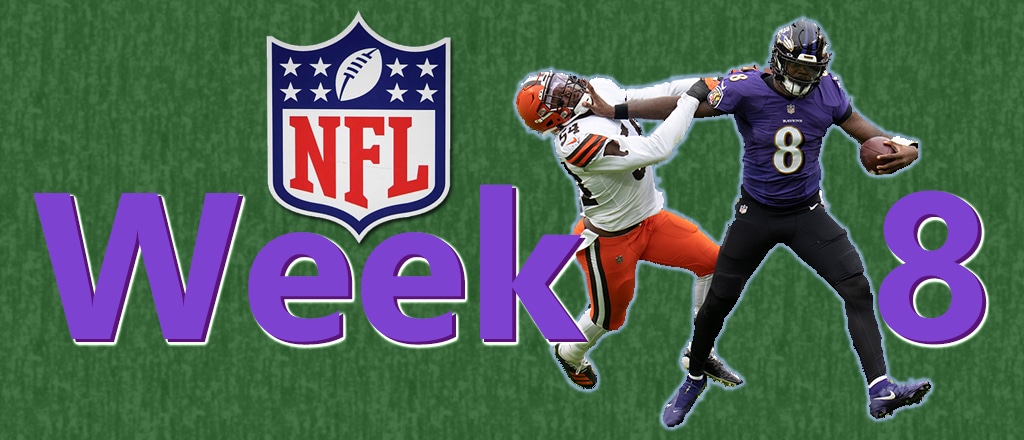 Well would you look at that, another 9-5 week and a winning total record!
It took us 5 weeks of grinding to get out of the hole Week 2 caused, may there never be another like it. I feel like I'm in a groove now so here's to letting the good times roll.
As far as narratives for Week 7. Well, I can't seem to think of much else besides the Buccaneers and "The Goat" being bodied by a Panthers team days removed from trading away their franchise running back. I'm sure some other stuff happened but nothing that delicious 😈. What does Week 8 have in store for us? Let's dive in and find out!
As always if you're new to ATS betting in football, check out our convenient primer on Point Spread Betting.
Week 7 Record: 9-5 😎 / Season Record: 55-53 😍
Without further ado, on to the Week 8 picks against the spread.
Skip Around to Any Week 8 Game Here:
Thursday Night Game
Baltimore Ravens (-1.5) @ Tampa Bay Buccaneers
Another (at the very least) interesting offering for Thursday Night Football.
Tom Brady and the Bucs are no doubt feeling pretty embarrassed after losing their Week 7 tilt to a Christian McCaffery-less Carolina squad. If anything this should have been an opportunity for Tampa Bay to work out their frustrations on a vulnerable opponent, instead the Panthers did what their namesake does best and mauled them.
The Bucs are now in a weird spot and the betting world's there with them. What are they really? Are they a team that is bad enough to lose to that caliber of opponent week in and week out? Are they a good team going through a bout of disfunction? Is Gisele Bündchen calling Tom Brady on 3rd and 7 to yell at him? We don't really know the answers to those questions quite yet, but Tampa being underdogs at home in prime time is certainly an indication of our general skittishness.
Their opponents this week in Baltimore are certainly feeling more happy vibes than Brady and co. but aren't exactly easy to peg either. They dispatched a Browns team in Week 7 that has now dropped 3 straight, but it was a closer affair than I think it should have been. Winning by a field goal in the end, Lamar Jackson managed only 9 completed passes all afternoon. Ultimately they grinded it out on the ground which is always going to be the Ravens M.O. but you'd like to see something of a passing game in there at some point.
All that to say this is tough to call. I think a scenario where the Bucs make some tweaks and figure it out (if at least for one game) is entirely possible. However I've bet on their disfunction in consecutive weeks and I see now clear reason to "Buc" the trend. Roll with the Ravens on the road.
Pick: Ravens Cover
Ravens 26 – Buccaneers 23
Sunday Morning Game (London)
Jacksonville Jaguars (-2.5) vs Denver Broncos
It's hard, if not impossible, to justify betting on the Broncos right now. Even if Russel Wilson (hamstring) plays, he hasn't shown anything to make me believe he's gonna make the difference.
Jacksonville has been a bit frustrating at times and London games bring out a certain type of voodoo, but I'm comfortable with the line where it's at now. Jags can cover a field goal.
Pick: Jaguars Cover
Sunday Afternoon Games
Dallas Cowboys (-9.5) vs Chicago Bears
The Bears spoiled my shot at 10 correct picks in Week 7 and I hate them for it. Fair dues to them, they used their bye week to work on some things and pulled off a surprising victory against the Pats at Gillette Stadium. This week will be the inverse of that. Instead of a bye week they have a short week to prep for a Dallas team who beat up on Detroit in Week 7 all while Dak Prescott was shaking off the post injury rust.
The rust is shaken, Dallas is firing on all cylinders and the Bears are coming back down to earth this Sunday.
Pick: Cowboys Cover
Best NFL Sign Up Bonuses in Canada
If you're looking to sign up for a Canadian Sportsbook for the first time and put these picks to good use, check out these great sign up bonuses currently on offer:
New users at BetVictor can get a 100% deposit bonus up to $500! – Sign Up Now
New users on Bet99 will get a Matched Bonus of 100% on their first deposit, up to $500! – Check It Out
New users at PariMatch get a 100% deposit bonus of up to $500 with a minimum deposit of only $10. – Sign Up Today
Las Vegas Raiders (-1.5) @ New Orleans Saints
Pick: Saints Beat the Spread
Atlanta Falcons (-4.5) vs Carolina Panthers
Pick: Falcons Cover
Philadelphia Eagles (-10.5) vs Pittsburgh Steelers
The Eagles are coming off a bye week and so the Steelers will have to contend with the only thing scarier than the only undefeated team in the league and that's a well rested only undefeated team in the league.
All that said, if you've read my articles this year you'll know that I hate double digit lines. Football is a game of inches as the cliché goes and the Steelers are the kind of team that makes you work for those inches. Add to that a QB in Kenny Pickett that I can't help but cheer for. He's been put in an impossible spot and has proven himself a competitor.
The Eagles are gonna take this one and remain unbeaten but look for Pittsburgh to show some fight.
Pick: Steelers Beat the Spread
Miami Dolphins (-3.5) vs Detroit Lions
I would love to pick the Lions here. If they came into this one 100% healthy it would be an easy one but they aren't and it isn't. As the Lions offensive stars get more and more banged up, Jared Goff has been forced to take too many chances and it's resulting in an ugly turnover line. Add to that a defense that is at best porous and at worst non-existent and the Lions are just a non factor until healthy.
The Dolphins played well at home in Tua's return and will continue to roll this week.
Pick: Dolphins Cover
Minnesota Vikings (-3.5) vs Arizona Cardinals
Pick: Vikings Cover
Vikings 31 – Cardinals 24
Sunday Afternoon Games
New England Patriots (-1.5) @ New York Jets
Look I get it, picking a Bill Belichick led team to lose 2 in a row is a bad idea.
The Jets have been riding a wave but accidentally swallowed a bunch of salt water in the form of rookie RB Breece Hall being lost for a while if not all year.
Despite those two daunting factors telling me to run and hide behind a Patriots pick this week, I ain't doing it. Maybe I have salt water on the brain but I'm gonna continue to back the Jets for as long as I can. I love it when perennial basement dwellers manage to cobble some parts together and escape that basement. Speaking of basements, have you seen Barbarian?
I digress. Go Jets Go.
Pick: Jets Beat the Spread
Tennessee Titans (-2.5) @ Houston Texans
Pick: Titans Cover
Seattle Seahawks (-3) vs New York Giants
As much as it pains me, I'm not picking the Giants this week.
Just like the Jets, I've loved cheering for their New York neighbors this year and don't get me wrong, I will continue to do so again the future. Unfortunately the cards are stacked against them this week.
The Seahawks are better than anyone would have guessed and QB Geno Smith has thus far turned in one of the better performances of this young season. Add to that the emergence of rookie RB Kenneth Walker and Seattle somehow looks like a contender. All while having Denver's 1st and 2nd rounders in each of the next two drafts as a result of the Russel Wilson trade. 🤣
The Giants are coming off a grindy road win in Week 7 and are banged up, particularly on the O-Line. Tired and road weary, the edge is clearly with the home team here and I have to bet that edge.
Pick: Seahawks Cover
Indianapolis Colts (-3) vs Washington Commanders
Pick: Colts Cover
San Francisco 49ers (-1.5) @ Los Angeles Rams
Pick: Rams Beat the Spread
Sunday Primetime Game
Buffalo Bills (-10.5) vs Green Bay Packers
Another scary double digit line. Scary of course when you're dealing with anyone but the Bills.
Buffalo welcomes the Packers to the friendly confines of Highmark Stadium at their most dysfunctional. Aaron Rodgers hates the offence, he hates his coach, he hates his teammates and he's the only person in the world who doesn't hate his haircut.
Buffalo is rested off a bye an ready to steamroll the rest of the regular season. Expect some (limited) Rodgers magic but not nearly enough to make this interesting.
Pick: Bills Cover
Monday Night Football
Cincinnati Bengals (-3.5) vs Cleveland Browns
The Bengals are finally firing on all cylinders after a sputtering start to the season. All the key players are healthy and clicking, highlighted by the Joe Burrow – Ja'Marr Chase connection in full effect.
The Browns meanwhile are the ones now stalling on the side of the road. The defence is banged up and not playing to it's potential, Jacoby Brissett has faded from his early highs and the momentum arrow is pointing down.
Oddsmakers are not entirely convinced that the Bengals are truly back so take advantage, this line should be bigger in Cinci's favor.
Pick: Bengals Cover
---
---
2022 NFL Season FAQ
What NFL Teams Have a Bye Week in Week 8?
Week 8: Kansas City Chiefs, Los Angeles Chargers
What is the 2022 NFL Bye Week Schedule?
Week 6: Detroit Lions, Houston Texans, Las Vegas Raiders, Tennessee Titans
Week 7: Buffalo Bills, Los Angeles Rams, Minnesota Vikings, Philadelphia Eagles
Week 8: Kansas City Chiefs, Los Angeles Chargers
Week 9: Cleveland Browns, Dallas Cowboys, Denver Broncos, New York Giants, Pittsburgh Steelers, San Francisco 49ers
Week 10: Baltimore Ravens, Cincinnati Bengals, New England Patriots, New York Jets
Week 11: Jacksonville Jaguars, Miami Dolphins, Seattle Seahawks, Tampa Bay Buccaneers
Week 13: Arizona Cardinals, Carolina Panthers
Week 14: Atlanta Falcons, Chicago Bears, Green Bay Packers, Indianapolis Colts, New Orleans Saints, Washington Commanders
What are the Week 8 NFL Power Rankings?

Buffalo Bills
Kansas City Chiefs
Philadelphia Eagles
Cincinnati Bengals
Dallas Cowboys
Baltimore Ravens
Las Vegas Raiders
Tampa Bay Buccaneers
Green Bay Packers
Miami Dolphins
San Francisco 49ers
Cleveland Browns
Jacksonville Jaguars
New England Patriots
Minnesota Vikings
New York Jets
Los Angeles Chargers
Arizona Cardinals
New York Giants
Los Angeles Rams
Tennessee Titans
New Orleans Saints
Atlanta Falcons
Washington Commanders
Seattle Seahawks
Denver Broncos
Chicago Bears
Pittsburgh Steelers
Carolina Panthers
Houston Texans
Indianapolis Colts
Detroit Lions

(Per ESPN Power Index)
What is the Week 8 NFL Schedule?

Thursday, October 27, 2022
Baltimore @ Tampa Bay 20:15

Sunday, October 30, 2022
Denver @ Jacksonville 09:30
Carolina @ Atlanta 13:00
Chicago @ Dallas 13:00
Miami @ Detroit 13:00
Arizona @ Minnesota 13:00
Las Vegas @ New Orleans 13:00
New England @ New York 13:00
Pittsburgh @ Philadelphia 13:00
Tennessee @ Houston 16:05
Washington @ Indianapolis 16:25
San Francisco @ Los Angeles 16:25
New York @ Seattle 16:25
Green Bay @ Buffalo 20:20

Monday, October 31, 2022
Cincinnati @ Cleveland 20:15

What are CSB's Week 8 Picks Against the Spread?

Ravens (-1.5)
Jaguars (-2.5)
Cowboys (-9.5)
Saints (+1.5)
Falcons (-4.5)
Steelers (+10.5)
Dolphins (-3.5)
Vikings (-3.5)
Jets (+1.5)
Titans (-2.5)
Seahawks (-3)
Colts (-3)
Rams (+1.5)
Bills (-10.5)
Bengals (-3.5)
When are the next week's NFL Lines set?
Typically oddsmakers will set the next week's Game Lines after the Sunday slate of games. NFL Odds will evolve as bets are made throughout the week and NFL Picks made too early may lack vital information. The NFL Point Spreads are set with a somewhat unclear picture and NFL predictions become more informed as the games get closer.