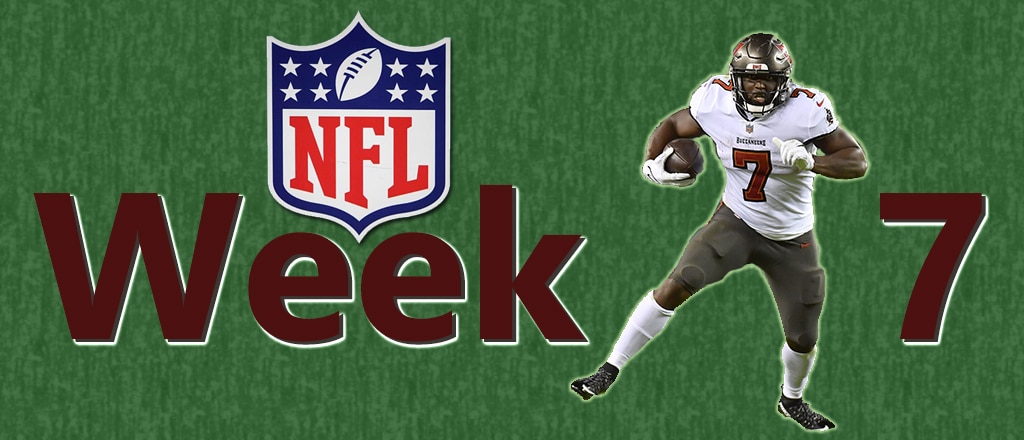 What's this? A winning record? We've broke out of the three week long 8-8 curse and had ourselves a pretty good week here. Sitting at 9-3 by the end of the NFL's Sunday afternoon games, the last two hurdles tripped me up. But I'm not gonna complain too much. My total record is ever so close to being above water so another positive outcome is firmly in my sights for Week 7.
As far as the narrative of Week 6, the real story was about teams we thought (think?) were good. The Ravens lost to the (5-1) Giants, whom the football world continues to treat like anything but a 5-1 team. The 49ers and Packers were both stomped by the Falcons and Jets respectively. Much like the Giants, the Jets will likely not get any respect this year unless they make the playoffs, despite being 4-2 (3-0 with QB Zach Wilson). Finally we come to the Buccaneers; Tom Brady decided to go to a wedding instead of practicing this week and the Bucs lost to the Steelers and didn't manage a touchdown, I'm sure some tough discipline is on its way for Brady. Any minute now.
What does that all mean for Week 7? Some tougher outcomes to predict for sure. Bad teams are better than we originally thought they'd be, while a lot of "good" teams are anything but. Fear not, I'll do my best to sift through the sands of doubt and land us on some choice picks.
As always if you're new to Against the Spread (ATS) betting in football you can refer back to our Week 1 page for a quick primer.
Week 6 Record: 9-5 🧐 / Season Record: 46-48 🙀
Without further ado, on to the Week 7 picks against the spread.
Skip Around to Any Week 7 Game Here:
Thursday Night Game
Arizona Cardinals (-2) vs New Orleans Saints
What's this? A semi-interesting Thursday game? The NFL's getting sloppy.
In a battle of "what are these teams exactly" the negatives tend to gravitate towards the Saints. Injuries continue to pile up, adding a very banged up defence to an already decimated receiver corps. Adding to the injury woes is projected starting QB Andy Dalton's paltry record in prime time games.
The Cards haven't been fairing a whole lot better but at least have the superior QB, in theory. Kyler Murray is brilliant at times and not so brilliant at others. Murray and HC Kliff Kingsbury have never really gotten on the same page, resulting in consistent inconsistency. I'd be tempted to give them this game on home field advantage alone but the Cardinals posses anything but. In fact should they lose this game on Thursday they will have managed to go winless at home for a full calendar year.
The lone bright spot in this game with which to hang our hats (and our picks) on is the return of DeAndre Hopkins from his 6 game suspension. As we know from his years in Houston, Hopkins has the ability to single handedly big play a team to victory. Kyler Murray will be aided tremendously by his return and the Saints' defence will most definitely be cursing it. In an otherwise tough game to call, Hopkins tips the scales. Cardinals win at home and avoid a truly ignominious record.
Pick: Cardinals Cover
Sunday Afternoon Games
Dallas Cowboys (-7) vs Detroit Lions
The Boys let me down in Week 6 by not making it closer against the Eagles. With all due respect to Philly (still the only undefeated team), Dallas had plenty of opportunities to narrow the gap but Cooper Rush was just not up to the task. This week, Dak Prescott seems determined to play and the Cowboys should finally coalesce as a team. Dallas has surprised many (myself included) by looking pretty dang good since Dak's Week 1 injury. The defence has led the way and the offence has been good enough under Rush. With the return of a healthy Dak, we should get to see what the 2022 Cowboys really look like.
Their opponents this week are a rested Lions team coming off a bye. Detroit should be getting RB D'Andre Swift and breakout WR Amon-Ra St. Brown back from injuries and be closer to the high scoring, defence optional team we saw before they went down.
Week 5 saw the Lions put up a big fat goose egg against an adept defence in New England. Sure they were without the aforementioned Swift and St. Brown but I think we have to look to that Week 5 game as the biggest indicator of this week's outcome. The Lions will keep it fun but Dallas' defence will be too much for them to keep it close. Dak will want to show the football world he's 100% ready to go and the Cowboys should win it comfortably.
Pick: Cowboys Cover
Jacksonville Jaguars (-3) vs New York Giants
The least respected 5-1 team is an underdog again this week. The Giants (as I said in Week 6) find a way to win. Until the letdown the footballing world expects to happen actually happens, I'm going to continue to believe in Big Blue.
To add a cherry on top of backing the Giants; the Jags have lost their last 18 games against NFC opponents.
Pick: Giants Beat the Spread
Best NFL Sign Up Bonuses in Canada
If you're looking to sign up for a Canadian Sportsbook for the first time and put these picks to good use, check out these great sign up bonuses currently on offer:
New users at BetVictor can get a 100% deposit bonus up to $500! – Sign Up Now
New users on Bet99 will get a Matched Bonus of 100% on their first deposit, up to $500! – Check It Out
New users at PariMatch get a 100% deposit bonus of up to $500 with a minimum deposit of only $10. – Sign Up Today
Tennessee Titans (-2.5) vs Indianapolis Colts
Pick: Colts Beat the Spread
Cincinnati Bengals (-6) vs Atlanta Falcons
My nemesis Falcons are 6-0 against the spread this year making this 6 point line a little too scary for me, even with the Bengals trending up.
Let the Spread busting continue.
Pick: Falcons Beat the Spread
Baltimore Ravens (-6.5) vs Cleveland Browns
The line's a big one in favor of an inconsistent Ravens' team fresh off a loss to the Giants.
Normally these two teams would complete in a grindy, run heavy affair that's settled by a field goal at most, but Cleveland is really banged up and the shine has come off Jacoby Brissett. The Ravens top tier run defence should be able to prevent Nick Chubb from dragging his team back into the game and the Browns lack thereof should allow Lamar Jackson to rack up yardage and points.
Pick: Ravens Cover
Tampa Bay Buccaneers (-11) @ Carolina Panthers
Nuh uh, nope, no way, not gonna happen, well maybe if they trade Christian McCaffery before the game, nope, forget it.
Pick: Panthers Beat the Spread
Buccaneers 28 – Panthers 20
Green Bay Packers (-5.5) @ Washington Commanders
Aaron Rodgers said the Packers need to simplify the offence. Head Coach Matt LaFleur responded that he doesn't know what that means. That's the current state of Green Bay right now.
In a New York minute from hell, the Packers have lost back to back games to the Giants and Jets respectively, leaving the Lambeau faithful in a tailspin.
Meanwhile in Washington, if owner Dan Snyder can stop sending angry DMs to his fellow owners long enough, he'll see that QB Carson Wentz is out injured and one time hope Taylor Heinicke is back under center.
This is a mess of a game between two pretty dysfunctional teams and those typically play pretty close. I cautiously put my faith in the Commanders.
Pick: Commanders Beat the Spread
Packers 24 – Commanders 21
Sunday Afternoon Games
Denver Broncos (-1.5) vs New York Jets
Pick: Jets beat the Spread
Las Vegas Raiders (-7) vs Houston Texans
Pick: Taxans Beats the Spread
Kansas City Chiefs (-3) @ San Francisco 49ers
This feels a bit like a trap game for KC but fortunately the line is manageable. After coming off a narrow loss to the Bills, the Chiefs travel to the Bay area to face a 49ers squad that just got thumped by Atlanta. The 49ers will be playing desperate and if the margin were much bigger, it would have all the makings of a back door cover. Fortunately it's not and I think the Chiefs handle business on the road.
Pick: Chiefs Cover
Los Angeles Chargers (-6.5) vs Seattle Seahawks
Seattle's gonna be a trendy pick here. The Chargers are finding ways to win but aren't exactly lighting up the scoreboard. Having to put a touchdown plus past the Seahawks is a big ask for a team that will funnel the game through Austin Ekeler. Things aren't quite clicking for Justin Herbert and Seattle are better than expected. Watch for them to keep the score close and also keep a close eye on this line when you decide to make your picks as it could sway towards the Seahawks throughout the week.
Pick: Seahawks Beat the Spread
Chargers 24 – Seahawks 21
Sunday Primetime Game
Miami Dolphins (-7) vs Pittsburgh Steelers
Another big line in this one that doesn't make a ton of sense. Sure Miami's Tua Tagovailoa should be back at QB after getting through concussion protocol and sure the Steelers will be without QB Kenny Pickett who is suffering from a concussion of his own, but those same Steelers just beat the Bucs with 3 quarters of Mitch Trubisky.
The Dolphins should get back to what they looked like before Tua went down but it wont happen right away. Pittsburgh arrives in south Florida with a head full of steam and will make this cover a tough ask for Miami. In fact, they may very well win this one outright.
Pick: Steelers Beat the Spread
Dolphins 24 – Steelers 23
Monday Night Football
New England Patriots (-8) vs Chicago Bears
It's tough to pick the Bears on a good day and this will not be a good day for them. New England is rolling right now, no matter who's at QB. Their defence is firing on all cylinders and second year back Rhamondre Stevenson is red hot.
Justin Fields is not the guy to solve the Patriots pass rush. This is the only line bigger than a touchdown that doesn't scare me this week. Pick with confidence.
Pick: Patriots Cover
---
---
2022 NFL Season FAQ
What NFL Teams Have a Bye Week in Week 7?
Week 7: Buffalo Bills, Los Angeles Rams, Minnesota Vikings, Philadelphia Eagles
What is the 2022 NFL Bye Week Schedule?
Week 6: Detroit Lions, Houston Texans, Las Vegas Raiders, Tennessee Titans
Week 7: Buffalo Bills, Los Angeles Rams, Minnesota Vikings, Philadelphia Eagles
Week 8: Kansas City Chiefs, Los Angeles Chargers
Week 9: Cleveland Browns, Dallas Cowboys, Denver Broncos, New York Giants, Pittsburgh Steelers, San Francisco 49ers
Week 10: Baltimore Ravens, Cincinnati Bengals, New England Patriots, New York Jets
Week 11: Jacksonville Jaguars, Miami Dolphins, Seattle Seahawks, Tampa Bay Buccaneers
Week 13: Arizona Cardinals, Carolina Panthers
Week 14: Atlanta Falcons, Chicago Bears, Green Bay Packers, Indianapolis Colts, New Orleans Saints, Washington Commanders
What are the Week 7 NFL Power Rankings?

Buffalo Bills
Kansas City Chiefs
Tampa Bay Buccaneers
Philadelphia Eagles
Cincinnati Bengals
Green Bay Packers
Baltimore Ravens
Las Vegas Raiders
Jacksonville Jaguars
Los Angeles Chargers
Dallas Cowboys
Miami Dolphins
New England Patriots
Minnesota Vikings
Cleveland Browns
San Francisco 49ers
New York Jets
Los Angeles Rams
Atlanta Falcons
Arizona Cardinals
Indianapolis Colts
New York Giants
New Orleans Saints
Tennessee Titans
Washington Commanders
Denver Broncos
Seattle Seahawks
Houston Texans
Pittsburgh Steelers
Detroit Lions
Chicago Bears
Carolina Panthers


(Per ESPN Power Index)
What is the Week 7 NFL Schedule?

Thursday, October 20, 2022
New Orleans @ Arizona

Sunday, October 23, 2022
Atlanta @ Cincinnati
Detroit @ Dallas
Indianapolis @ Tennessee
Green Bay @ Washington
Tampa Bay @ Carolina
New York @ Jacksonville
Cleveland @ Baltimore
New York @ Denver
Houston @ Las Vegas
Seattle @ Los Angeles
Kansas City @ San Francisco
Pittsburgh @ Miami

Monday, October 24, 2022
Chicago @ New England
What are CSB's Week 7 Picks Against the Spread?

Cardinals (-2)
Cowboys (-7)
Giants (+3)
Colts (+2.5)
Falcons (+6)
Ravens (-6.5)
Panthers (+11)
Commanders (+5.5)
Jets (+1.5)
Texans (+7)
Chiefs (-3)
Seahawks (+6.5)
Steelers (+7)
Patriots (-8)
When are the next week's NFL Lines set?
Typically oddsmakers will set the next week's Game Lines after the Sunday slate of games. NFL Odds will evolve as bets are made throughout the week and NFL Picks made too early may lack vital information. The NFL Point Spreads are set with a somewhat unclear picture and NFL predictions become more informed as the games get closer.