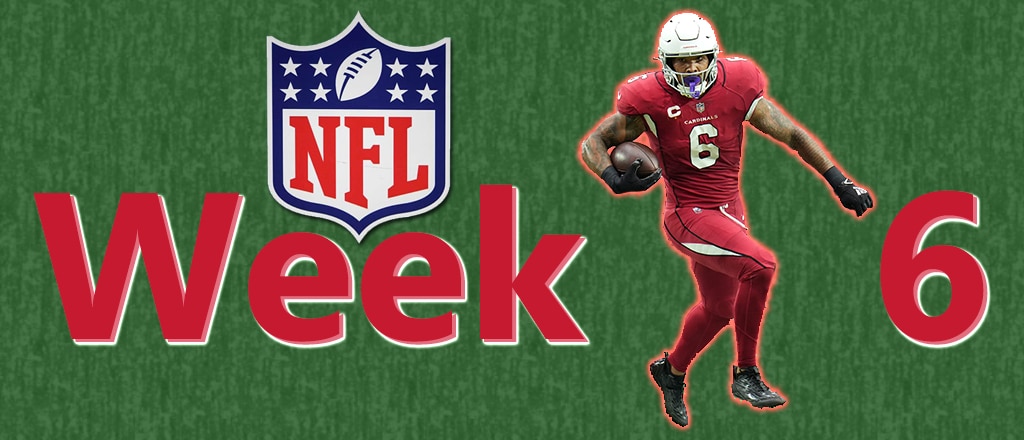 Three straight weeks of 8-8 has me feeling pretty even steven. Our record is still under water but some razor thin near misses last week let me know that we're getting close to positive scores. That being said, was I way off on a couple of picks? I sure was. The Jaguars not even mustering a touchdown was fun for the whole family. Not to mention the field goal fest that was Colts v Broncos.
That's not to say there weren't picks to be proud of. Calling the Jets ownage of the Dolphins was nice. Predicting Week 5 would be the week the Lions' offence finally hit a speed bump is sweet and my "Lock of the Week" Vikings pick coming good was the cherry on top.
Emotions sit at a 50/50 split much like the record, but the good vibes are just around the corner. Week 6 sees our first byes of the season, with the Lions, Texans, Raiders and Titans getting the first week of rest. Two fewer games to pick means fewer chances for bad picks right? RIGHT?!
We wont be taking any byes from making spicy NFL picks so let's roll on and upgrade that record.
As always if you're new to Against the Spread (ATS) betting in football you can refer back to our Week 1 page for a quick primer.
Week 5 Record: 8-8 🥉 / Season Record: 37- 43✌️
Without further ado, on to the Week 6 picks against the spread.
Skip Around to Any Week 6 Game Here:
Thursday Night Game
Washington Commanders (-1) @ Chicago Bears
Oof, bit of a stinker to start the week. TNF has a bit of a rep for featuring matchups no one would watch on any given Sunday and this one doesn't do much to dispel that.
The Commanders don't run and the Bears don't pass (man do they not pass). Washington sits firmly in the bottom third of the league for rushing yards, attempts and scores. They are top tier in one rushing category; rushing fumbles.
Chicago meanwhile may need daily reminders that passing even exists. They sit dead last in yards, attempts and completions. In fact their number of passing attempts (88) is the fewest after 5 weeks since the early 80's. I know 80's retro is hot right now but jeez.
So how do you even pick this clash of the titans? Both teams are coming off back to back losses and looking to get back on track. If the Bears coaching staff lets Justin Fields throw just a few more passes in this one, at home, I see the arrow pointing towards Chicago. It's a big if, but it's all I've got.
Make sure to watch this one throughout the week before you bet, the line is razor thin.
Pick: Bears
Sunday Afternoon Games
Tampa Bay Buccaneers (-8) @ Pittsburgh Steelers
Teeny tiny hands aside, I like Kenny Pickett. Seems like a good guy and a talented QB. That being said, serving him up to the Bills and the Bucs back to back is just cruel. Pittsburgh could have eased him in and really seen what they had in Pickett early in the season, instead they opted to start the inferior Mitch Trubisky (and make him captain). Now you can't argue that they were protecting Pickett, that's out the window if you turn around and give him these two starts to debut his career.
They'll kill Kenny again this week, along with the rest of the Steelers.
Pick: Buccaneers Cover
Buccaneers 38 – Steelers 20
Cincinnati Bengals (-1.5) @ New Orleans Saints
I don't think anyone can rightly predict when Taysom Hill will go off and win a game on his own. The Saints' sometimes QB/RB/Receiver/Kick Returner/Coach/Mascot threw for one score and rushed 9 times for 112 yards and 3 more TDs. I imagine opposing coach Pete Carroll finds that pretty unacceptable and I bet the Bengals coaching staff would too.
Both teams are 2-3 but Cinci is healthier and more importantly is not lacking anyone too important in the skill categories. Joe Burrow and Ja'Marr Chase return to their old stomping grounds of Louisiana looking to continue the Bengals' slow and steady righting of the ship.
The Saints are too banged up and Taysom Hill will not be able to surprise another defence like he did last week. Unless of course he invents a new position none of us have heard of.
Pick: Bengals Cover
Best NFL Sign Up Bonuses in Canada
If you're looking to sign up for a Canadian Sportsbook for the first time and put these picks to good use, check out these great sign up bonuses currently on offer:
New users at BetVictor can get a 100% deposit bonus up to $500! – Sign Up Now
New users on Bet99 will get a Matched Bonus of 100% on their first deposit, up to $500! – Check It Out
New users at PariMatch get a 100% deposit bonus of up to $500 with a minimum deposit of only $10. – Sign Up Today
Indianapolis Colts (-2) vs Jacksonville Jaguars
Pick: Colts Cover
Cleveland Browns (-2) vs New England Patriots
Pick: Patriots Beat the Spread
Green Bay Packers (-7.5) vs New York Jets
What jumps off the page for me here is the line being given to the Packers. Sure they're returning to the friendly confines of Lambeau Field as the temperatures start to dip. Typically a slam dunk for the Pack, but are we all glossing over the fact that they're coming off a very winnable game that they very much did not win against fellow New Yorkers in the Giants. Are we also forgetting that the Jets have looked if not downright competent than maybe even kinda good?
Look, picking against Green Bay at home straight up is folly, but the Jets will keep this one interesting, even in a losing cause.
Pick: Jets Beat the Spread
Baltimore Ravens (-5.5) @ New York Giants
On to the aforementioned New York Giants, who are being a little disrespected here just like the Jets. Don't get me wrong, the Ravens are a good team who narrowly dispatched a resurgent Bengals squad last week and are probably deserving of a better record thus far. The Giants meanwhile sit at 4-1 after a surprising victory overseas against the Packers.
I get that most folks don't think the Giants are really a 4-1 team, you can nitpick their record and the lack of weapons at Daniel Jones' disposal but the fact remains they ARE 4-1, they've found ways to win.
On top of all of all that, they're at home this week. 5.5 Point dogs at home, it would certainly piss me off.
Pick: Giants Beat the Spread
Minnesota Vikings (-3.5) @ Miami Dolphins
Pick: Vikings Cover
Sunday Afternoon Games
San Francisco 49ers (-5.5) @ Atlanta Falcons
Pick: Falcons Beat the Spread
Los Angeles Rams (-10.5) vs Carolina Panthers
10.5 points is a scary line, no doubt about it. Last week we saw the Bills cover a huge 14 point line comfortably but this week's biggest margin gives me pause.
The Panthers got roughed up so badly last week that HC Matt Rhule lost his job and there's just something about that first game under a new coach that you don't want to bet against. Call it a dead cat bounce, call it players seeing more opportunity for themselves, call it whatever you want it's a voodoo I don't want to mess with.
The Rams should win this game without much issue but I'm sensing a closer score line based on the aforementioned factors.
Pick: Panthers Beat the Spread
Arizona Cardinals (-2.5) @ Seattle Seahawks
Pick: Seahawks Beat the Spread
Seahawks 33 – Cardinals 27
Buffalo Bills (-2.5) @ Kansas City Chiefs
Ghost Pepper level spicy alert 🌶️🌶️🌶️
The Bills brass have long conspired to develop a team that can finally get past their AFC arch rivals in the Chiefs. Oh so close to doing it last year only to come up short once again, the Bills' quest is starting to feel like Peyton Manning and his Colts' interminable struggle to get passed Brady's Patriots. Peyton and Indy eventually did get over that hurdle and won a championship as a reward. In fact the Manning v Brady clashes were often more interesting than any Championship games in those days and Allen v Mahomes is starting to feel similar.
To start the year, it certainly seemed that the Bills had done everything necessary to be KC, punctuated with the addition of Von Miller, someone who can add that little extra pressure in a game of inches. Since the start of the year however, we've seen KC making adjustments of their own. Behind an improved offensive line and without deep threat Tyreek Hill, Andy Reid has been more comfortable running the ball and letting Mahomes sit back in the pocket. When the game is on the line the Chiefs have a few plays in store they haven't been forced to use yet and Mahomes is able to better orchestrate his vintage magic.
All that to say there are valid arguments for picking either squad this Sunday. As a result, the line is appropriately thin. The Bills were the presumptive Champions to start the year and have done little to convince anyone that was a mistake. The onus is on them to prove they can get over this hump and I believe they can.
Pick: Bills Cover
Sunday Primetime Game
Philadelphia Eagles (-6) vs Dallas Cowboys
Not quite Ghost Pepper, but still pretty spicy, let's call it Habanero 🌶️
The 5-0 Eagles (the only undefeated team left) host the 4-1 Cowboys on Sunday night. A big win for TV ratings.
Philly getting spotted 6 points here makes sense at first. Undefeated team at home vs a bitter divisional rival but look closer and you'll see some up and down play of late from the Eagles and a Cowboys squad that has been sneaky good.
The Boys sit in the top 3rd of the league in every major defensive category and while Philadelphia joins them near the top in most, Dallas has a clear edge in points allowed. Whether it's Cooper Rush or Dak Prescott (it's looking like Rush) Dallas has the run game to make anyone look good.
Not to take anything away from the Eagles, they're a great team no doubt about it, but my gut says the perfect record ends this week and the NFC East gets even more crowded at the top.
Pick: Cowboys Beat the Spread
Monday Night Football
Los Angeles Chargers (-5.5) vs Denver Broncos
Pick: Chargers Cover
---
---
2022 NFL Season FAQ
What NFL Teams Have a Bye Week in Week 6?
Week 6: Detroit Lions, Houston Texans, Las Vegas Raiders, Tennessee Titans
What is the 2022 NFL Bye Week Schedule?
Week 6: Detroit Lions, Houston Texans, Las Vegas Raiders, Tennessee Titans
Week 7: Buffalo Bills, Los Angeles Rams, Minnesota Vikings, Philadelphia Eagles
Week 8: Kansas City Chiefs, Los Angeles Chargers
Week 9: Cleveland Browns, Dallas Cowboys, Denver Broncos, New York Giants, Pittsburgh Steelers, San Francisco 49ers
Week 10: Baltimore Ravens, Cincinnati Bengals, New England Patriots, New York Jets
Week 11: Jacksonville Jaguars, Miami Dolphins, Seattle Seahawks, Tampa Bay Buccaneers
Week 13: Arizona Cardinals, Carolina Panthers
Week 14: Atlanta Falcons, Chicago Bears, Green Bay Packers, Indianapolis Colts, New Orleans Saints, Washington Commanders
What are the Week 6 NFL Power Rankings?

Buffalo Bills
Kansas City Chiefs
Tampa Bay Buccaneers
Green Bay Packers
Philadelphia Eagles
Baltimore Ravens
Cincinnati Bengals
Las Vegas Raiders
Cleveland Browns
Dallas Cowboys
Los Angeles Chargers
Jacksonville Jaguars
Arizona Cardinals
San Francisco 49ers
Minnesota Vikings
New Orleans Saints
Los Angeles Rams
Miami Dolphins
Atlanta Falcons
New York Jets
Tennessee Titans
New York Giants
New England Patriots
Indianapolis Colts
Washington Commanders
Denver Broncos
Seattle Seahawks
Houston Texans
Detroit Lions
Pittsburgh Steelers
Carolina Panthers
Chicago Bears

(Per ESPN Power Index)
What is the Week 6 NFL Schedule?

Thursday, October 13, 2022
Washington @ Chicago 20:15

Sunday, October 16, 2022
San Francisco @ Atlanta 13:00
New England @ Cleveland 13:00
New York @ Green Bay 13:00
Jacksonville @ Indianapolis 13:00
Minnesota @ Miami 13:00
Cincinnati @ New Orleans 13:00
Baltimore @ New York 13:00
Tampa Bay @ Pittsburgh 13:00
Carolina @ Los Angeles 16:05
Arizona @ Seattle 16:05
Buffalo @ Kansas City 16:25
Dallas @ Philadelphia 20:20

Monday, October 17, 2022
Denver @ Los Angeles 20:15
What are CSB's Week 6 Picks Against the Spread?

Bears (+1)
Buccaneers (-8)
Bengals (-1.5)
Colts (-2)
Patriots (+2)
Jets (+7.5)
Giants (+5.5)
Vikings (-3.5)
Falcons (+5.5)
Panthers (+10.5)
Seahawks (+2.5)
Bills (-2.5)
Cowboys (+6)
Chargers (-5.5)
When are the next week's NFL Lines set?
Typically oddsmakers will set the next week's Game Lines after the Sunday slate of games. NFL Odds will evolve as bets are made throughout the week and NFL Picks made too early may lack vital information. The NFL Point Spreads are set with a somewhat unclear picture and NFL predictions become more informed as the games get closer.