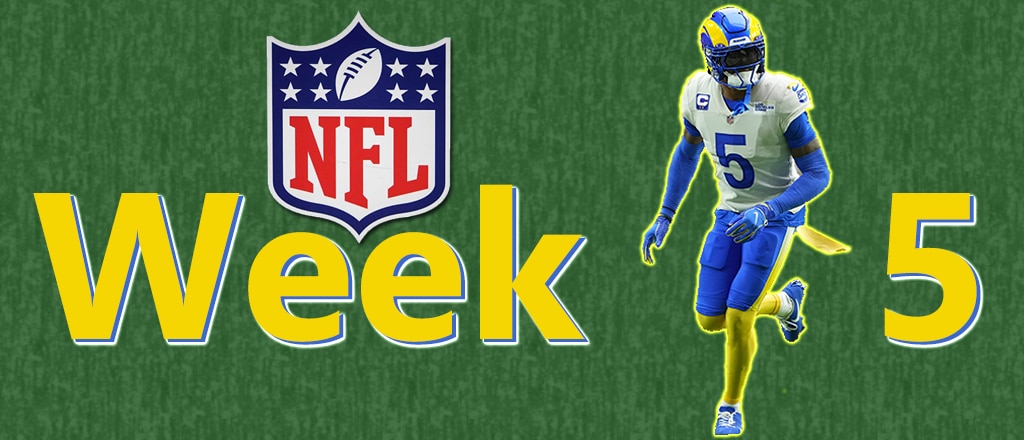 Another 50/50 spit week and my total record is still in the red. At least it wasn't the absolute failure of Week 2. Things are starting to solidify across the NFL and the picture becomes ever clearer. Sure there were some surprising results like San Francisco dummying the Rams on Monday Night Football. The Patriots giving the Packers a good scare and forcing them to settle it in OT. The Lions and Seahawks playing the "Defence Optional" game and combining for a total of 93 points. Ok maybe that wasn't super surprising but it sure was fun to watch.
Despite a few blips, outcomes are starting to seem more predictable. However, they say you don't really know what kind of team you have until November, so we're probably in for a few more spooky results as October gets underway. Let's fight the ghouls and goblins of indecision together and pumpkin spice up this record shall we?
As always if you're new to Against the Spread (ATS) betting in football you can refer back to our Week 1 page for a quick primer.
Week 4 Record: 8-8🤨 / Season Record: 29-35😣
Without further ado, on to the Week 5 picks against the spread.
Skip Around to Any Week 5 Game Here:
Thursday Night Game
Denver Broncos (-3.5) vs Indianapolis Colts
Any goodwill for the Colts that I started the season with has evaporated. When I put my trust in them, they floundered and when I turned my back, they go ahead and beat the Chiefs. Now they are banged up and though Matt Ryan isn't exactly hurt, he might as well be. The Colts will probably frustrate the hell out of me some more this year but I'm fading them big time on Sunday.
Their opponents in the Broncos are fairing a little better but lost RB Javonte Williams for the season in Week 4. A tough blow for a team that's already lean on weapons. They'll have to lean even more on Russell Wilson who has shown glimmers of coming around but not the complete picture.
All that said, even a half baked Wilson is enough to beat these Colts, especially at home.
Pick: Broncos Cover
Sunday Morning Game
Green Bay Packers (-8) vs New York Giants
If both teams were healthy I'd be inclined to take the Giants against this line. Overseas games tend to discombobulate things and lead to weird outcomes and tighter score lines. Unfortunately, the Giants are hurt where it counts most, at QB. Daniel Jones should be able to go in London but will be nursing an ankle injury, a knock that really stacks the odds against New York. When Jones can scramble (68yds and 2 TDs in Week 4), the Giants can open up options and paper over the fact that they are extremely limited at receiver. It opens up room for Saquon and makes for a nice one, two punch. Without the scrambling, opposing defenses can load the front and box out the Giants only true weapon in Barkley.
Green Bay left it frustratingly late in Week 4 but pulled it out in OT. They didn't cover and somehow a Bailey Zappe led New England team pushed them for all their worth. Credit to Zappe, the Packers shouldn't have left this one so close. Expect a re-focused squad to attack the Giants right from the jump and not leave any doubts.
Pick: Packers Cover
Sunday Afternoon Games
New Orleans Saints (-5.5) vs Seattle Seahawks
The Seahawks came out on top of an absolutely wild one in Week 4, beating the Lions 48-45. Putting up 10 or more points in each quarter, the Seahawks are playing well for QB Geno Smith. They've been a bit of a surprise to those who thought losing Russell Wilson spelt a long and painful season ahead.
The Saints meanwhile are a big ol question mark as they come back from London. Andy Dalton got the start with Jameis Winston out with a back injury, but didn't exactly do enough to convince his coach that he's worth more than an injured Winston. RB Alvin Kamara and WR Michael Thomas both sat out and their statuses for this one is still murky. Even if they return they surely wont be at 100%.
Gotta roll with the Seahawks and their momentum right now.
Pick: Seahawks Beat the Spread
Jacksonville Jaguars (-7) vs Houston Texans
The Jags drive to respectability hit a bit of a speed bump in Week 4's loss to Philly. That speed bump came largely in the form of costly turnovers, as Trevor Lawrence threw a pick and the team combined for 4 (FOUR!) lost fumbles. 5 turnovers in a game doesn't happen very often and despite that they still managed to keep the score line close. The Jaguars are a good team bordering on very good. Lawrence will limit the mistakes as time goes on and Jacksonville continues to improve.
The Texans meanwhile played a superior Chargers team about as close as you could hope for. Davis Mills is improving but also has a case of the turnover bug. When not throwing INTs he spread the ball well and if he can reign in the interceptions Houston will be well positioned in the rebuild. What the Houston brass have to be thrilled about though, is Dameon Pierce. The rookie RB has accumulate more and more yard week after week and torched the banged up LA defence for 131 and a score.
All those storylines make for a tough call here. You'd be inclined to believe that this Houston team is capable of keeping this one close but my gut tells me that Trevor Lawrence and the Jags are just a little too much for them to handle. They won't get the benefit of 5 Jacksonville turnovers and while the Texans continue to improve, the Jaguars are simply at a higher stage of rebuild evolution.
Pick: Jaguars Cover
Buffalo Bills (-14) vs Pittsburgh Steelers
Admittedly, I've been wrong as much as I've been right so far this season. I will however give myself some credit for predicting that Pittsburgh would realize what the rest of us already knew about Mitchell Trubisky. No disrespect to the guy personally, I don't ever wanna be like that, but in terms of football he's just not the one. The Steelers turning to Kenny Pickett as the starter is the right move and it couldn't come at a worse time.
Had Pittsburgh given the ball to Pickett last week against the Jets, or even in Week 3 against Cleveland, he could have worked out his debutante jitters in a less nightmarish scenario. Instead the Steelers hung around with Trubisky just long enough to force Kenny Pickett to have his first ever NFL start on the road against the Bills.
Oof. Look, it's the right call for Pittsburgh in the long run but this Sunday we're gonna see a baptism of fire. Pickett has a lot to offer at QB but is unpolished and Buffalo will exploit that this weekend. The line is massive no doubt, a team getting spotted two touchdowns in any scenario is usually a pretty obvious play to the underdog.
This time around though, I think things are gonna get ugly. I'm sorry Kenny.
Pick: Bills Cover
Tampa Bay Buccaneers (-8.5) vs Atlanta Falcons
I can't anymore with Atlanta. I pick them, they lose. I shade em, they win. I said in Week 1 "Never pick the damn Falcons", I myself followed that ironclad mantra for exactly 2 weeks before picking them in Week 3. They've done my head in. I want to pick against them because of the loss of Cordarrelle Patterson to injury, but then they have rookie Tyler Allgeier waiting in the wings to cover that up. I want to pick against them because despite having legit starts waiting to bust out in Drake London and Kyle Pitts, QB Marcus Mariota isn't an adept enough passer to get them the ball. But that doesn't mean they don't exist, that they aren't there on the field just waiting to score a long TD in the 4th quarter just in time to beat the spread. Ugh, I have Stockholm Syndrome.
On the other end of the field, bad husband Tom Brady and the Bucs lost a game to the Chiefs in Week 4 that they were never really in. This Tampa team is good, but it's not looking 2021 Superbowl Champions good. They should win this one outright but the Falcons voodoo has me thinking they aren't gonna cover the points.
Pick: Falcons Beat the Spread
Buccaneers 28 – Falcons 24
Minnesota Vikings (-7) vs Chicago Bears
Justin Fields' game improved against the Giants in Week 4, but that improvement resulted in only 174 passing yards. Whatever adjustments he needs to make to increase that stat line wont come this Sunday in Minnesota.
The Vikings will put up points in bunches and the Bears wont be able to keep up. Let's call it my LOCK OF THE WEEK 🔒 (why do I do this to myself).
Pick: Vikings Cover
Tennessee Titans (-2.5) @ Washington Commanders
The Titans are another incredibly frustrating one. I maintain that they suck. That their true identity is a team that sucks. Yet, they sit at 2-2 on the back of consecutive wins. However, I think that says more about their two opponents' (the Colts and Raiders) even bigger suck factor than it does to any Tennessee resurgence. I think in the next few weeks we'll get a clearer picture of the real Titans and even start to hear more murmurs about rookie Malik Willis getting a start over Ryan Tannehill.
The Commanders aren't world beaters by any stretch either, coming off two consecutive (ugly) losses. However in that case they've run head long into two very potent defences (Philly and Dallas). This week they find themselves back home in Washington against a not so potent opponent. Carson Wentz will look better and be able to get his receivers more involved than they've been of late.
Bet on the real Titans showing up this week.
Pick: Commanders Beat the Spread
Commanders 30 – Titans 24
Miami Dolphins (-3.5) @ New York Jets
(I will start this post by saying that it's obviously tough to just move on from Tua Tagovailoa's scary injury last Thursday and talk about the Dolphins game like it didn't happen. I hope Miami and the NFL do better by their players in the future so we can all enjoy talking football without caveats.)
The Teddy Bridgewater led Dolphins head to New York with a lot of question marks. Miami obviously has exceptional talent at receiver but can Bridgewater utilize it effectively on Sunday. The Jets don't boast the greatest secondary but have looked an improved team all year, even more so with Zach Wilson back at the helm.
Neither QB is a sure thing. Bridgewater has shown in the past that he can run an offence this talent, but in recent years, not so much. Wilson on the other hand is raw and tends to force the ball.
In what should be a close game that's likely to be tilted by turnovers, I'm gonna back the home field advantage.
Pick: Jets Beat the Spread
Los Angeles Chargers (-3) @ Cleveland Browns
Nick Chubb has been an absolute stud for the Browns and it's probably going to amount to nothing. The Browns are 2-2 after facing 4 pretty mediocre teams thus far and will likely be without Myles Garrett and Jadeveon Clowney for this one.
The Chargers on the other hand, are not a mediocre team. Justin Herbert looked great in Week 4 despite injury scares and the team as a whole is healing up. They've been given a pretty generous line on Sunday, probably due to the road matchup, but I don't see them having any trouble dispatching Cleveland.
Nick Chubb will continue to be great but simply can't keep up with LA on his own.
Pick: Chargers Cover
New England Patriots (-3) vs Detroit Lions
I unabashedly love the new look Lions. They have a bunch of weapons that make their offence tons of fun to watch and their defence's complete inability to stop anyone means that the offence is forced to be even more fun. They've scored a combined 140 points in 4 weeks and given up 141. Every week of theirs has been a barn burner as their stars on offence have been able to (mostly) keep up with the lack of stars on defence. That game of keep up might be taking it's toll however. RB D'Andre Swift is already sidelined with injury (probably til Week 7), add to that wideouts Amon-Ra St. Brown and DJ Chark who will be at best playing banged up and at worst be out of this one entirely.
The Patriots meanwhile are a bit of a tough nut to crack, but their down to the wire loss to Green Bay last week at the very least showed off a running tandem hitting it's stride. The duo of Damien Harris and Rhamondre Stevenson combined for 173 yards of offence and a score. Whoever is under center for the Pats will have an easier job while those two are playing at a high level.
HC Matt Patricia would love to finally get one over on his former employer, but unfortunately this matchup comes at a bad time for the banged up Lions. New England should be able to slow down the game with the run and keep the Detroit offence off the field as much as possible. With so many injuries on that side of the ball I don't see the Lions keeping things as interesting this time around.
Pick: Patriots Cover
San Francisco 49ers (-6.5) vs Carolina Panthers
Baker Mayfield is running out of time in Carolina. 2 more picks in Week 4 put him on the bubble and were the Panthers healthier at backup QB, the bubble might already have popped. 81 of Mayfield's 197 total passing yards were to Christian McCaffrey and even if CMC is able to push through injury this Sunday (when is he not), Baker's inability to make anything happen downfield is a major detriment to the Panthers' chances.
San Francisco meanwhile, pulled off a somewhat unexpected total win again the Rams in Week 4. Sure something is clearly nagging at Matt Stafford injury wise and the Rams are starting to look pretty pedestrian, but it was still a dominant performance from the 49ers over the defending champs.
The momentum arrow is clearly in San Fran's favor and despite being on the road, I expect an equally dominant outing.
Pick: 49ers Cover
Philadelphia Eagles (-5) @ Arizona Cardinals
It's hard to say if we've seen the real Arizona Cardinals yet. At 2-2 it's still a bit murky and to make things even tougher, they've won both their road games and lost both at home thus far. This week they host an Eagles squad who sit atop the NFL power rankings. Which Cardinals team will show up? Will the road dogs finally settle in at home or put up another stinker at State Farm Stadium. Well I'm Jake, but I'm not from State Farm and I'm here to tell you to roll with the Eagles (provided the line stays reasonable).
Pick: Eagles Cover
Los Angeles Rams (-4.5) vs Dallas Cowboys
As mentioned a couple picks ago, Matt Stafford is clearly bothered by something physically. Two straight 0 TD games for Stafford for the first time since 2016 has the Rams chances of a repeat looking bleak.
The Cowboys have hit the ground running since Dak Prescott's Week 1 injury. Cooper Rush has filled in ably and the defence has done the rest. Michael Gallup's return from injury will open up space for CeeDee Lamb and make for an even more potent attack. Whether Dak is ready to return or Rush suits up again, the Cowboys show no signs of slowing down, making this the ideal underdog play.
Pick: Cowboys Beat the Spread
Sunday Primetime Game
Baltimore Ravens (-3) vs Cincinnati Bengals
Wow this is the toughest game to call this week. The Bengals and Ravens are 6th and 7th respectively in this week's power rankings. Prognosticators believe the true Bengals are back and with Joe Burrow getting better protection from his O-Line of late, it's hard to argue.
The Ravens meanwhile could easily be a 4-0 team coming into this week, instead a couple of costly blips sees them at 2-2. Lamar Jackson is putting together another MVP caliber campaign however his lack of a true star wide receiver limits his scope to outlet passes and scrambles. That being said Jackson can do more with less than most QBs can do in ideal scenarios.
All that makes for a head scratcher but deep down I want to believe that the Bengals are on their way back to the top. Their team is too much fun when firing on all cylinders and that's something worth rooting for.
Pick: Bengals Beat the Spread
Monday Night Football
Kansas City Chiefs (-7) vs Las Vegas Raiders
After watching Patrick Mahomes dismantle a supposedly elite Bucs defence in Week 4, how can I possibly bet against him doing the same under the bright lights of Monday Night. Sure the KC defence can be shaky and sure the Raiders got things going in a positive way in last week's win over the Broncos, but neither is enough to turn me against Mahomes.
I wish I had more to write about here for Monday Night Football but this one is cut and dry for me. Chiefs win big.
Pick: Chiefs Cover