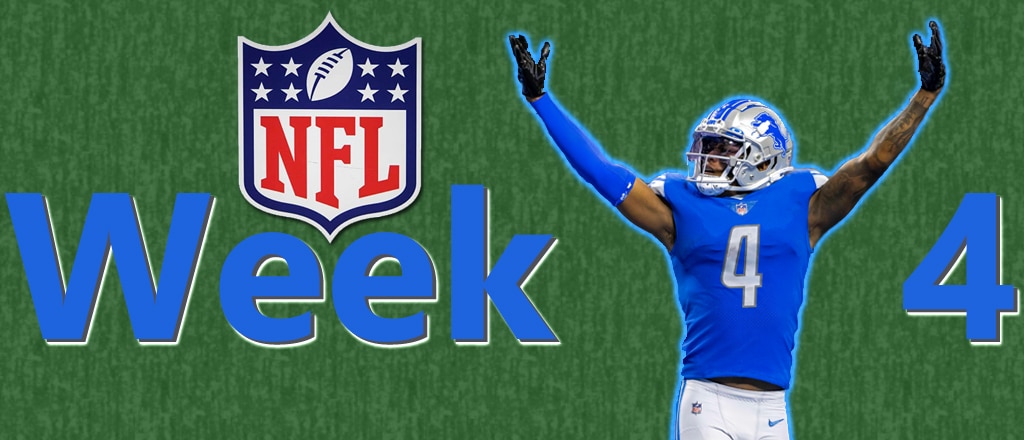 I suppose I should be happy to escape Week 3 with a 50/50 split. Surprise outcomes continued to dominate the NFL headlines last week and logic was again defied. Prognosticators continue trying to make sense of the young season and while some patterns are emerging, the prediction waters remain mighty murky. As such we have our fair share of dicey choices to make this week. Let's dive in head first.
As always if you're new to Against the Spread (ATS) betting in football you can refer back to our Week 1 page for a quick primer.
Week 3 Record: 8-8 😶 / Season Record: 21-27😑
Without further ado, on to the Week 4 picks against the spread.
Skip Around to Any Week x Game Here:
Thursday Night Game
Cincinnati Bengals (-4) Vs. Miami Dolphins
A bit of a doozy right off the bat this Thursday Night. The Dolphins (despite having a few nice pieces) should not be 3-0. In fact, they are a 1-2 team disguised as a 3-0 one. Counting on a low percentage comeback against Baltimore in Week 2 and a completely logic busting win against Buffalo last week. I mean, look at this stat line, without any prior knowledge, who would think Miami came out the victor?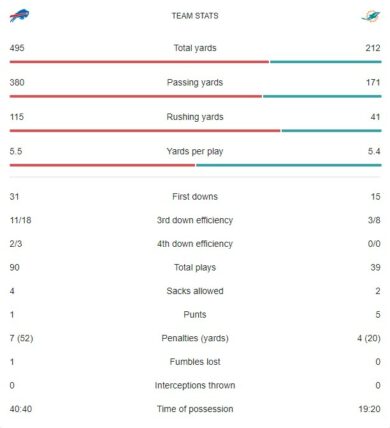 The Bengals meanwhile are a 1-2 team that probably deserve to be a 1-2 team. That being said, they're a lot better than they've showed thus far and the arrow is trending up. Last week against the Jets, Cincinnati's front line was finally able to afford Joe Burrow time to work and work he did, throwing for 3 touchdowns and no interceptions. Provided Burrow can continue to get time and space, his healthy receiver corps slash Law Firm of Boyd, Higgins and Chase will continue to dominate secondaries.
Without the proper insight, bettors may scratch their heads at Cincinnati being the favorites here and gravitate towards Miami, but the line on this one is logical and despite logic being thrown out the window on numerous occasions this season, it's still a bettors best friend.
Pick: Bengals Cover
Sunday Morning Game
Minnesota Vikings (-2.5) @ New Orleans Saints
You'll have to set your alarm clocks for this one as the Vikings and Saints get set to clash in London.
New Orleans let me down in Week 3, as I thought they'd have enough gas to dispatch the Panthers before heading across the pond. They didn't of course and whatever fumes were left over were probably used up in the flight. Jameis Winston continued his trademark "chuck and pray" type career with 353 throwing yards and another 2 picks. Injuries keep piling up on the offensive side of the ball and the defence, while adept, is gonna have a hard time making up the difference.
The Vikings meanwhile were able to outlast an exciting Lions team but lost Dalvin Cook to a dislocated shoulder in the process. Cook has a history of shoulder injuries and has played through them before (with a brace) but even if he does go, expect his effectiveness to be limited.
Despite that, Minnesota has enough weapons to outduel New Orleans until an inevitable Winston turnover puts the game out of reach. I know what you're thinking, Kirk Cousins can't perform when the collective eyes of the footballing world are upon him, but fret not, as on Sunday those eyes will be bleary with sleep as this one kicks off at 9:30am EST.
Pick: Vikings Cover
Sunday Afternoon Games
Indianapolis Colts (-3.5) vs. Tennessee Titans
Man what a couple of frustrating teams.
Week after week the Colts seem to find themselves in matchups that are very hard to predict. Last Week saw me fading them hard after an ugly loss to the Jags in Week 2. So what do they do? Go out and beat the Chiefs while holding them to only 17 points and two TDs. Groan.
Speaking of fading, I had perhaps not been harsher with my assessment of any team than I have been thus far with the Titans. So of course they took my opinion of them and Kobe'd it (RIP) right in the nearest garbage bin along with the (now 0-3) Raiders. Derick Henry came to life in that one and carried the ball and Tennessee to victory and that is bound to happen once in a while.
Both teams won their Week 3 games at home and if we have anything to separate them this week it's that. I'm gonna take Indy by virtue of home field advantage and a defence that should pose more of a challenge to Henry than the Raiders did.
Pick: Colts Cover
New York Giants (-3.5) vs. Chicago Bears
Tied going into the 4th quarter, the Giants crumbled on the road against the Cowboys. Meanwhile, the Bears outlasted the Texans and won it at the death by a field goal.
Looking at the outcomes you'd think there'd be more positives on Chicago's side, but you'd be wrong. Justin Fields' passing ability (or lack thereof) continues to hinder the Bears and without a fantastic performance from RB Khalil Herbert, Fields' 86 air yards and 2 INTs would have surely sunk them.
Daniel Jones isn't miles ahead of Fields, but he's at the very least streets ahead. Jones continues to tow the line between borderline and capable starting QB but his consistency thus far outpaces his counterpart in Chicago. Add in Saquon Barkley who (knock on wood) seems to be back to normal and home field advantage and that spells victory for the Giants this Sunday, despite them coming off a loss.
Pick: Giants Cover
Buffalo Bills (-3.5) @ Baltimore Ravens
As I detailed in the Miami v Cinci breakdown, Buffalo was robbed last week. Utterly robbed. Josh Allen threw for 400 yards, 2 TDs and no interceptions. Adding 47 yards on the ground. The offence was well spread out with Devin Singletary, Isaiah McKenzie and Stefon Diggs all having over 70 receiving yards and a whopping 8 (EIGHT!) receivers catching for over 20 on the day. There are just times where the sports gods decide to humble you a little. The Bills losing in Week 3 was one of those times.
The Ravens meanwhile played the Patriots close in the first half, before finding another gear and pulling away in the second. Lamar Jackson was vintage, throwing for 4 touchdowns and adding another rushing score himself. JK Dobbins returned from injury and though he may have been rusty, him being healthy at all is a very positive sign for Baltimore.
All that to say that this matchup features two good teams. Saying that the Bills are very good is a little redundant when trying to bet against the spread so instead I'll say this; The Ravens have looked good but have been in close matches all 3 weeks thus far. Their QB opponents in that stretch? Mac Jones, Joe Flacco and Tua Tagovailoa, not exactly air raid specialists. Josh Allen is the only QB with 1,000+ yards passing through the 3rd week. If those three can keep it close against Baltimore's pass defence, Allen should have a field day.
Pick: Bills Cover
Los Angeles Chargers (-5) @ Houston Texans
If there's a narrative tagline to describe Houston's season thus far it's "Keeping it Close". The 0-2-1 Texans have lost their last two by a combined 8 points. A young team with very little to play for except development and progress, the Texans have been able to get enough out of their young core to keep games interesting.
Now normally I wouldn't even hesitate in this scenario, on paper the Chargers are a far superior team but in reality, they are a walking plaster cast. Injuries to Justin Herbert, Keenan Allen, Joey Bosa and Rashawn Slater have them feeling the pain on both sides of the field. In this hobbled state, they were no match for a surging Jacksonville squad.
The Texans don't pose nearly the threat that Trevor Lawrence and the Jags do and LA should be able to right the ship and do enough to win this one on the road. That being said, Houston's Keeping it Close script will continue, even if it's still in a losing cause.
Pick: Texans Beat the Spread
Detroit Lions (-4.5) vs. Seattle Seahawks
Detroit's Week 3 was doubly painful as they failed to hang on against Minnesota (after leading through three quarters) and also lost star RB D'Andre Swift to a shoulder injury. Like Dalvin Cook, Swift may be able to play through it with a brace, but head coach Dan Campbell hinted that they may opt to hold him out through their Week 6 bye. Jamaal Williams has spelled Swift well thus far and can be counted to carry the load if he can't go.
Seattle meanwhile, in what is for all intents and purposes a write off season, has looked a little more potent than expected. Geno Smith, replacing the departed Russel Wilson, has been doing some cooking of his own, throwing for 717 yards and 4 scores in three games. Their defence however, not too long ago the envy of the league, is brutal. They've given up 27 points two weeks in a row and 400 yards of total offence both times. I think Detroit's potent attack is going to prove to be too much this week.
Pick: Lions Cover
Pittsburgh Steelers (-3.5) vs. New York Jets
It's the Lemon Lime game!
Many of my peers are picking the Lemons, I mean Steelers in this one. In fact among football experts making picks, Pittsburgh currently has 73% of them on board. I on the other hand will do what no one should ever do and pick the Jets.
I know I know, picking the Jets to do anything right is like picking rum raisin to win an ice cream contest against chocolate (are there ice cream contests?), but I'm feeling adventurous and with Zach Wilson returning to take the reins in New York, I'm also feeling justified.
I wont belabor the point here, I'm picking against the grain but hear me out; both of New York's young stars are named Wilson (Zach Wilson and WR Garrett Wilson). Two Wilsons! Tim Allen wouldn't know what to do with himself. You might remember earlier I mentioned the sports gods? Well this is them, whispering to us, pick the Jets.
Pick: Jets Beat the Spread
Sunday Afternoon Games
Philadelphia Eagles (-6.5) vs. Jacksonville Jaguars
The Eagles and the Jags face off in what is probably the best game of Week 4.
Jacksonville comes into this tilt with tons of momentum and hype. I said early on that the Jags are gonna be trending up all season long. Trevor Lawrence has passed the awkward learning to walk stage of his pro career and is now playing like the first overall pick. He's surrounded by talented receivers, an RB tandem of James Robinson and Travis Etienne Jr. that provide him time and space and a high tier defence. Jacksonville is a talented team that we will slowly but surely get used to being a threat in the league.
On the other hand, Philadelphia doesn't look likely to slow down any time soon. Jalen Hurts is showing all those who doubted him in college what a true multi-threat QB he is and is insulated by talented pieces all around him.
After shaky starts in Week 1, both of these teams have put the hurt on their opponents in weeks 2 and 3. Both head for this clash with a ton of confidence and expectation and that to me spells a tight affair right to the end. Hard to call an outright winner but I'll put my faith in the Eagles as the Jags still have a little bit of work to do to prove they're for real.
Pick: Jaguars Beat the Spread
Dallas Cowboys (-3.5) vs. Washington Commanders
Cooper Rush has done enough in two games as Dallas QB to silence the doomsayers (myself included). I've even seen some suggest a dreaded QB controversy emerging as Dak Prescott nears his return to health. Much of Rush's success has been facilitated by Dallas' aggressive defence and the ground game of tandem Tony Pollard and Zeke Elliott, but I must admit, Rush has done enough himself to make me eat crow.
The Commanders are gonna be eating a whole heaping serving of something this Sunday but it won't be crow. No, this is not an overthinker. Washington's defence has been horrible and their front line wont be able to stop Micah Parsons and the Cowboy pass rush. Fade the Commanders hard this week.
Pick: Cowboys Cover
Cowboys 27 – Commanders 17
Cleveland Browns (-1.5) @ Atlanta Falcons
This week I am returning to my tried and true philosophy of never picking the Falcons.
Sure Atlanta's offence has looked pretty good thus far and they've hung around long enough with the Rams and Saints to get more bettors on their side, but I'm not seeing it this week.
If not for a cursed meltdown against the Jets, we'd be looking at a 3-0 Cleveland team heading to Atlanta this Sunday. The Browns are good and what's more, Jacoby Brissett has been better than anyone imagined in his "keeping the seat warm for Deshaun Watson" games thus far.
I'll give the Falcons credit where it's due, they can still put up points with the best of them, but the Browns will have their number this week.
Pick: Browns Cover
Carolina Panthers (-1.5) vs. Arizona Cardinals
This is an odd one to pick for sure. I think most people who follow football (myself included) expected the Cardinals to be better than they've been so far and those same people don't really know what to make of Baker Mayfield and the Panthers. Carolina beat the Saints in Week 3 on the back of Christian McCaffery and a few long shots down the field. Baker is inconsistent but as we learned from his time in Cleveland, sometimes he looks good enough.
Arizona sits at a disappointing 1-2 but admittedly they have faced some pretty stern competition early in the season. Narrowly edging out the Raiders (another team I expected to be better) and losing to the Chiefs and the Rams. I think their true identity lands somewhere in the middle, good enough to beat most teams aside the ones in the upper echelon.
71% of experts are picking the Cardinals this week and I think that's justified. Look for Kyler's squad to right the ship against inferior competition as everyone's real identities start to come into focus.
Pick: Cardinals Beat the Spread
Cardinals 24 – Panthers 21
Las Vegas Raiders (-2.5) vs. Denver Broncos
Another tough nut to crack. An 0-3 Raiders team favored over a 2-1 Broncos squad that hasn't exactly looked convincing.
I think the thing to hold on to here is Las Vegas' sense of desperation. At home, needing a win to turn the season around, they're primed to show up when it matters. HC Josh McDaniels has to prove that he can succeed away from Bill Belichick. Derek Carr has to prove he's the man for the job at QB, especially as loaded with weapons as he is this year.
Denver's defence has got them to 2-1 but it's offence continues to sputter. I'm getting the feeling they're due for an ugly one in Sin City.
Pick: Raiders Cover
Green Bay Packers (-10) vs. New England Patriots
I'll make this one simple for you. Pick the Packers to cover.
If you'd prefer a little extra analysis to go with your pick, I'll indulge. The Pack are coming off a tightly contested victory over Tom Brady and the Bucs. They're feeling good about themselves, Aaron Rodgers is laughing and smiling, all is good in Packer-world.
In New England, emotions are not so rosy, imagine instead a shade of puke (you can choose the shade). QB Mac Jones is out for at least 3-4 weeks with an ankle sprain. His replacement to be trotted out at Lambeau Field is either Brian Hoyer (who yes, is still in the league) or 3rd string QB.. *checks notes* Bailey Zappe (sounds made up). Good luck to you New England, this one ain't it.
Pick: Packers Cover
Sunday Primetime Game
Kansas City Chiefs (-2) @ Tampa Bay Buccaneers
Primetime indeed! What a great matchup for football fans to dig into on Sunday Night.
Both of these teams are coming off losses in Week 3 and will be looking to work out some frustration. It's tempting to take Brady and Tampa at home, especially considering their loss to the Packers wasn't as big as an upset as KC's to Indy.
Expert ATS pickers don't agree however, as of writing a whopping 79% of them are backing Mahomes and the Chiefs on the road.
It's a coin toss game with a coin toss spread, meaning we have to choose an outright winner and stick with it. With very little to go on I'll roll with the consensus and ride the KC vibes. Should be a fun one.
Pick: Chiefs Cover
Chiefs 26 – Buccaneers 21
Monday Night Football
San Francisco 49ers (-2.5) vs. Las Angeles Rams
Both these teams have sputtered a little and both QBs have not looked themselves thus far. Jimmy Garoppolo looked especially uncomfortable against the Broncos in Week 3 and has many niners fans worried that this season will be lost without Trey Lance.
Matt Stafford and the Rams are 2-1 despite not looking all that great. It goes without saying that the defending champs have enough talent to win any given matchup but there are creeping doubts as to their title caliber.
Both teams entered the season as contenders and if anything, they've both presented serious question marks to that end. This week, one of these squads will have to step up and send a message to the football world. In a grindy game that won't see a ton of deep balls, I'm gonna fade the 49ers due to key injuries on defence and Jimmy G's sloppy play.
Pick: Rams Beat the Spread