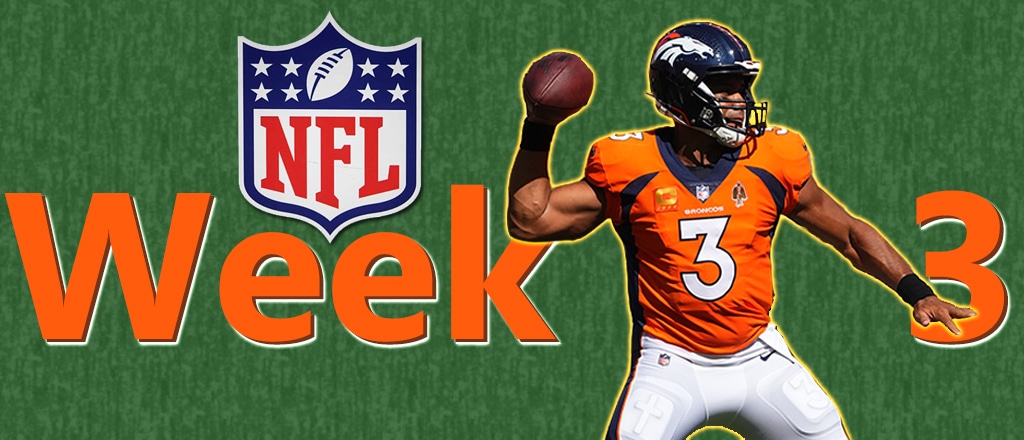 What a bloodbath. Chaos reigned in Week 2 of the NFL season and my record was shredded as a result. Chaos Theory dictates that the further out something is (like a football game) the more factors can wreak havoc on predicting the outcome. Well I've got a much simpler theory for you; a dart board would have been more effective at picking games than I was last week. Now I've got my work cut out for me to prove I'm worth more than an inanimate object.
Luckily, Week 3 is chock full of spicy takes that are primed to get us back on track.. Right?
As always if you're new to Against the Spread (ATS) betting in football you can refer back to our Week 1 page for a quick primer.
Week 2 Record: 4-12 😱 / Season Record: 13-19 😐
Without further ado, on to the Week 3 picks against the spread.
Skip Around to Any Week 3 Game Here:
Thursday Night Game
Cleveland Browns (-4.5) vs. Pittsburgh Steelers
How do you out Jet the Jets? By being the Cleveland Browns. From their historic collapse after leading 30-17 WITH ONE MINUTE AND FIFTY FIVE SECONDS LEFT. To the cursed goblin(?) cartoon they decided to put at midfield. The Browns managed to dunk on themselves in epic fashion. The hangover from that is gonna be felt on Thursday.
Their opponents in the Pittsburgh Steelers always hang around, especially when underestimated. This is a game that will be won and lost on the ground and with able defenses on both sides, I don't expect fireworks either.
Tough to call a winner outright but I'm gonna predict Cleveland does just enough to pull out a win, while making their fans very nervous all night.
Pick: Steelers beat the Spread
Sunday Afternoon Games
Baltimore Ravens (-3) @ New England Patriots
The Ravens lost a tight one in Week 2 to a Dolphins team that put 28 points by them in the 4th Quarter. Up until that point, the Ravens offence was humming and they looked to be in control. Even without JK Dobbins (who at the moment of writing has a chance to play this week), Lamar Jackson was able to move the ball effectively through the air and with his feet.
The Pats meanwhile outlasted a Pittsburgh Steelers squad with as much (read: little) offensive prowess as them. Bill Belichick's team was able to keep it close all afternoon with little to no weapons in the passing game and a running attack that's so far failing to give Mac Jones much help. That lack of firepower is gonna be quite a bit more evident in this one.
Pick: Ravens Cover
Buffalo Bills (-5.5) @ Miami Dolphins
The Bills looked every bit the part of Superbowl favorite in their dismantling of the Titans in Week 2. Josh Allen threw for over 300 yards and 4 scores and the defense blanked Tennessee in 3 of 4 quarters, adding 2 interceptions. Quite frankly, they look to be in a league of their own right now.
The Dolphins meanwhile enter Sunday's contest as the team with the most buzz surrounding them. A clean 2-0 so far, Tua Tagovailoa's team has beaten a good defense and a good offense in consecutive weeks, all while scoring 8 touchdowns in 2 games. 4 of those scores however, came in the 4th quarter of their Week 2 tilt against Baltimore.
The Dolphins are good, maybe a little better than we all expected in fact. However the Bills are very good and have dominated this matchup in recent years, winning the last 7 tilts against Miami.
Expect the trend to continue this weekend in the South Florida sunshine.
Pick: Bills Cover
Cincinnati Bengals (-5) @ New York Jets
The Bengals and Jets face off this weekend in a battle of two teams who hurt me dearly in Week 2.
The Bengals lost their second straight game to a wounded and vulnerable Cowboys team that I had all but left for dead. Now the one hit wonder refrain will loom over Cinci's heads until they prove they can right the ship. The course correction has to come in the form of more protection and more time for Joe Burrow. So far through this young season, Burrow has spent more time avoiding sacks (or failing to avoid them) than doing anything else. Change most likely comes in the form of more Joe Mixon (provided he can stay healthy) to keep defenses guessing and give Burrow a fighting chance.
The Jets meanwhile pulled off a miracle comeback on the road against Cleveland with less than 2 minutes left. All the Browns had to do was run out the clock and this one would have been over, but they opted for a touchdown, kicked the ball back to New York and the rest is history. Without that miracle we'd be talking about an 0-2 Jets team that continues to countdown the hours until Zach Wilson returns, rather than a 1-1 team that has folks picking them in Week 3.
I don't buy it. Cincy has too much at stake and this is their get right game, no more miracles please.
Pick: Bengals Cover
New Orleans Saints (-3) @ Carolina Panthers
This is the tale of two teams just kinda struggling through it right now.
On the one hand you've got the Saints, who've got plenty of talent, but injuries to QB Jameis Winston and RB Alvin Kamara are hindering them from using it effectively.
The Panthers on the other hand are pretty lacking in talent, as QB Baker Mayfield and RB Christian McCaffery have to attempt to get it done on their own most of the time.
This shapes up to be a grindy affair and I'm gonna give the edge to the Saints. Even if Kamara isn't fit to start, they have the Panthers beat on defense and will be able to paint Baker into the corner that he's used to.
Pick: Saints Cover
Minnesota Vikings (-6) vs. Detroit Lions
I backed Minnesota to get the better of the Eagles in Week 2 and boy was I wrong. I don't know if it was the spotlight of Monday Night Football shinning upon them, but the Vikes looked like the complete opposite of the squad that beat the Packers in Week 1. Despite being loaded with talent on both sides of the ball, I can't help but think we'll see the Jekyll and Hyde act again a few more times this year, especially with Kirk Cousins at center.
Their opponents this week, the Detroit Lions, continued to make me fall in love with them in Week 2. Their defense can't stop anyone from scoring but their offence is so much fun to watch. WR Amon-Ra St. Brown is a legit star and RB D'Andre Swift is a weapon defenses have to reckon with, which gives Jared Goff time and space to operate.
Don't get me wrong, the Lions will still lose plenty this year, but their trending up and are a team worth rooting for.
Pick: Lions Beat the Spread
Kansas City Chiefs (-6.5) @ Indianapolis Colts
I'll admit it, I've overestimated the Colts so far this year. I thought Matt Ryan had enough talent around him to buck his recent trends and have a resurgent season. Thus far, there's been little evidence of that. To add injury to insult, Indy will be without wideout Michael Pittman Jr. leaving Ryan with even fewer outlets and leaving RB Jonathan Taylor with too much to do alone.
On the other side of the ball is a Chiefs team that I may have slightly underestimated in turn. Patrick Mahomes is running his Tyreek Hill-less offence as well as ever and the defense is playing with a ton of speed and energy.
I'm done putting my faith in the Colts (which probably means they'll somehow win this one😒)
Pick: Chiefs Cover
Las Vegas Raiders (-2) @ Tennessee Titans
Why the continued faith in the Titans betting world?
Tennessee looked anemic in Week 2 on the road in Buffalo. Ryan Tannehill and Derrick Henry combined for a mere 154 yards of offence and one TD. Their defense isn't as fearsome as it's been in recent years and I'll be hard pressed to back them at any point this season.
Their opponents this week in the Raiders are a team that could very easily be 2-0 but instead find themselves at a deceptive 0-2. They've lost tightly contested games against two good teams (the Chargers and Cardinals) and have the offensive weapons to win on any given Sunday.
I've twice bet against the Titans this year and twice been right. Let's make it thrice.
Pick: Raiders Cover
Philadelphia Eagles (-6.5) @ Washington Commanders
Philly punished me for picking against them in Week 2, something I intend to rectify this week.
Jalen Hurts continues to excel as a multi-threat QB and has a supporting cast of legit talents. RB Miles Sanders, WR AJ Brown and TE Dallas Goedert are consistent producers that defences have to account for, giving Hurts time and space to dissect his opponents.
Washington has put up great offensive numbers in their own right albeit against inferior defences (the Jaguars and Lions) and even with the added motivation of a revenge game for QB Carson Wentz, I think the Commanders are simply outmatched here.
Pick: Eagles Cover
Eagles 33 – Commanders 24
Chicago Bears (-3) vs. Houston Texans
After getting tossed aside by the Packers in Week 2, it's looking more likely that the Bears we saw in Week 1 were an aberration. Beating San Fran to kickoff their season is still buying Chicago a decent amount of cred amongst bettors but I have reservations.
Justin Fields looked lost against Green Bay, and despite the 1-1 record has only thrown for a combined 191 yards in two games. He has obvious talents as a runner as well, but if he's unable to establish his passing game, defenses will see his scrambles coming.
The Texans meanwhile have been pretty steady through two weeks. Their 0-1-1 record looks a bit worse than the reality. Rookies Davis Mills and Dameon Pierce have looked good so far and the defense has 2 INTs in as many games.
Bettors are giving the edge to the Bears and that's spells opportunity to me.
Pick: Texans Beat the Spread
Sunday Afternoon Games
Los Angeles Chargers (-7) vs. Jacksonville Jaguars
This is a game that will depend entirely on a single factor; whether or not Justin Herbert plays.
Herbert is nursing a rib injury sustained late in the Chargers' Week 2 loss to the Chiefs. He'll have the benefit of a long week to get right and the Chargers hopes rest on him doing so.
The Jaguars looked great in Week 2's trouncing of the Colts. The Jacksonville defense picked off Matt Ryan 3 times in the game and were in his face all day. The Jags are gonna be a team we see trending up all year.
So I'm gonna make an exception here and make two picks. The Chargers are good enough to beat anyone with Herbert under center. Without him, the edge goes to Jacksonville, even on the road.
Pick 1: Chargers Cover (If Herbert Plays)
Pick 2: Jaguars Beat the Spread (If Herbert doesn't play)
Scenario 1: Chargers 31 – Jaguars 23
Scenario 2: Jaguars 26 – Chargers 24
Tampa Bay Buccaneers (-1.5) vs. Green Bay Packers
I said in Week 1 that the Packers would lose two of their opening three games and despite their comfortable win over the Bears in Week 2, I'm sticking with my prediction.
The Bucs are banged up on offence but have the defensive talent to paper over the potential absences. In what could be the final Brady v. Rodgers confrontation ever (lest they meet in the playoffs), I expect a back and forth affair, settled in the end by a razor thin margin.
Pick: Buccaneers Cover
Buccaneers 23 – Packers 21
Seattle Seahawks (-2) vs. Atlanta Falcons
I've twice bet against the Falcons this season and twice been burned, so I'm gonna do what I swore never to do again, back Atlanta.
The Falcons have twice rallied against decent to good teams (the Saints and Rams respectively) to come up just shy. They're having no trouble putting up points as Marcus Mariota has been steady if unspectacular and rookie WR Drake London has impressed. For some strange reason, Atlanta seems unable to get TE Kyle Pitts going again this year despite all his talent. If they can solve that riddle, the points will continue to pile up.
In Week 1, Seattle managed to pull off the opening night win against former Seahawk Russel Wilson and the Broncos, but Week 2 was a crashing back to earth moment as they were made to look useless against the 49ers.
Despite being favored at home I expect the Seahawks offence to look similarly useless on Sunday, while Atlanta manages not to fall short this time.
Pick: Falcons Beat the Spread
Los Angeles Rams (-3.5) @ Arizona Cardinals
Kyler Murray woke up late in Week 2's tilt with the Raiders and finally Kyler Murray'd all over the place. What we have to decide is whether that's a sign of things to come or just a blip for a Cardinals team that's still struggling to find an identity after off-season departures on offence.
Meanwhile the 1-1 Rams are getting the benefit of the doubt given to defending champions, but haven't looked entirely convincing thus far. After barely holding off an Atlanta team they really should have no issues with, I feel the arrow is trending towards Arizona. Take the Cards at home.
Pick: Cardinals Beat the Spread
Sunday Primetime Game
San Francisco 49ers (-1.5) @ Denver Broncos
As the line suggests, this is a toss up game.
Jimmy Garoppolo came to the 49ers rescue last week after young gun Trey Lance was unfortunately knocked out for the season with a broken ankle. Riding a wave of adrenaline, Garoppolo led San Fran to a complete victory against the Seahawks. With Jimmy G back at QB the 49ers have a steadying presence but lack the game breaker ability of Lance.
The Broncos meanwhile managed an upstart Houston squad in Week 2. After being dealt a dose of cold water to the face in Week 1, Denver got things back on track (slowly) against the Texans. While Russ has yet to fully cook, it appears that the kitchen lights are on at least.
Broncos coaching has come under fire thus far for uninspired play calling, hosting the 49ers in Week 3 will be the perfect opportunity to silence the critics.
Pick: Broncos Beat the Spread
Monday Night Football
New York Giants (-2) vs. Dallas Cowboys
Man, I had zero faith in Dallas and QB Cooper Rush going in to Week 2 and then they go and beat the Bengals. They got good performances on both sides of the ball and all of a sudden, the Boys outlook is not so grim.
Meanwhile under second year head coach Brian Daboll (Ontario Born 🍁) the Giants look to finally be turning that ever elusive corner onto relevance road. Saquon Barkley has looked like his vintage self, amassing 236 rushing yards and 46 receiving yards in 2 games. Daniel Jones has looked steady and is limiting turnovers which should be a great sign to any Giants fan.
All told, I will continue to fade the Cowboys and stan the Giants, at least for one more week.
Pick: Giants Cover