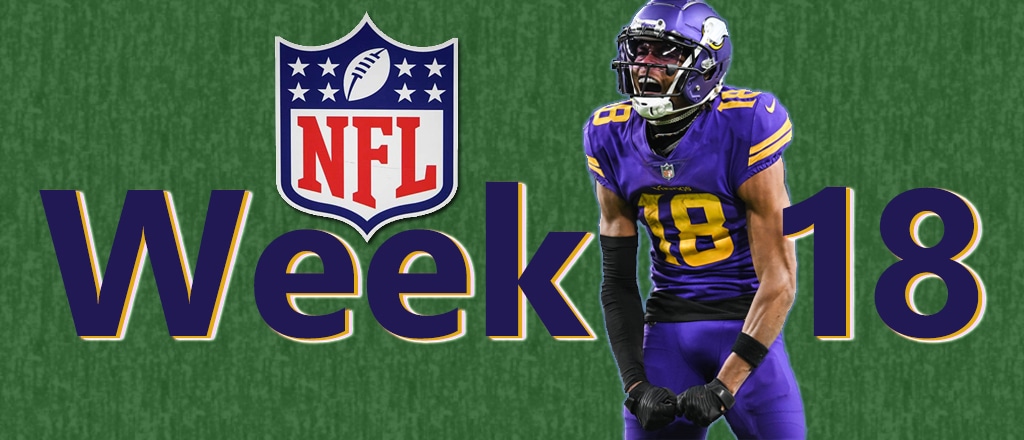 We've officially come to the endgame of the 2022 NFL regular season, and barring a disaster of Thanos Snap proportions, we should enter the playoffs with a winning record.
Our program has some things to tighten up, some players to cut and some people to draft, but overall I think Team CSB is heading in the right direction. First we must navigate the treacherous waters of the final week. Minimal playoff implications make for chaotic picks. Players resting, teams looking towards the future (and how one more loss could possibly improve their draft position.. no implications), and teams who checked out long ago.
Speaking of players resting and injuries, it would be remiss of me to not mention Damar Hamlin. Hamlin suffered a cardiac arrest on the field during the Monday Night matchup between the Bengals and Bills. At the time of writing Hamlin remains in critical condition at the University of Cincinnati Medical Center and is surely at the forefront of Football fans' thoughts today. The game we love can be very dangerous and those who put their bodies on the line for our entertainment deserve our utmost respect and well wishes when the worst case scenarios do play out. Before the joking and football banter begins, I just wanted to say that all of us at CSB are pulling for Damar and hoping for a full recovery.
As far as the Bills vs Bengals matchup that was postponed, there has been no decision as to when that game will be resumed/replayed or even cancelled completely. Should the game be played, my original pick still stands (See Here, Bengals +1.5).
Week 18 is also unique in terms of scheduling as the full slate of games will kick off over the weekend. No Thursday night game this week, no Monday Night Football either. The NFL also reserves the right to alter the schedule to highlight marquee matchups late in the season, and they have used that wildcard to great effect this week. Sunday's primetime matchup is a win and you're in duel between the Detroit Lions and the surging Green Bay Packers. Exciting stuff to close out the season, so let's not waste any time and dive right into the Week 18 action!
As always if you're new to ATS betting in football, check out our convenient primer on Point Spread Betting and take a look at our new and improved Parlay Betting Guide should the mood strike to combine some of these picks!
Week 17 Record: 6-9 😏 / Season Record: 133-124 🤞
Without further ado, on to the Week 18 picks against the spread.
Skip Around to Any Week 18 Game Here:
Saturday Games
Kansas City Chiefs (-9.5) @ Las Vegas Raiders
Tough one to call off the jump. On paper, this should be an easy rout for the playoff bound Chiefs as they aim to lock up the #1 seed in the AFC. First thoughts that come to mind are of the Raiders players phoning it in in a meaningless game as Patrick Mahomes III works them over in a blowout, but if we dig a bit deeper into the underlying factors, we start to think differently.
Namely those fresh new thoughts come in the form of Raiders QB Jarrett Stidham. In Stidham's first full start in the NFL, the Auburn product "balled out" to quote WR Davante Adams, to the tune of 365 passing yards and 3 TDs, adding 34 yards on 7 scrambles. There were certainly miscues, but considering Stidham's opponent for his debut, the 49ers, boast one of the league's best defences, miscues were to be expected.
What Stidham laid bare was the fact that the Raiders are truly a well built team, after all not many teams sitting outside the playoff picture can boast stars like the aforementioned Davante Adams (who racked up 153 catching yards and 2 scores) and RB Josh Jacobs (who at various time this year has looked like the best back in the league). What Stidham may yet do, is seal the fate of oft criticized QB Derek Carr. Carr has never put together a complete season, and as his arsenal has grown and grown around him, the results still haven't come. The 26 year old Stidham may add an element that Carr can't, particularly in his ability to scramble.
Whatever transpires with the 2023 Raiders, at the very least their last game of 2022 has a little more going for it than meets the eye. Another competent if not great performance from Stidham against the Chiefs will set him up for big things next year, and more relevant to us right now, allow the Raiders to cover at home.
Pick: Raiders Beat the Spread
Jacksonville Jaguars (-6.5) vs Tennessee Titans
Two teams with polar opposite momentum meet to determine the AFC South Champion.
When last these two met, the Jags were triumphant to the tune of 36-22. That was game 3 of the Titans' current 6 game skid. Before that slide began, the Titans sat at 7-3 and were a shoo in not only for the AFC South title but a slam dunk playoff birth. The Jaguars at that same point were the inverse, a 3-7 record and not much hope for playoff football. Since that faithful day in Week 10, Jacksonville has charged up the standings, going 5-1 in that span and overtaking the AFC South lead.
There is zero reason to believe either streak ends here in Week 18. The Jaguars momentum seems primed to lead them into the post season while the Titans, despite resting some starters in Week 17 ahead of this all important game, have been stumbling down the charts at breakneck pace.
The Jags should seize the opportunity here and leave no doubt in front of their fans.
Pick: Jaguars Cover
Sunday Afternoon Games
Miami Dolphins (-1) vs New York Jets
A must win game for the Dolphins here in South Beach. At the sad end of a 5 game losing streak, the Fins find themselves in desperation mode to save their season. To make matters more desperate, QBs Tua Tagovailoa and backup Teddy Bridgewater are both ailing. 3rd stringer Skylar Thompson has been taking first team reps in practice and Miami has even signed journeyman pivot Mike Glennon to the practice squad ahead of this one. No matter who is calling the shots, there's only one team here that's desperate, and with a pick 'em line it's hard not to go with the home dogs eking into the playoffs.
Pick: Dolphins Cover
Best NFL Sign Up Bonuses in Canada
If you're looking to sign up for a Canadian Sportsbook for the first time and put these picks to good use, check out these great sign up bonuses currently on offer:
New users at BetVictor can get a 100% deposit bonus up to $500! – Sign Up Now
New users on Bet99 will get a Matched Bonus of 100% on their first deposit, up to $600! – Check It Out
New users at PariMatch get a 100% deposit bonus of up to $500 with a minimum deposit of only $10. – Sign Up Today
Check out more bonuses available in our handy Bonus Guide
Pittsburgh Steelers (-2.5) vs Cleveland Browns
No way I'm picking against Mike Tomlin capping off his 16th straight winning season. I feel like we've been talking about that streak hanging on by a thread all season long, and it was certainly not helped by the Steelers opting for Mitch Trubisky early on instead of Kenny Pickett. Were Pickett there from the start, the Steelers may well be sitting comfortably in a playoff spot, instead they sit on the outside looking in, hoping for a combination of losses from their rivals to sneak in at the death. Either way, as will be a huge trend this week, I'm going with the home team that has plenty to play for over the visitors with nothing.
Pick: Steelers Cover
Indianapolis Colts (-2.5) vs Houston Texans
Icky gross game of the week.
Pick: Colts Cover
Atlanta Falcons (-4.5) vs Tampa Bay Buccaneers
The 8-8 Tampa Bay Buccaneers have clinched their division and therefore have nothing to play for in Week 18. You read that right, while teams like the Chiefs, Bills, Bengals, Cowboys, 49ers, Eagles, Vikings, Ravens, Giants and Chargers all continue to jockey for position in the last week of the year, Tampa can rest easy. Why did I mention 10 teams instead of 2 or 3? Well those 10 teams all have better records than the Bucs. What's more, as the Bucs have nothing to play for they will likely rest a lot of starters in Week 18. Playing on the road in Atlanta, Tampa Bay will most likely lose this one, win their division, and make the playoffs with an 8-9 record. Long live the NFC South.
Pick: Falcons Cover
Falcons 27 – Buccaneers 19
New Orleans Saints (-3.5) vs Carolina Panthers
Go away NFC South, I'm done talking about you.
Pick: Panthers Beat the Spread
Buffalo Bills (-7.5) vs New England Patriots
I wont do a huge breakdown here with all the factors surrounding the health of Bills safety Damar Hamlin taking up most of the space. What I will say is this, an injury to a beloved teammate can galvanize a team or leave them feeling a bit lost. I think this incident will be one that unites this Bills team. Judging by the outpouring of support, Damar Hamlin seems to be loved in the locker room and his absence will rally his friends and teammates together. All told Hamlin's successful recovery is all that matters, but in terms of football, I think the Bills find a gear they didn't even know existed.
Pick: Bills Cover
Cincinnati Bengals (-6.5) vs Baltimore Ravens
Pick: Bengals Cover
Minnesota Vikings (-5.5) @ Chicago Bears
Pick: Bears Beat the Spread
Seattle Seahawks (-6.5) vs Los Angeles Rams
Pick: Seahawks Cover
Philadelphia Eagles (-14) vs New York Giants
The Eagles can lock up the NFC's Number 1 seed with a win here. The Giants have clinched a playoff spot and can't improve their position in any way in Week 18. That is the reason we find ourselves with two playoffs teams matching up with a double digit line. It's a bit shocking at first but makes sense when you dissect the actuals of the contest. That being said, Giants HC Brian Daboll has said he doesn't plan on resting his starters and is using this game as a playoff tune up for a team that barely made it to the dance to begin with. Saying you'll rest your starters and carrying through with it are two different things, but I still don't see enough latitude or complacency for a run away score-line. The Giants will hang around enough to cover.
Pick: Giants Beat the Spread
San Francisco 49ers (-14) vs Arizona Cardinals
Our second two touchdown line in a row but this one makes way more sense. The Niners can still claim the NFC's top spot with a win here and an Eagles loss. The Cards on the other hand seem to think the season ended in Week 10. They've been in vacation mode for a while and with one week to go until it's actually time for them to hit a beach somewhere, who could blame them for sleep walking by the bay.
Pick: 49ers Cover
Los Angeles Chargers (-3) @ Denver Broncos
The Broncos "dead cat bounce" was real in Week 17 as they took the Chiefs all the way to the brink, before ultimately losing by a field goal, 27-24. That new coach smell still permeates around Denver and with a home matchup against the Chargers to cap off a season from hell, the line suggests bettors believe in the bounce for one more week.
I can definitely see this one ending by a field goal as well, but I think the Chargers players and coaches alike will have taken note of the Broncos' efforts last week, and aim to take them a little more seriously. Look for a close-ish contest for 3 quarters before LA gets a comfortable cushion late.
Pick: Chargers Cover
Dallas Cowboys (-7.5) @ Washington Commanders
The Commanders spoiled an overachieving season in Week 17, succumbing to the Browns in a lopsided 24-10 loss. With playoff aspiration now dashed, Washington has the unenviable task of hosting the team that's topped ESPN's Power Index for 7 weeks straight.
The Cowboys can still top the Eagles for the NFC East title with a win here and a Philly loss. On any given Sunday, Dallas doesn't need extra motivation to beat a team like the Commanders, but give them some anyway? The result is a foregone conclusion.
Pick: Cowboys Cover
Cowboys 27 – Commanders 16
Sunday Primetime Game
Green Bay Packers (-4.5) vs Detroit Lions
Here it is! The moment we've all been waiting for! A clash for the ages as two titans of the sport face off in a meaningful duel with everything on the line!
Had I told you that by-line in Week 1, told you that two of the league's hottest and most exciting teams would duke it out to cap off the season, who among you would have predicted it would be the Packers and the Lions? Hey you, raising your hand, you're a liar.
No one! That's who. No one would have foresaw that the perennially stinky poo poo Lions would be anywhere near the playoffs.
No one would have predicted the absolute nose-dive of a season the Packers would have, until they decided to Sully Sullenberger the dang thing at the last minute and give themselves a shot.
This is the match the NFL chose to showcase, and damn do I agree with them 100%.
The Lions have been everyone's second favourite team this year. A fun as hell squad that's finally emerging from the downtrodden nothing years. The kind of team we love to root for. The Packers have been dysfunction wrapped in a marital drama starring a head coach and his QB. Matt Lafleur and Aaron Rodgers wont be strolling along the street of Paris holding hands any time soon, but they have found a working arrangement that seems to have inspired of late. Rattling off wins in their last 4 outings, including the utter pantsing of the Vikings in Week 17, to the tune of 41-17, the Packers are rolling.
Were this game in Detroit or for that matter, literally anywhere but Lambeau in January, I would have loved to pick the Lions, if only for the fun factor. But the Packers momentum, combined with their fortress of a home base, makes it impossible to do. I very much look forward to watching the 2023 Detroit Lions, but until then, Packers win.
Pick: Packers Cover
---
Missed a week? Get caught up here:
---
2022 NFL Season FAQ
What NFL Teams Have a Bye Week in Week 18?
No Byes in Week 18
What is the 2022 NFL Bye Week Schedule?
Week 6: Detroit Lions, Houston Texans, Las Vegas Raiders, Tennessee Titans
Week 7: Buffalo Bills, Los Angeles Rams, Minnesota Vikings, Philadelphia Eagles
Week 8: Kansas City Chiefs, Los Angeles Chargers
Week 9: Cleveland Browns, Dallas Cowboys, Denver Broncos, New York Giants, Pittsburgh Steelers, San Francisco 49ers
Week 10: Baltimore Ravens, Cincinnati Bengals, New England Patriots, New York Jets
Week 11: Jacksonville Jaguars, Miami Dolphins, Seattle Seahawks, Tampa Bay Buccaneers
Week 13: Arizona Cardinals, Carolina Panthers
Week 14: Atlanta Falcons, Chicago Bears, Green Bay Packers, Indianapolis Colts, New Orleans Saints, Washington Commanders
What are the Week 18 NFL Power Rankings?
Dallas Cowboys
Buffalo Bills
Philadelphia Eagles
Kansas City Chiefs
Cincinnati Bengals
Baltimore Ravens
San Francisco 49ers
Jacksonville Jaguars
Los Angeles Chargers
Green Bay Packers
New England Patriots
New Orleans Saints
Tampa Bay Buccaneers
Pittsburgh Steelers
Cleveland Browns
Carolina Panthers
New York Giants
Detroit Lions
Seattle Seahawks
Minnesota Vikings
Miami Dolphins
Washington Commanders
New York Jets
Atlanta Falcons
Los Angeles Rams
Houston Texans
Denver Broncos
Tennessee Titans
Chicago Bears
Las Vegas Raiders
Arizona Cardinals
Indianapolis Colts

(Per ESPN Power Index)
What is the Week 18 NFL Schedule?
Saturday, January 7, 2023
Kansas City @ Las Vegas 16:30
Tennessee @ Jacksonville 20:15

Sunday, January 8, 2023
Baltimore @ Cincinnati TBD
Tampa Bay @ Atlanta 13:00
New England @ Buffalo 13:00
Minnesota @ Chicago 13:00
Houston @ Indianapolis 13:00
New York @ Miami 13:00
Carolina @ New Orleans 13:00
Cleveland @ Pittsburgh 13:00
Los Angeles @ Denver 16:25
New York @ Philadelphia 16:25
Arizona @ San Francisco 16:25
Los Angeles @ Seattle 16:25
Dallas @ Washington 16:25
Detroit @ Green Bay 20:20

What are CSB's Week 18 Picks Against the Spread?
Raiders (+9.5)
Jaguars (-6.5)
Dolphins (-1)
Steelers (-2.5)
Colts (-2.5)
Falcons (-4.5)
Panthers (+3.5)
Bills (-7.5)
Bengals (-6.5)
Bears (+5.5)
Seahawks (-6.5)
Giants (+14)
49ers (-14)
Chargers (-3)
Cowboys (-7.5)
Packers (-4.5)

When are the next week's NFL Lines set?
Typically oddsmakers will set the next week's Game Lines after the Sunday slate of games. NFL Odds will evolve as bets are made throughout the week and NFL Picks made too early may lack vital information. The NFL Point Spreads are set with a somewhat unclear picture and NFL predictions become more informed as the games get closer.