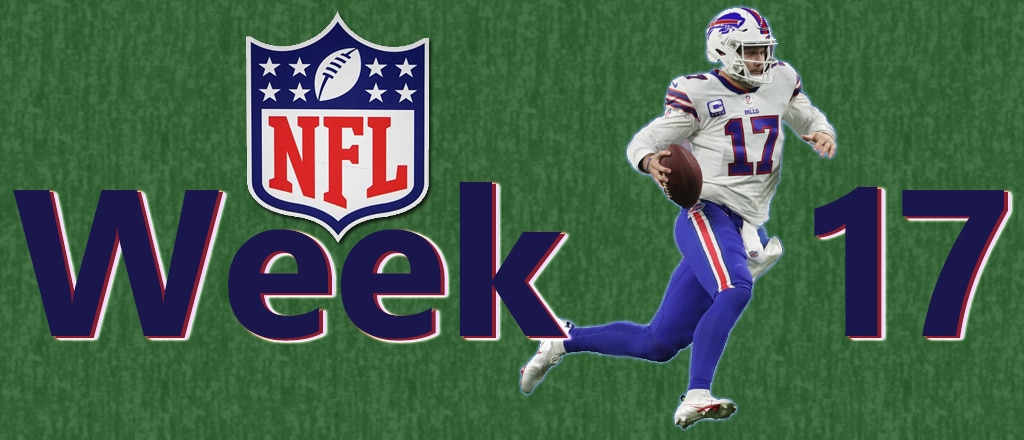 Happy Week 17 all, hope the holiday season was a good one for everyone reading. Santa brought CSB the gift of a winning record in Week 16 and with two weeks to go in the NFL season, everything is set up for us to ride into the playoffs with a winning record overall.
Speaking of playoffs, these last two weeks will solidify a playoff picture which is unconventionally murky this late in the season. Major charges from teams who were afterthoughts at the midway point have made things mighty interesting. Of course for you fantasy heads out there, this is championship week. I wish good luck to all those couch GMs that made it to their league finals, and the good news is, with so many things still up in the air standings-wise, your players will be playing hard this week as well.
So let's get down to business, we're in the home stretch now, two weeks to go and a new year to ring in. I wish all of our readers a happy and healthy new year, and here's hoping 2023 brings us all the sports moments we crave and the spiciest picks to pick.
As always if you're new to ATS betting in football, check out our convenient primer on Point Spread Betting and take a look at our new and improved Parlay Betting Guide should the mood strike to combine some of these picks!
Week 16 Record: 9-7 / Season Record: 127-115
Without further ado, on to the Week 17 picks against the spread.
Skip Around to Any Week 17 Game Here:
Thursday Night Game
Dallas Cowboys (-10.5) @ Tennessee Titans
Right off the bat I have to pick a cursed game. The Titans have been the bane of my existence this season and having to pick them on a double-digit line is max stress. The only thing I can really rely on is my gut, and my gut is telling me to ignore the voodoo and go with the cold, hard facts. Like the fact that the Titans have lost five straight. The fact that that five-game streak culminated in a Week 16 loss to the 2-12-1 Houston Texans. The fact that Tennessee is banged up, bruised and running on fumes. Ryan Tannehill is out for the final two weeks of the year and Derrick Henry is ailing with a hip injury.
The facts tell me to shade the Titans hard and I've gotta trust the facts. The festive season lifts all curses, right?
Pick: Cowboys Cover
Sunday Afternoon Games
Tampa Bay Buccaneers (-3) vs Carolina Panthers
Did anyone predict that the Panthers would be the ones to stop Detroit's seemingly unstoppable momentum? I gotta admit that I stopped paying much attention to Carolina. Its season appeared to be lost after trading away franchise cornerstone Christian McCaffrey and giving up on Baker Mayfield via waivers. No one would have been blamed for counting the Panthers out, but then something odd happened, the Panthers became a bit of a wagon. Their running back tandem of D'Onta Foreman and Alberta-native Chuba Hubbard have been a revelation and the Panthers are undefeated (5-0) when they amass at least 170 yards on the ground, something they happen to have done in each of their last four games.
So here we are, in Week 17, and the Panthers can not only make the playoffs, but win their division outright with wins over the Bucs and Saints in the final two games of the year. It's hard to bet against a wagon, and even harder to bet against one when their opponents in Tampa have been masterfully un-masterful this year. Tom Brady and the Bucs currently sit atop the NFC South and in the playoffs, but were they in any other division in the NFC, in fact, any other division in the league, they'd be sitting outside the playoff picture with a 7-8 record. That kind of situation inevitably breeds complacency and their rivals in Carolina are primed to capitalize. Roll Wagon Roll.
Pick: Panthers Beat the Spread
Panthers 23 – Buccaneers 20
Washington Commanders (-1.5) vs Cleveland Browns
Not gonna waste a ton of digital ink on this one, it just feels like one of those random trap games that Cleveland loves to win. Win when it shouldn't, lose when it should. The Browns way.
Pick: Browns Beat the Spread
Browns 20 – Commanders 17
Best NFL Sign Up Bonuses in Canada
If you're looking to sign up for a Canadian Sportsbook for the first time and put these picks to good use, check out these great sign up bonuses currently on offer:
New users at BetVictor can get a 100% deposit bonus up to $500! – Sign Up Now
New users on Bet99 will get a Matched Bonus of 100% on their first deposit, up to $600! – Check It Out
New users at PariMatch get a 100% deposit bonus of up to $500 with a minimum deposit of only $10. – Sign Up Today
Philadelphia Eagles (-6.5) vs New Orleans Saints
Philly will want a get-right game here as it tunes up for the playoffs. Whether Jalen Hurts is able to return from injury or Gardner Minshew gets a second straight start, the Eagles will be in good hands. Against one of league's premier defences in Dallas, Minshew was able to rack up 355 passing yards, two touchdowns, with two interceptions and even chipped in a rushing touchdown. Hurts or Minshew shouldn't matter much as the sum of the Philadelphia parts will prove too much for a Saints team that has hung around all year, but should finally see their playoff hopes fade in this mismatch.
Pick: Eagles Cover
Atlanta Falcons (-3.5) vs Arizona Cardinals
Pick: Falcons Cover
Falcons 23 – Cardinals 19
Jacksonville Jaguars (-4.5) @ Houston Texans
The Texans might be the best 2-12-1 team of all time.
Pick: Texans Beat the Spread
Detroit Lions (-5.5) vs Chicago Bears
In Week 16, the Lions got a big splash of cold water dumped right into the face of their playoff aspirations. In a 37-23 loss at the hands of the Panthers, Detroit's inferior run stopping was fully exposed. Now facing a Week 17 tilt versus the vaunted ground attack of the Chicago Bears, a lot of bettors will be siding with the Monsters of the Midway rather than the once-darling Lions. I am here to tell you to ignore that trend. The Lions, thanks in part to some very timely losses from their rivals in this playoff chase, namely the Giants, Seahawks and Commanders, have not lost step as much as it may seem. Returning hope to the friendly confines of Ford Field, the Lions still have everything to play for.
I expect a big game offensively out of Detroit, and despite its shortcomings stopping the run, I see the Lions outpacing any points the Bears are able to put up this week.
Pick: Lions Cover
New England Patriots (-3) vs Miami Dolphins
At the end of November, no one would have thought this game would have major playoff implications, but four straight losses in December have pushed the Dolphins to the brink of collapse and now sets up this game as pretty dang pivotal for both squads.
The Pats themselves are coming off a pretty ugly December which was capped off by two straight losses. Someone needs to grab this opportunity to get right and something tells me it won't be the Dolphins.
Tua Tagovailoa has struggled mightily of late and may not even be able to go in this one due to a possible concussion suffered in Week 16. If TT is unable to go, it would fall to Teddy Bridgewater to pick up the reins. Either quarterback will have to deal with the scheming of Bill Belichick's defence and Tua does not seem equipped to do that right now. Bridgewater has never even played against a Belichick defence, which does not bode well either.
No team has ever made the playoffs after going O'fer in December. The way the Dolphins are playing right now, I don't see them bucking the trend. The Patriots will use the home crowd and suffocating defence to keep the faintly flickering playoff candle lit for another week.
Pick: Patriots Cover
Patriots 26 – Dolphins 20
Kansas City Chiefs (-12.5) vs Denver Broncos
I've mentioned the concept of the dead cat bounce in this series before. There's just something intangible that happens to a team in the first game after its coach is relieved of his duties. It doesn't seem to matter who replaces them, whether it be the assistant, a new hot-shot or an interim tag caretaker. Players are jockeying to be noticed, the old and oft-ignored message is gone and a new vibe has entered the building. No matter how bad a team has been, something special happens when a new voice enters the building. This line is simply too big and the new coach bump is simply too real to go with KC here. Believe in the Bounce, however fleeting it may be.
Pick: Broncos Beat the Spread
New York Giants (-5.5) vs Indianapolis Colts
Pick: Colts Beat the Spread
New York Jets (-1.5) @ Seattle Seahawks
The green team will win this one.
Pick: Seahawks Beat the Spread
San Francisco 49ers (-10) @ Las Vegas Raiders
Don't let this double digit line fool you. Bettors should feel great about picking the Niners here in a game whose line has grown steadily after the recent news that Derek Carr (he of the three- year extension signed in the offseason) will be benched for the final two games of the year, in favor of Jarrett Stidham who has never started an NFL game.
Sure there's always the fleeting chance that Stidham turns in an unexpectedly great performance and shocks the football world, but the far likelier scenario is that of the Raiders going out with a whimper. Bet the Niners with confidence this week.
Pick: 49ers Cover
Green Bay Packers (-3) vs Minnesota Vikings
Picking against Minnesota has been a bad bet this year, and I already know what you're gonna say, this game is in Lambeau, but let me rap at you for a second. The Vikings have won 11 one-possession games this year. They beat the Bills when all seemed lost on a series of plays and outcomes so damn unlikely that it was hard to believe with ones own eyes. A few weeks after that, they only went and pulled off the biggest comeback in NFL history, beating the Colts after trailing by 33 points. Last week, they walked-off the Giants with a 61-yard field goal to win the game, the fourth longest such field goal in NFL history. Are we sensing a trend here? The Vikings win games they aren't supposed to win. Win games that seem lost, win games in which they're counted out. In a division rivalry game, with major playoff implications and in the frigid confines of Green Bay, Wisconsin? Few are expecting them to emerge victorious. Let the Vikes prove those folks wrong, while you, who was fortunate enough to read this article, are proved right.
Pick: Vikings Beat the Spread
Los Angeles Chargers (-6.5) vs Los Angeles Rams
This edition of the battle of LA has a distinct lack of luster. However the Rams' Week 16 dismantling of the Broncos to the tune of 50-14 has added a glimmer of intrigue to this tilt. The way I see it, that 50-14 victory was made possible in large part by Denver's disfunction, culminating in a team giving up on its coach. Less than 24 hours after that loss, rookie head coach Nathaniel Hackett was relieved of his duties and the punctuation mark on a disastrous season in Denver was stamped. The Rams are not suddenly a powerhouse team capable of putting up that kind of offence on a regular basis. They are still the beat up team playing out their 2022 year mired in a Super Bowl hangover for the ages. The Chargers are the superior team here and are further bolstered by improving health on both sides of the ball. A statement victory here will help them tune up for the playoffs and solidify their place as a team no one wants to face once games get real.
Pick: Chargers Cover
Sunday Primetime Game
Baltimore Ravens (-3) vs Pittsburgh Steelers
Love the Steelers in this one. It has all the makings of a grind, but I give the distinct quarterback edge to Kenny Pickett over Tyler Huntley. The Ravens will try to outlast Pittsburgh on the ground, but I see Pickett's x-factor as being the difference in the end. Add to that the heaps of motivation for the Steelers, a win here, if not only keeping their playoff hopes alive would also keep hope alive for Mike Tomlin's active streak of consecutive winning seasons (The streak is currently 15 seasons and Pittsburgh currently sits at 7-8). I'll take the team currently fighting to honour its coach.
Pick: Steelers Beat the Spread
Monday Night Football
Buffalo Bills (-1.5) @ Cincinnati Bengals
Wow. The NFL schedule has saved the best for last and Monday Night Football gets an absolute cherry of a game in Week 17.
In what could very well be a sneak preview of this season's AFC Championship Game, the Bills and Bengals face off in a contest of not only the two best B-name teams in the league, but very likely the two best teams period.
Josh Allen vs. Joe Burrow is something football fans are going to be hearing for years to come and could very well be the modern AFC equivalent of Brady vs. Manning (if not for that pesky Mahomes character). Ultimately, this game will have a ton of factors, but will come down to the performances of the star quarterbacks.
As much as we'd like to overanalyze things, this pick'em game will likely only be moved one way or the other by the venue in which it's played. Were this game in Buffalo, I'd feel confident picking the Bills to emerge victorious in the snow (if they could even play), but in Cinci, with the Bengals having not lost since October, I'll go with the momentum of the home squad.
Pick: Bengals Beat the Spread
---
Missed a week? Get caught up here:
---
2022 NFL Season FAQ
What NFL Teams Have a Bye Week in Week 17?
No Byes in Week 17
What is the 2022 NFL Bye Week Schedule?
Week 6: Detroit Lions, Houston Texans, Las Vegas Raiders, Tennessee Titans
Week 7: Buffalo Bills, Los Angeles Rams, Minnesota Vikings, Philadelphia Eagles
Week 8: Kansas City Chiefs, Los Angeles Chargers
Week 9: Cleveland Browns, Dallas Cowboys, Denver Broncos, New York Giants, Pittsburgh Steelers, San Francisco 49ers
Week 10: Baltimore Ravens, Cincinnati Bengals, New England Patriots, New York Jets
Week 11: Jacksonville Jaguars, Miami Dolphins, Seattle Seahawks, Tampa Bay Buccaneers
Week 13: Arizona Cardinals, Carolina Panthers
Week 14: Atlanta Falcons, Chicago Bears, Green Bay Packers, Indianapolis Colts, New Orleans Saints, Washington Commanders
What are the Week 17 NFL Power Rankings?

Dallas Cowboys
Buffalo Bills
Kansas City Chiefs
Philadelphia Eagles
Cincinnati Bengals
San Francisco 49ers
Baltimore Ravens
Jacksonville Jaguars
Los Angeles Chargers
Green Bay Packers
New England Patriots
Minnesota Vikings
Las Vegas Raiders
Carolina Panthers
Pittsburgh Steelers
New Orleans Saints
Tampa Bay Buccaneers
Miami Dolphins
Cleveland Browns
New York Giants
Washington Commanders
Detroit Lions
Seattle Seahawks
New York Jets
Los Angeles Rams
Atlanta Falcons
Houston Texans
Chicago Bears
Denver Broncos
Tennessee Titans
Indianapolis Colts
Arizona Cardinals

(Per ESPN Power Index)
What is the Week 17 NFL Schedule?

Thursday, December 29, 2022
Dallas @ Tennessee 20:15

Sunday, January 1, 2023
Arizona @ Atlanta 13:00
Chicago @ Detroit 13:00
Denver @ Kansas City 13:00
Miami @ New England 13:00
Indianapolis @ New York 13:00
New Orleans @ Philadelphia 13:00
Carolina @ Tampa Bay 13:00
Cleveland @ Washington 13:00
Jacksonville @ Houston 13:00
San Francisco @ Las Vegas 16:05
New York @ Seattle 16:05
Minnesota @ Green Bay 16:25
Los Angeles @ Los Angeles 16:25
Pittsburgh @ Baltimore 20:20

Monday, January 2, 2023
Buffalo @ Cincinnati 20:30

What are CSB's Week 17 Picks Against the Spread?

Cowboys (-10.5)
Panthers (+3)
Browns (+1.5)
Eagles (-6.5)
Falcons (-3.5)
Texans (+4.5)
Lions (-5.5)
Patriots (-3)
Broncos (+12.5)
Colts (+5.5)
Seahawks (+1.5)
49ers (-10)
Vikings (+3)
Chargers (-6.5)
Steelers (+3)
Bengals (+1.5)

When are the next week's NFL Lines set?
Typically oddsmakers will set the next week's Game Lines after the Sunday slate of games. NFL Odds will evolve as bets are made throughout the week and NFL Picks made too early may lack vital information. The NFL Point Spreads are set with a somewhat unclear picture and NFL predictions become more informed as the games get closer.